To most people, August is still summer. The school holidays are in full swing, barbecues are still scenting the neighbourhood skies and the nights are still long enough to merit evenings outdoors. But in the skies something is changing — the humdrum of the birding summer starts to decline in August. Indeed for patchers who have added few points in July, migration is underway and much-needed birds begin to work their way onto hard-earned lists.
Great White Egrets are an ever-increasing visitor to many patches and may soon reach the status of Little Egret as a patch regular. Meanwhile, Cattle Egret remains a much rarer patch addition, so a bird at Saul Warth for Gordon Hodgson was very welcome. Glossy Ibis has been a feature of many a list this year, Willington being the latest addition in August. Sadly for Marcus Lawson at Swineham, 17 Spoonbills gets no more points than one, but all in the air at once must have been something to behold on British shores.
A number of raptors were on the move in August for eagle-eyed sky watchers, with many patchers scoring with Hobby, Marsh Harrier and Osprey during the month. Adam Bassett at Little Marlow and Nick Croft at Wanstead Flats bagged the points for Honey Buzzard, while Stuart Taylor at Balivanich enjoyed a flyover to match any air show, with a family party of three White-tailed Eagles soaring high on the 2nd.
Those patchers lucky enough to have a bit of coastline can often pick up good points in a favourable August wind. Movements of the large shearwaters begin in earnest and this year was exceptional for the numbers of birds recorded on the east coast, with patchers at Flamborough and St Mary's Island picking up points for Great Shearwater while Portland Bill and Baltimore scored with Cory's. Chris Bradshaw managed a fine double with both of the large shearwaters at Long Nab.
Post-breeding gull roosts were scoured and rewards were reaped from the recent influx of Caspian Gulls, with 12 recorded at Flamborough by Martin Garner in the month. Best gull sighting of the month, however, goes to Tommy Corcoran at Great Yarmouth for his Franklin's Gull.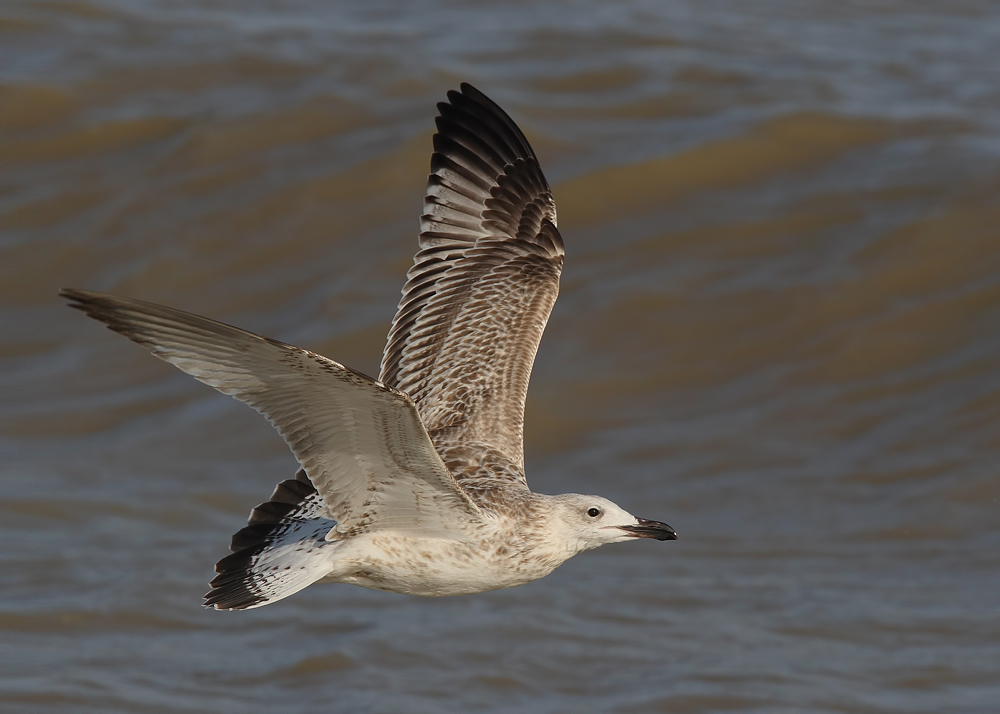 An influx of Caspian Gulls during August included this juvenile at Dungeness, Kent (Photo: Mick Southcott)
The first returning waders begin to appear in July, but the migration gets into full swing in August, and those muddy fringes to the pools start to pay dividends. Many patches recorded classic autumn species such as Curlew Sandpiper and Little Stint. Temminck's Stint, Pectoral Sandpiper and Red-necked Phalarope put in patch appearances, while the Nearctic was well represented with White-rumped Sandpiper and American Golden Plover gracing Frampton Marsh and North Ronaldsay respectively. A Stone Curlew was a fine record for Joe Stockwell at Portland Bill. The rarest waders recorded in the month, however, were the graceful Marsh Sandpiper that performed for Gordon Hodgson at Saul Warth and the fine Stilt Sandpiper relocated by Iain Robson at Druridge Pools.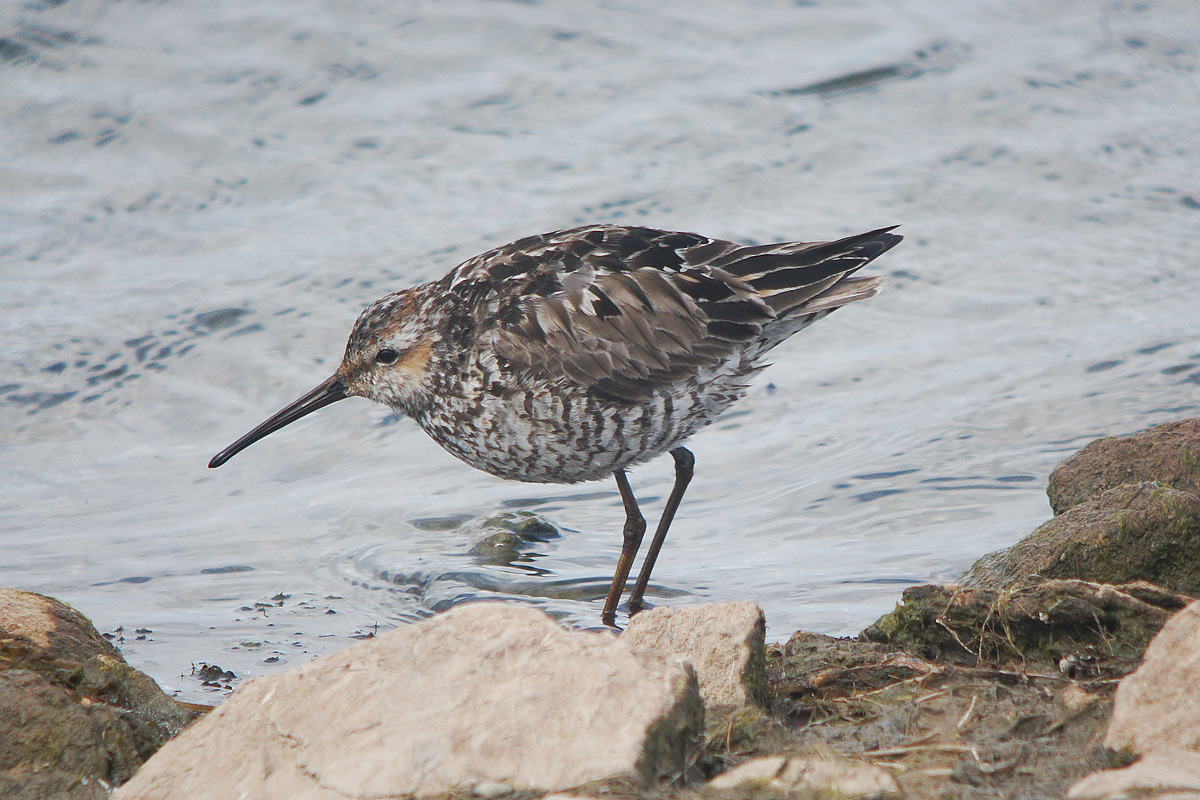 Northumberland's Stilt Sandpiper worked its way on Iain Robson's patch list (Photo: Tristan Reid)
There were birds to be found on land too. The Wryneck invasion played its part in the Patchwork Challenge month, six patches recording this quirky visitor. Other typical August visitors included three Icterine Warblers to the east and a Melodious Warbler in the south at Portland Bill. A Barred Warbler was a nice find at Flamborough Head as were Greenish Warblers at Southwold and Sumburgh. Possibly the most attractive of the UK warblers, Wood Warbler, put in appearances at Druridge Pools and St Aidan's. These fine warbler records were put into the shade, however, by both Western Bonelli's and Booted Warblers. The former was another point scorer for Portland Bill, but this was not a find for the patcher on this occasion. The Booted Warbler located by Barrie Hamill on Burray, however, must have a shot at the shortlist for the Bresser and Forest Optics Best Find Competition.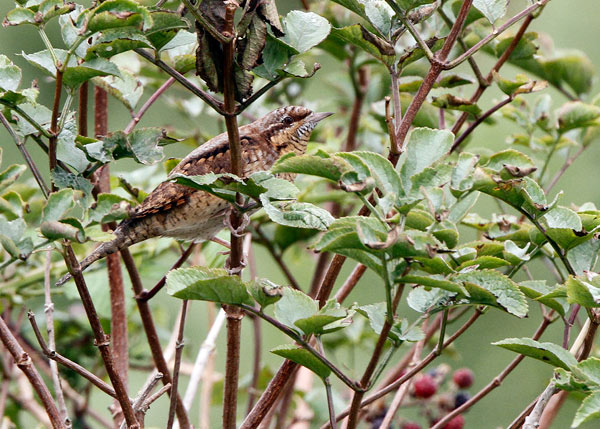 Wrynecks featured prominently in August (Photo: Mike Buckland)
Citrine Wagtail is a bird that is much sought after, and this year it has made it onto a number of lists. After a good run of records earlier in the year, our own Mark Lewis at Girdle Ness and Paul Massey at Grindon Lough are the latest to add this gem to their patch lists. Other early autumn fare included records of Common Rosefinch, Hoopoe, Rose-coloured Starling and Red-backed Shrike, while an Ortolan Bunting topped off a fine month for Chris Bradshaw at Long Nab, the first record for the Scarborough area since 1977.
So it has been a good August, and with the finest autumn months just around the corner, how does the competition look?
In the top 20 points, it's all change at the top. Joe Stockwell at Portland Bill has had a phenomenal month, adding 36 points in August to take him from 5th to 1st. Hot on his heels, Martin Garner at Flamborough is in second with 27 points added, while long-time leader Tim Hodge on his Horsey patch is in third after a quieter August. The competition is close with the big months of September and October to come: just 20 points separate the top five. Who will break the 300-point barrier first?
The top 20 species table shows a different story for Tim, however: he has retained his first spot with 185 species. There is daylight between 4th and 5th, so the top four seem to be battling it out, just three species splitting these east-coast hot spots.
It's not all about the coasts! As an inland birder my eyes always fall to the inland top 20 and Wayne Gillatt has gone from 2nd in July to 1st with a phenomenal 31 points, helped by inviting mud levels at his Alkborough patch. Long-time leader Darren Starkey has to settle for 2nd and 3rd on his West Yorkshire patches. Four of our inlanders have now broken the 200-point mark. With others looking set to follow, this is impressive point scoring indeed!
For those stalwarts of the competition who have played a part in both years, the comparative table is worth a keen eye. After all there are two elements of competition in Patchwork Challenge, that against your fellow patchers, and the one against yourself. There is a pride in beating prior years' totals and 16 patches have now exceeded last year's points totals by the end of August. With others in the 90s, this total will only increase.
The non-comparative table follows the main points table, with many of the overall leaders being first timers in the competition this year. Joe Stockwell at Portland leads the way.
Always one of the most interesting tables, the points per bird table indicates both the rareness of the find, and an indicator of where birders are finding their own birds on patch. Interestingly, our Celtic nations dominate the top ten here, with just Portland Bill and Flamborough representing England. John Bowler at Balephuil and Joe Stockwell at Portland Bill are neck and neck at the top, with John edging it at the end of August. Their bird lists for the year are truly enviable.
The top 20 BirdTrack records and lists is one of the key ways that Patchwork Challenge can help our understanding of birds is by linking into BirdTrack, and it has never been easier with mobile technology making on-site recording so straightforward. Recording seems to be picking up, but the top spot looks to have been bagged here, with Zac Hinchcliffe in Bangor reporting an impressive 714 full lists and 13,223 records. Well done Zac, and well done to everyone who is reporting their sightings.
The next table is our sustainability drive, the green top 20 for those birders who leave their car behind. Ben Porter on Bardsey becomes the first to break the 200 barrier to take a healthy lead into the autumn season from our own Mark Lewis at Girdle Ness in second.
NGB members are out in force in this competition, and in their own table there are familiar names topping the rankings. Joe Stockwell (who if we had one would be top of the most mentions table) leads the way, with Tim Jones and Ben Porter completing an observatory trio at the top.