For Patchwork Challenge, April is often the month in which the most species are seen. Winter visitors are starting to move out, while spring migrants are appearing on our shores. All patchers start to get that sense of expectation as migration gets into full swing.
There is only one place to start the April review. A drizzly and unappealing Friday night patch visit to Meare Heath on 26th brought a birding moment that Tom Raven could never have expected. A scan of the godwit flock turned up a darker bird, but with the light fading fast it took a dawn visit the next day to nail Britain's third Hudsonian Godwit. The story of the find is a great read and truly evokes the emotions that go with finding a bird of this magnitude on your local patch. This is certainly a prime candidate for the Forest Optics best find competition for 2015.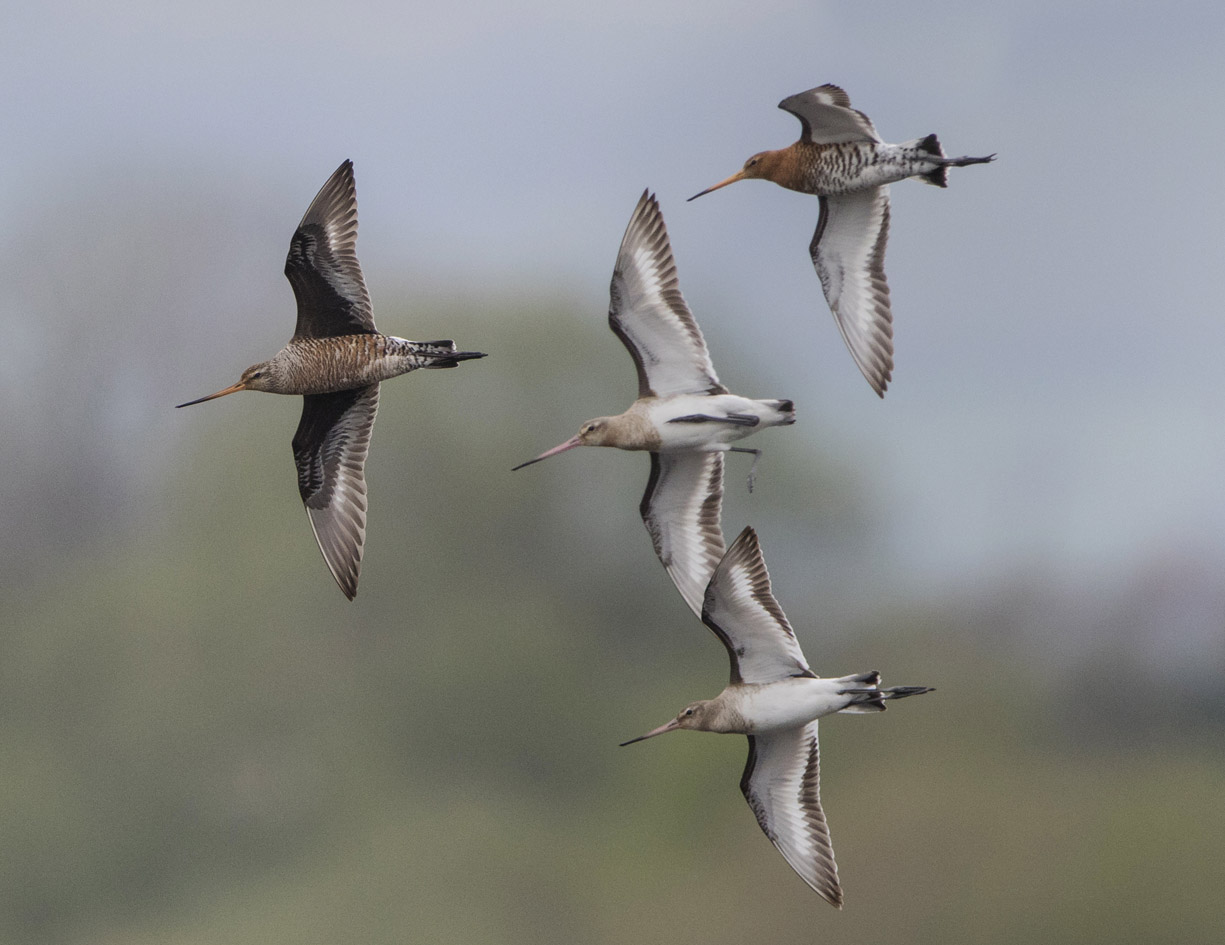 Hudsonian Godwit, Shapwick Heath NNR, Somerset & Bristol (Photo: Michael Roberts)
The godwit was a superb find, but other birders also appreciated some fantastic birds on patch. The Scilly Great Blue Heron presented John Headon with the perfect present when it performed a fly-by on his birthday, while Andy Jordan at Sharpness scoped a Pied-billed Grebe from the corner of his patch.
Meanwhile, there was quite a competition for best-looking scarcity of the spring. Best legs would undoubtedly go to the pair of Black-winged Stilts that put in an all-too-brief appearance at Neumann's Flash for Pete Antrobus, while best hairstyle could go to any one of the four Hoopoes that arrived on patches in England, Wales and Ireland. Personally, though, it is Yellow Wagtail that does it for me — and there was no shortage of foreign imports in April. A number of patches reported Blue-headed, a Channel Wagtail was at Hale and Pickerings and a stunning Ashy-headed Wagtail was found at Frampton on 17th.
Raptors provided bonus points for a few patchers, a Black Kite came in off the sea for Joe Stockwell at Ferrybridge and Chris Bradshaw added Long Nab to the list of patches recording Rough-legged Buzzard this year. On the north-western fringes of the PWC universe, Dave Suddaby recorded his third patch Snowy Owl at Blacksod, incidentally his sixth on the Mullet.
East Anglia recorded typical arrivals of Stone Curlew and Common Crane in April; the latter also appeared at Goole Fields and Kenfig. Another classic bird of spring is Dotterel, with birds recorded in unlikely spots including Oronsay and Red Rocks. Meanwhile three patches recorded Wryneck, and both Flamborough and Ferrybridge had fly-by Red-rumped Swallows. An Alpine Swift provided extra bonus points for Martin Garner at the former east-coast site.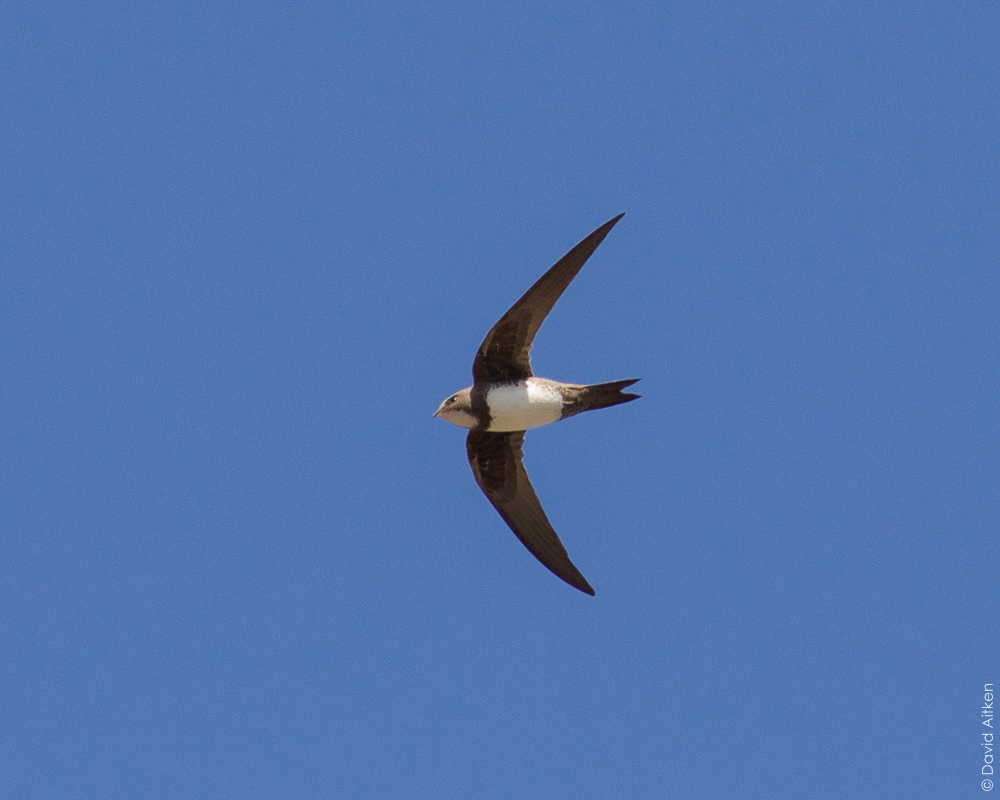 Alpine Swift, Flamborough Head, East Yorkshire (Photo: David Aitken)
Terns began to arrive back at patches, and an inland Little Tern at Sutton Bingham Reservoir for Tim Farr was a fine record. Ryan Irvine located a Serin at Hemsby, while perhaps more unseasonable were the two Richard's Pipits at Fleetwood.
Final mention goes to a couple of notable birding events in April. The first was the appearance of all three of the scarcer British grebes, all in summer plumage in the space of a week, at Hornsea Mere in East Yorkshire: quite a treat for Garry Taylor. Lastly was the number of patches that recorded Ring Ouzel in April. Some of these were patch firsts for their finders while some were spectacular just because of the numbers: Ashley McElwee recorded 13 in his Felmingham garden in one day and Lizzie Bruce at Roydon Common noted a peak count of 32.
Five patchers have hit the magic 100% mark by the end of April — a fantastic achievement. Alison C at Llanfair TH in Wales leads the way with 109%, while a Blue-headed Wagtail at Paul Freestone's Gwithian patch in Cornwall helps him into second spot. Long-time leading trio Nick Robinson, Keith Dickinson and Nick Tonge make up the top 5 spots in what looks to be a fierce competition this year. Inland sites still dominate but it will be interesting to see how that changes in May. Tom Raven's godwit sees his Somerset patch enter the top 20 as a large number of patches are waiting in the wings to join the 100% group.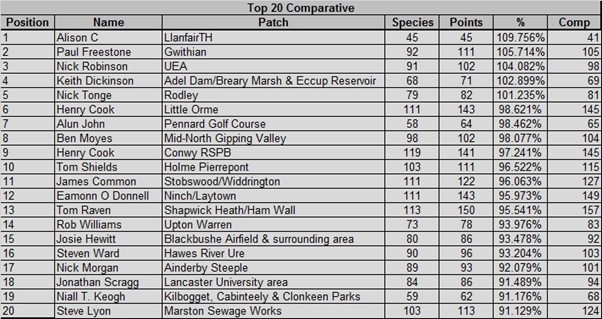 Joe Stockwell's year at Ferrybridge continues apace as he breaks the Frampton/Freiston stranglehold at the top of the points league. Joe added more quality in April in the form of Black Kite, Red-rumped Swallow and even a Whinchat on a seawatch! Making up the top three are the familiar faces of John Bowler on Tiree, who added Green-winged Teal, and Martin Garner at Flamborough. Fairburn is the lone inland representative in the top 20 in a very respectable 12th place.
Content continues after advertisements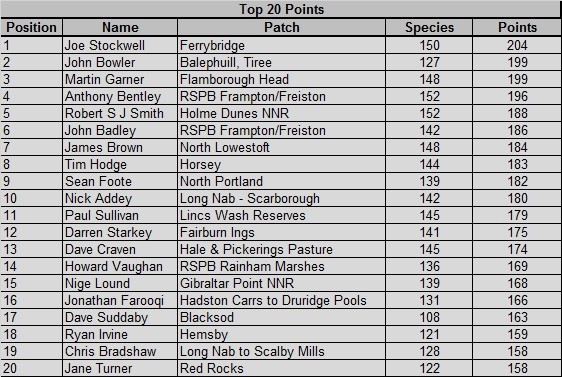 The league for those with no coastline is headed up by Darren Starkey at Fairburn Ings who picked up a hatful of two-pointers in April to help his score. He has created quite a gap early in the year, with Ben Lewis at Mid Yare in second 17 points adrift and Ian Cowgill at Lound making up the top three. Tom Raven has leapfrogged into fourth place in what looks to be a highly competitive league.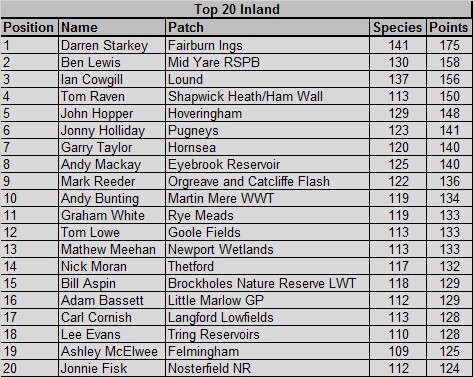 This is traditionally known as the quantity over quality league, although a glance at the contenders indicates that they tick both boxes. Robert Smith at Holme Dunes and Anthony Bentley at Frampton/Freiston lead the way on a highly impressive 152 species, while Joe Stockwell at Ferrybridge completes the top three. Just ten species split the top ten in the league; it will be interesting to see what changes May brings.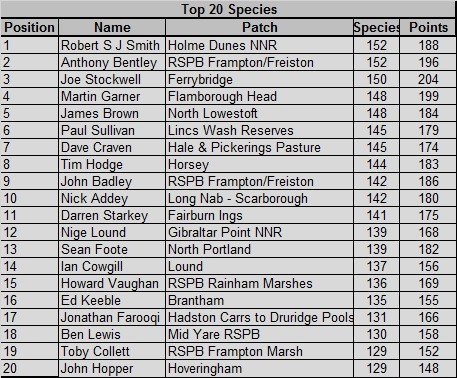 This is the league for those patches recording the scarcest birds. It can all change with a sensational find, as Tom Raven's entry to the top 20 in 13th place testifies. A familiar face leads this table, the rarity island of Tiree leading the way for John Bowler. His Green-winged Teal takes him to an impressive 1.567 points per bird with both May and the autumn still to come. Dave Suddaby at Blacksod is in second with a score of 1.509, boosted by records of Snowy Owl and Hoopoe in April. Arlo Jacques at Tramore Backstrand completes the top three.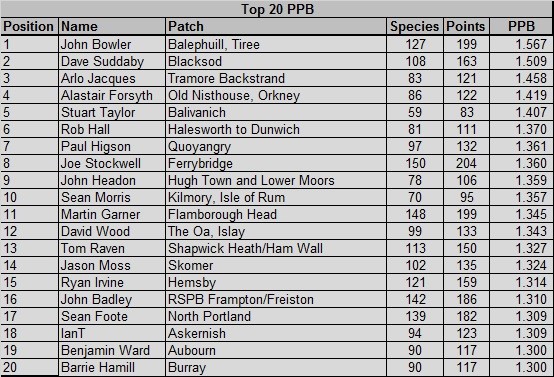 The league for the young birders is more competitive than ever this year. Unsurprisingly it is Joe Stockwell who is having a barnstorming start to the year on the south coast who leads the way, having already topped the 200-point mark. The east coast is well represented, with Anthony Bentley and Jonathan Farooqi not far behind Joe at the top while Ben on Bardsey is stalking the top places in sixth.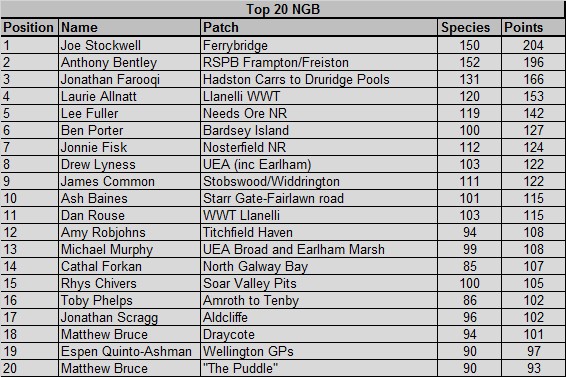 This is the league that shows the most dedicated BirdTrack listers — the recording tool that adds value to the BTO as well as both your own patching as well as to the BTO. James Common at Stobswood leads the way with a mightily impressive 226 lists but with his move to Scotland it opens up opportunities for those just behind. Alastair Flannegan and David Franklin are closing in on the 200-list mark in second and third. The table shows an impressive example of dedicated patch recording.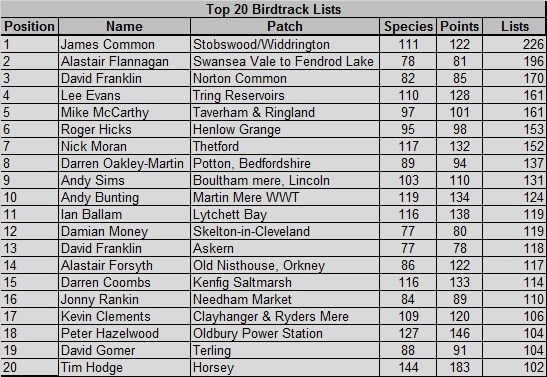 The environmentally friendly league is for patchers who don't use any form of motorised transport to bird their chosen area during the year. The top of the league sees a Wash Reserves showdown with Anthony Bentley at Frampton/Freiston pushing Nige Lound at Gibraltar Point into second. PWC's own Ryan Irvine is in third, with a number of other birders scoring over 100 species.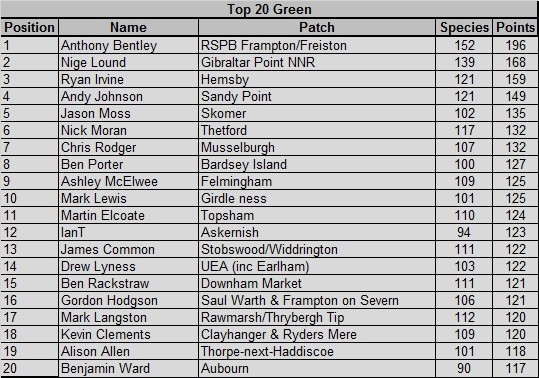 So on to May; Tom Raven has really thrown down the gauntlet for best find this year while whetting the appetites of patchers hoping for a bit of their own May #patchgold.