Wherever your patch — be it on the south coast or the Northern Isles, from Lowestoft to Blacksod, within the depths of an inland woodland, or jutting out on a coastal promontory — April means one thing and one thing only: migrants.
It's a hugely exciting time of year, with so much going for it. It might not be the best time for the big rarities, but the early mornings and light nights, and the incremental increase in on-patch warblers, hirundines and other migrants — and of course the increases in temperature seem to have enthused PWC contestants no end, and what a lot of lucky punters we seem to have had this month!
Summer visitors were well received throughout, although some proved to be more popular than others. Ring Ouzels were the pick of the bunch — a total of 19 patches reported them as highlights, a predictably large proportion of them on the east coast. Other popular spring migrants were Garganey (reported from ten patches), both Black and Common Redstarts (five each) and Nightingale (eight). Inland, terns seemed to have the patchers reaching for their notebooks (smartphones!), with Arctic and smaller numbers of Sandwich and Black Terns providing the excitement. Away from the migrants, Red Kites again proved very popular (nine records, and by far the most frequently reported raptor); Peter Donnelly picked up his second-ever record of this species from North Ronaldsay. Some fantastic plastic also made the grade, with four Mandarins and even three reports of out-of-range Egyptian Geese, although two of the latter from Northumberland might relate to the same bird. All excellent stuff and no doubt worth the early starts, but no sign of any bonus points so far...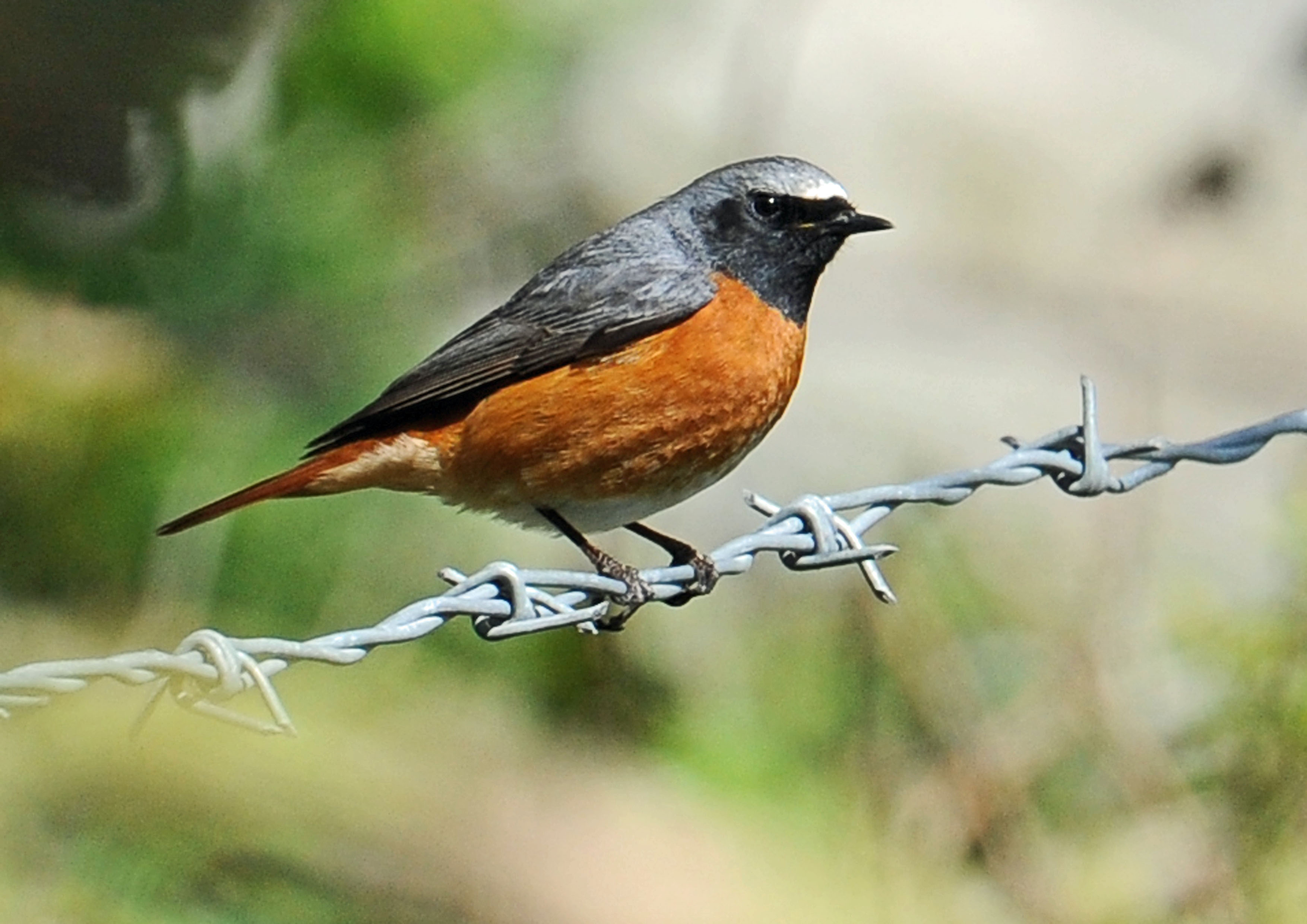 A freshly-arrived male Redstart at Portland, Dorset during April (Photo: Tony Hovell)
The megas are the birds that will linger in the memory, but it can make more sense to judge the overall quality of a month by the number and variety of scarce birds, the 6-pointers reported. There are some that make an appearance every month, with species such as Crane, Green-winged Teal and Great White Egret all very regular. In addition to these, though, April saw a great variety of spring-feeling 6-pointers, including some pretty impressive county firsts. Short-toed Lark, Red-rumped Swallow, Purple Heron, Kentish Plover, Tawny and Richard's Pipits, Wrynecks, Serins and more besides delighted those on the coast, with the first Outer Hebrides record of the last-mentioned species coming on a patch a Askernish, South Uist. Inland, the big news came from Herefordshire, where Espen Quinto-Ashman scored large with the county's first-ever Bluethroat.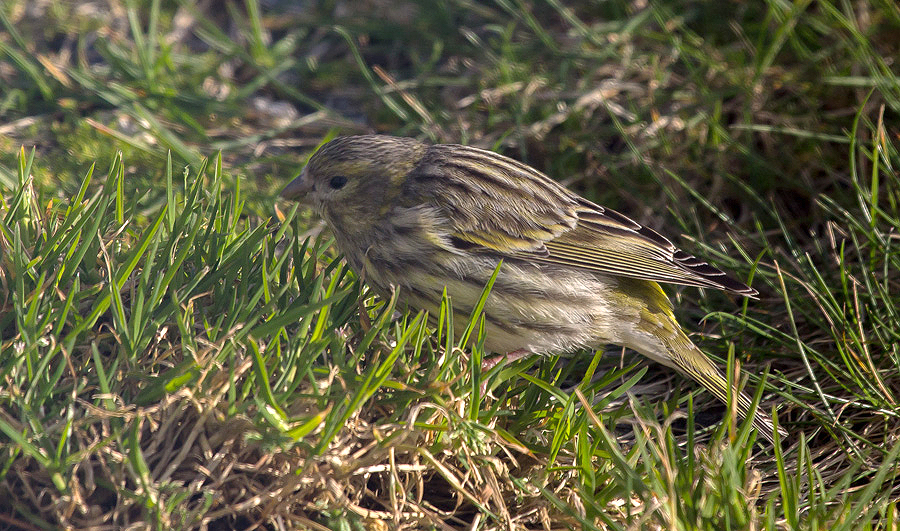 The Outer Hebrides' first Serin was at Askernish in April (Photo: Yvonne)
As well as this array of quality scarcities, there were a few genuine rarities for the luckiest among us. Glossy Ibis might not fit into this bracket for long, as they are no longer BB rarities and seem to be reported with increasing frequency to us here at PWC. I'm not sure I can bring myself to demote them to 'mere scarcities' though. Slightly rarer were April classics such as Black-winged Stilt and Whiskered Tern and, rarer still, an Eastern Subalpine Warbler that, unfortunately for Rob Fray, chose the wrong garden to pop up in. Alastair Forsyth found himself in the unenviable position of possibly having found the same rarity twice. His Blue-winged Teal could have been a different bird to the one he found earlier in the year but, regardless, it was only worth one set of points — Sorry Alastair!
The best find of the month, and a contender for the Bresser and Forest Optic best find shortlist at the end of the year, undoubtedly went to Barry Stewart, who found a Franklin's Gull one evening on the Burry Inlet in Wales. If we have ten species by the end of December that beat that then we'll have done very well between us indeed. But for now, congratulations go to Barry for a top find.
So, with some big birds and plenty of bonus points scored, let's have a look at how the leagues have re-arranged themselves...but before you do, take a look here and see what everyone is playing for.
Tim Hodge's Horsey patch still stands on top of the species league, although in terms of points it looks like Portland is the place to be with two of the top three going to Portland-based Sean Foote and Joe Stockwell. Again, we tip our hats to Jamie Wells, who is the highest-ranked inland patcher in terms of both species and points.
Content continues after advertisements
Mark Nowers and Adam Faiers are out in front in terms of comparative scores, both topping 100% already. There's a big (6%) gap between these two and Eamonn O'Donnell in third — can they be caught?
The points per bird league continues to be dominated by northern, western and island patches. Dave Suddaby is in charge, although with an Inner and Outer Hebridean patch just behind him, it could all change in the swift raising of the bins. Well done indeed to Joe Stockwell for driving a Portland-shaped wedge into the Northern Isles' dominance.
BirdTrack use continues to rise slowly, with just under 40% of PWCers now submitting their data. The overall total of records contributed has risen up to over 80,000, and still Andy Bunting leads the way, building what look like being insurmountable totals for both lists and individual records.
Andy Johnson still leads the way in the green league — or the Vibram league, as it perhaps should be called! Gary White is just a few points off the pace, and it's great to see some PWC admin staff doing well here (well, it's great for us to see it anyway...). Nick Moran also deserves a mention here — this worthy league was his idea so it's good to see him in the top 10.
Last but not least, the next generation are led by Tim Jones. Tim is a full 21 species and 22 points ahead of Ben Porter on Bardsey, with Jack Bucknell not far behind in third. Looking at the locations of the top 2 at least, this could come down to rarities found.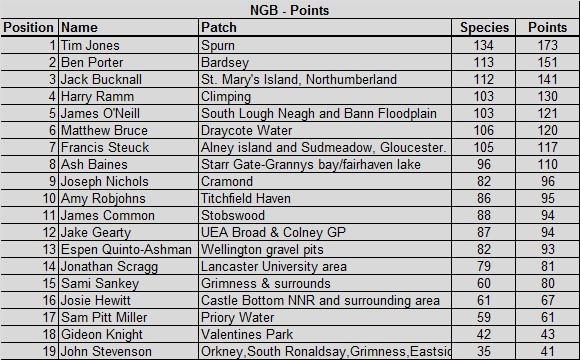 Well, that was April and now it is May. We've already had a 15-pointer and we're not even halfway through yet...
Good patching!