If spring had sneaked in unnoticed at the back end of March, it certainly announced itself with a bang in April for several taking part in the Patchwork Challenge. Southern areas especially saw the floodgates open in the latter half of the month, with some cracking birding to be had as patchers mopped up falls of spring migrants such as Redstarts, Whinchats and Lesser Whitethroats. All of this meant that the doom and gloom over the late arrival of spring was soon forgotten. In fact, some birds bucked the trend and turned up early — just ask Gary Bell, who recorded Shetland's earliest-ever Arctic Tern!
Naturally, with the season in full swing, the prospect of rare and scarce birds turning up became very real, and April delivered a bumper crop of goodies for lucky (or hardworking!) patch birders. Typical April quality came in the form of a Purple Heron at Winterton (Norfolk), Montagu's Harriers at Dawlish (Devon) and Samphire Hoe (Kent), a Serin at Sandy Point (Hants), as well as multiple Blue-headed Wagtails and multiple records of the 'usual six-pointers' such as White-tailed Eagle, Great White Egret and Crane. Another species that seems to be becoming a bit of a PWC staple is Green-winged Teal: John Bowler continued his run of form with this species on Tiree, recording two different drakes in April, as if his Yellowhammer success of March wasn't enough!
Slightly less expected in April was Dan Chaney's Sabine's Gull at Falmouth, which just goes to show that expecting the unexpected pays dividends on the patch. This month saw some excellent rarities discovered across our patches, although star bird for April must go to Jonathan Holliday's Lesser Scaup found right at the end of the month at Pugneys Country Park (W Yorks). A great find and definitely one that has a great chance of being on the Meopta and Forest Optic Best Find shortlist at the end of the year. Jonny describes his find:
"On Thursday 30th April I was making my usual rounds of my local patch. This was my second visit of the day and was not really any more productive than the first — I couldn't even locate the two Whinchat found by a mate earlier that day. All that changed at 5pm when I checked the ducks on the fishing lake and saw a Tufted-Duck-sized bird with a grey mantle just as it launched into a dive! I was already thinking Lesser Scaup and quickly set up my scope and 'dug in'. A couple of views as the bird actively fed with a handful of Tufted Duck looked very encouraging, with a nicely peaked rear crown, purplish sheen to the head, all-grey bill with very restricted black nail and a coarsely vermiculated grey mantle. At this point I rang out the news to the locals and put out news of a 'probable' as I knew I still needed to see the wing pattern to be certain.
First to arrive was P. Smith, and together we talked through the features and agreed we were pretty happy with the ID. He then relocated to a different viewing spot and we waited to get a view of the open wing — this eventually took another 90 minutes as the bird was now dozing and rather inactive. Finally it managed a bit of a stretch and a flap and the all-important white secondary bar and distinctly darker grey/brown primary bar were nailed. Patch first!! The rest of the evening was spent obtaining some record shots (including of the open wing), as the bird again became more active and made several short flights to other parts of the patch before eventually settling in front of the main hide."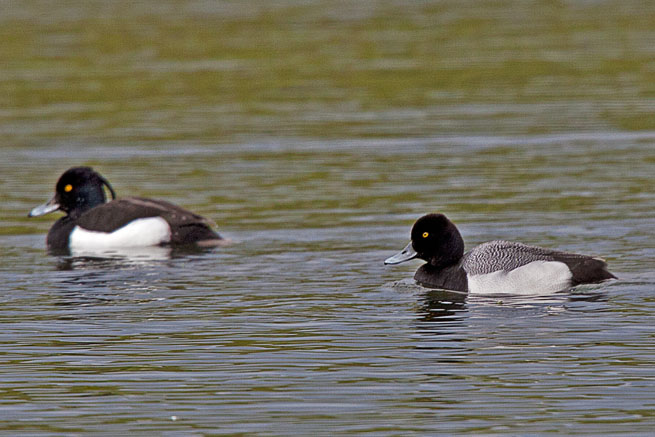 Jonathan Holliday's Lesser Scaup, photographed at nearby Anglers Country Park (Photo: Ron Marshall)
A fantastic find for Jonny, but run close by another 'floater' — Barrie Hamill's Snow Goose at Burray (Orkney) — and also by Niall Keogh's American Golden Plover at Kilcoole (Wicklow). Niall tells how it happened:
"A final scan of the 275-strong Golden Plover flock in Webb's Field while on the way back to the car revealed a very plain, lead-grey and slim-looking bird on the periphery of the flock legging it over a grassy mound and out of sight. A few brief views of its head popping up and down showed it to have a distinct white supercilium very much in the style of a Dotterel (which, given the spate of recent records, was a species I was very much hoping for down here!). After a short wait it walked out in full view and there it was for all to see, a nice American Golden Plover. It stood out like a sore thumb among the breeding-plumaged Goldies with very little in the way of colour visible on what few newly moulted feathers it was sporting. The slim, typical 'Yank wader shape' made it look even more graceful as it strutted its stuff about in the flock, feeding actively compared to its snoozing Eurasian relatives."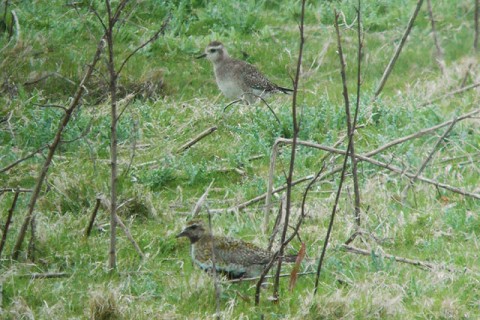 American Golden Plover at Kilcoole, April 2013 (Photo: Niall Keogh).
Fuller accounts of the rarity finds can be found on our blog.
Of course, we can't all find rarities — where would the fun be in that? But the beauty of patch birding lies in the patch gold, those common species that wouldn't merit mention in most circumstances, but can make or break a day's birding on one's patch. At Pulias Head (Guernsey), Mark Lawlor notched up his first Blue Tit of the year, just 118 days into the competition! On Shetland, a Coal Tit got Rob Fray's pulse racing at Virkie, and a Yellowhammer was on Rum.
Finally, spare a thought for poor Mark Newell on the Isle of May. Mark had what must be the best find of the month on 25th, and certainly the biggest! But, unfortunately for him, it didn't earn him a single point. Mark tells the tale:
"At 5pm on 25th April I took a quick gander before heading for the kitchen as I was on cook duty for the evening. Reaching the main lighthouse, the wind had picked up and I scanned towards Anstruther to see whether the tourist boat was making heavy weather of returning to harbour. In my field of view I thought I saw several blows but put it down to freak gusts causing spindrift. I persevered and then the blows continued in two groups and even at range I was able to make out the long, log-like backs and very blunt fins — Sperm Whales! Hasty phone calls enticed all five island residents to the top of the isle as we followed the whales east past Fife Ness and into the North Sea. It will take a cracker of a migrant to top today!"
Amazingly, the same animals were seen by a couple of microlight pilots, who counted a total of 14 animals! No points Mark but, as you say, a wildlife experience that will be hard to beat.
With the glut of migrants and goodies arriving in April, you can imagine that the total number of species recorded on the PWC took a bit of a boost. At the time of writing we're on approximately 235 species in total — which, due to the generosity of Meopta and Forest Optic, equates to a very handy £235 that will be donated to the BTO for their Out of Africa appeal.
Content continues after advertisements
And now let's take a look at the league tables. First up, the top 20 for overall points scored. Congratulations to Jonathan Gibbs — although no surprises that a patch like Minsmere does well in a league like this!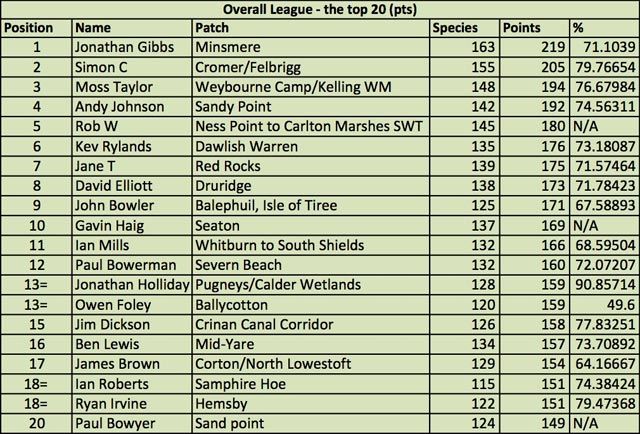 And next up, we have the top 20 for the comparative scores. Graham Howie is way out in front here — and we have a few folks who have achieved well over 100% already!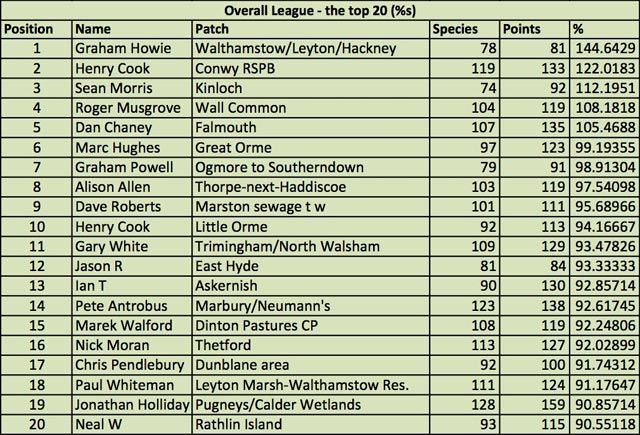 And, as a natural follow-on, we have the top 20 for the non-comparative scores. Well done to Rob W, who is showing the rest a clean pair of heels in this league!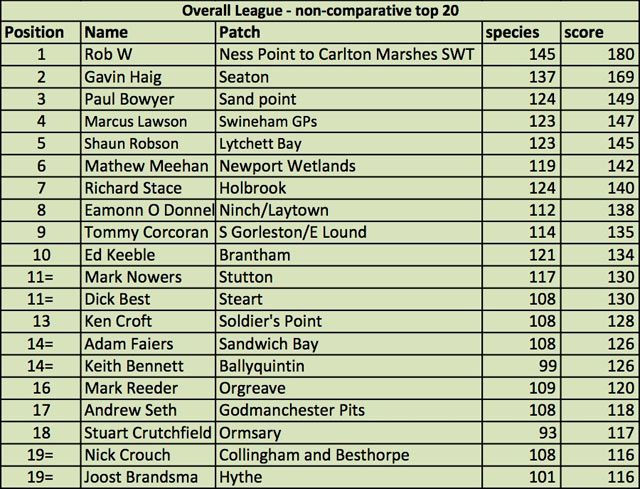 And finally, the scores for points per bird. Well done to Ian T for keeping his place at the top here — and an interestingly Celtic-dominated league with only 6 English patches.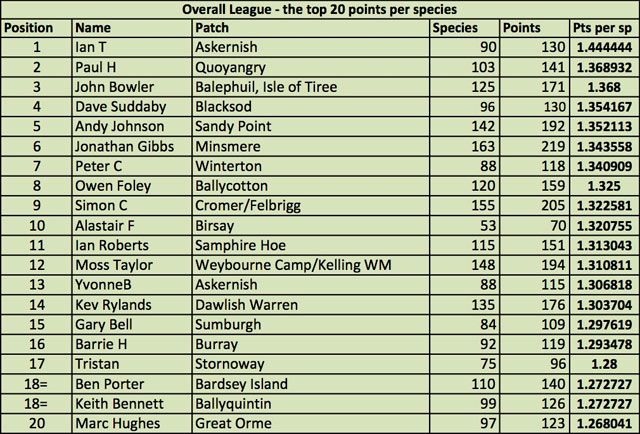 So, yet again, thanks to all for taking part, submitting scores, and keeping us busy. Good patching!