What a fantastic year 2015 has been! More people took part than ever before and with the majority of 2014 patchers returning in 2015, the comparative leagues have been more competitive than ever before. In November, the inaugural #Patchday competition was met with lots of enthusiasm as Chris Pendlebury from the Inland Scotland league took the overall prize for the day. Social media goes from strength to strength, with a real buzz around the Twitter feed and Facebook and of course our patchers turned up some awesome birds. The last thing to say before unveiling the 2015 results is thanks to all of the people who took part this year. It is the shared love of birding that makes being part of this competition so enjoyable, we hope to see you again in 2016.
National History Bookstore Comparative Minileague
One of the key elements of Patchwork Challenge is the comparative score, which allows every patch that has been in the competition for two years or more to compete on an equal basis. Congratulations to the 73 patchers who managed to surpass the 100 per cent mark this year, a great effort. It has been a hotly contested competition all year.
In the first half of the year it looked as though Alison C's inland Welsh patch would walk to the title but a slower second half of the year saw her drop to a creditable sixth in the final standings. At the end of November, the top five was so tight that a good find in December could make all the difference, and so it proved as Tom Raven managed to unearth a fine Dusky Warbler at Ham Wall to seal the victory. Congratulations to all of you for providing incredibly tight competition. A £50 voucher from the Natural History Book Store and a subscription to Bird News Extra from BirdGuides are the prizes heading to Somerset.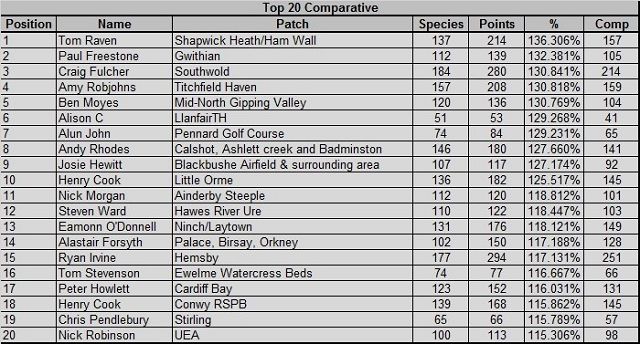 Content continues after advertisements
Points Minileague
In the early months of the year, the Frampton Marsh and Freiston Shore patchers dominated proceedings but following spring migration the rarity hotspots started to come to the fore. Over the summer it looks like it would be a fierce competition, but following a run of rarities including a Laughing Gull, one of the finds of the year, Mick Turton put some breathing space between his Easington patch and the chasing pack. Whilst a similar location, Mick's patch covers a different area to last year's winner and just goes to show how great this section of the Holderness coast is. Congratulations to Mick, a BirdGuides subscription for the highest points score is on its way to you.
There were a number of familiar faces at the top of the league. Propos to all of the top six who hit a mighty 300 points but it was John Bowler on the rarity island of Tiree who finished second with Nige Lound at Gibraltar Point completing the podium spots.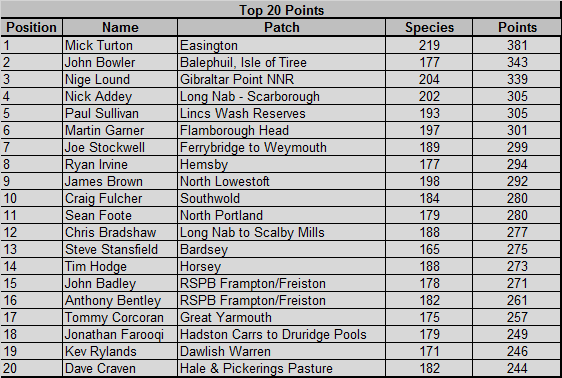 The Best Find Competition
Forest Optics have once again kindly sponsored our best find competition with yet another fine prize. The winner receives a pair of Bresser Montana 8.5 x 45 binoculars. Also, due to Forest Optics generosity this year, the 334 species seen this year by our patchers will translate into a £344 donation to the BTO. We have short-listed what we believe to be the finds of the year but the final decision is all yours! In time honoured awards show fashion, the nominees are:
Hudsonian Godwit at Shapwick Heath (found by Tom Raven)
Two-barred Crossbill at Blacksod (Dave Suddaby)
Azorean Gull at Marston STW (Dave Roberts)
Laughing Gull at Kilnsea (Mick Turton)
Gull-billed Tern at Palace, Birsay (Alastair Forsyth)
Broad-billed Sandpiper at Frampton (Paul Sullivan)
Wilson's Phalarope at Frampton (Toby Collett)
Black Stork at Nantyfyllon (Paul Parsons)
Red-flanked Bluetail at Hemsby (Ryan Irvine)
Northern Harrier at Kilcoole (Niall Keogh)
Instructions on how to vote for the winner are on our blog www.patchworkchallenge.blogspot.com.
November and December round-up
Before the remaining prizes are announced there is the small matter of November and December. As the year comes to an end and the rarity rush of autumn fades away, these can be the months where the tight league positions are decided and one find can make all the difference.
The best find of the early winter was a fine Northern Harrier which made appearances at the patches of Niall Keogh and Alan Lauder in Ireland in November. Some great photos helped to clinch the identification and the points. This might have been gazumped if Logan Johnson had set eyes on the Mourning Dove first at Lerwick, but what a bird this diminutive dove is and a superb end to his patch year.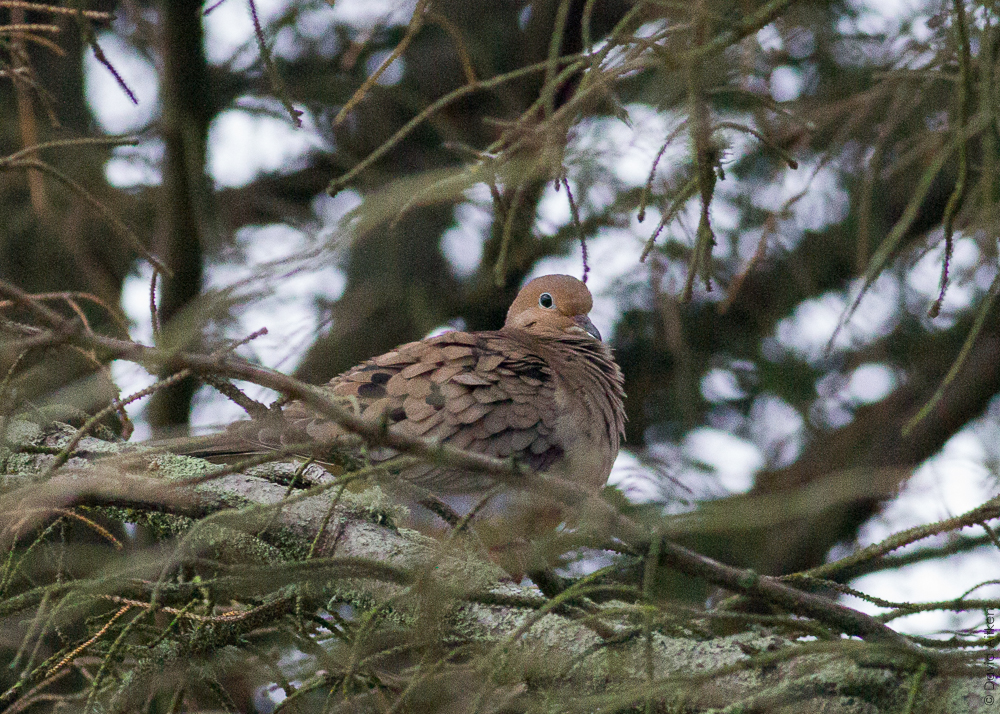 Mourning Dove, Lerwick, Mainland, Shetland (Photo: David Aitken)
North Galway Bay again proved itself to be the place to go to for Ring-billed Gulls with several on site accompanied by the Forster's Tern and, most surprisingly, a breeding plumage Sabine's Gull in late December! Noel Keogh at South Dublin Bay also got in on the Ring-billed action while Barry Stewart at Burry Inlet and Kev Rylands at Dawlish Warren added Bonaparte's Gull. Hardy seawatchers were rewarded by movements of Leach's Storm-petrel, Little Gull and Little Auks as well as Grey Phalaropes during the stormy conditions of early winter. Meanwhile the seawatching went inland when Hertfordshire's eighth Great Skua was located at Tring Reservoirs.
American wildfowl were gratefully received bonus pointers. A Ring-necked Duck was located on #Patchday in early November at Old Nisthouse in Orkney. David Douglas had an American double at Loch Leven with Green-winged Teal and American Wigeon in December. Meanwhile a brace of Lesser Scaup appeared at the geographical extremes of Patchwork Challenge, Tiree and the Isles of Scilly. A Black Brant made a return to the Spurn area, finally making it to Mick Turton's patch a couple of days later.
Rarer waders are not usually a feature of the winter months, but a White-rumped Sandpiper at Musselburgh was enjoyed by Chris Rodgers up until the point it was taken by a Sparrowhawk. Tom Lowe was rewarded with an American Golden Plover on his Goole Fields patch, an excellent find. The long staying Long-billed Dowitcher finally made it to Druridge Pools with Iain Robson and Jonathan Farooqi benefitting.
Three patchers recorded Great Grey Shrikes as they make a return to winter territories. Perhaps less expected in November was a Red-backed Shrike for Mark Lewis at Girdleness. Penduline Tits are becoming a more regular find along the south coast, but fortune favoured Shaun Robson at Lytchett Bay when two flew overhead during a vismig session which also included a Lesser Spotted Woodpecker! Amy Robjohns had rather more confiding views of Penduline Tits in December when three took up residence at Titchfield Haven.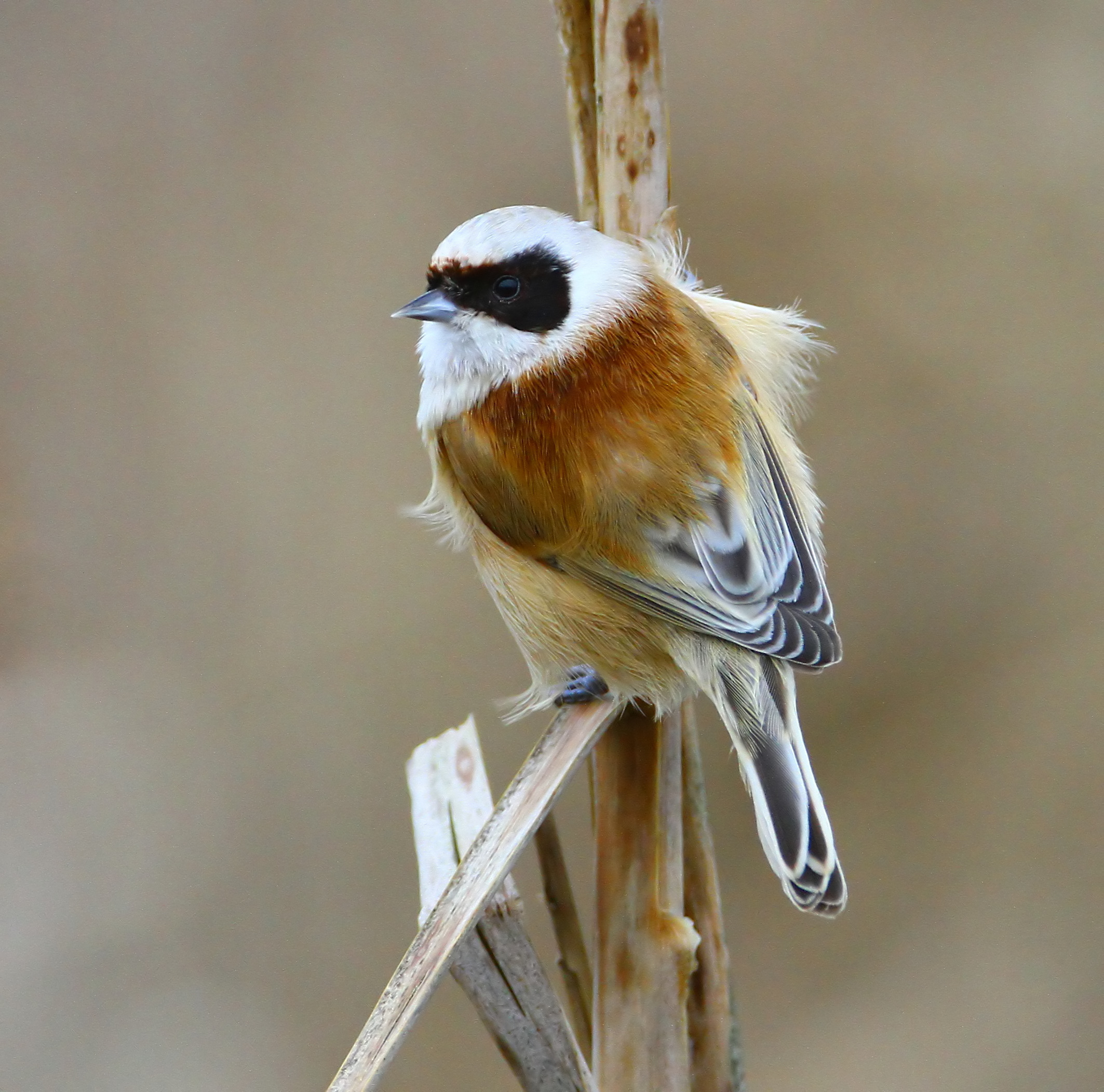 Penduline Tit, Titchfield Haven NNR, Hampshire (Photo: Lee Fuller)
Remnants of autumn were in evidence with a number of Siberian Chiffchaffs looking like they are set to winter and a Yellow-browed Warbler at Dawlish Warren in November. The fifth Olive-backed Pipit for Hampshire was an excellent find for Andy Johnson at Sandy Point while the Dusky Warbler for Tom Raven at Ham Wall turned out to be crucial in the comparative league.
Top 20 species
Just like last year, three patchers saw more than 200 species on their patch in 2015. Mick Turton tops the table, just one shy of Tim Jones' winning total last year. Nige Lound and Nick Addey fill the runners-up spots.
Top 20 inland
Tom Raven's sensational year continued at Shapwick and Ham Wall. Incredible finds throughout the year included the much appreciated Hudsonian Godwit as well as the Dusky Warbler which helped him to seal the inland title. The most species were found at Fairburn Ings to cap an excellent year for Darren Starkey in second place whilst Ben Lewis impressive year sealed third spot. As Tom has already won a Bird News Extra subscription for his comparative league win, the prize will be allocated to Darren Starkey in second place. Congratulations to all patchers in the inland minileague.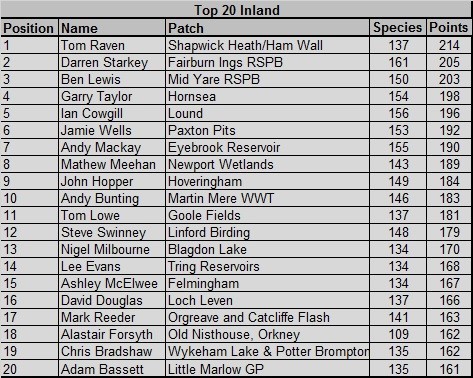 Top 20 points per bird
Always an interesting competition, this is the quality not quantity table. John Bowler won last year and continues his domination of this league. His location on Tiree is great for rarities but also has the added benefit of increasing the chances of great birds being finds and bagging the bonus points. His 1.938 is a sensational score. Mick Turton at Easington lands second spot whilst Dave Suddaby at Blacksod turned up some amazing birds this year to seal third. A Bird News Extra subscription will be heading north.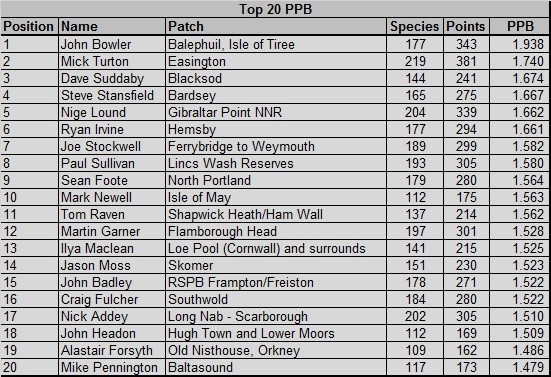 BirdTrack Birdrace
Thanks to everyone who submitted a grand total of 13,894 lists and 434,944 records to BirdTrack during the year! It is a key area for Patchwork Challenge and we encouraged everyone to use BirdTrack in 2015 as an excellent tool for research as well as analysing your patch records. Four patchers submitted more lists than there are days in the year which is a magnificent effort, but the Patchwork Challenge BirdTrack lister of the year is Alastair Flannagan who submitted 572 full lists from his Welsh patch. Honourable mention also goes to Ian Ballam, who submitted the most records in the year at a mighty 16,100. Alastair will be receiving a BTO goodie bag and a copy of their nest monitoring field guide.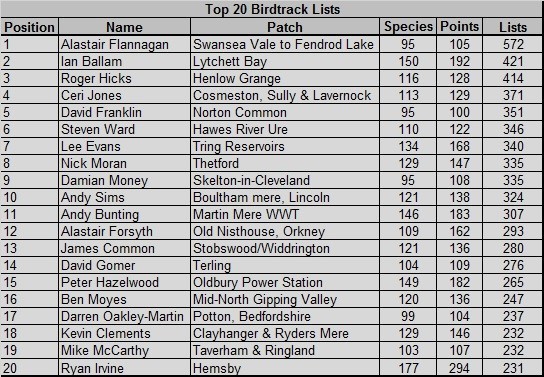 The Sound Approach Green Minileague
This is the league for those patching without use of any motorised transport. Last year's winner Steve Stansfield has to settle for third this year as Nige Lound at Gibraltar Point takes the spoils. A fantastic points total from this site on The Wash, it has beaten some superb sites with Patchwork Challenge's own Ryan Irvine pushing him all the way. The Sound Approach have continued their kind support of this eco-friendly form of birding and a copy of Undiscovered Owls will be winging its way to Lincolnshire.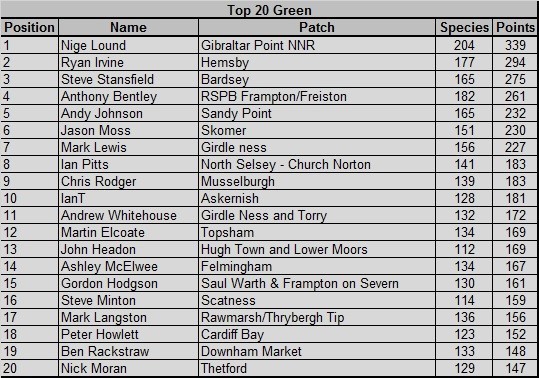 The Cameron Bespolka NGB Minileague sponsored by British Birds
Last year Joe Stockwell had a fine year but was beaten to the prize by Tim Jones. This year he takes top prize with an impressive 299 points. Looking down the list, there are many names who have been active on social media all year, and have found a number of superb birds. British Birds is proud to support the Next Generation Birders league and Joe will now benefit from a subscription for the year. This league will be extended to accommodate all young birders next year.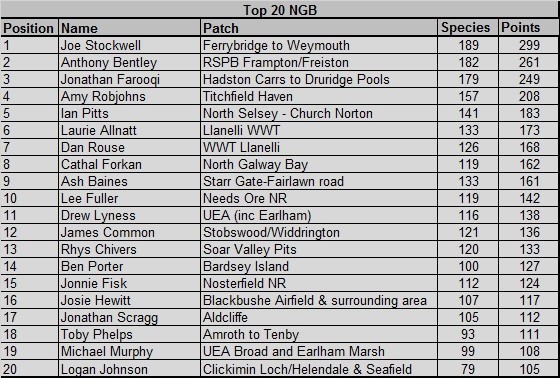 The NGB Most Valuable Player is a title for all-round contribution to the competition with engagement with the competition on social media, time spent on patch, amount of BirdTracking or survey work undertaken as well as bird finding all contributing to this. We nominated three people to Steve Stansfield and he selected the individual he thought brought most to the competition which in 2015 was Josie Hewitt. Josie wins a week at Bardsey Bird Observatory.
So all that is left is to say is a massive thank you from the team to all sponsors and supporters of PWC in 2015 and most of all our fantastic tapestry of patchers. It looks like we will be breaking more records in 2016 with a record number of patches registered, a new internet site on the horizon and an exciting buzz around social media. Best of luck for 2016, we look forward to hearing how you get on!