After a long, eventful, and thoroughly enjoyable year, the Patchwork Challenge 2013 final scores are in and counted! With the 2014 competition coming along very nicely so far (310 patches having been registered as of mid-January), it's great to be able to draw an end to last year's competition and focus fully on the year ahead, and to do that we have to complete one final, and exciting task: announcing last year's winners!
We have already announced one winner of course — Andy Johnson's Semipalmated Plover won the vote for the Meopta and Forest Optic best find. It was a close run thing, with Nick Crouch's inland Pied Wheatear only four votes behind (and having been ahead for much of the running), and Sean Morris's Mourning Dove finishing third. You can read about Andy's find here, while Nick's wheatear is featured here.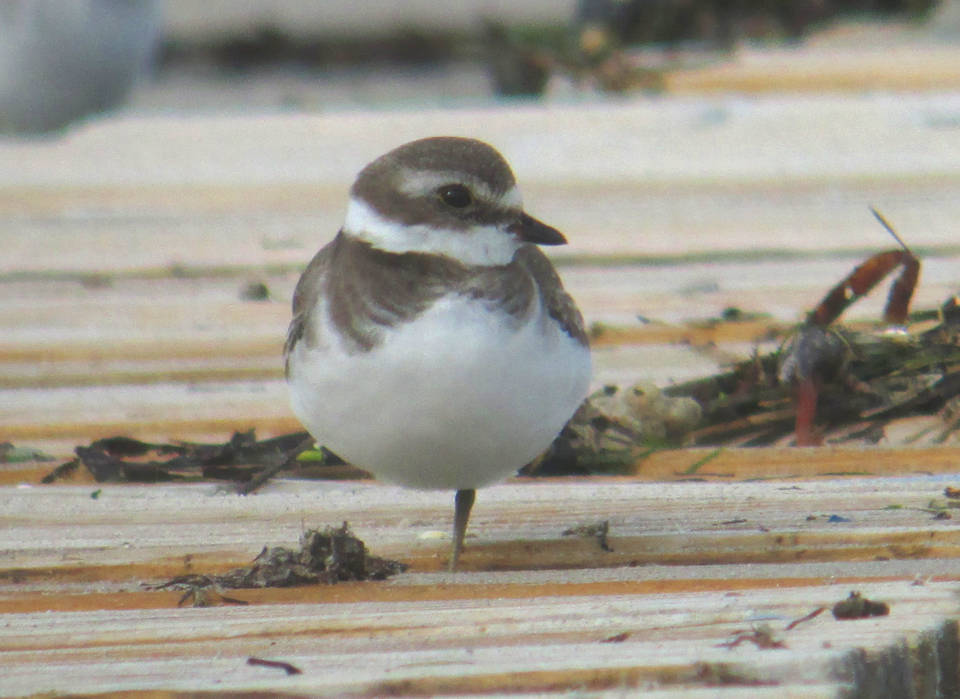 Andy Johnson's Semipalmated Plover in Hampshire collected him the Meopta and Forest Optic best find accolate (Photo: Andy Johnson)
The BirdGuides team have generously provided prizes for the best comparative and non-comparative scores, the best inland score, and the best points-per-bird (PPB) score. The winners will receive subscriptions to BirdGuides Bird News Silver service but, before we announce the winners of those, let's have a look at who came out on top in terms of pure numbers.
The top 20 in terms of the number of species seen is dominated by East Anglian patches, with ten coming from the East Anglian mini-leages, and 8 of those based on the coast. In fact there is a real southern bias to these most diverse patches, with only one based in the north of England (Ian Mills at Whitburn) and only one in Scotland (John Bowler's cracking little corner of Tiree). At the top of this tree, a very special mention has to go to Simon Chidwick who, in amassing 349 points over the course of the year at Cromer, was the only participant to break the magic 200 species barrier — finishing up with 201. Simon finished three species clear of north Norfolk rival Moss Taylor (198), with third place hopping just over the border to James Brown in Suffolk (189). Totals like these must be the product of a great effort on a great patch, so congratulations to all.
Naturally, a patch with a lot of species is going to score a lot of points, so it's no surprise to see the top two in terms of species occupying the top two spots in terms of overall points scored. This time though, it's Moss Taylor who comes out on top (Weybourne; 359 points), thanks to a series of excellent rarity finds, with Simon Chidwick second, and Owen Foley takes third place here (Ballycotton; 343 points). There's less of a geographic pattern to the top 20 points scored, but a look down the list shows a roll call of coastal sites with good track records for rarities! It's no surprise to see Bardsey, the Shetland patches, Minsmere, and Blacksod among the high scorers.
With that in mind, and acknowledging that the points system does slightly favour those based on the coast, it gives us great pleasure to announce that the winner of the first PWC Inland Top 20 is Jamie Wells. Over the year at Paxton Pits, Jamie totalled 167 species, scoring 218 points, beating fellow East Anglian Ben Lewis into second place (Mid Yare; 160 spp/209 points). In third was Pugneys stalwart Jonathan Holliday, just one short of 150, and with 189 points. The efforts of those grafting away at inland sites are sometimes overlooked a little by us here at PWC — especially when the rarities are flooding in to the coastal sites. As such, we'll endeavour to report on the inland scene a little more thoroughly in future, with at least one of the 'Patch Diaries' that will soon be appearing on BirdGuides coming from an inland site.
Content continues after advertisements
On then to one of my favourite aspects of the competition, the Points-per-Bird Top 20. There are some familiar faces in this list by now, and it's no shock to see the prize going to Shetland-based Rob Fray. Rob's 153 species and 298 points work out at an incredible 1.94 points per bird, which narrowly pipped Owen Foley's 1.93 PPB from Ballycotton. Moss Taylor edged Steve Stansfield for third place, with 1.81. Rob's high score is the result of low diversity, a high proportion of rare birds (including Pechora Pipit, Western Bonelli's Warbler and Gull-billed Tern) as well as a fine list of finds (Lesser Yellowlegs, Thrush Nightingale, and a whole host of scarcities) but the challenge for 2014 will be to break the two-points-per-bird barrier. With a few more patches from Shetland, Flamborough and Spurn this year, it could well be on the cards!
But now we get to the heart of the matter, to the real crux of the competition — the winners of the comparative and non-comparative scores leagues. Among those new to patching, or those who didn't have a comparative score to play against, Mathew Meehan at Newport Wetlands is this year's winner, with a total of 161 species and 224 points, and scoring the only win for Wales. Mathew beats East Anglian duo of Rob W (Ness Point; 163 spp/219 points) and Craig Fulcher (Southwold; 164 spp/210 points) into second and third respectively. In terms of the comparative scores (i.e. those playing against a score accumulated in previous years), the winner is Gary White, whose Trimingham patch accumulated 160 species and 221 points — translating to a whopping 160% of his comparative score. In second, Roger Musgrove scored 155% of his previous totals from Wall Common, and in third, from Great Orme, Marc Hughes weighed in with 152% — these are high scores! We're not for one moment suggesting that comparative scores were not submitted in good faith, as it's more likely that the element of competition encouraged greater effort for many, which in turn returned some very high comparative scores. Greater effort is no bad thing of course, but for the comparative league to remain...well...comparative, we need to try and eliminate increases in effort leading to high percentages. As such, we've decided that the comparative scores used in 2014 must be those submitted as final scores for 2013. Hopefully this will level things out.
So there we have it — the biggest hitters for the inaugural Patchwork Challenge competition — many congratulations to all! As mentioned at the top, we're in great shape for 2014, with loads more patches, another best find competition (this time thanks to Bresser and Forest Optic), another species-total-related donation to charity, and plenty more. If you're interested in taking part this year, you've got till the end of February to register by filling out the form on our blog. We'd love to have you on board.
Good birding for 2014!