When not completely focused on the job at hand, we birders easily descend into conversation, whether when we're sitting in hides, sitting in cars, sitting on charter planes or even waiting for that next gem to pop up onto the nearest bush to announce its presence. Through the plethora of topics discussed at these times, one seems to arise time and time again: how the number of young birders has dramatically dropped compared to a few decades ago, and whether this heralds the end of British birding as we know it. It is certainly true that you could walk around a reserve or migrant-strewn headland all day and see more rarities than young birders; however, as one of the latter, I can assure you that the future of British birding is not be as bleak as it may appear.
Many of you reading this will have seen reports such as Durham's first Iberian Chiffchaff in April, Two-barred Crossbills in Norfolk during July, the Frodsham Marsh Cattle Egret in August, or the North Wales Hoopoe in October, without realising that they were all found by birders under the age of 25. From Shetland to Scilly and in practically every county between the two, young birders have been working local patches day in day out, obtaining photos and video, or just generally birding to their heart's content as they observe the wildlife around them. We may not rival the numbers of 20 or 30 years ago, but we are far from a dying breed, and now we have an organisation to band us together and give us a voice: the Next Generation Birders.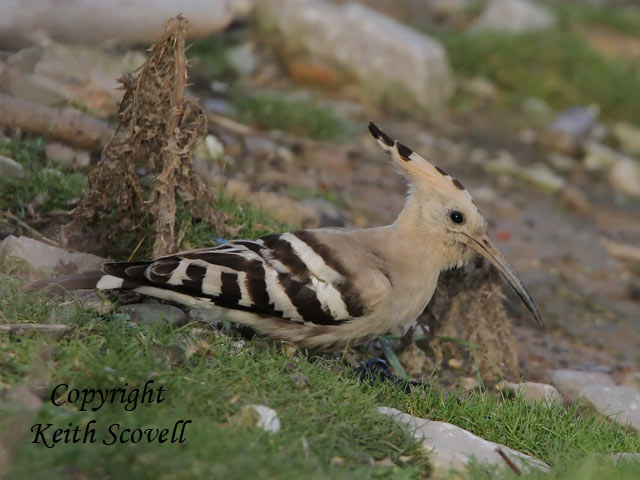 Hoopoe, Rhyl, Clwyd (Photo: Batman)
Unbeknown to many, there has actually been a community of young birders for several years, although it hasn't had a specific public face. It all started with the Young Birders thread on BirdForum, a place where many of the younger generation of birders first met others with the same interests and realised they weren't the only ones with a passion for wildlife. This thread, started in 2005, was the main hub for young birders to interact with each other, yet with it being a forum it wasn't the most useful interface for a group of us who wished to communicate more and in an unmoderated manner. Social media seemed the obvious solution, as the majority of the thread's contributors already had Facebook accounts for everyday use anyway. So on 4th November 2011 I created the Facebook group Young Birders, with 17 other original members making up our small band of like-minded naturalists, totally oblivious to what it would eventually evolve into.
The group proved to be a huge hit — almost too much of a success around exam time, when we have to force ourselves away from our computers to make sure we get enough study in! We grew from 18 to 60 members over the next ten months, with new members attracted by our weekly identification quizzes, trip reports and general birding talk and banter. From a starting pool of purely British birders, we soon began to be joined by young birders from other nations across the globe, with members from as far away as the USA, Malta and a strong showing of 5 from Australia.
However, back home something was missing; while we were now a strong and tight-knit group and had all made friends that could stay with us for the rest of our lives, that's all we were — just a group. It was reaching the stage where a good proportion of the serious young birders in the UK under the age of 25 were becoming members of the group, and we soon realised this provided us with a unique opportunity. As a group we had the potential not only to be a place where we can all meet and talk, but also to provide younger birders everywhere with a collective voice through which we could project our views and ideas to a wider audience. To do this we decided that what we really required was our own identity, the simplest phase of which was to choose a new name more representative of our age range of 13–25, as in most cases 25 can't really be classed as young (except in birding demographics!) So, on 15th October 2012, Young Birders officially evolved into Next Generation Birders.
Now that we had the name, we needed a face, or more specifically, a logo. Most of you reading this will be members of bird clubs in your local area, each with their own logo most likely depicting the club's name or initials, and a bird species that represents that specific region of the country. To create our logo, however, we had to think of a bird species that represented us as a group, rather than one that represented a geographical area. As the next generation of birders, it was decided that our logo should be a species that has colonised Britain fairly recently, thus representing the next generation of birdlife to be found up and down the country. Several recent rarer breeders such as Little Bittern and Red-backed Shrike were considered for the logo, as these really are the future generation of colonisers; however it was decided that instead we should go for a bird that is now a regular feature for pretty much all our UK members, while at the same time still being a relatively recent breeder, the Little Egret. The big problem now was that none of our members were artists although, as you will see later, we do have some talent in the art department. So for the logo to be created we needed someone to do the job on our behalf. Through Facebook I had become aware of the amazing artwork of wildlife artist Andy Mackay, so I contacted him asking if he would be able to produce a logo for us and he kindly accepted, even adding that he would do it free of charge! I think the most effective logos are of a simple design, as they appear the most striking; my personal favourite is that of the Scottish Ornithologists Club, so it was around this design basis that Andy created this, the very first logo for the Next Generation Birders, and very thankful we are for it.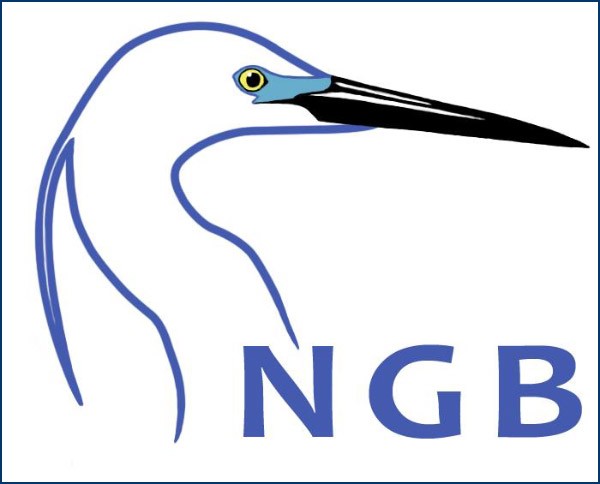 Name — check; logo — check; now what? Obviously a new name and logo doesn't turn a Facebook group into a nationwide organisation, so it was now that the real work was to begin and, quite frankly, we were at a loss how to go about doing it. Step in Lucy McRobert, the founder of A Focus On Nature, an organisation set up to provide a network for young conservationists. Within a week of joining NGB she had come up with a development proposal for us, outlining some of the key things we would need to do for our ideas to become reality. This was just the kick we needed to realise that what we had envisaged could actually be possible, so we set about setting up one of the key aspects of the proposal, the election of a Next Generation Birders committee to act as a driving force for the change and as a channel for the ideas of our members. Eight committee roles were outlined to cover the key aspects that we will need to address during our development: everything from managing social media to youth engagement. We originally planned to have a starting age of 18, but we decided that any member over the age of 16 could stand for a committee position; after all, the point of our expansion was to provide the younger members with a voice. So members put themselves forward for positions, brief campaigning took place, and votes were made, the result of which is the following committee for 2013/14 (note: two of the members were under 18 when elected):
Content continues after advertisements
Chairman — Matthew Bruce, 22
Vice-Chairman — Jonathan Scragg, 19
Secretary — Liam Langley, 20
Treasurer — Oliver Reville, 24
Marketing, PR and Social Media — Jonnie Fisk, 18
Youth Engagement — Liam Curson, 18
Website Manager — Andrew Kinghorn, 21
Project Co-ordinator — Oliver Simms, 21

The committee has two main aims: to formulate ways to get younger people involved in birding, and to continue the development of NGB into a nationwide organisation for those people to be a part of. To spread the word we have taken to Twitter to broadcast the efforts of young birders and at the touch of a button inform the masses of the latest instalments of our growth; 812 followers later it seems to be working. If you're not one of them already then a) where have you been... and b) you're missing out on the crown jewel of our feed, Jonnie Fisk's amazing "This Week in Birding" feature (I told you we had some art talent!). As you can see by his latest edition, it's not your normal weekly bird news roundup...
As well as Twitter, our online presence is supplemented with the Next Generation Birders blog. Unlike a normal birding blog, which usually documents the observer's sightings, trip reports and photography, our blog aims to highlight the range of aspects that make up the birding lives of our members, with recent posts covering topics such as field sketching, a homage to Cley NWT, and one member's amazing trip around the Southern Oceans courtesy of a scholarship from Heritage Expeditions. We also have a weekly post by different members championing those more obscure bird species that you may not even have heard of, our Obscure Bird of the Week series. This online exposure has done wonders for our membership totals, with over 130 members under the age of 25 now experiencing the full range of what NGB has to offer.
And what exactly do we have to offer? Well at the simplest level we offer a place for young people interested in birds and birding to come and meet others with the same passion as them, helping them to realise they aren't the only ones with an interest in nature. Our regular quizzes are designed to deal with some of the tricky aspects of bird ID to help enhance our members' knowledge of birds, which they can then transfer to use while out in the field. Practically any question a new member could have about birding can be answered by our membership, which includes ringers, award-winning photographers, environmental consultants and bird observatory workers. As well as advice and connections, we also have several projects in place for 2014 that are designed to get our members more involved in a variety of aspects of birding:
BirdTrack Challenge: to encourage our members to submit their records regularly to this helpful resource, we're running a challenge to see who can submit the highest number of their records each month. We will also be keeping a running total of the total number of records submitted by all NGB members in 2014 — how high that will go we have no idea.
Patchwork Challenge: many of you will have heard of Patchwork Challenge and read the regular updates posted on BirdGuides that outline the best finds of each period and gives updates on each mini-league table. Well hopefully in 2014 there will be a new mini-league, one for NGB members. The aim is that this will encourage more young birders to get out onto a patch to discover what birds they can unearth when they regularly work a local area.
National Yearlist: one for the listers and twitchers among us, and not just confined to our British members: how many species can you record in your home country in a year?
Other initiatives that our members will be involved with include: University Birdwatch Challenge, a scheme being run by AFON to get more university students out and about on their campuses to discover the birdlife that resides there; Footit; our annual photographic competition; and potentially our own version of Punkbirders' "Finders Keepers" competition. The committee is constantly coming up with new ideas for projects and collaborations with other bird organisations, so keep an eye on our Twitter feed for the latest updates.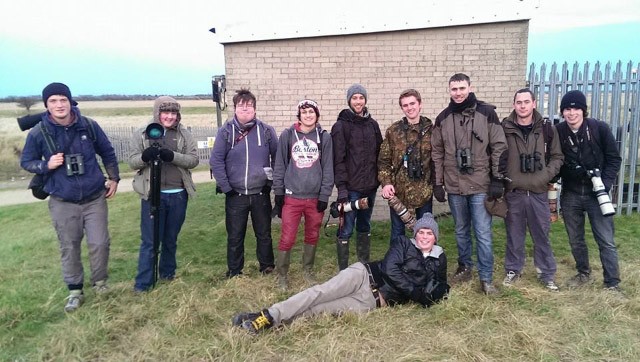 NGB members at the Ivory Gull twitch at Patrington Haven (Photo: Sam Viles)
And that's pretty much it: the past, present, and future of NGB. All that's left to say is if you're between the ages of 13 and 25 and aren't already a member, then join the Facebook group and discover what you've been missing. These are exciting times for young birders; we have a group to bind us together and a future to look forward to of an organisation to further enhance our passion for the environment. Who knows, the future might not be so bleak after all.
NGB on Social Media
Facebook Group — https://www.facebook.com/groups/386321508160072/
Twitter — https://twitter.com/NGBirders
Blog — http://nextgenerationbirders.blogspot.co.uk/