The British Dragonfly Society is embarking on an exploration of the world of dragonfly trends...and they need your help!
For the same reasons that BTO encourages the recording of complete lists of birds in BirdTrack, they are appealing for complete lists of dragonflies seen at wetland sites. Using newly developed statistical techniques, they will use this information to produce trends for a review of the status of dragonflies in Britain in 2020.
The impacts of climate change are of great concern to both scientists and naturalists. To understand the effects of this threat on our wildlife, we need to monitor changes in their ranges and populations. Dragonflies, like all insects, are temperature-driven. However, many species are also incredibly mobile, thanks to their unparalleled powers of flight. This combination makes dragonflies an ideal candidate to study some of the impacts of climate change.
In recent decades, the worldwide ranges of many dragonflies have expanded. For example, in Britain Migrant Hawker has spread rapidly from the south-east and is now found as far north as Aberdeen and along the length of the Welsh coast. Meanwhile, Small Red-eyed Damselfly underwent a population explosion after colonising in 1999, spreading to Devon, South Wales and North Yorkshire. Similarly, within the last decade, Willow Emerald Damselfly has spread dramatically into South-East England. It is as yet unknown what effect these invasions are having on the species already present in these areas.
In the same way that climate change is predicted to make life difficult for upland birds such as Ptarmigan, it is possible that upland and northern dragonflies, such as Black and White-faced Darters, Northern Damselfly, Azure Hawker and Northern Emerald, will suffer. This may be compounded by competition from the arrival of other species spreading north and uphill.
In addition, dragonflies' keen requirement for high-quality water, and their prevalent use of sensitive habitats, makes them vulnerable to changes in land use and management. Monitoring population trends is therefore vital to dragonfly conservation, highlighting those species and areas where climate and other changes are having impacts.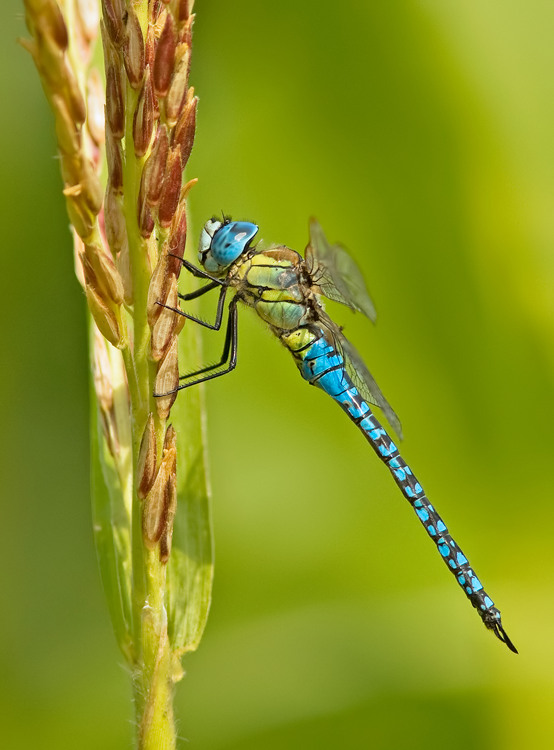 The project hopes to produce trends for expanding species, such as Southern Migrant Hawker, as well as those that may be threatened by climate or habitat changes (Photo: Paul Cools)
Content continues after advertisements
You can help by making 'Complete Lists' when you visit wetlands during the dragonfly flying season, which is typically between April and October. These are as simple as they sound: a list of all the dragonfly species you see during a single visit. Even if you are not visiting a site to look specifically for dragonflies, you can still take part in this: just take along a notepad and jot down all the dragonfly species you see. You can submit these via the BDS website, directly to the Biological Records Centre online using iRecord or using the iRecord Dragonfly app. Remember to tick the Complete Lists box or add a note informing us it is a Complete List when submitting your records.
Of course it is important to correctly identify what you see, so please don't include species you're not sure about. The BDS website and the iRecord app both give help on identification. The value of Complete Lists is enhanced by 'adopting' a site, visiting it through the flight season and doing it again in future years. For help with choosing a site, contact the BDS local representative for your vice-county.
The Complete List method is designed to be simple for recorders, while also providing valuable information. There's no need to count or record breeding behaviour (though if you are able to, this adds greatly to the value of your records!).
Genevieve Dalley, Conservation Officer at the British Dragonfly Society, said: "Dragonflies have inspired glorious art and unbelievable myths. Their striking colours and breathtaking powers of flight continue to put a smile on faces today, including those of many birders. Our project allows anyone to combine their love of watching dragonflies with helping us understand and protect them."
Find out more about submitting Complete Lists at www.british-dragonflies.org.uk/content/recording-dragonflies-and-damselflies-britain.