Although the Christmas period continued wet and mild, early January saw a welcome period of calmer and drier weather, with a breath of southerly wind producing a remarkable high of 15.6°C in County Wicklow on 3rd. Nevertheless, the relief was short-lived as cold and snowy conditions set in from mid-month. February was dominated by high pressure with cold winds remaining for the final three weeks of the official winter. A tiny flurry of migrants did arrive (mainly across a few southern counties of England) and there was also a wide-scale early emergence of some resident spring species along with some over-wintering moths coming out of hibernation. That said, there were lean pickings for most garden moth-ers. Patrick Clement got so bored waiting for some decent moths to arrive at his garden trap on 19th January that he must have fallen asleep on his seat, as his wife found him looking like 'Scott of the Antarctic' at dawn next morning!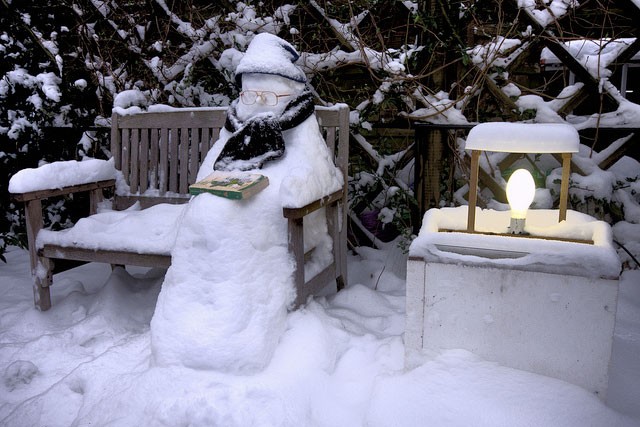 Moth-ing in the snow! Halesowen, W Mids (Patrick Clement).
By far the most intriguing record came from Paignton (Devon), when on the evening of 24th December a pristine Mediterranean Brocade was potted up by Derek Smith from the outside window of his conservatory, in which an actinic light had been set. Many previous British records of this species have been assumed to be accidental imports, arriving with seasonal flowers or plants. Presumed genuine migrants were recorded in both Dorset and Hampshire in mid-October 1978 and 1979. The species is multiple brooded in its normal range and so could conceivably occur at any time. It can also be found on a variety of crops, flowers, fruits and vegetables as a pest. One of the species' favourite food-plant hosts is chrysanthemums, which no doubt would have been abundant in various Torbay garden centre and supermarket outlets at this time of year. Whatever its origin, it was a fine-looking beast!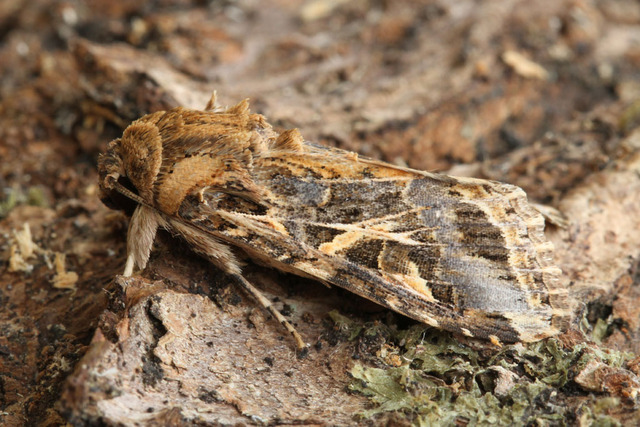 Mediterranean Brocade, Paignton, Devon (Photo: Roger Wasley)
Amazingly three Gems were also recorded at the same location on the night of 27th December. It is quite likely that these were from local breeding stock, perhaps from a temporarily established colony.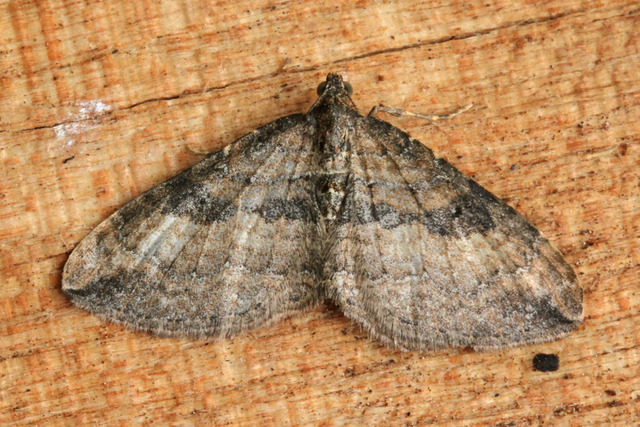 Gem, Paignton, Devon (Photo: Roger Wasley)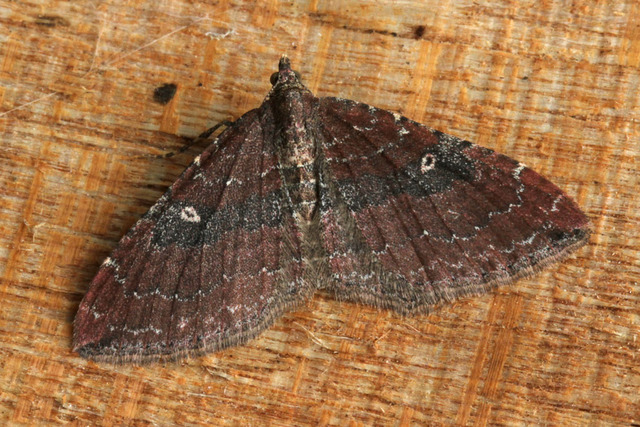 Gem, Paignton, Devon (Photo: Roger Wasley)
On 19th February Charlie Streets found a small unknown moth at his home in Halifax (W Yorks). It was inside the outer leaves of a cabbage he was dressing, which had been imported from Spain. The moth was barely alive as it crash-landed on the draining board and into a small pool of water. Thinking it was something different he immediately photographed it and potted it. Subsequently it was sent off to Harry Beaumont for a more in-depth look and he has identified it as a male Petite Wave Scopula minorata, a species not recorded before in the UK. It will, of course, only be accepted as an accidental import!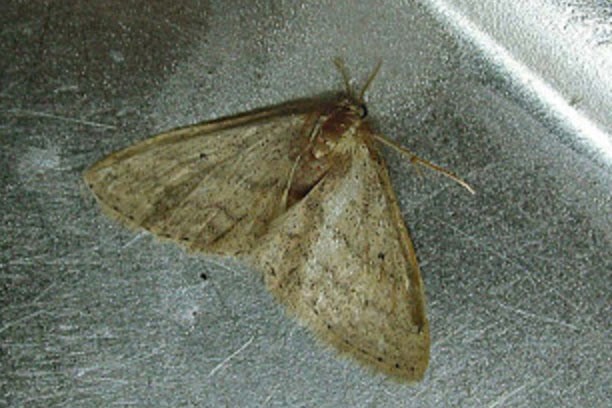 Male Petite Wave Scopula minorata, Halifax, West Yorkshire (Charlie Streets).
A Hummingbird Hawkmoth was probably coaxed out of its winter abode by mild weather at Portland (Dorset) on 23rd December. A late White-speck was on St. Agnes (Scilly) next day. Single Small Mottled Willows, all in Dorset, were at Puddletown and Tincleton on 2nd January and at Portland Bill on 4th. Dark Sword-grass were also at Portland Bill on 1st and 3rd January. A female Lesser Yellow Underwing at Biggleswade (Bedfordshire) could well have been a migrant as around this time 18 Silver Y were recorded across the British Isles. An undoubted wind-assisted migrant was the rare Euchromius ocellea (1289) caught at Abbotskerswell (Devon) on 4th January. Migrant pyralids included three Rusty Dot Pearl and 17 Rush Veneers. Another micro-moth with an interesting local status is Acleris umbrana (1052). After a presumed late-autumn migrant in West Sussex in 2012 a virtual bonanza of six records occurred in early January this year. Three in Dorset, singles in Hampshire and West Sussex all between 2nd and 9th January point to migrant origin, with another at Glastonbury (Somerset) also on 2nd possibly so. One at Polbathic (Cornwall) on 4th February is much more likely to be a resident there.

Acleris umbrana, Glastonbury, Somerset (Sue Davies).
An adventive species — Duponchelia fovealis — was found indoors in Watton (Norfolk) on New Year's Day and another two had presumably emerged from indoor pot plants at Harlow (Essex) on 24th January.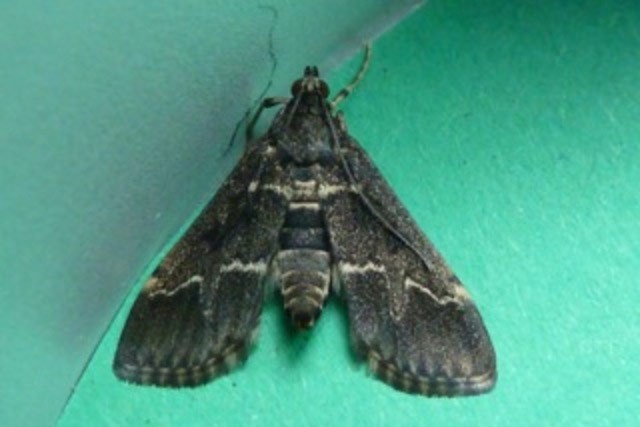 Duponchelia fovealis, Harlow, Essex (Bill Last).
Diamond-back Moths reached Penzance (Cornwall) and Portchester (Hampshire) on 5th January and Hollesley (Suffolk) on 7th. A Black-spotted Chestnut was attracted to wine ropes put out in North Kent around 12th January. The majority of the ten Angle Shades recorded were in the northern half of the UK.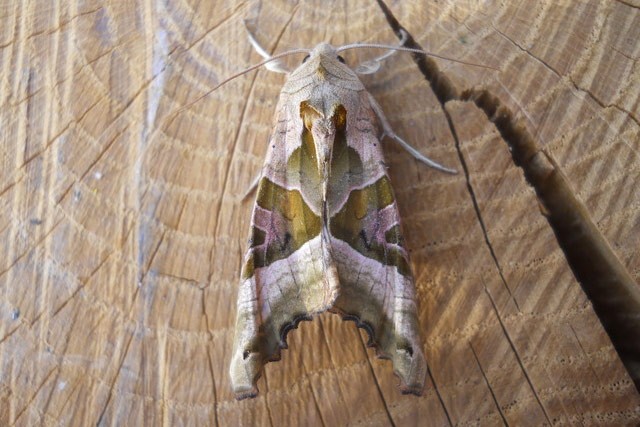 Angle Shades (Steve Whitehouse).
Content continues after advertisements
The mild weather either side of Hogmanay was no doubt responsible for a possible small 'third brood' of Spruce Carpets produced across the UK. Three from Wales, seven in England and six in Scotland were recorded up to 9th January and, with most of these in fresh condition, it is thought that some autumn larvae may have continued feeding, pupating and even emerging into the New Year. A couple of very late Juniper Carpets at Stafford (Staffs) on the 8th January and no fewer than five Cypress Carpets in Dorset, Hampshire and Somerset all in early January must be evidence for extended breeding seasons for those geometrids.
Table 1: Last reported dates for some moth species that do not normally overwinter as adults, January 2013
| Species | Date | Location | County |
| --- | --- | --- | --- |
| Eudonia angustea | 3rd January | Rodwell | Dorset |
| Brick | 3rd January | Wicklow | Co. Wicklow |
| Oak Rustic | 3rd January | Bonchurch | Isle of Wight |
| Acleris sparsana | 4th January | Westcott | Bucks |
| Blastobasis adustella | 4th January | Bracklesham | W Sussex |
| Cypress Carpet | 6th January | Langport | Somerset |
| Black Rustic | 7th January | Shaggs, Lulworth | Dorset |
| Common Marbled Carpet | 7th January | Wicklow | Co. Wicklow |
| December Moth | 7th January | Wicklow | Co. Wicklow |
| Yellow-line Quaker | 7th January | East Lulworth | Dorset |
| Juniper Carpet | 8th January | Stafford | Staffs |
| Lesser Yellow Underwing | 8th January | Biggleswade | Beds |
| Spruce Carpet | 9th January | Shaggs, Lulworth | Dorset |
| Winter Moth | 9th February | Orlandon | Pembrokeshire |
Daytime torch-aided searches of caves and tunnels in the Halifax area of West Yorkshire during January yielded a hibernating Tissue and 12 Herald. Similar exploration at Port Nelson, Portsdown (Hampshire) produced a dozen communally roosting Herald.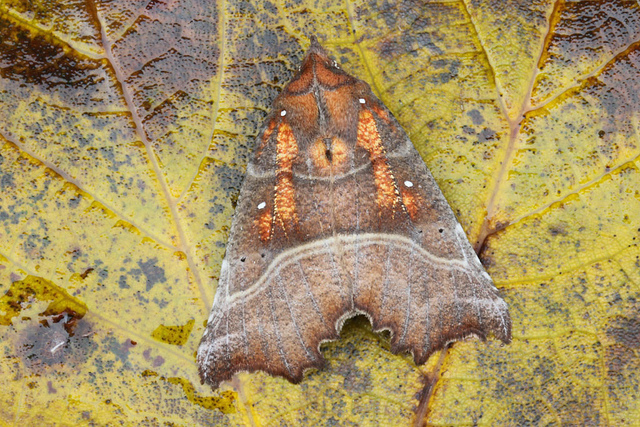 Herald, Gretton, Gloucestershire (Photo: Roger Wasley)
Normally hibernating mid-winter Bloxworth Snout were at Ventnor (IoW) on 5th January and on St. Agnes (Scilly) on 27th.
New year field effort on the evening of 3rd January at Gleddoch (Renfrews), along a 200m stretch of managed hawthorn, saw no fewer than 31 male Early Moths counted by torchlight — these were the earliest ever seen at this site. Both Hebrew Characters and Common Quakers have been fairly scattered in very low numbers since Christmas.
Table 2: First reported dates for some moth species that do not normally overwinter as adults, winter 2012/13
| Species | Date | Location | County |
| --- | --- | --- | --- |
| Pale Brindled Beauty | 16th December | Church Stretton | Shropshire |
| Dotted Border | 23rd December | Buryas Bridge | Cornwall |
| Early Thorn | 23rd December | Buryas Bridge | Cornwall |
| Early Moth | 29th December | Hatfield Forest | Essex |
| Early Grey | 1st January | Chickerell | Dorset |
| Spring Usher | 1st January | Bentley Heath | Warwicks |
| Double-striped Plug | 2nd January | Tincleton | Dorset |
| Diumea fagella | 2nd January | Bentley Heath | Warwicks |
| Clouded Drab | 3rd January | Wicklow | Co. Wicklow |
| Tortricodes altemella | 3rd January | Pilmoor | N Yorks |
| Mottled Grey | 4th January | Portland Bill | Dorset |
| Small Brindled Beauty | 4th January | Andover | Hants |
| March Moth | 28th January | Seer Green | Bucks |
| Oak Beauty | 4th February | Briantspuddle | Dorset |
| Phyllonorycter messaniella | 15th February | Ipswich | Suffolk |
| Small Quaker | 16th February | Highwood | Worcs |
A Pale Brindled Beauty at North Locheynort, South Uist (Outer Hebrides) on 15th February was a first for the Uists! By far the most successful moth-trapping took place in the north of England: Pete Marsh was busy at Millhouses (Lancs) and was rewarded with 27 Mottled Umber and 16 Spring Usher on 5th January. A slightly milder mid-February night at the same location on the 15th produced 78 Pale Brindled Beauty, seven Small Brindled Beauty, six March Moth, five Dotted Border and seven Spring Usher.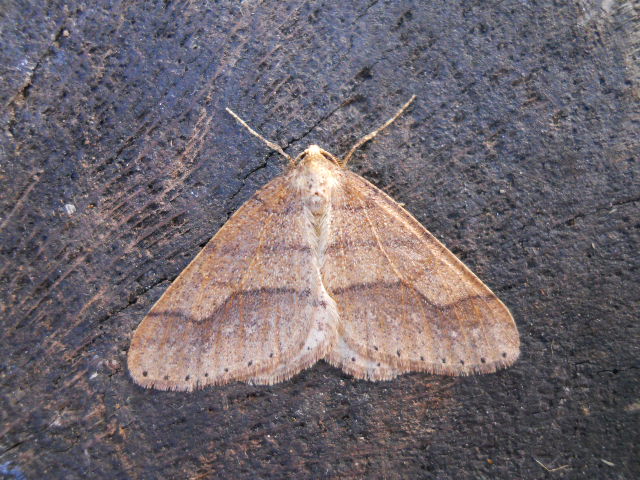 Dotted Border, Warndon, Worcestershire (Photo: Steve Whitehouse)
In Northumberland Tom Tams and team kicked off the new season with an outing to Gosforth Park on evening of 16th February. They recorded ten species including 170 Tortricodes alternella (1025), 10 March Moth, 57 Pale Brindled Beauty, 11 Dotted Border, 13 Spring Usher and 7 Satellite. One of the Spring Ushers was of the scarce melanic form.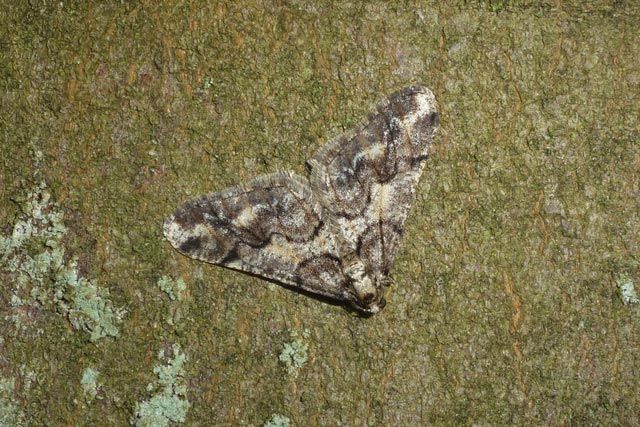 Spring Usher, Gosforth Park, Northumberland (Tom Tams).

Melanic form Spring Usher, Gosforth Park, Northumberland (Tom Tams).
A few notable micro captures included an Agonopterix subpropinquella (692) at Broadwey (Dorset) on 2nd January, when on the same night an Ypsolopha mucronella (451) was photographed at Spellbrook (Herts). An amazing 38 Acleris ferrugana/notana were counted at Andover (Hants) on 4th January.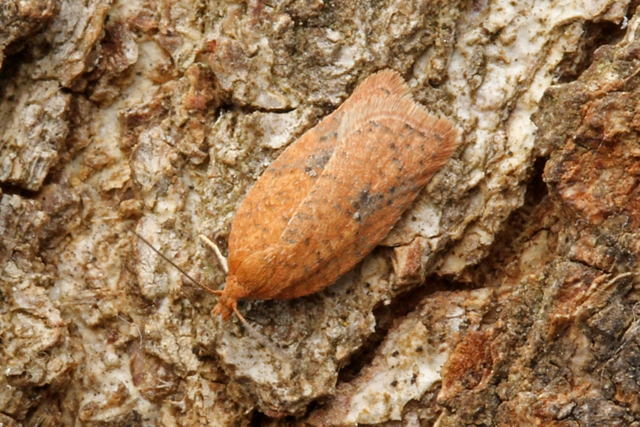 Acleris ferrugana/notana, Warndon, Worcestershire (Photo: Roger Wasley)
A wandering Acleris hyemana (1055) was at Wheldrake (N Yorks) on 7th January. Two Acleris logiana (1051) at Rotherham (S Yorks) on 9th January were the 'first in the area for many years'. An Acleris kochiella (1050) at Bracklesham (W Sussex) was disturbed from undergrowth on 14th February and assigned to the Isle of Wight autumn brood due to a 'ferruginous tint to the costal blotch'. Another one was at Sonning (Berks) the next night.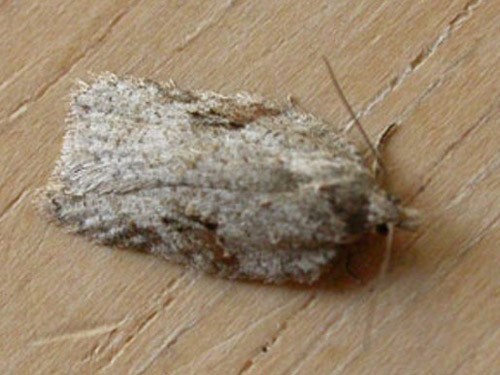 Acleris kochiella, Bracklesham, West Sussex (Derek Lee).
Migrant butterflies got in on the act in early January when at least 13 Painted Ladies were reported, including one on Ramsey Island (Pembrokeshire). Incredibly, Brimstone, Comma, Peacock, Red Admiral, Small Tortoiseshell and Speckled Wood were all seen on the wing in the first three days of the year. A very early Small White was photographed having just emerged at Stanpit (Dorset) on 9th January. Sadly a freshly dead female Holly Blue was discovered just yards away in the same neighbourhood on 14th. An Orange-tip was out in Oxfordshire on 27th February. Please feel free to email the author below with any interesting Lepidoptera news, first dates or special events that may interest readers.
References
Clancy, Top-Jensen and Fiibiger. Moths of Great Britain and Ireland. A field guide to all the macromoths. BugBook Publishing, 2012.
Townsend and Lewington. Field Guide to the Moths of Great Britain and Ireland. Revised edition, British Wildlife Publishing, 2009.
UK Moths online photographic guide
*The numbers stated after a number of micro moth species in the text are the British Checklist Species numbers as assigned by J. D. Bradley in the Log Book of British Lepidoptera (2000).