Butterfly Conservation Scotland is very concerned about the current status of two priority moths: the Kentish Glory and particularly the Small Dark Yellow Underwing. With this in mind, a 'moth extravaganza' will be hosted over the weekend of 9th–11th May 2014 to target recording of both species. The Kentish Glory is associated with areas of regenerating birch. In the past, recording effort has focused on two main areas, Forestry Commission Scotland's Culbin Forest along the Moray Firth coast and around Granish, north of Aviemore. Results have shown that in these areas the species is doing quite well and BCS are now keen to determine its status in other locations. Our event this year will focus on Forestry Commission Scotland's Inshriach Forest and the Glenfeshie area, both ENE of Kingussie.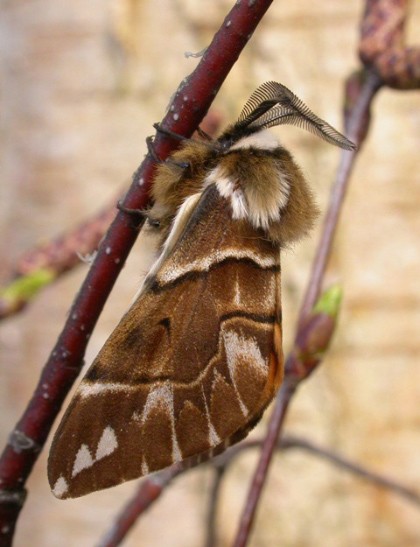 Male Kentish Glory, Granish Moor, Highland (Photo: Neil Sherman).

Mixed-aged birch moorland habitat at Granish Moor, Highland (Photo: Tom Prescott).

Rannoch Forest, Perthshire, also holds Kentish Glory and Small Dark Yellow Underwing (Photo: Paul Bryant).
They will also look for the elusive and beautiful day-flying Small Dark Yellow Underwing at sites in the Kingussie and Newtonmore area. This moth is associated with Bearberry and has not been recorded in the UK for two years despite previous targeted recording.

Pair of Small Dark Yellow Underwing mating on a fence post, Highland (Photo: Roy Leverton).

Flowering bearberry, Highland (Photo: Tom Prescott).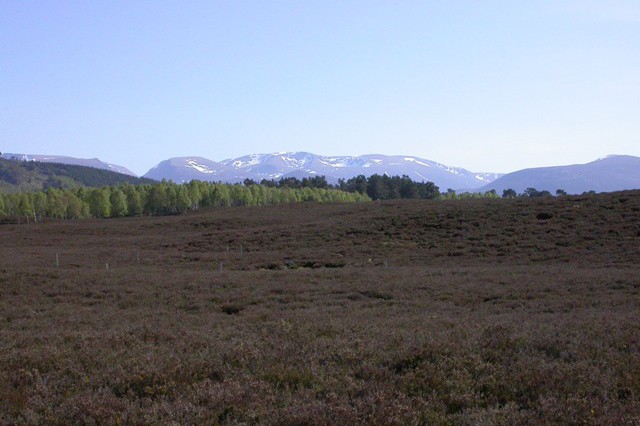 Open heather moorland with fence posts at Granish Moor, Highland (Photo: Neil Sherman).
Small Dark Yellow Underwing can be on the wing between late April and early June depending on altitude and latitude. Adults feed on the nectar of Bearberry flowers and this plant is also the food source of the larvae. Dry, well-drained, easily warmed, gravelly areas with poor heather growth are preferred, as well as bare ground resulting from railway and road cuttings. During the 1990s, Roy Leverton regularly found these in small numbers at the same sites that hosted Netted Mountain Moth. Most success was achieved late in the afternoon and Small Dark Yellow Underwing was often located at rest on fence-posts in bright sunshine, even on baking hot days. Planning searches for the species has recently been more difficult because of the currently unpredictable nature of spring weather patterns. However, exceptionally good weather is not essential, as a mating pair were once observed on a post east of Grantown-on-Spey during a May blizzard in the early 2000s! It is very difficult to put the finger on the exact reason why the species has remained so elusive in the last few years — one possible theory is that climate change, inducing slightly warmer annual temperature averages, have 'pushed' this very specialised moth uphill a few hundred metres to more remote areas away from the former well-known roadside locations. Areas such as Carn Ban Mor may still repay the effort needed to gain the altitude and distance away from the more beaten path.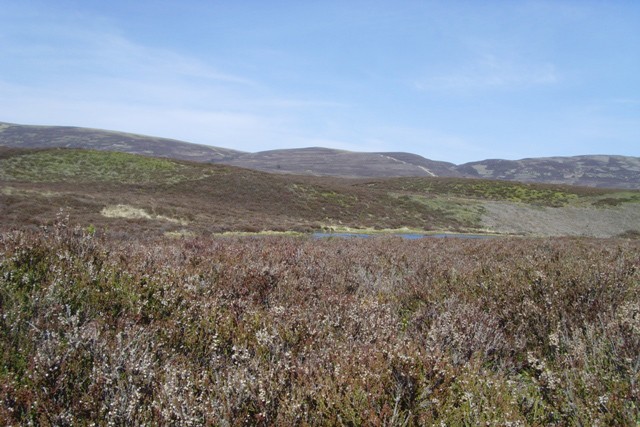 Blar Mor, Highland — site of the last Small Dark Yellow Underwing sighting in April 2011 (Photo: Paul Bryant).
Further details of the event and meeting times and places over the weekend are given below. Any level of lepidopterist is welcome to attend any or all of the events. It would be helpful, but not essential, if you could let Tom Prescott know if you intend to attend (contact details below). Visitors are encouraged to bring their own moth trap on the Friday evening, as it will help increase the chances of catching Kentish Glory and other spring moths, as well as allowing more sites to be targeted. Tea and coffee will be provided at all three events.
If you are interested in undertaking surveys for both species but cannot make this particular weekend, contact Tom who can provide details of sites he would like surveyed.
Schedule
Content continues after advertisements
Friday 9th May — 20:00 till late
Traps will be set specifically for Kentish Glory in Inshriach Forest and the Glenfeshie area targeting clear fell and open areas with stands of suitable birch. Some traps will be manned until late in the evening. Meet at the RSPB's Ivy Cottage in the village of Insh (directions below). Other species which may be attracted to the traps include Scarce Prominent, Autumn Green Carpet, Ruddy Highflyer, Ochreous Pug, Glaucous Shears, Light Knot-grass and Sweet Gale Moth. Several 'Scottish' forms of common British species may also be seen.
Saturday 10th May — 10:30 till 13:00
An optional extra to extend the event until c.17:00 is possible if the weather is suitable.
The group will reconvene at Ivy Cottage to check the traps set the previous night for Kentish Glory. Some traps may have been brought to Ivy Cottage whereas others will be checked in situ where they were set. If the weather is suitably sunny and warm there will also be an option to look for adult Kentish Glory in the afternoon, or possibly even commence searches for Small Dark Yellow Underwing.
Sunday 11th May — 10:30 till 17:00
Today, the group will meet at Ardvonie Car Park in the centre of Kingussie (directions below) before splitting into smaller groups to go out and search for Small Dark Yellow Underwing at suitable sites in the Kingussie and Newtonmore area.
Monday 12th — Thursday 15th May
Extra days on which some members of the group may look even further afield for Small Dark Yellow Underwing depending on the level of success achieved during the above events. This may involve a harder level of physical effort to get to higher altitudes where suitable footwear and clothing will be required. The other high-altitude late-spring day-flyer Broad-bordered White Underwing may be encountered if the weather is fine. Plans for this will be discussed on the Sunday evening.
Let us hope that with strong support this weekend can get some positive results for both species and that the status of these can be reinforced or even widened.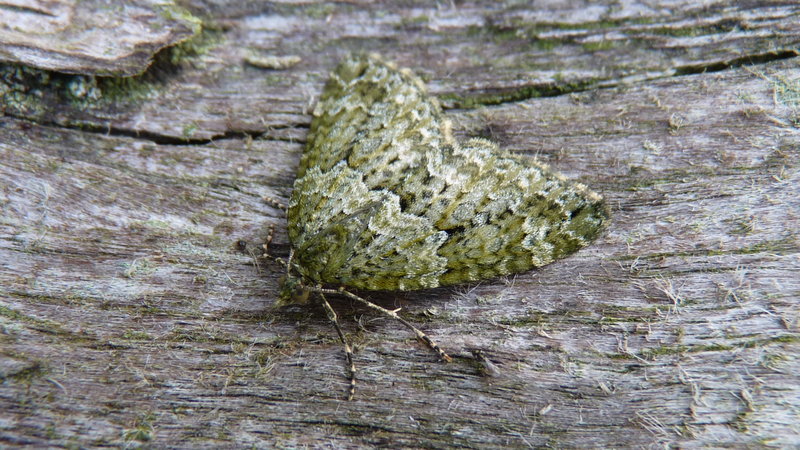 Autumn Green Carpet, Achavandra Muir, Highland (Photo: Dean Macaskill).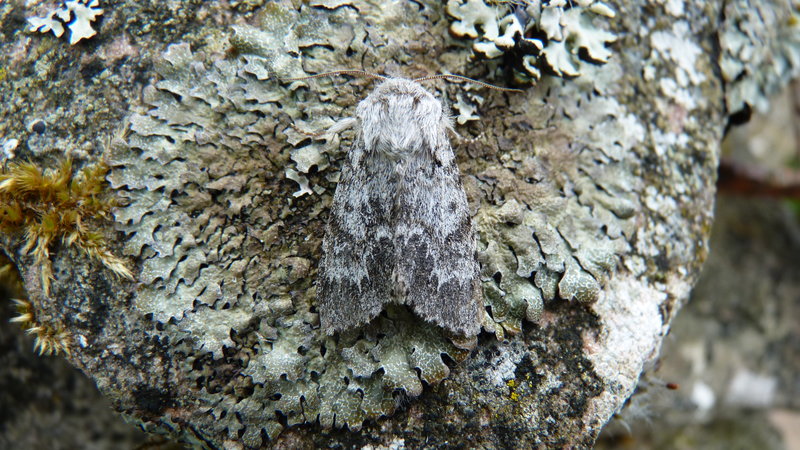 Light Knot Grass, Achavandra Muir, Highland (Photo: Dean Macaskill).
Directions
Ivy Cottage is RSPB's Insh Marshes Reserve office and is located in the centre of the village on the south side of the road. Grid reference NH812016.
Ardvonie Public Car Park, Kingussie is in the centre of the village behind the Duke of Gordon Hotel. Grid reference NH755007.
For further information please contact Tom Prescott via email, or by telephone (01540 661469 or 07979 785665).
Accommodation
For those visitors looking for a base to stay for the period there is plenty of accommodation available in the area ranging from hostels, chalets, holiday cottages, B&Bs and even luxury hotels. See www.kingussie.co.uk, www.newtonmore.com and www.kincraig.com.
References
Townsend and Lewington. Field Guide to the Moths of Great Britain and Ireland. Revised edition, British Wildlife Publishing, 2009.

Steve Whitehouse can be contacted for further information on 01905 454541.