After the arctic-like blasts of March and a cool April, May produced a brief mild spell in the first week but clear overnight skies continued to frustrate field moth-ers, and the month finished being the coldest for 50 years! This vein of weather continued until mid-June, when higher temperatures eventually edged in, producing some better species selections and the first arrival of quality migrants. Across the board, both garden and woodland catches were only a fraction of what would be expected for the time of year but a welcome improvement was noted after what may have been the 'moth watershed' on 18th June.
May was so poor for migrants that even a Scarce Chocolate-tip at Sandwich Bay (Kent) on 12th was just as likely to have been from the tiny Kent breeding population as from across the English Channel. Dark Sword-grass continued to trickle in across Britain and one of the 109 reported even reached Scatness (Shetland) on 20th June.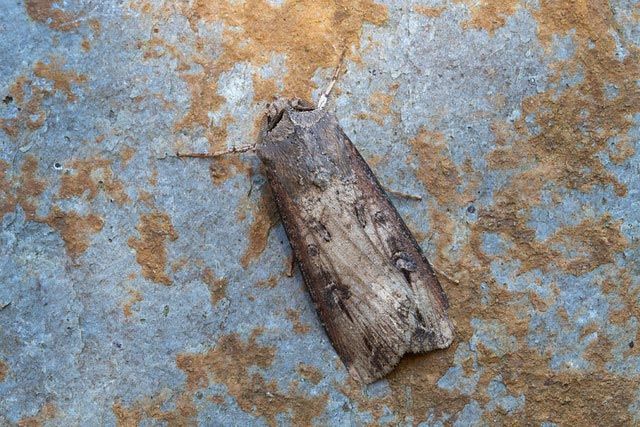 Dark Sword-grass, Worcestershire (Photo: Roger Wasley).
The rate of incoming Silver Ys gradually gathered pace and no fewer than 125 were counted in the garden of Portland Bill Bird Observatory (Dorset) on 19th June. A Dewick's Plusia at Tower Hamlets (London) on 30th May could have been from the Croydon breeding population but one nectaring on Red Valerian at St. Osyth (Essex) on 16th–19th June may well have been a migrant. A Bordered Straw at Langport (Somerset) on 31st May was a local surprise followed by another more expected one on The Lizard (Cornwall) on 19th June. The most eye-catching species to arrive was Purple Marbled, with singles at Alderholt (Dorset) on 19th June followed by another at Lydd-on-Sea (Kent) a week later.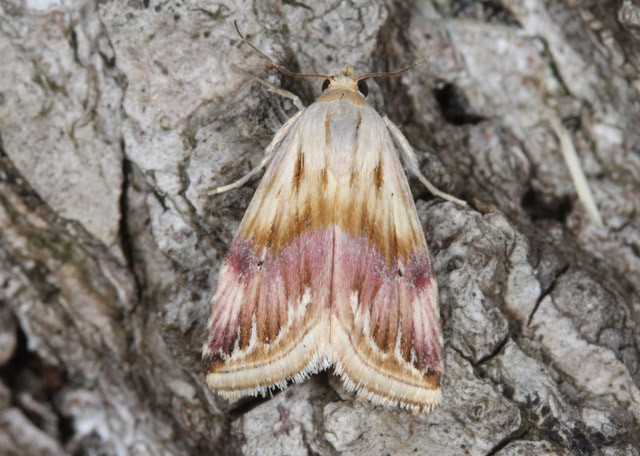 Purple Marbled, Alderholt (Dorset), June 2013 (Photo: Tony Morris).
Smaller in size and not quite as rare, Small Marbleds included the first for north Suffolk at Woolpit on 20th June. Kent followed with singles at Kingsdown on 20th, Sandwich Bay on 26th and another at Ruckinge the next night.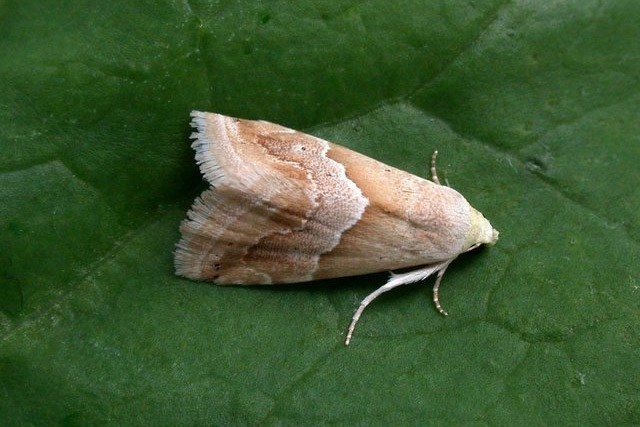 Small Marbled, Woolpit (Suffolk), June 2013 (Photo: Paul Bryant).
Small Mottled Willows were recorded at Longstones, St. Mary's (Scilly) on 16th June and Portland Bill (Dorset) on 18th. A Rannoch Looper was trapped at a Gloucestershire site on 18th June. A Silver Barred at St. Margaret's at Cliffe (Kent) on 19th June is noteworthy and there were Blair's Mocha at Bonchurch (IoW) and Vestal at Tile Hill, Coventry (W Mids), both on the same night. A Cloaked Pug was very welcome at Broadwey (Dorset) on 20th June.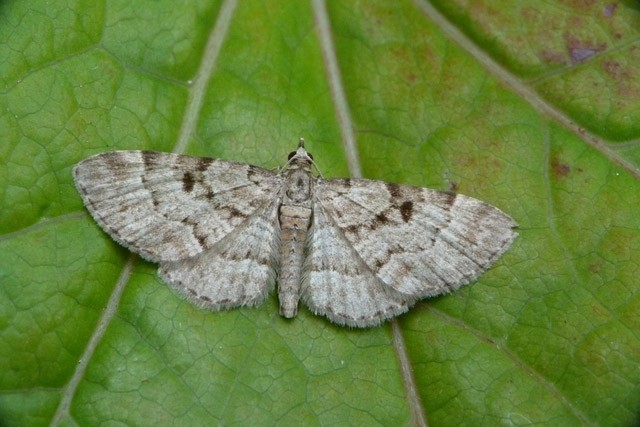 Cloaked Pug, Broadwey (Dorset) (Photo: Paul Harris).
Migrant Portland Ribbon Waves reached The Lizard (Cornwall) on 19th June and the next night at Ruckinge in (Kent). A single Cosmopolitan was also on The Lizard (Cornwall) on 22nd June. Other migrant macros included nine Gems, 28 Hummingbird Hawkmoths, nine Pearly Underwings and two Delicates.

Portland Ribbon Wave, Ruckinge (Kent), 21st June 2013 (Photo: Bernard Boothroyd).
The rarest macro of all was a Rusty Wave spotted by eight-year-old Holly Cram, indoors on the family television in their home in Bridgend (Glamorgan) on 21st May! Her mum Emma quickly potted it and her dad Mike, although puzzled by its identity, soon thought it was Rusty Wave. County recorder Dave Slade took charge of the moth and is now happy with the identification — a first for Wales no less. Food for two pet Guinea Pigs or some recently purchased flowers in the room are most likely to have been the source of the good-condition moth, and indeed all previous British records are catalogued as presumed imports.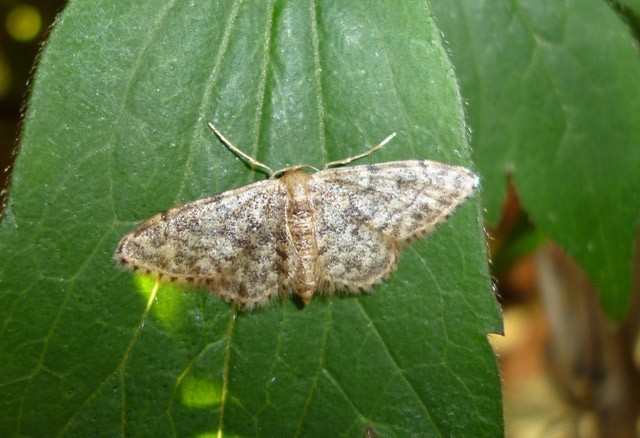 Rusty Wave, Bridgend (Glamorgan), May 2013 (Photo: Mike Cram).
A few migrant pyralids made landfall during the general June influx, of which the rarest was the tenth British record of Paracorsia repandalis (1372) at Rodwell (Dorset) on 19th. Much more attractive was the first Suffolk record of Agrotera nemoralis (1410) at the constant effort site of Bawdsey Hall on 21st.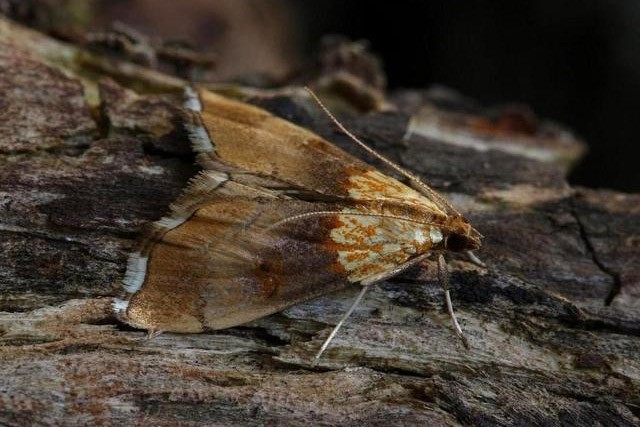 Agrotera nemoralis (Photo: Paul Bryant).
The adventive Duponchelia fovealis (1403a) probably reached Argyll with passive human assistance, as one was found at Ardentinny on 4th May. Other potential migrant pyralids included an Evergestis limbata (1356a) in Suffolk, six European Corn-borer (1375), 19 Rusty Dot Pearl (all on Scilly) and 16 Rush Veneer.
The easterly winds of late May certainly produced a marked northerly biased influx of Diamond-back Moth. Northumberland recorder Tom Tams counted 147 in his Tynemouth garden trap on the 29th with 'dozens more' settled on nearby bushes. It's amazing that every year, millions of this sleek micro migrate hundreds of miles and seek out new food sources during the northern summer. Examples of the scarce tortrix Vine Moth (955) were recorded at Stalham (Norfolk) on 18th June and next night at Hollesley (Suffolk).
The rarest migrant butterfly was a Black-veined White that flew quickly north though the garden at Portland Bill Bird Observatory on 8th June, seen by just one lucky observer. Swallowtails of unknown origin were seen in Dorset at Swanage on 20th May and nearby at Durlston CP on 2nd June. Individuals with better credentials were at Stoughton (W Sussex) on 19th June and on Hayling Island (Hants) on 27th.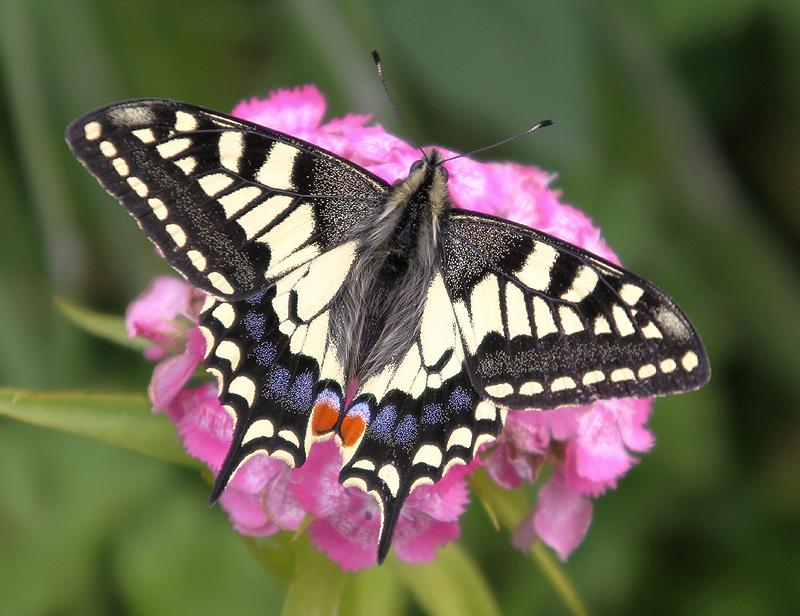 Swallowtail, undisclosed site, Norfolk (Photo: Steve Seal)
A Monarch seen at Wheelers Bay, Ventnor (IoW) on 8th June may well have been a migrant of Iberian/Atlantic origin. Subsequent records later in the month on both sides of The Solent may have related to escapes or even deliberate releases from a known garden breeder in Gosport. Such practice is frowned upon by serious lepidopterists, but is not illegal. Twenty-one Clouded Yellows and at least 82 Painted Ladies were logged. The only potential migrant Odonata were male Red-veined Darters at Bottomcombe Quarry, Portland (Dorset) on 15th June and at Clubley's Scrape, Spurn (East Yorks) on 29th.
Garden catches were generally very modest but one of four records of the enigmatic Pinion-spotted Pug was a nice reward for recent mothing newcomer Andy Harding at Old Stratford (Buckinghamshire) on 31st May.
Content continues after advertisements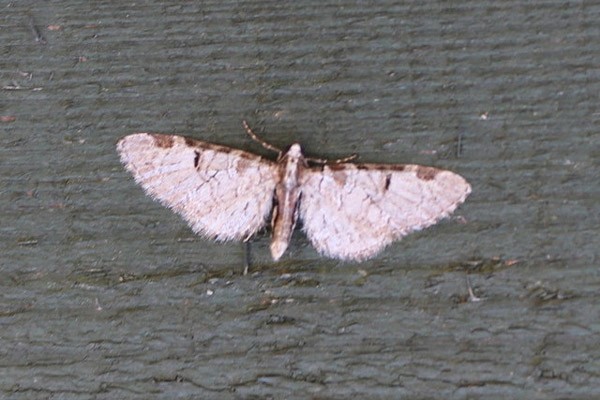 Pinion-spotted Pug (Photo: Andy Harding).
The almost-annual Highland Butterfly Conservation Branch survey for Kentish Glory got lucky with some milder weather in early May this year, which helped Dave Grundy assemble counts of 23 at Culbin Forest (Moray/Nairn) and 19 near Aviemore (Highland).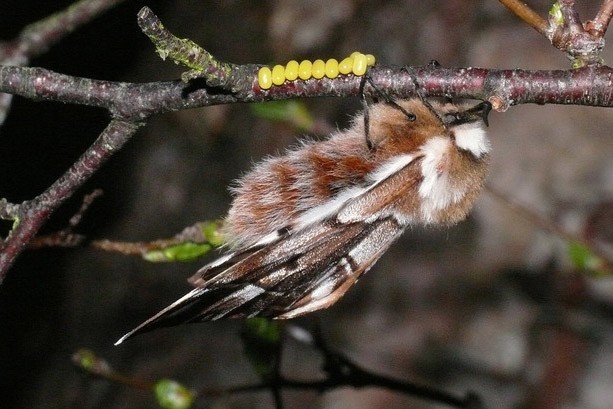 Female Kentish Glory egg-laying in Culbin Forest, Moray/Nairn (Photo: Dave Grundy).
The biggest news from Scotland happened by chance, when Butterfly Conservation members waiting for the Mull ferry decided to explore some mixed woodland by Lochaline (Argyll) and found the first Blomer's Rivulet for Scotland resting quietly on a hazel trunk on 15th June! On the Outer Hebrides, three Small Chocolate-tip were found on Eriskay in the second half of June and were the first records there for 40 years.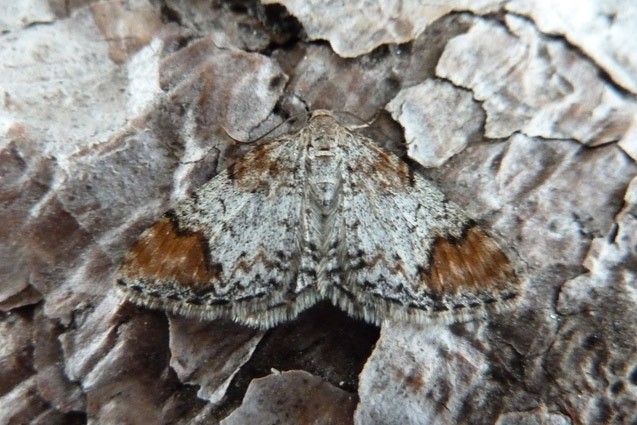 Blomer's Rivulet (Photo: Bill Last).
Although it wasn't a good spring for Orthosias, some later-emerging species, especially Puss Moth, appeared to have had a bumper 'crop', with many more than average reported in gardens. In fact one lucky observer at Bampton (Oxon) even found a pair mating on her back lawn in broad daylight on 20th May.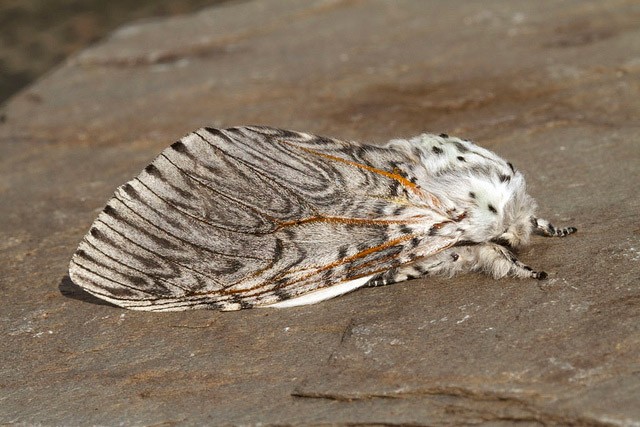 Puss Moth (Photo: Roger Wasley).
The topsy-turvy season threw out a few odd dates, such as a fresh Chamomile Shark at Flamborough (East Yorks) on 12th June and a Garden Dart in a garden at Woodnewton (Northants) on 7th June, well before the normal flight period.
Despite serious concerns voiced by Butterfly Conservation, a plan by the Forestry Commission to attempt to eliminate Oak Processionary from prime woodland at Pangbourne (Berks) was carried out in mid-May, with helicopters employed to aid blanket spraying of tree canopies with an insecticide. The chemicals used were not just going to kill off the 'pest species' but are likely to take out many other invertebrates and the consequences for the local environment may be devastating. The rare White Admiral is also found here and local bird populations could have breeding success curtailed if there are no insect larvae to feed small young on at such a critical time of the year.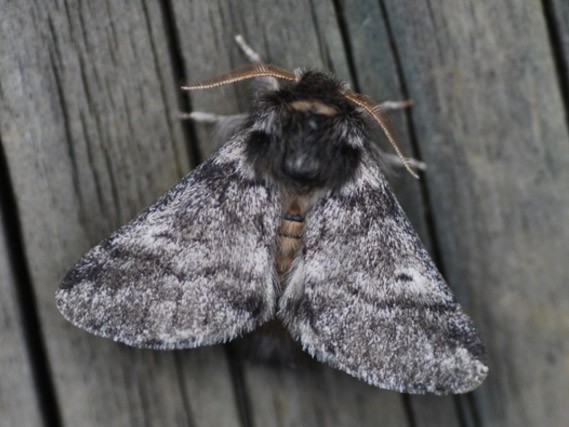 Oak Processionary (Photo: Bill Dykes).
Resident micro-moths have also been in low numbers but among the highlights was an Acleris abietana (1059) at Chorleywood (Bucks) on 6th May, which may be the first for southeast England. See here for a special feature on this species. A Bucculatrix maritima (267) at Berwick (Northumberland) on 31st May was the first in the county since 1888! Marcus Lawson had a good count of 30 of this species at Swineham Point (Dorset) on 11th June.

Bucculatrix maritima, Northumberland (Photo: Tom Tams).
A Glyphipterix haworthana (395) on Eriskay on 9th June was a first for the Outer Hebrides.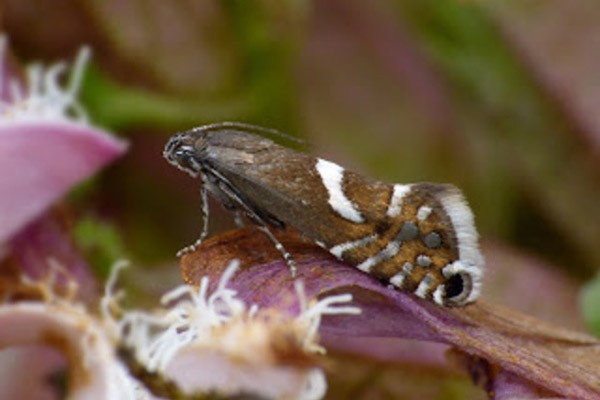 Glyphipterx haworthana (Photo: Chris Manley).
A Summer Fruit Tortrix (999) at Netherclay LNR on 20th June was a first for Somerset. The proposed Red Data tortrix Epiblema grandaevana or the 'Great Bell' (1181) was a visitor to a constant effort site at Woodnewton (Northants) on 17th June. This may have wandered from a nearby East Midlands quarry; Rutland appears to be the centre of its contemporary British population.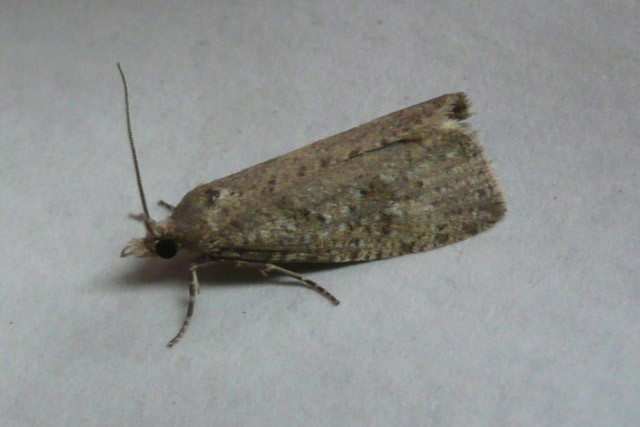 Great Bell, Northamptonshire (Photo: Nick Smith).
There was a flurry of garden-caught Telechrysis tripuncta (646), including one at Knowle (W Mids) on 21st June.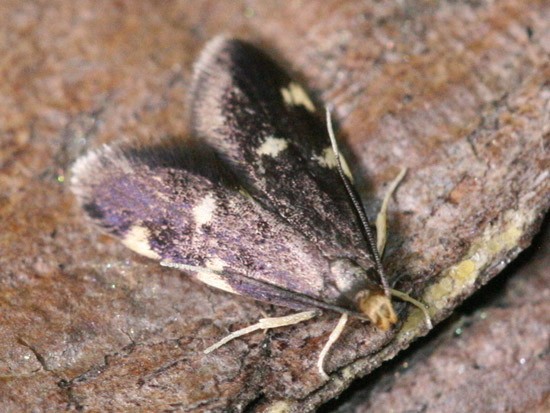 Telechrysis tripuncta, West Midlands (Photo: Scott Hackett).
Finally, Paul Bryant — who has gained a bit of a reputation as the 'Clearwing King' in north Suffolk — has regularly been pheromoning Currant Clearwings to lure on allotments in Hadleigh from 25th June onwards.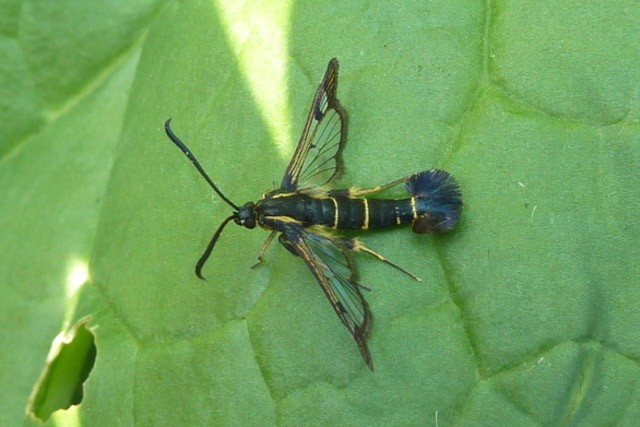 Currant Clearwing, Suffolk (Photo: Bill Last).
References
Townsend and Lewington. Field Guide to the Moths of Great Britain and Ireland. Revised edition, British Wildlife Publishing, 2009.
Sterling, Parsons and Lewington. Field Guide to the Micro Moths of Great Britain and Ireland. British Wildlife Publishing, 2012.
UK Moths online photographic guide
*The numbers stated after a number of micro moth species in the text are the British Checklist Species numbers as assigned by J. D. Bradley in the Log Book of British Lepidoptera (2000).