For most lepidopterists, the cold days and long nights of the first few months of the year are mostly the time for catching up on record-keeping and hatching plans for the season ahead. This has certainly been true in early 2021, a year in which spring has come late and rather reluctantly, bringing northerly winds, unsettled weather, and low temperatures that have left many recorders complaining of low numbers of butterflies and moths, even in good habitat, and a very delayed start to the season.
For some determined moth-ers, the solution to this dearth of Lepidoptera has been targeted searches for under-recorded species. Pheromone lures manufactured for commercial pests have featured prominently this spring for their ability to attract some of the more elusive tortrix species as bycatch. The MOL (Oriental Fruit Moth) and SKI (Grapholita lobarzewskii) lures for example, have been used to great effect by many recorders to attract Pammene giganteana, radically overhauling its status from a rarely seen species of old woodlands to a relatively widespread one occurring wherever there are reasonable concentrations of its oak foodplant, all across the UK. In Norfolk, for example, where the first post-1900 records were in 2011, it was recorded at 25 new sites this spring alone. Its known range was also extended to include several new vice counties in early April, including Lancashire, Shropshire, Fife, Dumfries and Galloway, South Lincolnshire (VC53) and South-East Yorkshire (VC61). A large variety of other under-recorded species can be attracted to these commercial lures, all listed on the Angleps site here. Some lucky recorders for example, also found the related Pammene argyrana coming to the FUN (Plum Fruit Moth) lure, which should also attract the rarer Pammene suspectana (a poorly known ash-feeder) during May and June.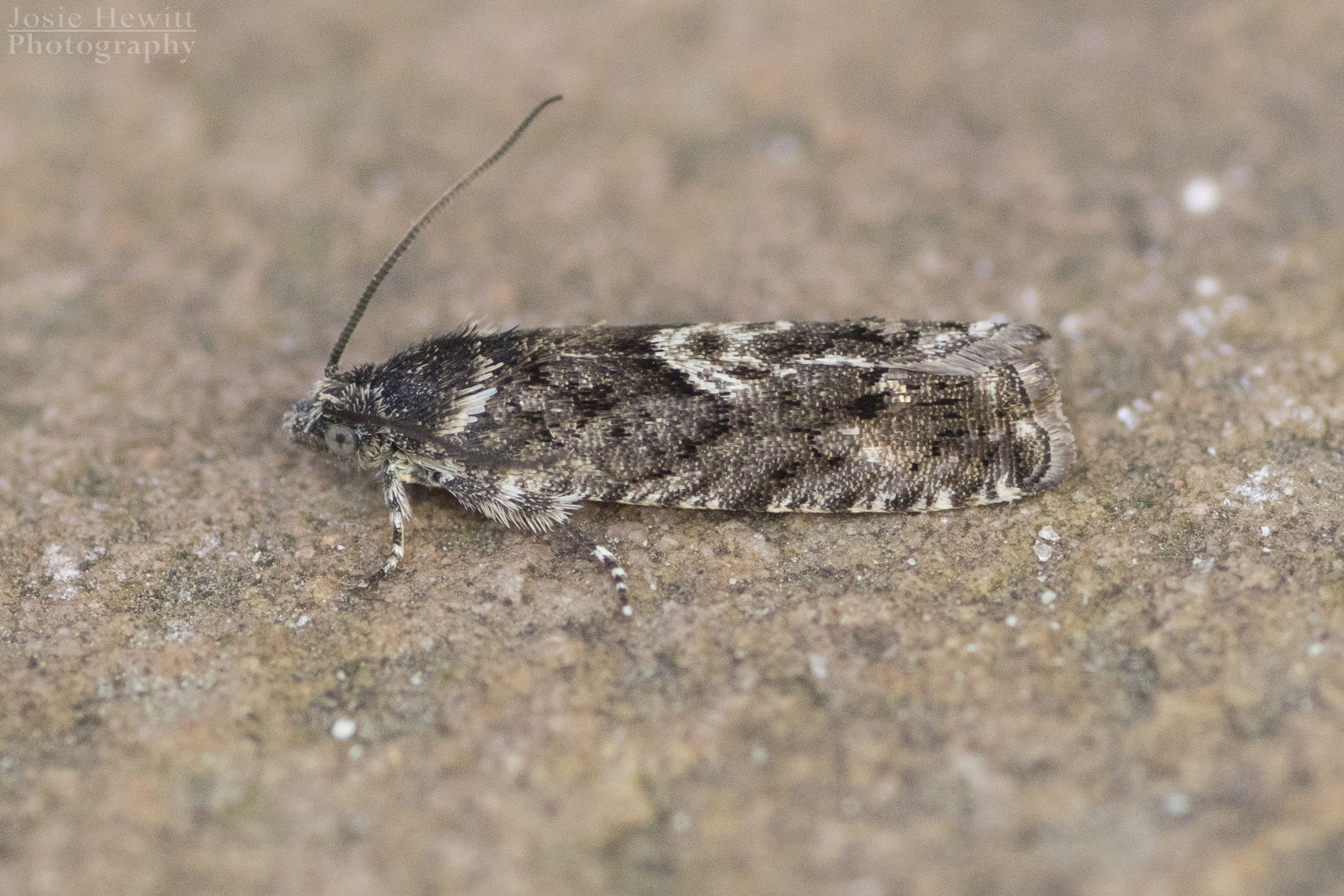 Pammene giganteana, Yately, Hampshire (Josie Hewitt).
Away from the tortrixes, other good records of day-flying micros included the discovery of Bankesia conspurcatella in Norfolk. This pretty bagworm was new to the county and indeed East Anglia when several were netted at North Elmham on 22 February. In the same county, Amphisbatis incongruella at Buxton Heath on 21 March was the first modern record for VC27, while it was new to VC64 on 14th too, in both cases swept from heather. Another moorland species in a new location was the lovely Philedonides lunana, new to Co Donegal on 31st, and recorded for the second time in Fife on 16 April. Elgin Shoot Moth was another good record in Fife on the same day, where it was new to the county and some distance from its core Highland range. Similarly, Epinotia subsequana netted at dusk at Esher Common, Surrey, on 27th was also a county first.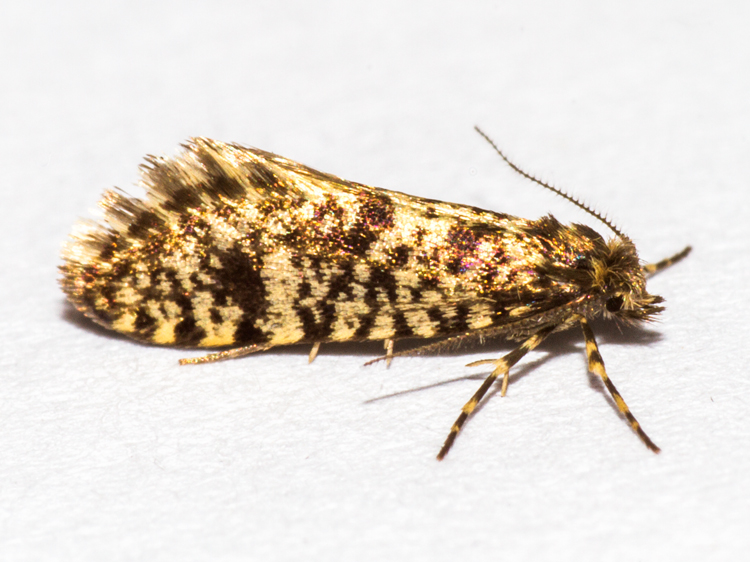 Bankesia conspurcatella, North Elmham, Norfolk (Dave Appleton).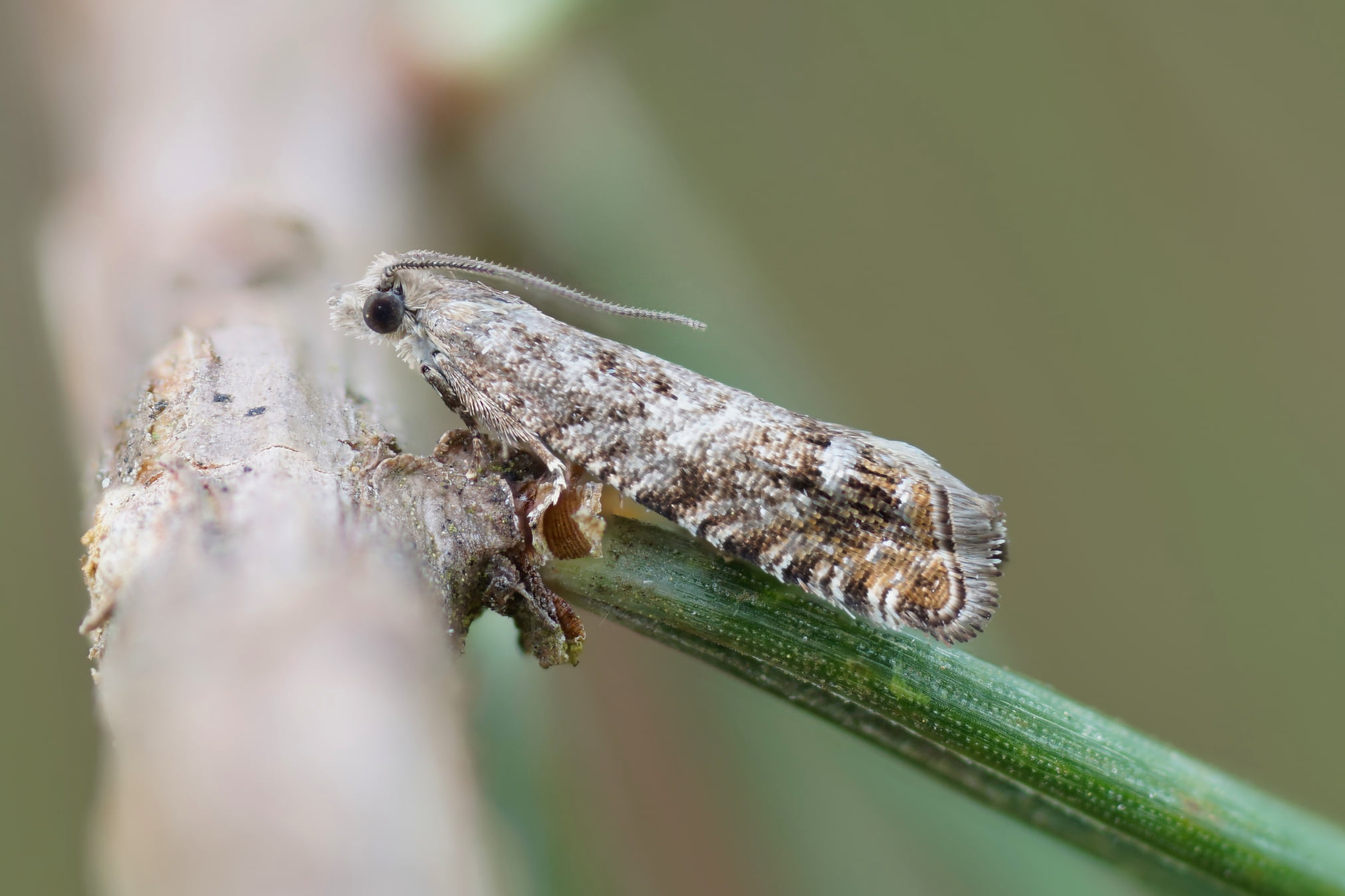 Epinotia subsequana, Esher Common, Surrey (Billy Dykes).
Other recorders headed out to look for some of the immature stages that can be found on heathlands over the winter, with new sites for the under-recorded miner of gorse, Phyllonorycter ulicicolella, found in Berkshire, Somerset, Dorset, Hampshire, Essex, Yorkshire and Cheshire, while it was entirely new to Bedfordshire at Cooper's Hill on 30 April, as was Phyllonorycter scopariella mining broom at The Lodge on 7 March. This was also found at Willet Hill, Somerset, where it was new to VC5, while Lampronia fuscatella – whose galls were found on birch at Gare Hill on 25 March – was new to the whole county.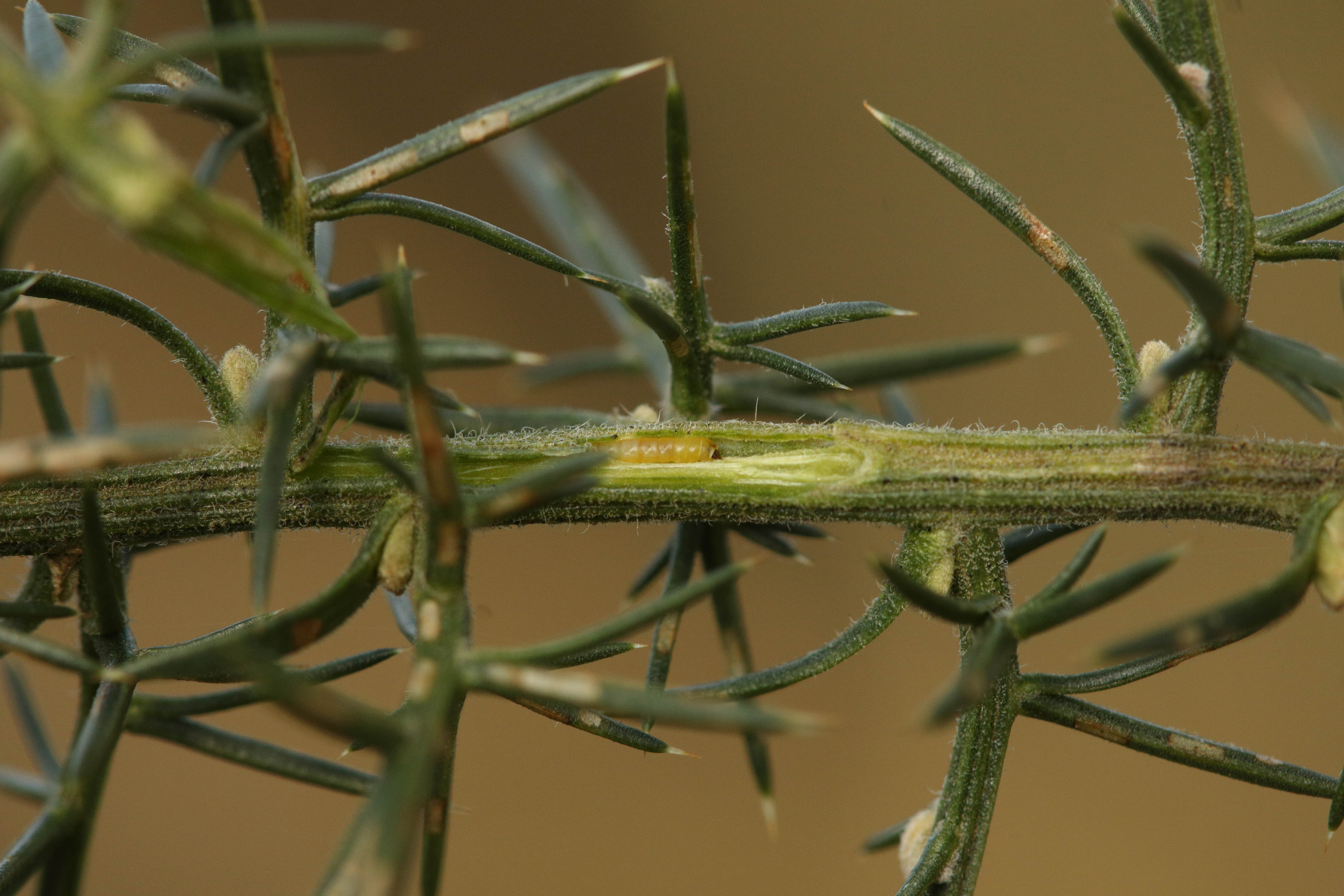 Phyllonorycter ulicicolella mine, Frilford Heath, Berkshire (Will Langdon).
At several periods during the early part of the year, warm southerly airflows provided some brief respite from the prevailing poor weather, but mostly failed to deliver much moth immigration. The first migrants of the year were recorded in early January on Scilly, with Dark Sword Grass at Longstone on 10th, and Silver Y also there on 18th. The first wider arrival came in mid-February, as mild air and Saharan dust pushed up from North Africa around 20th. Despite wet and windy conditions on the coast, this brought a handful of the same pair of species to recorders in Cornwall, Hampshire, Dorset and Devon, along with a Bordered Straw at Maenporth, Cornwall, on 25th. Similar followed in early March as a brief spell of mild southerly air reached the far south-west around 2nd, bringing more Dark Sword Grass – as far inland as Stone Allerton, Somerset, on 4th – with another small arrival around 15th that also brought the first Pearly Underwings of the year to Longstone, Scilly, on 17th.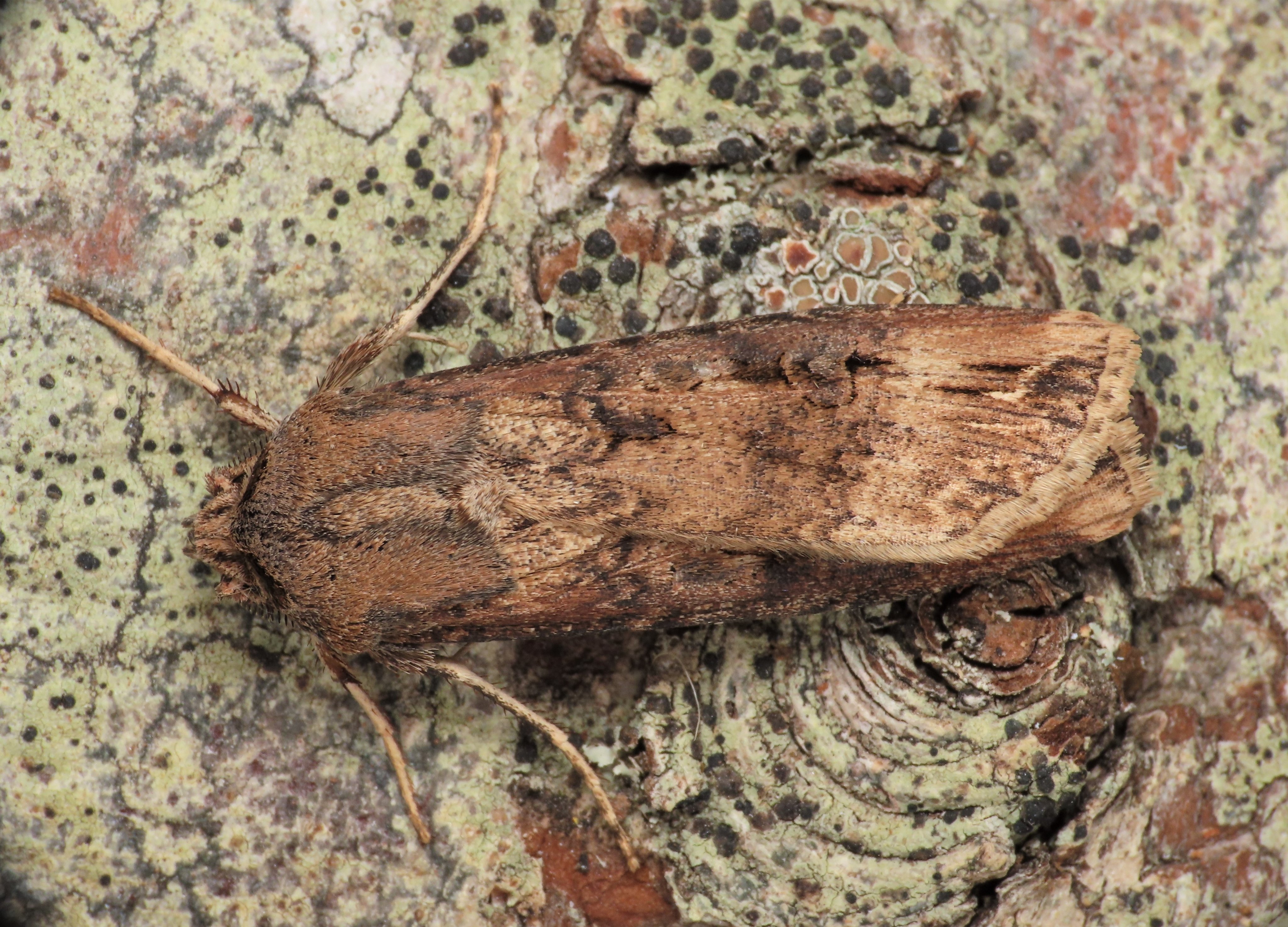 Dark Sword Grass, Weymouth, Dorset (Paul Harris).
At the end of the month, warm air pushed north over Europe, bringing temperatures as high as 20°C, and further immigration of Dark Sword Grass and Silver Y. Striped Hawk Moth has been noted in large numbers by some recorders in southern Europe this spring, but only a handful made it across the Channel during this period of immigration, with the first at Formby, Lancashire on 31 March, and others in the Norfolk Brecks on 1 April, at Newquay, Cornwall, on 2nd, Exwick, Devon, on 3rd, and later one at Worfield, Shropshire, on 23rd. Migrant Blossom Underwings began to appear at the start of April too, although in relatively small numbers.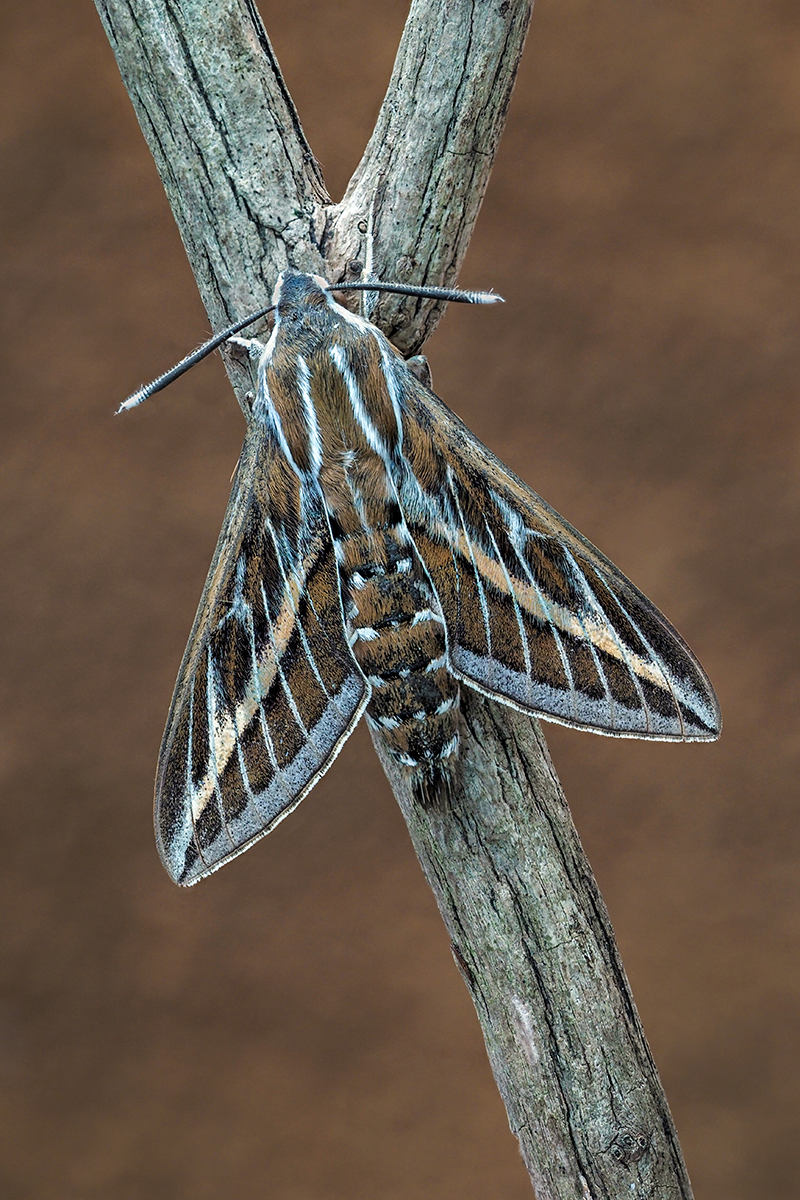 Striped Hawk Moth, Formby, Lancashire (Trevor Davenport).
One of the headlines from the first part of the winter, Red-headed Chestnut continued showing into 2021, with further specimens recorded at Minsmere, Suffolk, on 24 February and Leigh, Dorset, on 4 March. One recorded at Densole, Kent, on 2 February was the third there this winter, raising hopes that it may re-establish itself as a breeding species after its excellent winter showing. Elsewhere, the related Black-spotted Chestnut was also recorded from all of its newly established populations this spring, as late as 22 March at Upper Caldecote, Bedfordshire, the latest county record. There was little sign of further expansion, other than a record in Ware, Hertfordshire, on 22 January which was the first non-Hertford record for VC20. Other species arriving on our shores by less conventional means were several interesting adventives – a False Codling Moth at Shoreham, West Sussex, on 6 January appears to be new to the county, while Eastern Black Tabby was recorded in Somerset on 1 February. A specimen of Schiffermuelleria schaefferella found in Kent on 24 March was just the second UK record of this stunning dead wood-feeding Oecophorid.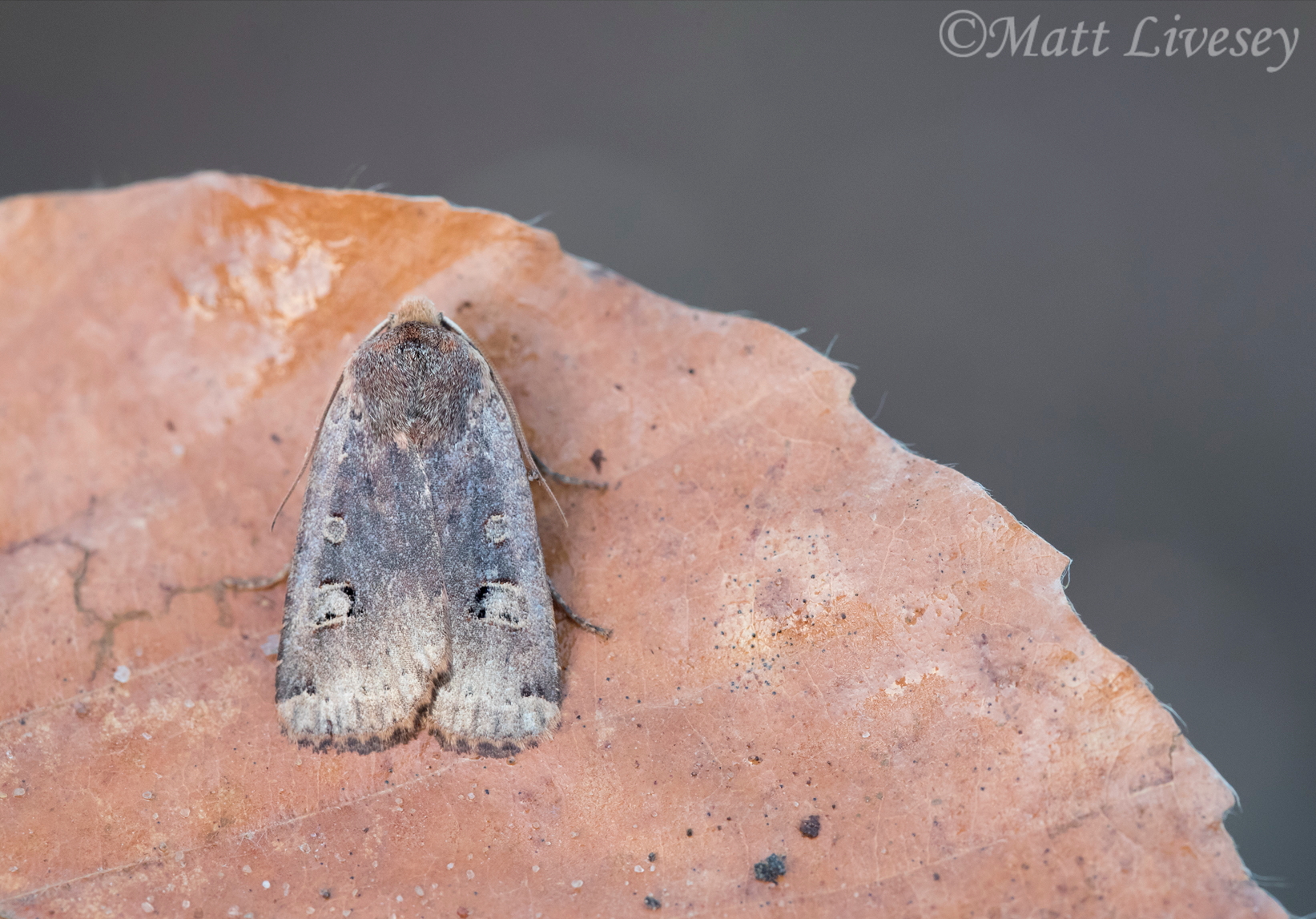 Red-headed Chestnut, Minsmere, Suffolk (Matt Livesey).
Butterflies
The same conditions that brought Dark Sword Grass and Silver Y to the far south-west also provided a handful of Painted Lady at the start of the year, with small arrivals following the warm plume of Spanish air to western Cornwall and Scilly around 20 February. These were followed by further specimens on the south coast courtesy of the mild southerlies at the start of March that then filtered through north, appearing over a larger area during April, and as far north as Lancashire by 23rd. Small numbers of Clouded Yellow that seem more likely to have over-wintered were also seen, with the first at the traditional site of Southborne Undercliff, Dorset, on 19 March; others followed there on 22nd, and in Devon, Hampshire, Dorset and Kent during April.
Poor weather conditions hampered butterfly recorders as well as moths, with most species seemingly emerging later and in smaller numbers than usual. While every indication from Portland is that Large Tortoiseshell will breed again there this year, following several good counts (including up to eight at Church Ope Cove, Dorset, on 16 March) and sightings right through to the end of April, this spring provided little evidence of the hoped-for establishment elsewhere.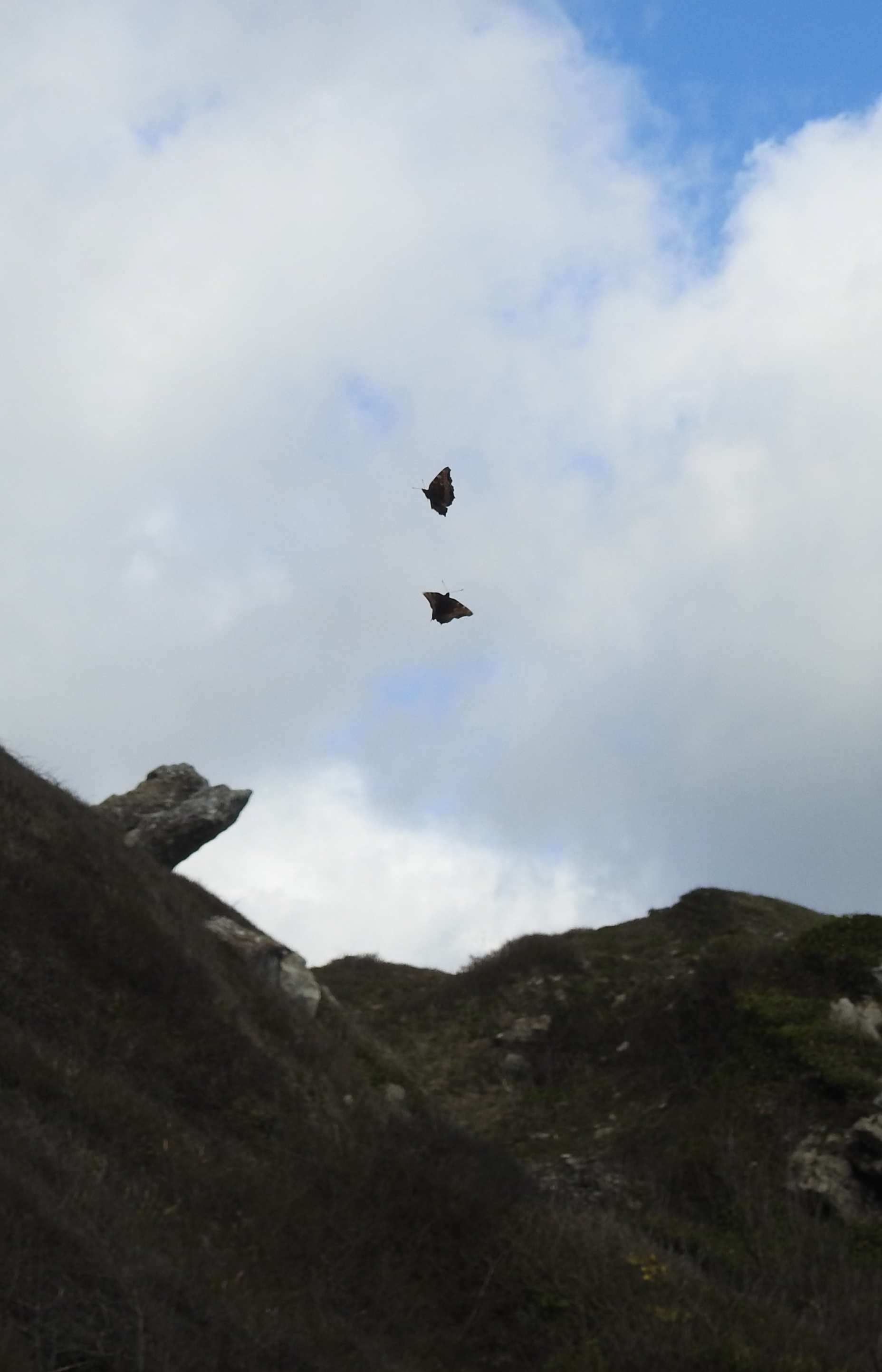 Large Tortoiseshells, Portland, Dorset (Andy Luckhurst).
Sightings compiled on UK Butterflies provide no records of multiple individuals away from Portland, and most were just seen on single days and by single observers. It seems likely though that the poor spring weather will have hampered any attempt to chart the butterfly's expansion, with nearly all sightings concentrated in the few warm spells in March and April. The first was sighted at last year's Portland breeding site, Church Ope Cove, on 27 February, with a string of sightings away from Portland in the following days of warm weather – two on the Isle of Wight, three in Sussex, and one in mainland Hampshire (seen on consecutive days at East Cosham).
Bar one at Coombe Creek, Cornwall, on 17th, sightings in March were mostly in the warm spell in the last quarter of the month, with singles in Kent, Norfolk and Hampshire as well as two in Sussex, including one seen for two days at Rowland Wood, while one at Incombe Hole, Buckinghamshire, performed similarly well on 30-31st. Sightings continued with the good weather into April, with two again in Sussex, and singles in Kent, Dorset (away from Portland) and, perhaps most notably, in Hertfordshire at Sawbridgeworth on 1st.
Despite the lack of evidence for breeding away from Portland last summer, 21 individuals were recorded away from the island by the end of April, already making this third-best spring for the species since 2000 (exceeded slightly by 2007 and 2008), even when the new colony is ignored. Hopefully, better summer weather is around the corner and will ensure this species' apparent expansion isn't just a flash in the pan, and will also bring an improvement in the fortunes of the rest of our butterflies and moths as the season continues.

Large Tortoiseshell, Portland, Dorset (James Cartwright).