Scandinavian birders have been reporting many Pine Grosbeaks on the move in recent days, with the species migrating south and westwards in much greater numbers – and at a considerably earlier date – than is typical.
The 2019 invasion has been at its most distinct in Sweden and Norway so far, yet unusually high numbers are now also reaching Denmark.
The last invasion into southern Scandinavia occurred in winter 2012-13, this being the year of the last British bird – a first-winter male at Urafirth, Shetland, on 1-2 November 2012 which then relocated to North Collafirth from 29 January-23 February 2013, where it was well twitched.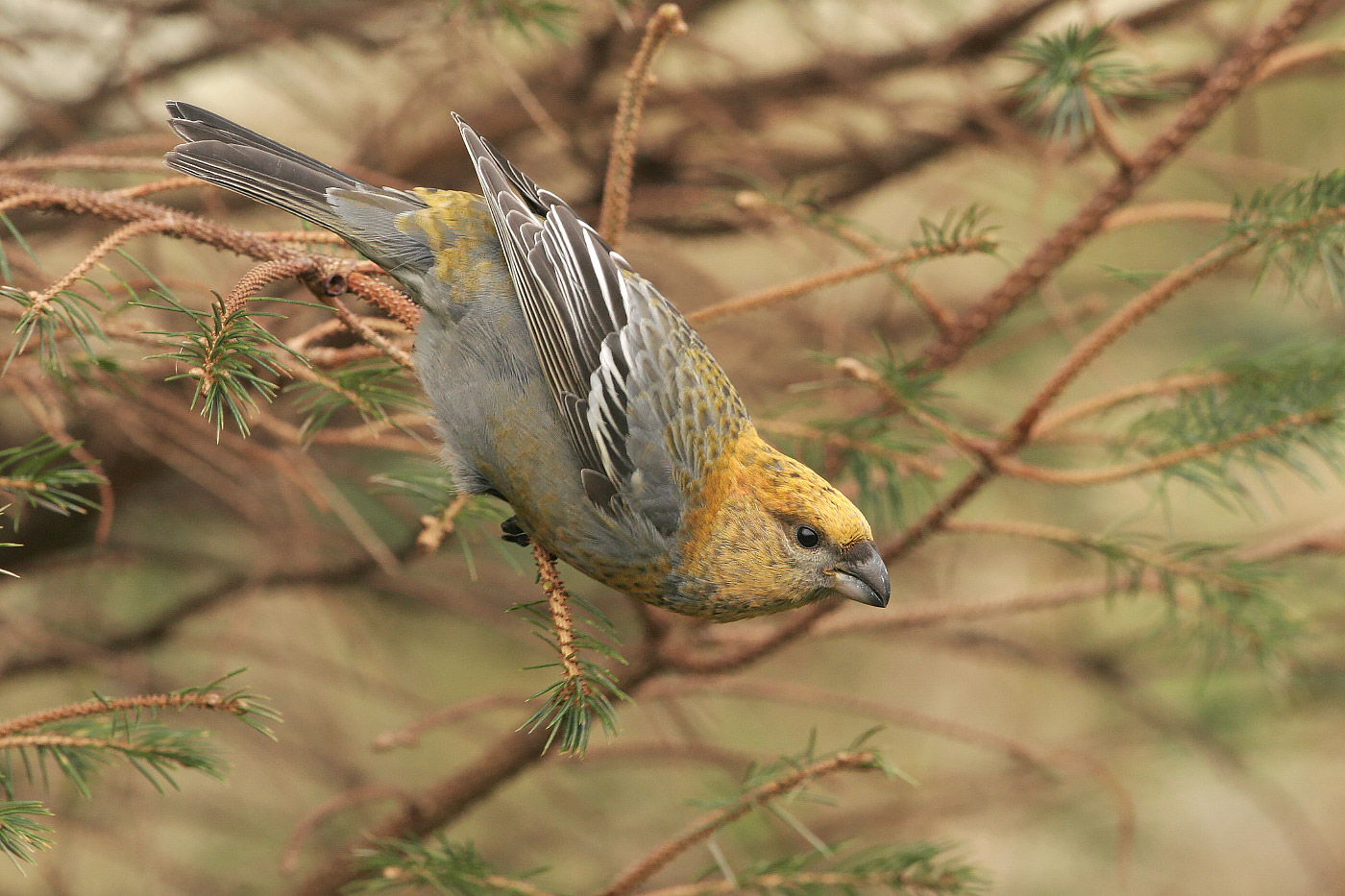 Pine Grosbeak, Collafirth, Mainland, Shetland, February 2013 (Adrian Webb).
In comparison to 2012, this autumn's invasion has commenced noticeably earlier and already it is clear that the numbers involved are much higher. For example, the last week of October 2012 produced c 450 birds in Norway, with this leaping to c 1,500 in the first week of November. This year, the last week of October has already seen over 1,000 individuals reported and numbers are increasing with each passing day.
In south-west Norway, birds are already migrating north (as happened in 2012), suggesting they have hit the south coast and are re-orientating – so overshooting birds could already be heading across the North Sea.
In the Oslo area, Pine Grosbeaks only showed up in 2012 after large numbers had hit the south coast and then started migrating north – whereas this year there were records around Oslo at the same time, or even before, any had been recorded further south. In 2012, they turned up after all the rowan berries had been eaten by thrushes and were therefore generally found in the forest eating buds on spruce trees. This year, though, as they have turned up earlier; there are still plenty of rowan berries (especially in the city) and birds are appearing in gardens where they are proving extremely tame.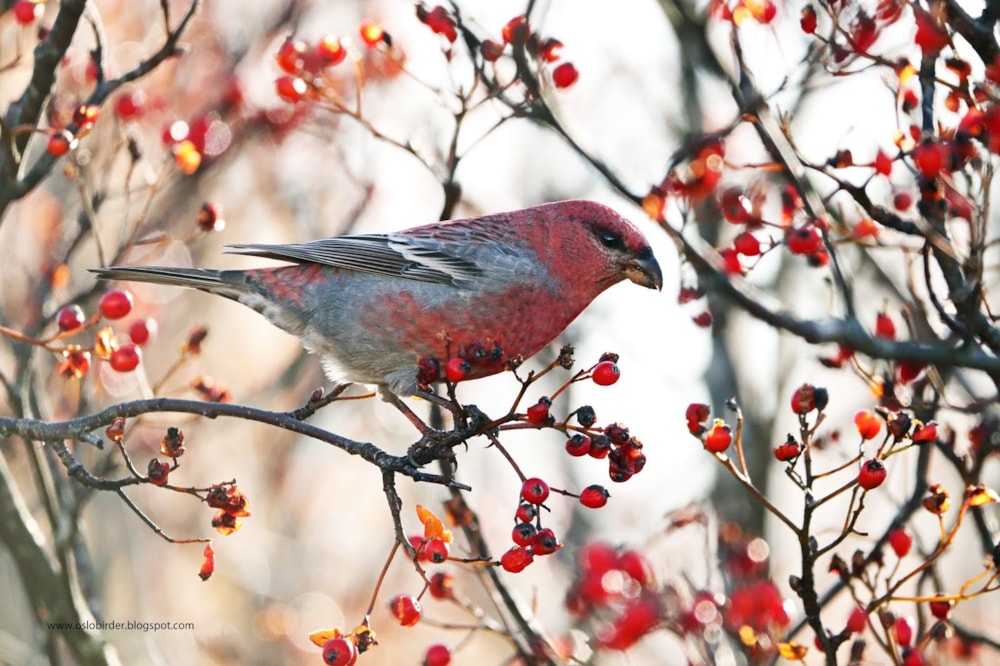 Pine Grosbeak, Oslo, Norway, 29 October 2019 (Simon Rix / oslobirder.blogspot.com).
In Sweden, the 2012 figures were c 750 for the last week of October and 9,750 for first week of November respectively. So far in the final week of October 2019, an extraordinary 13,000 have been reported – in addition to 9,750 in the previous week. This shows that the influx is occurring at around a week earlier than in 2012 and, crucially, on a significantly larger scale.
One Swedish site has already recorded a four-figure count of migrating Pine Grosbeaks in a single day, in what is believed to be the biggest invasion of the species – at least to southern areas – since 1976, easily surpassing those displacements which produced sightings in Britain in 2004 and 2012. However, there is still some way to go to replicate the massive movements of 1976, which produced the all-time Swedish day record count for a single site – an eye-watering 16,402 moved over the island of Torö, in the Stockholm archipelago, on 16 November.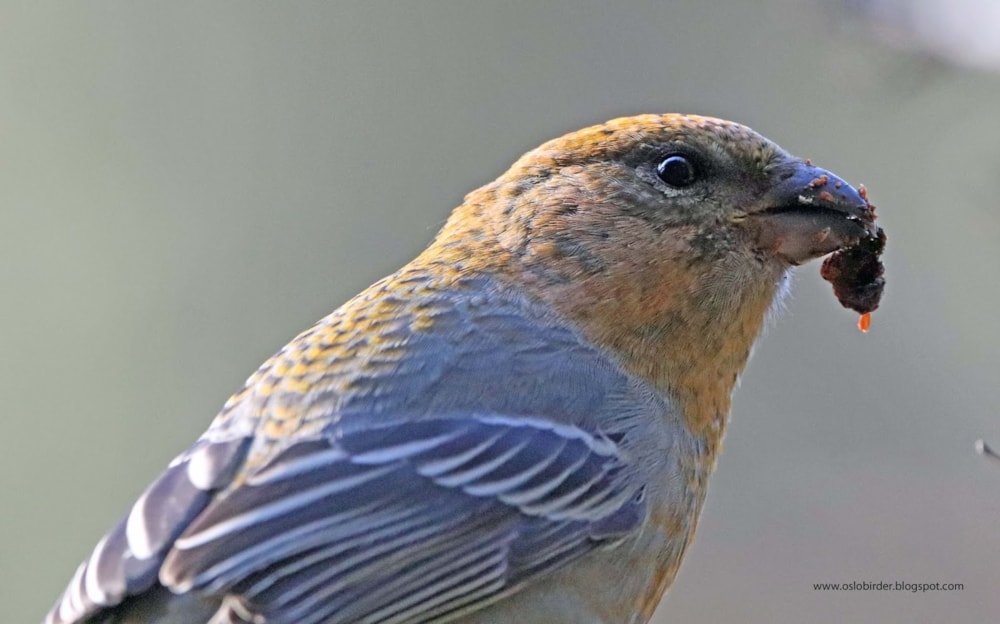 Unlike thrushes and Waxwings, which eat rowan berries whole, Pine Grosbeaks do not eat the skin of the berries, making a mess in the process of 'shelling' them (Simon Rix / oslobirder.blogspot.com).
The first birds reached Denmark on 27th, when up to six (groups of four and two) were seen at Skagen. A further 11 were then seen there on 28th, reflecting a further southward push into southern Sweden that day – for example, seven flying south-east over Halmstad were part of a cluster of records of flyovers from the Swedish coast between there and Gothenburg, to the north. After a handful on 28th, hundreds could be found all over the southern Swedish county of Scania on 29th, acutely illustrating the suddenness and size of the invasion.
To put the 20 seen in North Denmark on 27-28th into context, there have only ever been two previous October records ever at Skagen. Birds at the famous Danish migration watchpoint were heading north-east, with four observed to head out to sea towards Sweden on 27th. Nonetheless, some birds are continuing to push south-west, with two reaching the Wadden Sea island of Fanø (just north of Sylt, Germany) on 29th, these some of 30 seen across the country on that date. At least 13 were again seen at Skagen on the morning of 30th, with this year's arrival shaping up to be the biggest invasion witnessed in Denmark since the 1800s. Also on 30th, the biggest ever single-site day count for Denmark was made at Nordmandshage, east of Aalborg, where 85 moved south-west in seven flocks during the day.
Pine Grosbeaks, Oslo, 25 October 2019 (Simon Rix / oslobirder.blogspot.com).
Will Pine Grosbeak reach Britain?
Given the volume of Pine Grosbeaks on the move, and crucially so in south and west Norway, the likely source of an overshooting bird in the coming days and weeks seems as high as it has ever been. However, the species is evidently averse to long sea crossings, given that previous influxes in living memory have never produced more than a single bird.
Nonetheless, weather for the coming days looks conducive to a potential arrival – from the weekend, a strengthening easterly airflow establishes itself out of southern Sweden and Norway, with Shetland south to northern England set to prosper from easterly winds over the coming few days. Watch the forecast below:
In previous influxes, Pine Grosbeaks have proven happy to pitch up in urban and suburban settings, where they may feed fearlessly on rowans – either in the trees themselves, or even on the ground, picking at fallen berries. Spruce trees, another favourite of these big finches, should also not be ignored.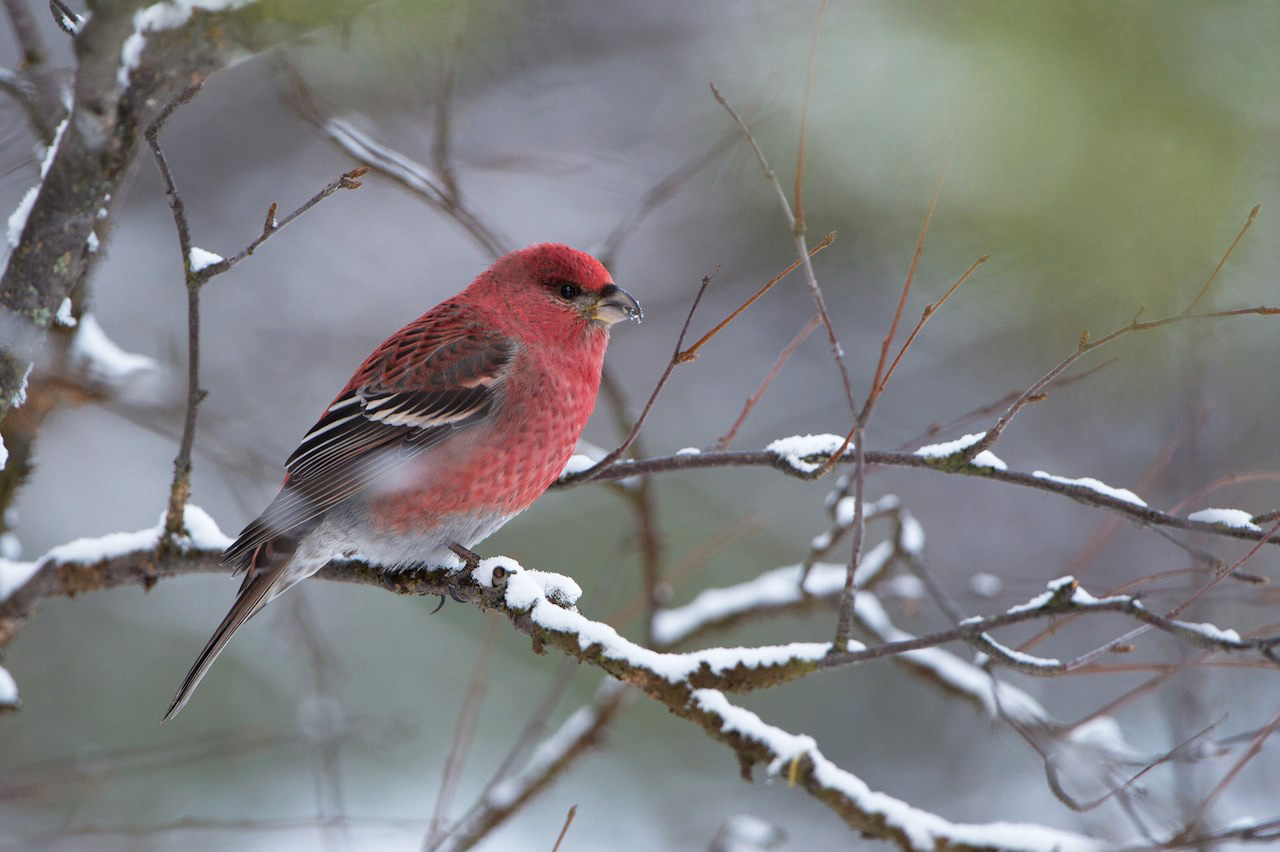 A male Pine Grosbeak in Britain would be a huge hit (Marc Fasol).
Acknowledgements
Special thanks to Simon Rix for his in-depth analysis. Visit his blog at oslobirder.blogspot.com.
Thanks also to Olof Jonsson (Sweden) and Rolf Christensen (Denmark) for their thoughts and updates on this year's arrivals.