I've always considered myself a decent daughter-in-law. Not award winning, but good enough. That was until recently, when my phone beeped: "MEGA: Rock Bunting on the Garrison". Yes, we spend a lot of time on Scilly!
Joan, who is quite lovely as mothers-in-law go, is tolerant of twitching having endured a husband-son duo who dragged her all over the country. She had just pottered in to fuss her seven-month-old granddaughter, but all she saw was a whirlwind as I grabbed binoculars, flung the baby over my shoulder and ran.
Georgiana was tossed into the pushchair and 12 minutes later we arrived, breathless (it's uphill), on site. The bird had been seen for no more than a few seconds, so every birder on Scilly was fanning out to search.
I say every birder. One was stuck on a 'Seabird Special' pointing out Puffins to holidaymakers. Another was searching for his phone at the bottom of the harbour. A third was stuck at work. As someone wisely quipped: "It's not a good twitch unless somebody dips."
To make matters worse, we were in an electronic dead zone, with no signal. This was old-school communications: whistles and frantic waving.
No sign, and then a yell alerted us to a bird bouncing over our heads, in silhouette, with a long-ish tail. It was temporarily lost, then re-found further down the hill. A small stampede occurred, then scan, search, where? There! Tick! This was a happy twitch full of smiling birders, all quoting previous records of Rock Bunting and explaining to tourists why we were so excited.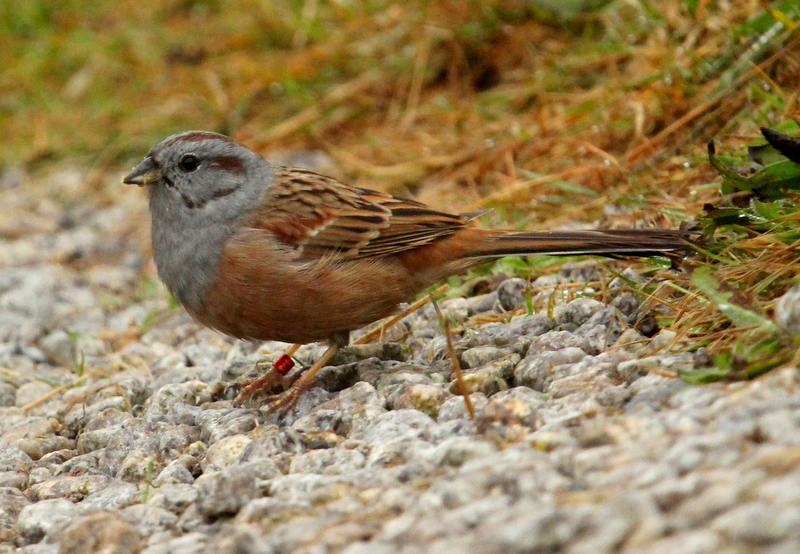 First touted as a Rock Bunting, it quickly became clear that something wasn't right ... and wasn't that a ring on the bird's right leg? (Kris Webb).
Content continues after advertisements
Rock not on
Whispers started. Wasn't that grey and brown on the head? Less black and white? Rufous underparts, not pale? In hushed tones: was this a Godlewski's Bunting?
No, I hadn't heard of it either. A lot people coughed and nodded and secretly tried to Google this mysterious, unknown species, but a lack of 4G had us all scuppered. Was this sixth for Britain? A first? Was this Rock Bunting an Oh-My-God (OMG!) Bunting?
And then the scrutiny started. Within minutes photographs were out there for all to see, including mine. A smudge on the right leg. A red metal ring with script on it. Quick, destroy the evidence. Can we delete all photos that show this damning revelation, deny all knowledge and let the celebrations continue? Probably not; it's too late. Goddamnit Bunting! Joy dispersed and so did the birders, forlorn and downtrodden, stripped of our glorious tick. The seabird safari continued with a distinctly smug air, as of course this all played out on WhatsApp. "Oh buggeration" typed the finder.
So where did the Godforsaken Bunting come from? Three theories for you. The first, favoured by my husband Rob, is that a man named Oleg is operating a dodgy ringing scheme out of Kazakhstan, and the Godawful Bunting lazily drifted here on the prevailing easterlies. The bird could be tickable.
The second, my preferred, is that a wild Godhelpus Bunting was dramatically captured while going about its business, before being taken to a bird market in The Netherlands to be sold. Craving freedom, it pulled open the bars of its cage with Herculean strength, fled the Continent, and collapsed exhausted outside the Star Castle Hotel. The third is that one of the local tearooms, Carn Vean, has recently added Godwilling Buntings to its impressive collection of Namaqua Doves and Zebra Finches.
In the end, despite the admirable optimism (bordering on desperation) of many, we have had to concede that this probably wasn't the real deal. Who on earth is this Godlewski anyway? Godriddance, I say!