September 2008 turned out to be a memorable month for raptor-watching across the London recording area (and elsewhere), the most memorable since the jaw-dropping and unprecedented influx of Honey Buzzards back in 2000, when London amassed 161 records between 21st September and 14th October (Self: 2000).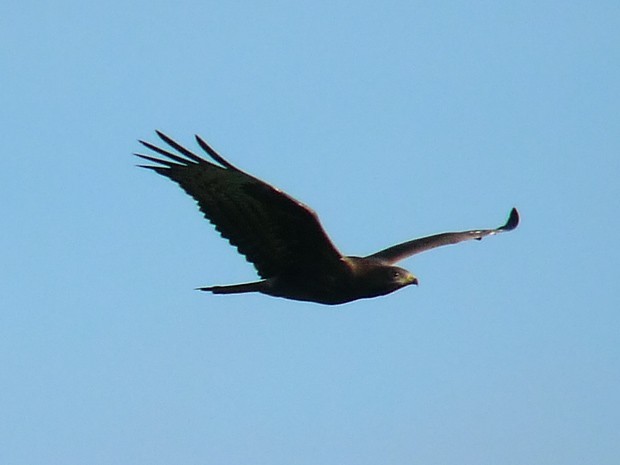 Honey Buzzard, Gibraltar Point NNR, Lincolnshire (Photo: Russell Hayes)
Many of us back then considered the influx a spectacle we'd probably never witness again over these shores, and indeed the sheer volume of birds involved may never be equalled. So it was with much anticipation that birders scoured the skies over local patches from the 13th onwards once it had become clear that 'numbers' of Honey Buzzards were clearing east-coast sites and beginning to head inland and south (along with enhanced numbers of Ospreys and Common Buzzards). Many will have been hoping for a taste of what they'd had (or hadn't had) eight years previously and, of course, duly went looking.
As it turned out, this year's influx wasn't as sustained as that in 2000, nor were there as many birds involved; it was, however, a noteworthy event (and red-letter day) wherever it occurred, an event that prompts that question 'why?' and 'when next?', neither of which I've attempted to address here.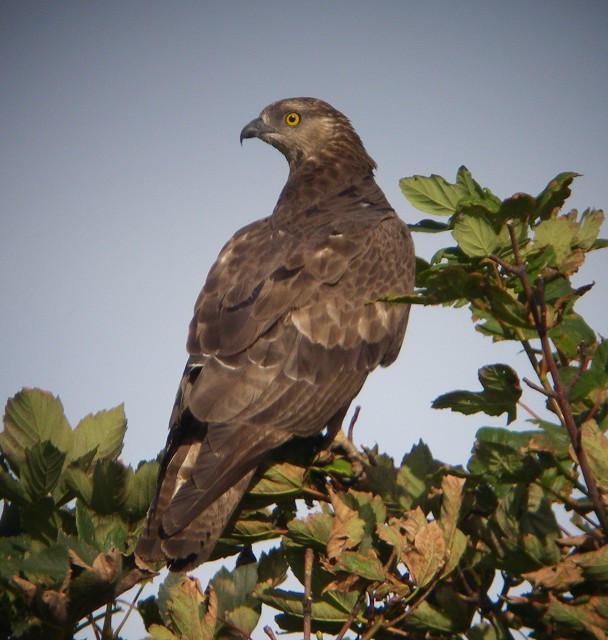 Honey Buzzard, Fauxquets Valley, Guernsey (Photo: Mark Guppy)
A good proportion of the Honey Buzzard reports during September came equipped with time, flight-direction, and colour-morph/age detail but unfortunately quite a few didn't, thereby making it that much harder to determine how many birds may have been involved. However, by gleaning online information and detail supplied to me privately I've been able to construct a reasonably accurate assessment of the influx.
The notes that follow summarise London-area reports for the above species during September 2008 with brief reference to Red Kites, Marsh Harriers and unidentified medium-sized raptors (some of which are thought likely to have been Honey Buzzards). Apologies for any errors or omissions.
It is unlikely that all the reports that made it onto the bird information services and/or online sightings pages will end up being received as formal submissions by the relevant recorder; this would be a shame though, as the more records submitted the better the odds on attaining as accurate as possible a summary of the influx over London (and elsewhere of course). Conversely, it may be that additional reports are received by recorders which are currently not in the 'public domain' so reference to the 2008 London Bird Report should, in due course, provide a more definitive account for the species covered here.
Honey Buzzard
The first report of the month concerned a single south over Hornchurch at 10:04 on the 8th (this is still a very scarce bird in the London Area, with just 33 records before the 2000 influx). This was followed, on the 10th, by a dark morph southwest over Wormwood Scrubs at 08:45 and one, possibly the same dark bird, southwest over Richmond Park at 10:15.
The 13th saw the first real signs of a national influx, with at least 170 birds reported by dusk, mainly from east-coast counties, the majority over Norfolk and Suffolk sites (but with a further four counties reporting double figures). The largest numbers seen anywhere that day consisted of 18 birds drifting south over Minsmere RSPB, Suffolk, over a 4-hour period. London, predictably, did less well but did score a single bird, a (probably) dark-morph individual that moved high west over Rainham Marshes at 15:50.
Naturally enough, word spread fast among London's birding grapevine that an influx was underway and that evening comments were exchanged on the London Birders Yahoo group predicting at least some reports from the capital the following day. Fortunately it would be a Sunday, the weather looked promising, and the predictions proved to be spot-on.
The 14th saw continual arrivals at east-coast sites and a conspicuous southward movement had became obvious. Some 190 birds were logged before dusk (possible duplication from the previous day's birds aside) with Norfolk in pole position in terms of the number of individuals reported.
The first strong wave of sightings now began to be reported across the London area with a highly respectable ten sites (in five recording sectors) logging birds by the end of the day. Chronologically these were: west over Hackney Marshes at 08:35; northeast over Rainham Marshes at 11:00hrs; southeast over Marble Hill (Twickenham) at 13:45; northeast over Rainham Marshes at 14:00; north over Clissold Park (Stoke Newington) at 14:50; south over Paddington Green and southwest Hook/Chessington at 15:20; southeast over Cheshunt at 15:55; SSW over Bedford's Park at 16:00 and southwest over Leyton at 16:14. There was also a bird reported northeast over the London Wetland Centre but I've struggled to find any time or colour-morph information. All reports referred to single birds with the exception of the Bedford's Park record, which involved two. Of these, five were noted as dark-morph juveniles, two were intermediate types and one was pale; the remainder didn't specify any plumage detail.
The 15th produced three reports of singles: an intermediate bird south over Waterworks NR at 10:25, and birds south over Cheshunt at 11:15 and southwest over Alexandra Park at 18:30. No reports were received on the 16th or 17th but a further three surfaced on the 18th, again all singles: juvenile over Isleworth at 07:20; dark-morph juvenile south over Osterley Park at 10:00 and a bird west over Ewell at 14:05. On the 19th clearly different birds went WSW over Banstead at 16:14 and Regent's Park at 16:35. No sightings were reported on the 20th but on the 21st singles were noted from a further two sites: Pole Hill (Epping Forest - with no further details) and a dark-morph juvenile south over Clissold Park (Stoke Newington) at 15:30.
Sightings over the next six days were non-existent then on the 28th a single bird was seen heading south-west over Holmethorpe Sand-pits. The final sightings of the month came on the 29th, both singles: a dark-morph juvenile north over Raynes Park (Merton) at 10:17 and another SSW over Beddington SF.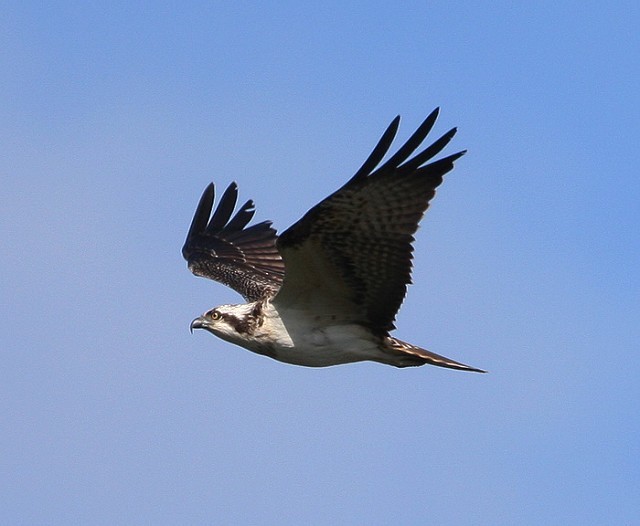 Osprey, Waters' Edge CP, Lincolnshire (Photo: Dean Eades)
Osprey
The first bird noted during the month flew southeast over North Enfield at about 13:00 on the 6th. The 7th gave up another sighting, this time of a bird moving west over Alexandra Park at 13:55. On the 8th a single went south over Beddington Sewage Farm and the 9th saw a report of one over Beech Farm Gravel Pits (heading toward St Alban's) at 07:45. The next were two birds (south and SSE) over Queen Mary Reservoir between 14:35 and 14:55 on the 11th. The 12th also produced a sighting, this time of a bird over the River Lea at Bow at 11:00. On the 13th a bird was watched fishing at the lake at Bentley Priory Local Nature Reserve at 16:00; two birds were seen moving south over of the west side of Dartford at 17:10 and there was an intriguing report of a bird at the London Wetland Centre between 14:15 and 14:35 at least.
September 14th wasn't only notable for the number of Honey Buzzards sighted over London but also for the excellent showing of Ospreys up to early afternoon. All were singletons, as follows: northeast over Tottenham Marshes at 07:30; north over Alexandra Park at 07:35 (probably the same bird as over Tottenham Marshes); west over Hackney Marshes and southwest over Leyton at 08:12; west over Wormwood Scrubs at 09:05; west over Amwell at 10:08; southwest over Wraysbury at 11:20; south over Beddington Sewage Farm at 11:55 and southeast over Kentish Town at 13:00. A probable Osprey was seen circling northeast over Paddington Green at 14:14 but was far too high for a certain identification. Thereafter, three more single birds were reported during the remainder of the month: southwest over Amwell at 07:25 on the 15th; north over Alexandra Park at 18:38 on the 18th and north over Rainham Marshes at 13:20 on the 19th.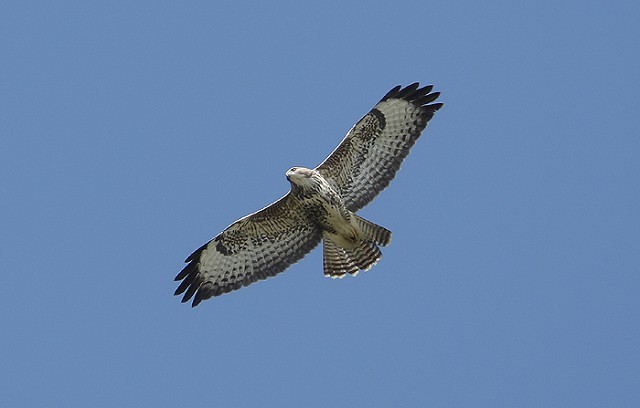 Common Buzzard, Rainham Marshes RSPB, London, Greater (Photo: Steve Arlow)
Common Buzzard
A sizeable 33 sites reported Common Buzzards during September, the vast majority being singles. Records before the 14th, however, were sparse, though the 14th itself produced reports from at least ten sites, most notably Beddington Sewage Farm where 13 passed over during the course of the day (there were also eight over Amwell, four over the London Wetland Centre and four over Tyttenhanger). Other counts after the 14th included six over the London Wetland Centre. Four were at Tyttenhanger on 15th, and four at Fisher's Green (Holyfield Viewpoint) on 17th. The best count during the month from Trent Park (a site that regularly reports Common Buzzards) was five on the 22nd.
Unidentified species
Ten sites reported unidentified, medium-sized raptors, all of which were 'buzzards' with the exception of a probable Osprey over Paddington Green on the 14th. All of these birds occurred over the 14th and 15th, thereby indicating a link with the 'Honey Buzzard influx' over London and nationally. On the 14th, possible Honey Buzzards included two west over East Tilbury at 11:15 and two over Leyton later in the day. A further possible, dark-morph, Honey Buzzard flew east over Alexandra Park at 17:52 on the 15th.
Other species
Marsh Harriers (apart from a regular juvenile at Rainham Marshes during the month) were also a feature of the period, with single birds reported moving south over Amwell at 08:15 on the 13th; south of Northfleet at 17:30 on the 14th; an adult male west over the London Wetland Centre at 09:40 on the 15th and a female/immature west over West Thurrock at 10:37 (also on 15th); a juvenile west over Queen Mother Reservoir at 12:00 on the 23rd and northeast over Tottenham Marshes at 09:33 on the 25th. Red Kites were far less easy to track down and the only reports, perhaps surprisingly, were singles west over the London Wetland Centre at 10:55 on 14th and at Tyttenhanger on the 27th.
Summary
September 2008 produced a maximum of 28-29 (though this probably actually related to 20-23) Honey Buzzards over a total of 24 widespread sites across the London recording area, most notably so on the 14th when reports came in ten sites (maximum of 13 birds). A significant showing of Ospreys (17 sites) was also a feature of the month (particularly on the 14th when a maximum of 8-9 were noted) while Common Buzzard reports, although seeming to increase exponentially year on year in London, were well up on what would normally be expected at this time of year.
References/Sources of information
Self, A., 2000. Honey-buzzard Influx Autumn 2000. Lond. Bird Rep. 65: 191-198
BirdGuides Review of the Week and latest sightings pages: 11th-17th September 2008
LondonBirders Wiki Group; LondonBirders Yahoo Group; Dip or Glory website; East London Birders Forum website; Surrey Bird Club website.
Acknowledgements
Thanks to Johnny Allan and Howard Vaughan for detail supplied on Beddington SF and Rainham Marshes records respectively.