This is the latest in a series of monthly summaries detailing the most significant bird finds in the London area. For the definition of the London Recording Area and a more complete round-up of what's been seen recently, visit the London Birders website.
A percentage of the reports that follow will be adjudicated upon by either the national or county records committee, so publication here in no way implies an accepted record. Please submit all records to the relevant recorder, a full list of which can be found here.
October 2009
Red-backed Shrikes are always a pleasing London find but a bird reported from Staines Moor on the 11th came with the intriguing caveat that it showed a very well-defined head pattern and probably merited further looks. On the 12th it was refound and duly given those further looks resulting in news that was nothing less than seismic. The bird had been confidently re-identified by Chris Heard, both in terms of structure and plumage, as a first-winter Brown Shrike.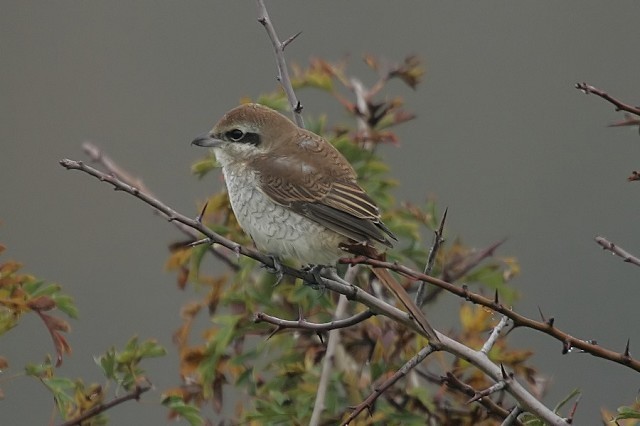 Brown Shrike, Staines Moor, Surrey (Photo: Dave Hutton)
Enormous interest began to permeate the London birding scene (and of course nationally) and pictures of the bird began to turn up online. In excess of 50 people connected during the remainder of the day but for the majority it was a case of hoping that this never-predicted county rare would linger. Hopes were tempered by a weather forecast for clear overnight skies prompting fears that the bird might move on before daybreak, but these proved to be unfounded and the morning of the 13th brought news, once the on-site mist had lifted, of the bird's continued presence.
During the course of the day it showed well, sometimes a little distantly but often at better range, for close to 600 birders from far and wide. It appeared to feed well in warm sunshine and it wasn't long before better photographs and footage started to emerge.
There was no contention: London had scored itself a passerine rarity that could hold its own alongside the likes of the Northaw Great Wood Grey-cheeked Thrush of 2005 and Peckham American Robin of 2006. The bird went on to instruct in excess of 2,500 observers, remaining faithful to its favoured area at the northwest corner of the site, into November.
As in September, this month's raptor news was dominated by a report of an Eleonora's Falcon. On the 5th a dark adult was claimed over Great Warley before flying east and having been in view for five minutes. It was looked for subsequently but hadn't put in a further, highly desirable, appearance by late evening. Last month's bird over Rainham Marshes was aged by a couple of observers (at least) as a second calendar-year. Following this there was a report of a large dark falcon over Greenhithe on the 17th which was reminiscent of Eleonora's Falcon but the observer was without optics and the identification wasn't bagged, nor could a falconer's (hybrid) bird be ruled out.
The third Richard's Pipit for Wormwood Scrubs was flushed on the 28th but better yet were Red-throated Pipits reported over Rainham Marshes on the 13th and Staines Moor on the 14th; it's thought the Rainham bird may have pitched down onto the reserve but there were no further sightings. A probable was also heard, and seen, flying northwest over Leytonstone on the 27th but wasn't claimed thanks to the caution of the observer. A more easily observable bird in London would no doubt be well attended.
The most prominent wildfowl records of the month were an adult Whooper Swan at Walthamstow Reservoirs from the 13th to the 26th at least (with a report in the reservoirs' log book of six or seven flying over there on the 18th), Brent Geese at three sites and a female Red-breasted Merganser at King George V Reservoir on the 11th.

Whooper Swan, Walthamstow Reservoirs, Greater London (Photo: J.Murray)
Red-necked Grebes are scarcely reliable in London so one at Staines Reservoir on the 4th was welcome. Black-necked Grebes on the other hand are more reliably scarce and October yielded birds at three sites, most notably eight at William Girling Reservoir on the 10th.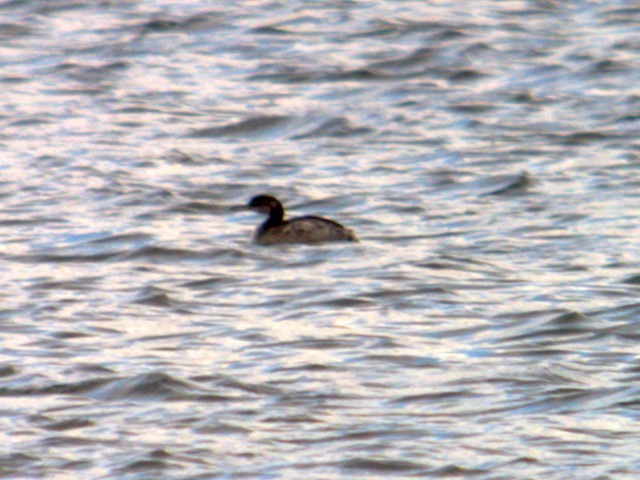 Red-necked Grebe, Staines Reservoirs, Surrey (Photo: David Campbell)

Black-necked Grebe, Walthamstow Reservoirs, Greater London (Photo: John Murray)
A Manx Shearwater was photographed passing an observer on the Thames at Northfleet on the 11th, only to be turned into dinner by a Great Black-backed Gull at West Thurrock Marshes/Greenhithe a short while later.
Three Bitterns were seen: singles at the London Wetland Centre from the 21st to 29th, joined by a second on the 26th, and Stoke Newington Reservoirs on the 28th.
Manx Shearwater aside, the major seabird news occurred over the 5th and 6th. During conducive weather conditions comprising poor visibility at sea and moderate ESE winds, strong numbers of Gannets entered the Thames Estuary with about a thousand logged past Canvey Point, Essex. No doubt most went on to exit the estuary but a small contingent pushed upriver as far as the capital. It seems likely that as many as eight birds were involved (reported from ten sites) including an intermittently twitchable bird at Wraysbury GPs which had roosted overnight and which was even seen plunge-diving there on the 6th; not what could be called a regular sight that close to the M25!

Gannet, Grays, Essex (Photo: anon)
Rainham Marshes was Honey Buzzard central at the beginning of the month with sightings of a single west on the 1st and two over on the 2nd, while a further single was over Queen Mary Reservoir on the 17th. Red Kites were over nine sites, Marsh Harriers at four and two Ospreys were logged including a bird for two days (9th/10th) at Stockers Lake. Merlins cut a dash at two sites: Rainham Marshes on the 4th and 7th and Seventy Acres Lake in the Lee Valley on the 10th.
The London Wetland Centre Spotted Crake found back in mid-September maintained its residency and was seen up to the 9th, while another found at Rainham Marshes on the 27th was still present the following day. Sustaining a seabird theme, two Great Skuas were seen on the 25th, a bird east along the Thames at Grays and another over Amwell GPs.
The month's top Larid accolade went to a juvenile Sabine's Gull seen flying up the Thames at Rainham Marshes mid-afternoon on the 7th. It was then relocated a short distance upriver at Crossness just over fifty minutes later, where it stayed for a further ten minutes before continuing its journey west. The small stretch of river at Crossness has now produced a couple of these much-prized gulls but the observer of the latest had probably endured the most awkward viewing conditions to date, being simultaneously drenched by rain and shrouded in factory smoke for his troubles.
Caspian Gull sightings always generate interest and this month there were reports of about ten birds from five sites including three different individuals at Beddington SF during the period and four at Rainham Marshes on the 22nd.
An early juvenile Glaucous Gull was seen in a field at Coulsdon on the 11th and adult Kittiwakes were noted from two Thames-side locales.
Additional, notable, passerines for the period were Woodlarks (at or over five sites), a good sprinkling of Cetti's Warblers (including surprising records from the relatively urban Clissold Park and Wormwood Scrubs), single Dartford Warblers at four sites and a Yellow-browed Warbler at Rainham Marshes on the 11th. Firecrests were reported from ten sites with three at Whitewebbs Wood on the 29th being the most noteworthy. Up to three Bearded Tits were at Rainham Marshes on two dates and two were at Crossness on the 15th.

Firecrest, Tower Hamlets, Greater London (Photo: John Murray)
A short-staying Great Grey Shrike at Staines Moor on the 13th was a bona fide bonus for some of those assembled to see its rarer counterpart, and three Ravens were reported during the month.
Two Hawfinches were over Wimbledon Common on the 15th and Common Crossbills were at, or over, ten sites, most notably c.50 over Woldingham on the 20th (part of at least 185 birds reported in London since 3rd June). Lapland Buntings were heard passing over Staines Reservoir on the 13th and Rainham Marshes on the 30th, and the sole Snow Bunting flew over Beddington SF with Chaffinches on the 20th.
The above information was extracted from the national information services as well as London-based birding websites and personal requests for information. Of course this may not be the complete picture therefore reference to the 2009 London Bird Report (London Natural History Society) on publication is recommended.
Many thanks to Johnny Allan, Rob Innes, Dave Morrison and Howard Vaughan for kindly supplying requested details for various reports. Apologies for any errors or omissions.