This is the latest in a series of monthly summaries detailing the most significant bird finds in the London area. For a definition of the London Recording Area and a more complete round-up of what's been seen recently, visit the London Birders Wiki at londonbirders.wikia.com/wiki/London_Bird_Club_Wiki.
Some of the reports that follow will be adjudicated by either the national or county records committee, so publication here in no way implies an accepted record. Please submit all records to the relevant recorder, a full list of whom can be found at www.lnhs.org.uk/ornithology1.htm.
May 2010
Another month and, potentially, another London first. A Golden Plover sp. that passed north over Beddington SF at 07:40 on 2nd was well photographed in flight. The bird showed extensively dark underparts and greyish underwings and, on the face of it, appeared to be an American Golden Plover. It was then refound on a shingle island at the London Wetland Centre at 09:10 where it remained until about 10:37 before it flew off west having been harassed by the breeding Lapwings on site. The bird was seen by a small band of observers and although all agreed it was certainly a 'Lesser' Golden Plover there was some debate as to its specific identification. In terms of plumage it seemed too advanced into breeding attire for it to be a Pacific but at least a couple of observers nailed the primary projection and the consensus grew in favour of Pacific Golden Plover. If accepted this will become an outstanding addition to the London avifaunal list with American Golden Plover having previously been recorded at King George VI Reservoir on 2nd September 1995.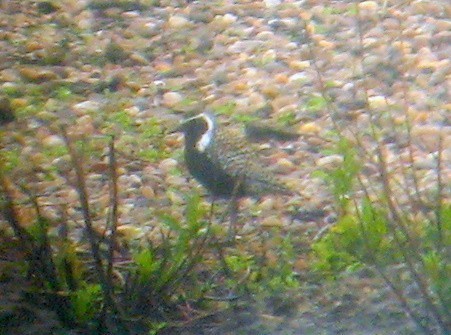 Pacific Golden Plover, London Wetland Centre WWT, Greater London (Photo: Mike Caiden)
Now recorded with increasing regularity in the London area, a Great White Egret flew north towards Stapleford Aerodrome over the River Roding at Abridge on 31st. Single Spoonbills showed up at, or over, five sites (though how many individual birds this relates to is unclear): south over the Ingrebourne Valley on 14th; an adult for five minutes at Seventy Acres Lake on 16th; one northeast over Hornchurch on 17th; an adult northeast over Rainham Marshes on 23rd; and one east over Grays on 23rd. A possible Black Stork was seen as it passed over Dagenham at 12:35 on 11th and may have been the same bird as that seen over Mote Park, Kent at 10:40 the same morning; shame it wasn't on the deck as this is one species much desired by the London listing fraternity. Common Cranes were unusually widely reported with one southeast over Beddington SF on 1st; two seen distantly from East India Dock Basin, heading toward Crystal Palace, on 4th; and two drifting high east over Hampton Hill on 11th. The latter were presumably the same two as those seen over Maidenhead earlier in the day.
The only report of a Red-rumped Swallow concerned a single over Aveley Pools, Rainham Marshes, mid-afternoon on 2nd; unfortunately it had moved on by 16:20. A Hoopoe in allotments at Kidbrooke on the evening of 25th was a nice late May record; alas it wasn't seen the following day. One Golden Oriole was discovered, a bird heard four times during the late morning of 7th at Alexandra Park (a site first).
The iffy Ruddy Shelduck was again at Willow's Farm Puddle (Tyttenhanger) on 25th at least and three sites reported Garganey. A Ferruginous Duck at Staines Reservoirs on 22nd and 23rd was considered to be the semi-resident escape but a drake Scaup at Walton Reservoirs on 30th and 31st had far better credentials. Four Common Scoter no doubt brightened up the day at Rainham Marshes on 9th.
Great Northern Diver(s) were at Island Barn Reservoir on 1st, 2nd and 4th; Staines Reservoirs on 1st, 2nd and 3rd; Queen Elizabeth II Reservoir on 2nd (same as Island Barn bird); and King George VI Reservoir on 9th and 16th; but the only report of a Black-necked Grebe concerned a single at Staines Reservoirs on 8th.
Honey Buzzards were reported from a majorly impressive 12 sites between 3rd and 30th with the most eye-catching record being of a medium-morph bird observed from the summit of Tower 42 in the City of London. It was first seen heading west at 12:15 and was watched as it dropped dramatically near the Houses of Parliament. It later transpired that the bird had hit an office window by Waterloo Station at 12:20 where it was photographed gathering its senses shortly afterward. Once it had regained its bearings it flew off southeast, apparently none the worse for the experience. Marsh Harriers enlivened eight sites, most reliably at Rainham Marshes were up to two were reported on at least 14 dates; a female/immature bird over Alexandra Park on 3rd constituted a site first. A ring-tail Montagu's Harrier was at Rainham Marshes on 4th and was watched as it flew northeast toward the Mardyke Valley; what may have been the same bird, though not identified beyond doubt, was seen flying east at Rainham on 8th. Red Kites were recorded from 44 widespread sites with Rainham Marshes scoring at least seven birds and the best single count being of three together over Cannon's Farm, Banstead, on 16th. Two over Wormwood Scrubs on 23rd were a long overdue site first. Ospreys appeared over five sites between 5th and 28th and the best count of Hobby comprised at least 12 in the Holyfield area of the Lee Valley on 13th.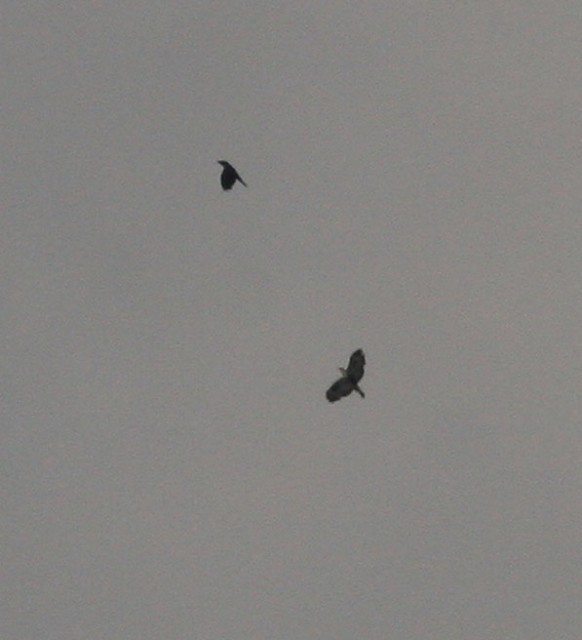 Honey Buzzard, Stoke Newington Reservoirs, Greater London (Photo: Mark Pearson)
Only one Quail was forthcoming, a single calling bird at Orsett Fen on 19th.
Notable London waders included a good influx of Sanderling and Little Stints at Rainham Marshes on 1st and 26th. Temminck's Stints were at Langridge Scrape (Lee Valley) on 15th and Walton Reservoirs (two on a private part of the site) on 24th. The sole Curlew Sandpiper was at Beddington SF on 9th but Wood Sandpipers showed up at three locales, including an impressive eight at Crossness on 8th.
Content continues after advertisements
A pale-phase Arctic Skua was at King George V Reservoir to about 11:35 on 2nd when it flew off north.
As would be expected at this time of the year, Mediterranean Gulls were scarce and three sites held birds during the month. Little Gulls were more widespread and the best count was three on a few dates at Staines Reservoirs. Single Kittiwakes were at four locations between 2nd and 21st: Staines Reservoirs, Beddington SF, the London Wetland Centre and Stoke Newington Reservoirs.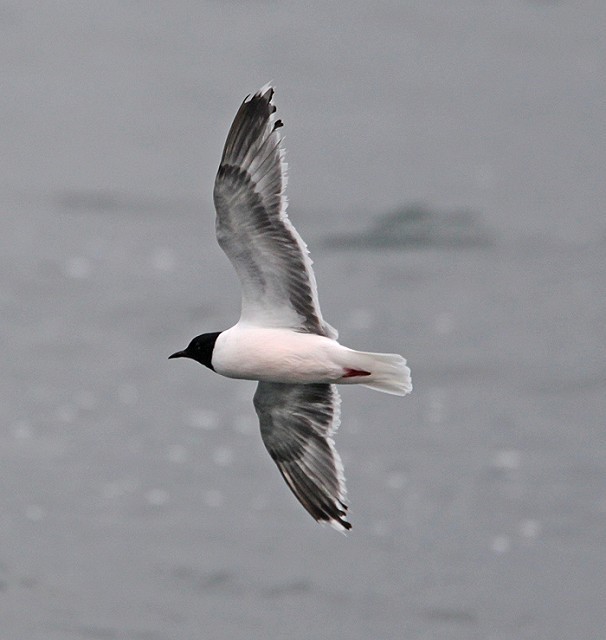 Little Gull, Staines Reservoirs, Surrey (Photo: Andrew Moon)
The only Little Terns consisted of a single at King George V Reservoir on 2nd and three at Staines Reservoir on the same date. The best count of Arctic Terns for the month was 76 at Staines Reservoirs on 2nd though the species was fairly widely reported.
A Short-eared Owl flew high south over Rainham Marshes early afternoon on 17th and a Nightjar at Regent's Park on 9th was a quality Inner London recording sector occurrence.
Turtle Doves were well reported from 20 sites; all were single birds with the exception of: two at Codham Hall Farm, Great Warley on 5th, with four there on 11th and three on 12th; two at Wanstead on 8th; two at Holyfield Hall Farm on 10th and 13th; and a pair at Stanford Rivers on 31st.
Black Redstarts appear to be having a good spring and no fewer than 19 sites reported birds, many of which appeared to be holding territory. The best count of Nightingale was eight in the Seventy Acres Lake area of the Lee Valley on 2nd. The only Ring Ouzel of the month was at Woldingham on 11th.
The most significant count of Cetti's Warbler from any one site was 37 on 9th but Wood Warblers, now a rather uncommon spring migrant to the London area, were heard singing at three sites during the month: Wimbledon Common on 1st, Fisher's Green on 2nd and Harrow-on-the-Hill on 21st. Two locales held single Firecrests.
Rainham Marshes hosted two Ravens during May comprising singles northeast on 18th and north on 20th and a Hawfinch was in a private garden at Betchworth on three dates between 3rd and 8th.
The above information was extracted from the national information services as well as London-based birding websites and personal requests for information. Of course this may not be the complete picture therefore reference to the 2010 London Bird Report (London Natural History Society) on publication is recommended.