This is the third in a series of monthly summaries detailing the most significant bird finds in the London area. For a definition of the London Recording Area and a more complete round-up of what's been seen recently, visit the London Birders website.
Some of the reports that follow will be adjudicated by either the national or county records committee so publication here in no way implies an accepted record. Please submit all records to the relevant recorder, a full list of which can be found here.
December 2009
Hopes that the Staines Moor Brown Shrike would persist through the winter came to a halt when the bird appeared to have moved on, or succumbed, just after mid-month. It was last reported on the 17th (having amassed a 68-day residency) during a period when some significant local snowfall must have made foraging a less than straightforward task. However, that wasn't the end of the story and it was relocated in the same area on 1st January, a full two weeks later. This excellent bird's story hasn't reached a conclusion just yet.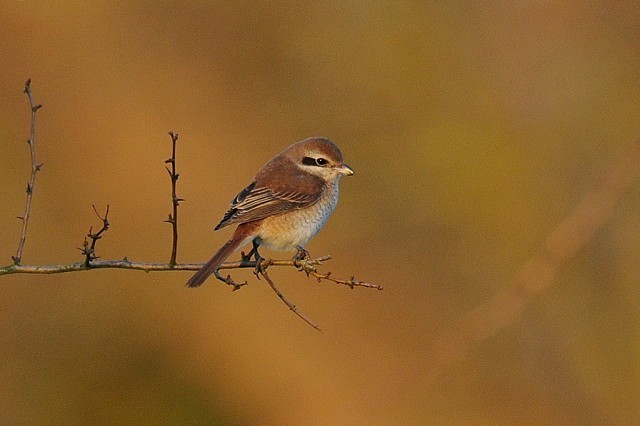 Brown Shrike, Staines Moor, Surrey (Photo: Tom Hines)
Though far less rare, a Spoonbill at Rainham Marshes on the morning of the 22nd was a notable and sure-fire winter warmer for its observer(s), particularly so late in the year.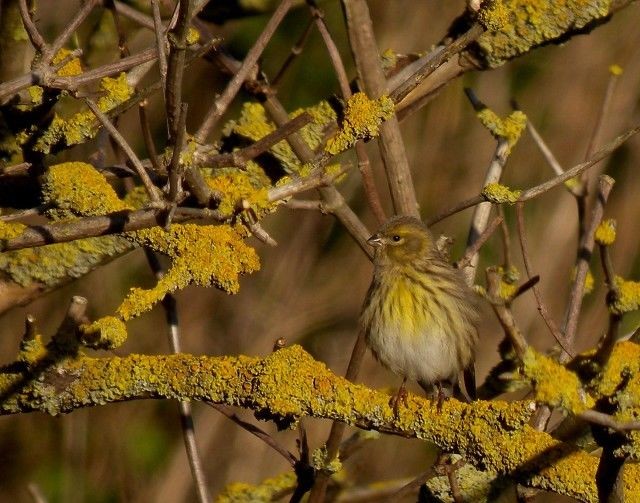 Serin, Rainham Marshes RSPB, Greater London (Photo: Priscille Preston)
Other than the shrike, the headlining passerines during the close of the year remained the Rainham Marshes Serins, up to two of which remained a faithful feature at the site to the end of the year. Last month's prediction for a wintering presence appears to be coming to fruition, so far.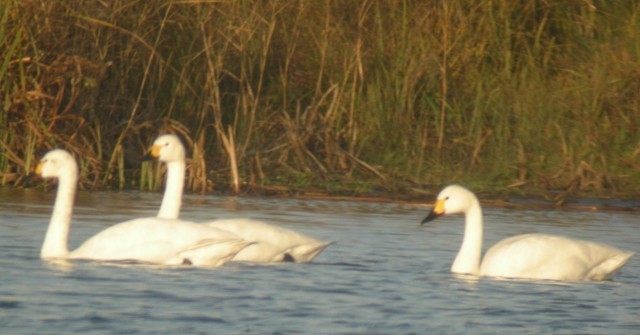 Bewick's Swan, London Wetland Centre WWT, Greater London (Photo: Yvonne Simmonds)
Prominent wildfowl records amounted to a Bewick's Swan at Amwell GPs on 14th followed by three of the same at the London Wetland Centre on 19th and a further eight southwest over there on 23rd; Scaup at two sites including three at Staines Reservoirs on 24th, and three Common Scoter (also at Staines Reservoirs) on 1st. Plummeting temperatures on the near continent no doubt prompted Smew to turn out at 13 sites with most reporting singles or doubles but with Chertsey holding four on 24th and Wraysbury GP holding four–five on 28th. Red-breasted Merganser were at four locations, all singles apart from two on the River Thames at Barnes on 20th but Goosander, as usual, fared better with 11 venues reporting birds, 11 at Walton Reservoirs on 10th being the best count. The male (presumed) Ring-necked Duck × Tufted Duck was intermittently reported from Stoke Newington Reservoirs through the month.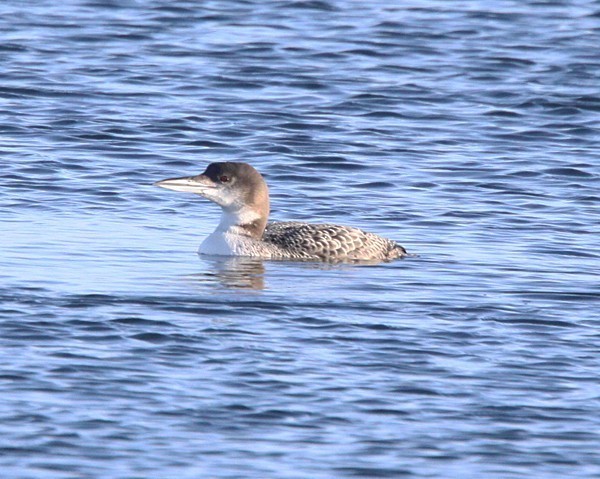 Great Northern Diver, King George VI Reservoir (Permit Only), Surrey (Photo: Andrew Moon)
Great Northern Divers put in a solid showing with six sites hosting this dramatic species. The best count was a very impressive six at King George V Reservoir on both 8th and 20th. Slavonian Grebes were at Queen Mother Reservoir on 9th and Fairlop Waters on 20th (the first one in a decade for the latter site) while Black-necked Grebes peaked at 13 at William Girling Reservoir.
Bitterns were seen at six sites (mostly in the Lee Valley) and the London Wetland Centre remained the most likely spot for an encounter with the best count there being of three on 27th.
Echoing November, Red Kites were difficult to drum up and the only sightings were of singles over Staines Moor on 5th and the London Wetland Centre on 12th. The only Hen Harrier was a ringtail at Rainham Marshes on 14th and Marsh Harriers were at two sites: up to three at Rainham Marshes (a male and two females) and what was considered to be the Rainham male over the Ingrebourne Valley on 11th. A Goshawk was claimed over Alexandra Grove N4 on the morning of 1st and single Merlins were at Rainham Marshes on 11th and 28th (a female on both dates) and the London Wetland Centre on 19th (male).
Content continues after advertisements
A probable Common Crane flew west over The Aldwych on 14th but despite an obvious outstretched neck its identity remained less than 100%, so no firm claim. This is a distinctly rare species in the capital but it's surely just a matter of time before one, or more, twitchable birds pitch up at Rainham Marshes. Most London listers, at least the optimistic ones, will be hoping that any such visitation won't be too brief.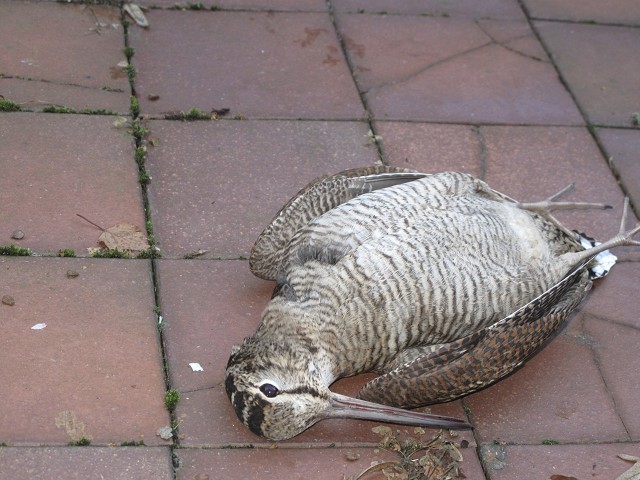 Woodcock, Kensington, Greater London (Photo: Philip Palmer)
Jack Snipe were found at six sites but far more widespread were Woodcock which, no doubt cued to move by the recent cold weather, provided sightings from a whopping 27 locales. Most were singletons though three were at Rainham Marshes on 21st, and a total of three were in the central London Royal Parks.
At least 13 Mediterranean Gulls were to be found from 11 sites (including three in Inner London) and a few venues scored Little Gull, most significantly 27 over Beddington SF on 30th. A possible/probable adult Azorean Yellow-legged Gull was in Aveley Bay, Rainham Marshes, on 11th (no doubt the same bird as that seen in the same area on 27th November). Unfortunately it flew west before any intimate photos could be obtained but fingers are crossed that this interesting taxon, if indeed that's what it is, gets relocated before long.
Away from Rainham Marshes four regularly watched sites reported Caspian Gulls: a near adult at Amwell GPs on the 13th and adults at the London Wetland Centre, Walton Reservoir on 18th and 21st respectively and a sub-adult and second-winter at Beddington SF on 30th. Rainham itself produced several birds of various ages. London can definitely be a strong bet for this species during both winter periods but without the submission of good descriptions/photographs many birds simply don't, or can't, make the grade. A first-winter Kittiwake was at Rainham Marshes on 29th.
A Great Skua (or at least that's how its identity currently stands) was on the Thames at Rainham Marshes from 29th to the end of the year.
The only reported Long-eared Owl was at a private site in Feltham on 19th. With the species traditionally sporadic in its London appearances and with roost sites occasionally kept under wraps for fear of disturbance, finding one can require a large dose of good fortune these days. Meanwhile up to two Short-eared Owls floated around Rainham Marshes intermittently up to 19th.
A Hoopoe on land just north of King George V Reservoir on 24th was a surprise report and a fine Christmas find.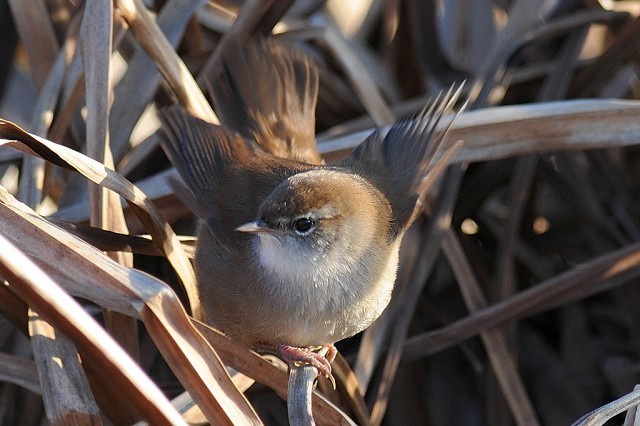 Cetti's Warbler, London Wetland Centre WWT, Greater London (Photo: Tom Hines)
Water Pipits sustained a healthy showing: eight sites filed records with the best being six at King George VI Reservoirs on 20th. Black Redstarts turned heads at six locations, all singles except two at Barking Bay and Belvedere on 8th. Cetti's Warblers continued to be widely reported and particularly notable were the 21 at the Ingrebourne Valley on 6th. A Siberian-type Chiffchaff was reported from Osterley Park on 4th (but not subsequently) and Firecrests maintained a strong account across the area with birds at 21 sites: reports generally referred to singles but three were at Banstead Heath on 3rd, Bedford's Park between 4th and 8th, and Wanstead Park on 6th. Bearded Tit reports emerged from Rainham Marshes where up to three were present.
In what was generally a good month for Lesser Redpolls, Mealy Redpolls were claimed from four sites, up to five at the London Wetland Centre being the most prominent. Two spots where enlivened by Common Crossbills with five at Broxbourne Woods on 13th being the most enticing, and a Snow Bunting at Rainham Marshes on 4th and 6th was welcomed.
The above information was extracted from the national information services as well as London-based birding websites and personal requests for information. Of course this may not be the complete picture therefore reference to the 2009 London Bird Report (London Natural History Society) on publication is recommended.