What is local? For birders, it could mean their back garden, a nearby patch or the wider regional district.
Ever since I returned from university to my home county of Surrey I've been a keen patchwatcher, spending most of my birding time in an area of unwatched countryside called Thorncombe Street. This produced the typical ups and downs any patch experiences, peaking in October 2019 when a Red-throated Pipit flew over.
The previously untapped potential of Thorncombe Street hinted that there were other spots in my corner of Surrey that could be productive for birding, given a little effort. This curiosity, and a desire to mix things up after five years of intense patchwatching, led to the idea of a local big year.
I live near a small town called Godalming, positioned in south-west Surrey. The area is not a birding mecca. It's a typical land-locked county; usually there is little to write home about in a rarity sense, hot-spots are few and far between and most birders who live here leave it to do their birding.

Consistent coverage of certain areas meant elusive residents, such as Lesser Spotted Woodpecker, gave themselves up (Ed Stubbs).
For the record
Surrey Bird Club has divided the county into distinct recording areas and the smallest, south-west Surrey, is where I'm based. This was an obvious starting point for my local big year.
South-west Surrey's boundary is defined by borders with Hampshire and West Sussex in the west and south, the A281 in the east and A31 in the north. In terms of size, it's not dissimilar to a medium-sized borough. The furthest site from home is a 20-minute drive; most spots, however, are much closer and I would end up doing the majority of my birding within a 5 km radius of my front door. This included sites that would become patches within an 'uber-patch', as five or six spots accounted for most of my time in the field.
Waterbodies are lacking. Frensham Ponds, once superb, is on a birding decline. Other wet areas are restricted to river habitat, a few ponds and a tiny farm reservoir. I'm sure many readers will have heard of Thursley Common and this is probably the best-known site in south-west Surrey. Other key areas would be ones that were poorly or even never previously birded, including a combination of farmland, woodland and commons.
I'd worked out that my previous best (albeit inadvertent) yearly haul in the area had been 139. I set a target of 150 for 2020, but a breakdown of possible species left me sceptical of hitting this number. I wasn't confident I could see that many birds so close to home in a landlocked county, especially given the record big year score for the entire vice-county of Surrey was 198; I was gunning for 76% of this figure in an area a fifth of the size.
The year began and by 3 January I was on 70 species – all expected birds obtained during routine outings. On 4th, the first south-west Surrey winter bird race took place and, of the 85 species our team scored, one proved especially valuable: my only Northern Pintail of the year. The next addition didn't come until 17th: Cetti's Warbler, which has only recently colonised the area. I was on 90 species by the time I went to Israel at the end of January. February began with three additions that won't seem notable to many: Eurasian Wigeon, Barn Owl and Great Black-backed Gull. However, in south-west Surrey, they are very hard to pin down and I saw three or less of each all year.
Great Grey Shrike winters in the area most years but had proved a slippery customer during the 2019-20 season, so I was pleased to connect with one at Frensham Common on 18th. February is a good month to look for some scarcer local breeders and it was satisfying to get Hawfinch, Northern Goshawk and Lesser Spotted Woodpecker in the bag. Indeed, the exploration of largely unvisited locations proved that these elusive species can be found at new spots; the discovery of rare breeders would prove to be one of the main joys I experienced in this local big year.

Great Grey Shrike was initially hard to catch up with, despite wintering in south-west Surrey most years (Ed Stubbs).
Spring promise
March began with promise, as it always does. Passage Water Pipits passed through the river valley that runs a few hundred metres from my front door, the breeding Eurasian Curlews returned to Thursley and a Hen Harrier – my only record of the year – was at the same site on 14th.
On the flip side, dusk Eurasian Bittern stakeouts at Frensham failed to deliver, though a Mediterranean Gull was a bonus on one of these visits. Early Sand Martins and those chief harbingers of spring – Northern Wheatears – were early additions on 20th. What felt like the first 'bonus bird' of the year – of which I'd need a few to hit 150 – came on 21st via a Common Redshank at the farm reservoir. Waders are very hard around these parts and this site would prove crucial in that department …
And then we got locked down. The COVID-19 pandemic turned life and consequently birding on its head. One exercise outing a day, on foot or bike, from home. Most of my birding was done at home and to be fair this produced a year tick: a Western Osprey from the bathroom window on 7 April.
I could still access some sites, but restrictions meant April, normally a great month in Surrey, was steady, though the arrival of common spring migrants kept spirits up. Still, by the time the prime minister announced plans for the easing of lockdown at the end of the month, I'd managed further bonus birds in the shape of Ringed Plover, Whimbrel, Little and Yellow-legged Gulls and Arctic Tern, often thanks to April showers – that most desired weather for the inland patcher.

The appearance of common migrants close to home, such as Yellow Wagtail, kept spirits high during lockdown (Ed Stubbs).
Glorious weather beckoned in May. On 4th, the farm reservoir produced perhaps its best wader of the year: a stunning, summer-plumaged Greenshank. On 8th, a year highlight came when, to my surprise, I chanced upon a displaying male European Turtle Dove in a remote part of the area. Over the next couple of months further birds were found and breeding was proven – an amazing result for a species considered extirpated from Surrey.

Wader passage is a joy for any patchbirder and this dapper Greenshank, which dropped in at a tiny farm reservoir one May evening, was a fond spring memory (Ed Stubbs).

Unexpected rare breeding species, such as European Turtle Dove, were a surprise result of covering remote parts of the Surrey countryside (Ed Stubbs).
The last three regular summer migrants – Eurasian Hobby, Spotted Flycatcher and European Nightjar – were all seen by 18th, leaving me on 139. Pretty much every addition from now would need to be a bonus bird and this quest started well the following day, when I finally connected with a rather mobile Red-footed Falcon at Thursley. Only the 10th county record, this was a blockbuster rarity for south-west Surrey and surely wouldn't be topped, or so I thought. I was a bit irked at not finding it myself, given the national influx of the species and my time spent on the common, but was nonetheless pleased to see the bird.
June is always the quietest month here, but I would stumble on two unexpected species. First up was a reeling Grasshopper Warbler – a species now only a passage migrant in Surrey. An unexpected chain of events followed, culminating in breeding being proven; the first time it had been so in the county since 1998.
On 14th, I was chuffed to hear a Common Quail singing at a previously unbirded area of farmland near the village of Shackleford. This site, which I'd only discovered in 2019, is the beneficiary of a nature-friendly farmer and its clear potential – shown by the volume of common birds at the site – had me visiting most days of the week since spring began.
The quail was the first in Surrey for nine years and ended up sticking around for two weeks, singing regularly from its favoured alfalfa fields. The bird was part of a 'quail year' in Britain, but it was still a surprise to cash in on the bumper numbers just 3 km from home.
The good fortune continued into July, this time with the farm reservoir reaching its peak as early return wader passage commenced. A Dunlin on 11th made it 144, before a Eurasian Oystercatcher – 145 – dropped in four days later. This tiny waterbody was a real turn up for the books in such a dry and wader-less landscape. In drizzly conditions on 19th, Greenshank, Common Redshank, five Dunlin and four Common Sandpipers passed through – exciting scenes in this part of the world.
August is arguably the best time of year for unusual species in my area and I knew I needed to score at least a couple of bonuses. In the early part of the month, gentle easterly winds produced a marked arrival of Pied Flycatchers in south-eastern England and I was very pleased to locate one at Chiddingfold Forest on 12th. As it happened, I saw two others at different sites, which was excellent going for a species that averages about two or three records a year in Surrey.
In the bank
August Bank Holiday is a period to keep free for the Surrey patchwatcher and 2020 was memorable, not least because a Western Marsh Harrier – another excellent local bird – drifted over the farm reservoir on 30th: number 147. A ridiculously showy Dunlin the next day on a puddle at Shackleford was a similarly satisfying record.

A tame juvenile Dunlin on a puddle in a field far from any water body is the type of quirky record that makes local birding so rewarding (Ed Stubbs).
Numbers of birds at Shackleford were building and I was giving it more and more attention, sensing that the autumn goodie could materialise here. On 2 September, I was jumping for joy when, from one of the thick hedgerows, I inadvertently flushed a Wryneck. The bird proved most elusive and only a couple of locals managed to connect with it, but I was delighted: a county rarity virtually on my doorstep at a site only 'discovered' in the last year or so. I felt my Shackleford efforts had been vindicated and, now on 148, 150 was in sight.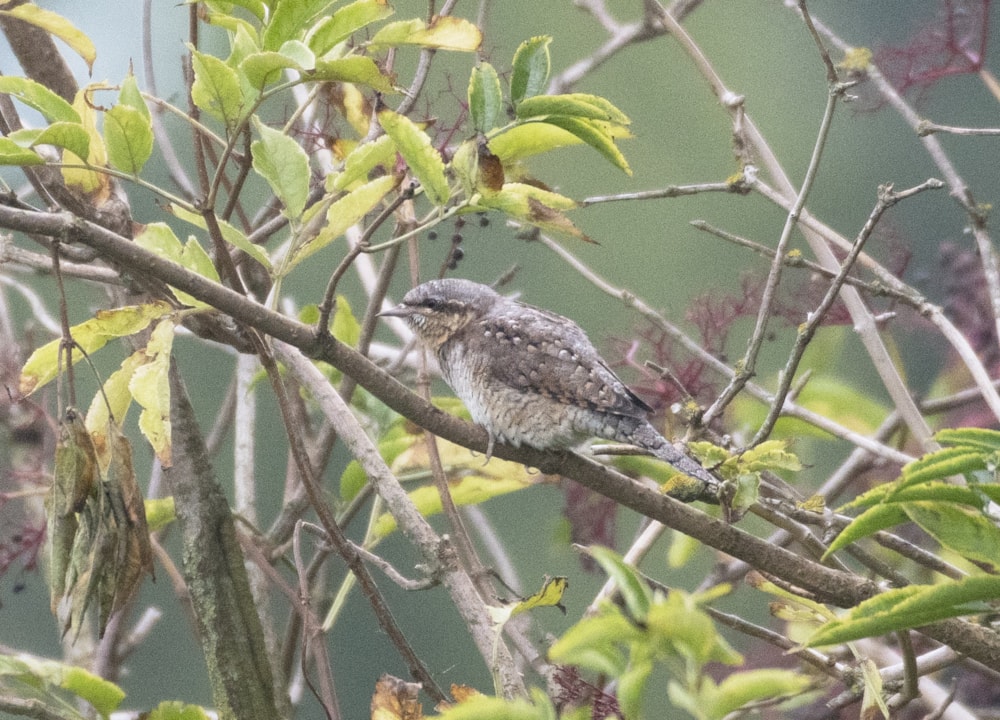 Most Wrynecks are found at coastal hot-spots, but undoubtedly many more pass through inland than are detected (Ed Stubbs).
The next couple of weeks were steady but, from the 14th, a breezy easterly – reaching from as far as Central Asia – took over. Nationally, it was the first big rarity period of the autumn, though Surrey perennially flatters to deceive in September.
On 19th it was warm enough to sleep with the window open and I was awoken by the calls of a European Golden Plover: an unconventional way to year tick, but it left me needing just one more new species. What would it be? I had few realistic options left.
Firmly awake post-plover, I decided to check Shackleford early morning. The ploughed field at the north end held heaps of birds and I was scanning through the Eurasian Skylarks and Meadow Pipits when I heard a call that teleported me to the Spanish steppes. Surely not, I thought. I commenced scanning before, in all its mind-blowing glory, was a Greater Short-toed Lark. I almost had a heart attack – it just couldn't be one. But it was!
A few scrambled phone calls, WhatsApp messages and a BirdGuides sighting submission later – plus nearly a second breakdown when it flew off high north before returning – meant the top Surrey listers were on site and watching, before a slow arrival of more than 100 birders during the course of the day.

The appearance of this Greater Short-toed Lark, on a previously unbirded area of inland farmland, proved that practically anything is possible in patchbirding (Ed Stubbs).
I have found rarer species before, on distant islands and coastlines, but this felt like a personal best. So close to home, on a random piece of farmland away from the crowds … as I type this a few months later, I get goosebumps recalling events. The one and only previous Surrey vice-county record was in April 1964.
This wondrous bird – which had presumably come from some distance east – was, ludicrously, my 150th local species of the year. It stayed until the following day, when it was seen bedding down at dusk, presumably prior to a nocturnal departure.
I'd be lying if I said I didn't take my foot of the gas a little during the next couple of weeks. Still, Ring Ouzel and Merlin were both added to the year list and, when I twitched a Black Redstart on 18 October, I'd hit 153.
The redstart had arrived during another spell of easterlies and, the following day, I was walking Thursley Common. I'd reached an area known as Francis Copse when I flushed a flock of Meadow Pipits. One bird, however, soon triggered alarm bells: a ticking bunting!
A scramble and a retracing of steps soon had me clapping eyes on, to my disbelief, Surrey's eighth Little Bunting. The bird was mobile and, by the time it flew off, only one person had connected. The bird did stick, though, and ended up being enjoyed by many visitors as it made itself comfy on the common for the winter. In any other year, this would be a clear highlight, but it had serious competition in 2020.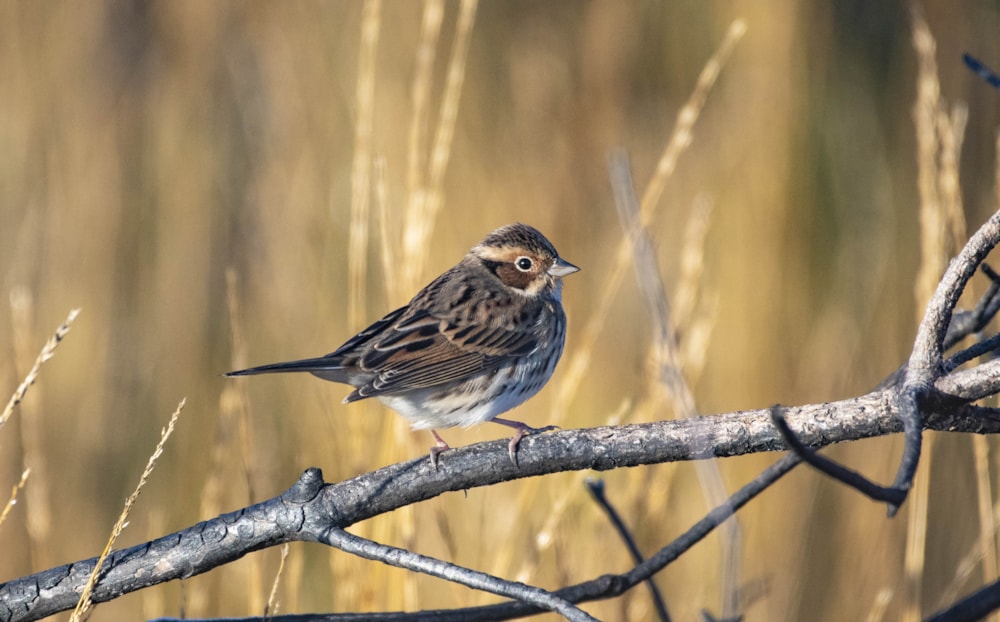 This Little Bunting was another unexpected discovery, at Thursley Common in mid-October (Ed Stubbs).
Ticking over
Great Egret and Grey Partridge, both rare locally, kept the year ticks going into November. On 26th, when I located a Mealy Redpoll among a flock of Lessers, I fancied it to be my last new species of the year. The last thing I was expecting the following morning was a message from a friend telling me he'd found a Rustic Bunting at Thursley!
I sped over and, before I knew it, Surrey's second Rustic Bunting was in my binocular view. This too would stick, often seen with the Little Bunting, rounding off a truly extraordinary autumn locally that surely can never be matched. The surrealism continued when a second Little Bunting joined them in late December.

This Rustic Bunting, also at Thursley Common, was another extraordinary species to occur in south-west Surrey in 2020 (Ed Stubbs).
I should have expected that the year would have one final trick up its sleeve. As we entered December, a remarkable influx of Russian White-fronted Goose occurred in south-east England. Surrey enjoyed its fill, though it took until 16th for me to score locally: two roosting birds at Thursley Common. Another three would soon pitch up along the river, little over a kilometre from home. And that was it – my 159th local species of a never to be forgotten year, at least in birding terms.

A trio of Russian White-fronted Geese, almost within sight of the author's home, capped off a memorable local big year (Ed Stubbs).
There were downs, as well as the many ups. I missed Eurasian Bittern, despite a lot of effort. I dipped south-west Surrey's first Greater Scaup in 14 years, as well as Wood Warbler on two separate occasions, despite seeing one 400 m over the county border in West Sussex. But equally, I haven't mentioned the many birding highlights not associated with the list: fantastic local vis-mig, unexpected breeding discoveries and unearthing new areas to explore, plus much more.
Even in August, I wasn't sure I'd see 150 species in my local area; as it happened, I saw 154 within 6 km of my doorstep, and 159 in total. We all want to see exciting and unusual species, but perhaps we don't need to go as far for them as we think. The connection with local is important as we move forward in a warming planet that requires less travel. So why not give a local year list a go?
This article was first published in the February 2021 edition of Birdwatch.