The RSPB has successfully tested infra-red filming as a new survey method for endangered European Storm Petrels in Shetland. Research results were published online in the ornithological journal Ibis, from a study which was conducted by two RSPB scientists who spent 10 weeks camping on the uninhabited island of Mousa in 2014.
European Storm Petrels are small and elusive 'tube-nosed' seabirds which feed far out to sea during the day, only coming ashore to their breeding burrows under the cover of darkness, making them notoriously hard to survey. Mousa is home to Britain's largest colony of the species, with approximately 12,000 pairs, so it is the perfect study site for undertaking night-time research to determine whether a better method for counting the birds could be developed.
'Playback' surveys are currently used. These involve broadcasting a recording of the species' 'purring' song at potential nest sites and listening for a response. However, even when burrows are known to be occupied, response rates are typically low and vary among colonies and from year to year, leading to imprecise population estimates.
To test the new survey method, researchers set up infra-red video cameras to film the storm petrels entering and leaving their nest sites. The counts, extracted from more than 200 hours of video footage with the help of volunteers, were then compared with counts made from both playback and night-time listening surveys.
Senior Conservation Scientist for RSPB Scotland Allan Perkins, who led the research, said: "Firstly, I want to say a huge thank you to the volunteers who processed more than 200 (of the 450) hours of footage we recorded and counted a grand total of 2,064 entries and exits. Thanks also to the crew of the Mousa Boat for their considerable help, and to the owners of Mousa for allowing us to undertake the study.
"Spending several weeks on [the island] working with these fantastic birds will live long in the memory and was a wonderful experience. Storm petrels are notoriously difficult to census due to their nocturnal, burrow-nesting lifestyle, so testing this new method and showing that it does indeed work in certain situations is a big step forward. In particular, it will allow surveyors to safely count storm petrels from a distance at sites that are too dangerous for conventional playback transect methods, such as steep scree slopes above cliffs. This could allow many previously unsurveyed breeding areas to be counted in future, thereby improving the precision of colony size estimates and making population trends easier to detect."
Infra-red filming worked less well for drystone walls and was hampered by poor image quality on nights with fog, rain or strong winds. However, despite showing potential for generating slightly more precise population estimates, the new technique is unlikely to replace playback methods just yet, due to impracticalities such as the size and cost of equipment currently available, and the considerable effort required to extract data from the footage. Further technological improvements will undoubtedly increase the viability of infra-red filming in future.
This study will help inform storm petrel surveys in a new Britain and Ireland seabird census that the RSPB and partner organisations are currently undertaking. Seabirds Count is being led by the Joint Nature Conservation Committee on behalf of the Seabird Monitoring Programme (SMP) partnership, and aims to count all breeding seabirds in Britain and Ireland.
The census aims to provide a critical update of the status of the country's internationally important seabird populations, which were last fully calculated between 1998 and 2000. As with the previous inventory (Seabird 2000), considerable help will be needed from volunteers to complete counts in 2018 and 2019. Anyone interested in participating should email SeabirdsCountCoordinator@jncc.gov.uk.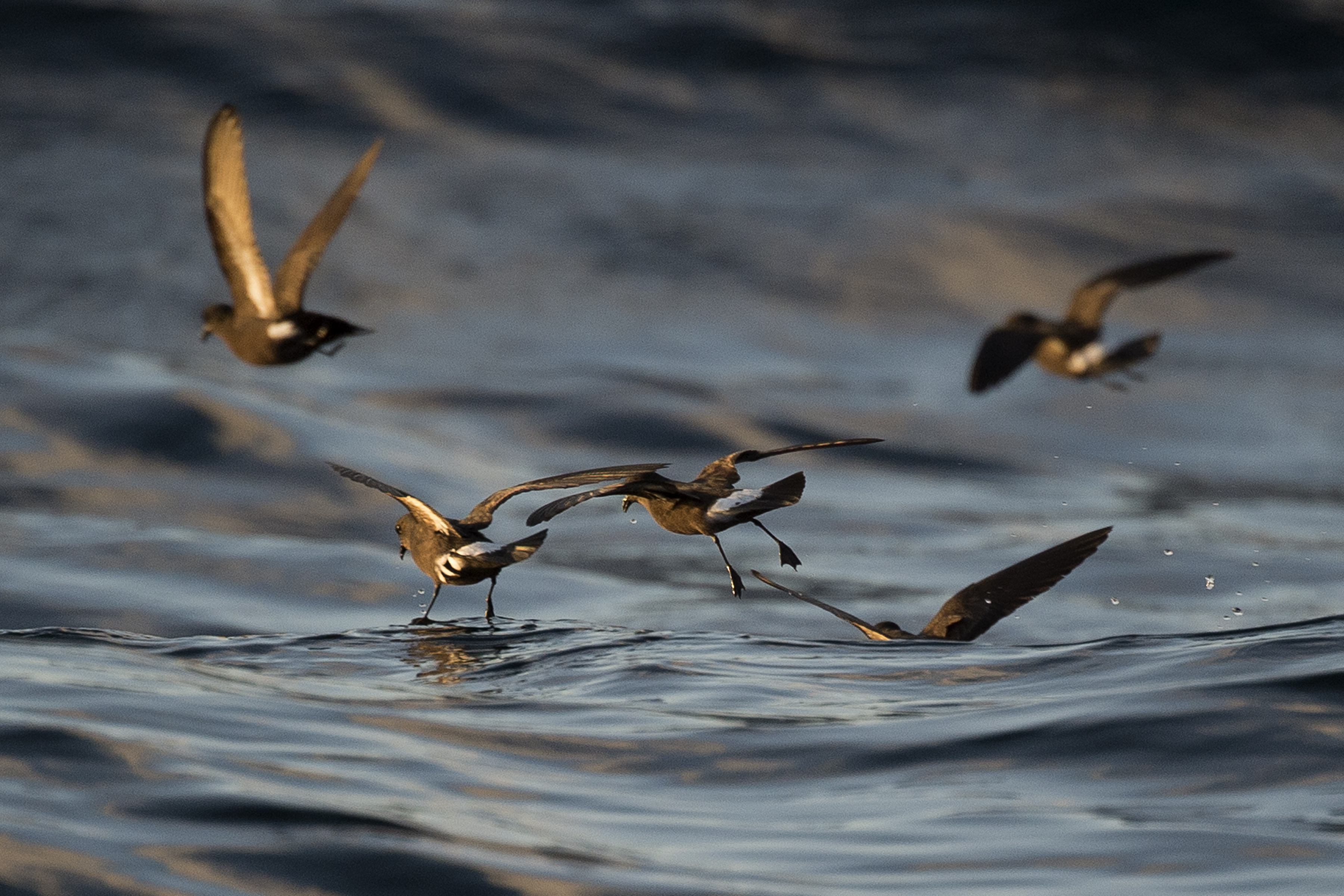 European Storm Petrels, Sapphire pelagic, Scilly, August 2017 (James Sellen).