After a delayed start thanks to pea-soup fog at Heathrow, and a two-hour drive from Tel Aviv to the Hula Valley in northern Israel, we — Tim Appleton, David Callahan, Matthew Merritt, Bill Oddie, Stuart Winter and I — arrived at the Kfar Blum Pastoral Hotel in the early hours of the morning on Monday 21st November. Blurry-eyed and in need of some sleep, the others headed off to bed; not one to turn down the chance of some birding for something as trivial as a night with zero hours of sleep, I opted to stay awake for the couple of hours that remained between our arrival and the scheduled departure of the first Hula Valley Bird Festival trip out.
For many birders planning a trip to Israel, the destination of choice is Eilat in spring. The Eilat Bird Festival, now heading into its sixth year, has given many birders the opportunity of experiencing the phenomenal birding on offer in the south of the country; but Israeli birders are keen to ensure the north of the country doesn't get overlooked. Despite being only 200 miles north of Eilat, the landscape couldn't be more different; and with the differing landscape comes a whole different set of birds — different but just as good.
It was still dark when we — the 'journalist group', a host of notable bloggers, authors and tour leaders from Spain, Sweden, the USA and everywhere in between — headed off to KKL Agamon Hula Park, where we boarded one of the famous 'mobile hides'. We could hear our target bird already: in the near distance, tens of thousands of Common Cranes were waking up. The situation couldn't have been better for a morning of crane watching. The sky was clear, the valley was blanketed by a layer of mist — but not so much that viewing was impaired — and the whole scene was bathed in a soft pink light as the sun broke over the Golan Plateau.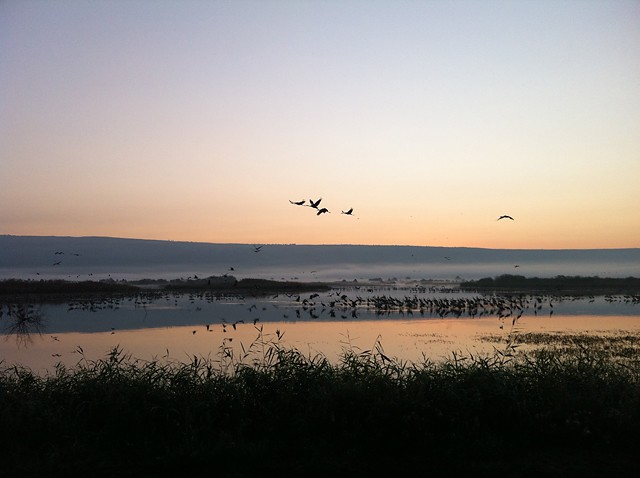 Common Crane, Israel (Photo: Stephen Menzie)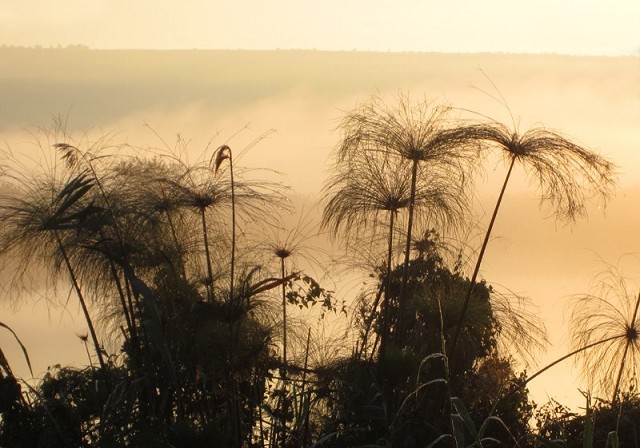 Papyrus at dawn (Stephen Menzie).
Up to 30,000 Common Cranes appear in the Hula Valley each November and most of them, it seems, were in front of us. Amongst the throngs of cranes were smaller numbers of Great White Pelicans, Great White Egrets and Spoonbills, along with flocks of Ruff, Avocets, Black-winged Stilts, and Marsh Sandpipers delicately picking their way around the lake margins. Above them Pied and White-throated Kingfishers were perched on exposed branches, while Siberian Stonechats (maurus and variegatus), Moustached Warblers, Graceful Prinias and Penduline Tits flitted through the water-side vegetation, and a male Black Francolin scuttled along the track. Above our heads, Greater Spotted Eagles flapped by, a Peregrine hunted, and there was a constant stream of Pygmy Cormorants passing over. The whole experience was magical; any thought of sleep were now truly out of my mind!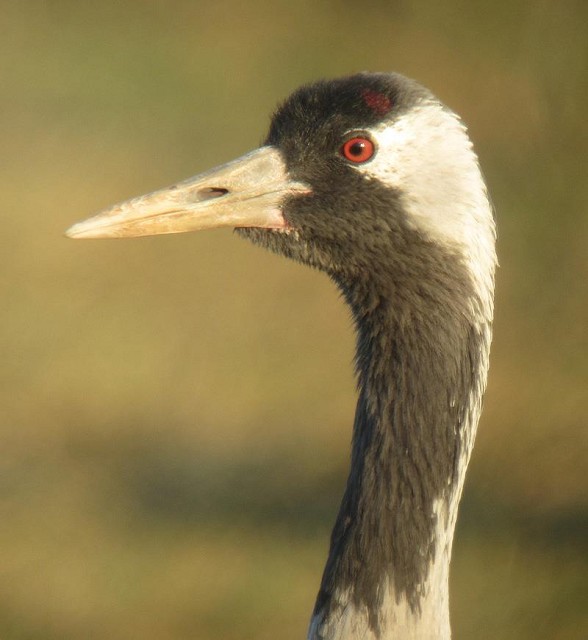 Common Crane (Stephen Menzie).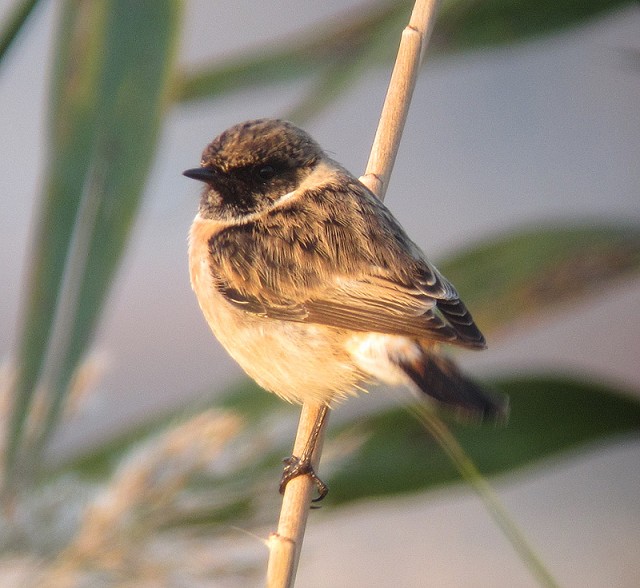 Siberian Stonechat, Israel (Photo: Stephen Menzie)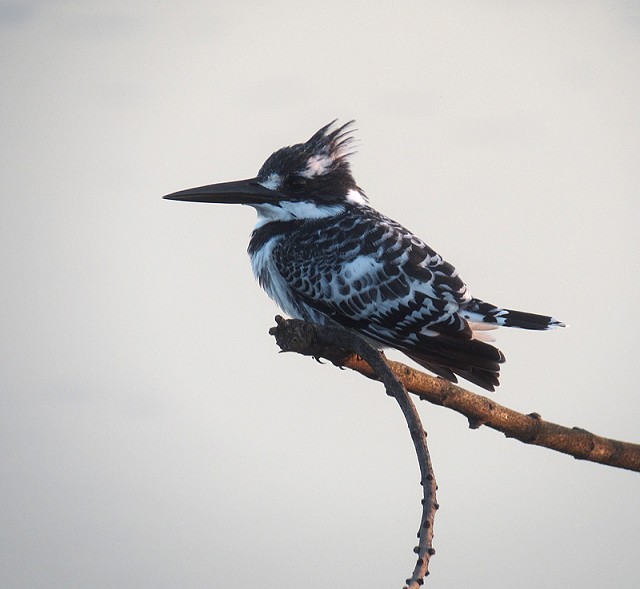 Pied Kingfisher, Israel (Photo: Stephen Menzie)
That first morning trip set the standard for the rest of the week. We spent Monday afternoon exploring more of the Hula Valley. We saw White-headed and Marbled Duck, Lesser Spotted Eagle, Booted Eagle, White-tailed Eagle, Marsh Warbler, a family of Black-shouldered Kites (Israel's first breeding record), a Saker Falcon, Richard's Pipit, Syrian Woodpecker, Pallid Harrier, and the first of many Ospreys, Armenian Gulls and Long-legged Buzzards, all in addition to the common Israeli species that were constantly in view — Laughing Dove, Palestine Sunbird, Spectacled Bulbul and so on.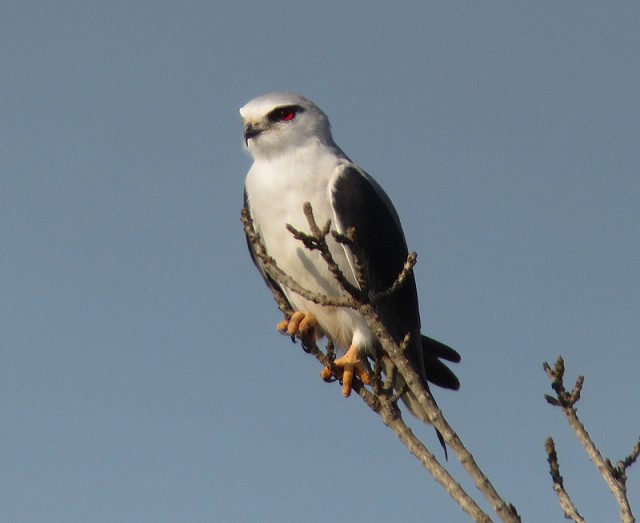 Black-shouldered Kite, Israel (Photo: Stephen Menzie)
We spent Tuesday in the Golan Heights with Western Rock Nuthatch, Rock Bunting, Horned Lark and Sombre Tit up Mount Hermon, and Imperial Eagle on the Golan Plateau. On an evening visit to the Hula Lake nature reserve we watched watch in awe as dozens of raptors came into roost: 30 or so Hen Harriers, even higher numbers of Marsh Harriers, several Pallid Harriers of all ages, and several Merlins that, to my surprise, roosted communally in the trees in front of the hide.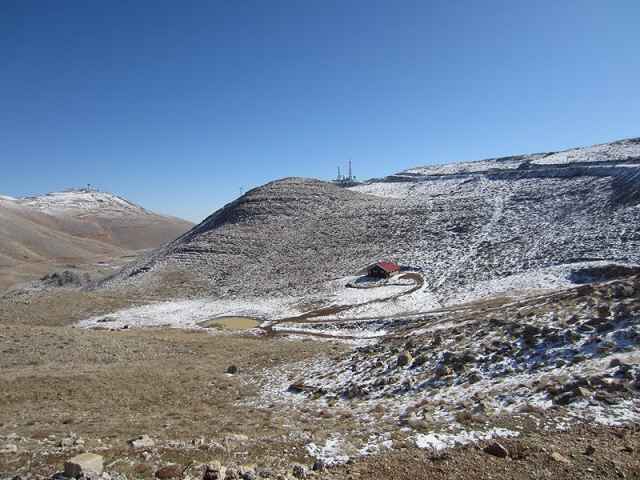 Mount Hermon (Stephen Menzie).
On Wednesday, we headed west to the Mediterranean coast, to Ma'agan Michael. Well over fifty Black Storks resting in a ploughed field as we arrived was a memorable sight, as was a male Citrine Wagtail and seven Temminck's Stints in the same scope view. Thursday saw us heading to the Bet She'an Valley, south of the Sea of Galilee. We were greeted on site by several thousand Black Kites; other birds seen in the area included Dead Sea and Spanish Sparrows, Whiskered Terns, Southern Grey Shrikes, Desert Finches and a beautiful dark-morph male Marsh Harrier. There was also fun to be have with gulls — two Pallas's, one Heuglin's, one juvenile Baltic, and one Caspian(ish)-looking individual.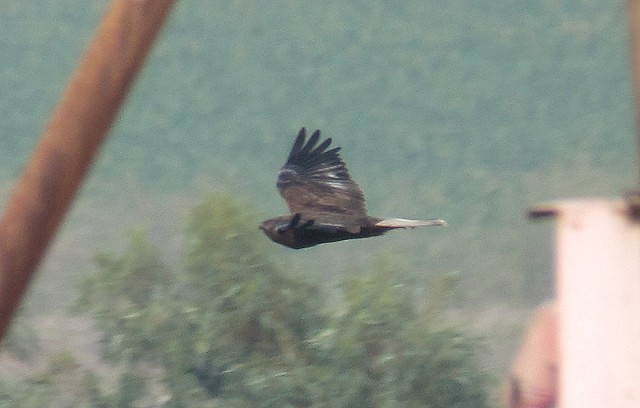 Marsh Harrier, Israel (Photo: Stephen Menzie)
Content continues after advertisements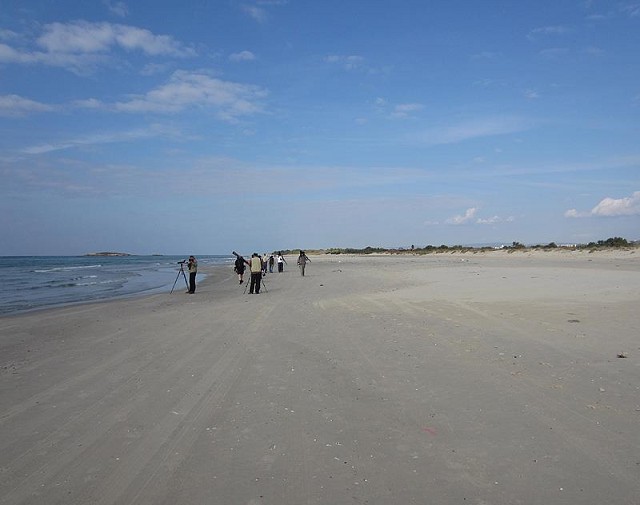 Birding Ma'agan Michael (Stephen Menzie).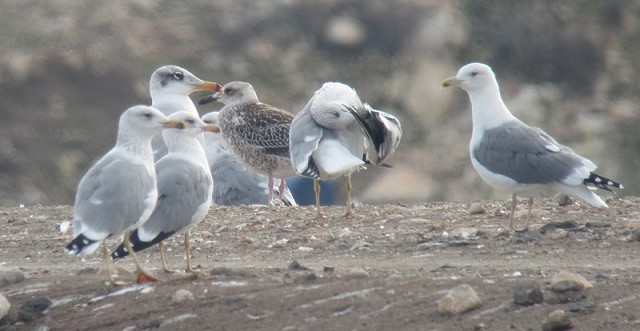 Pallas's Gull with Armenian and 'other' gulls, Israel (Photo: Stephen Menzie)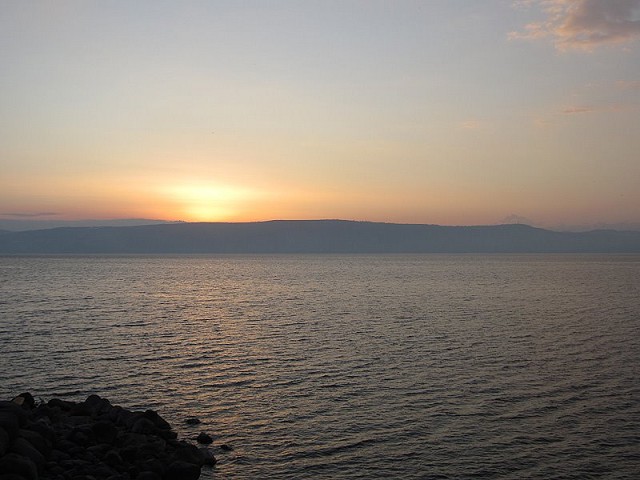 Sea of Galilee at dusk (Stephen Menzie).
Friday was spent back in the Golan with Finsch's Wheatear the star bird, while Saturday ended our week at the Hula Valley Bird Festival much as we had started it; with a dawn crane safari and some more time exploring Agamon Hula Park, where a fly-over Griffon Vulture and a smart male Namaqua Dove were both added to the trip list. The birding kept going until the very last minute with a Common Myna in Tel Aviv airport as we left at dawn on Sunday. The trip list finished just a whisker short of 200 species.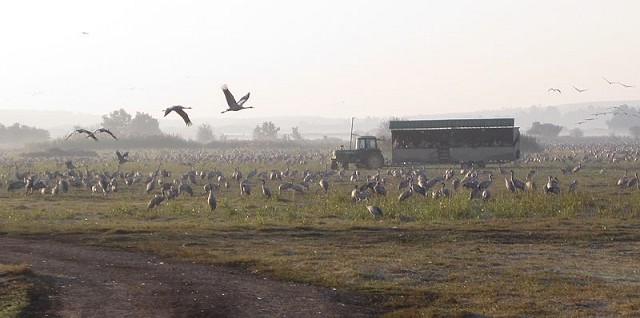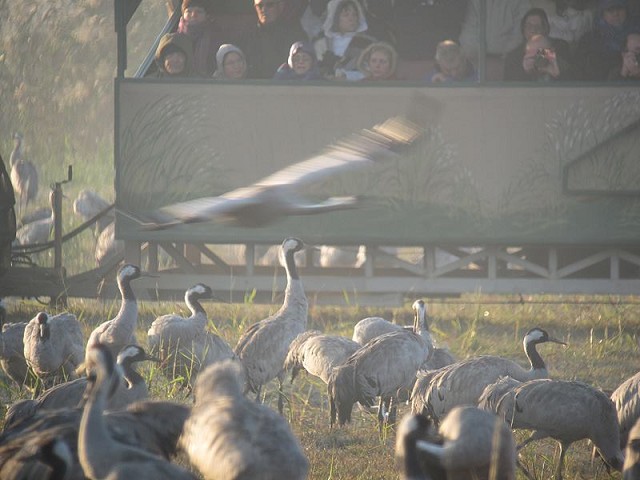 Crane-watching Hula-style (Stephen Menzie).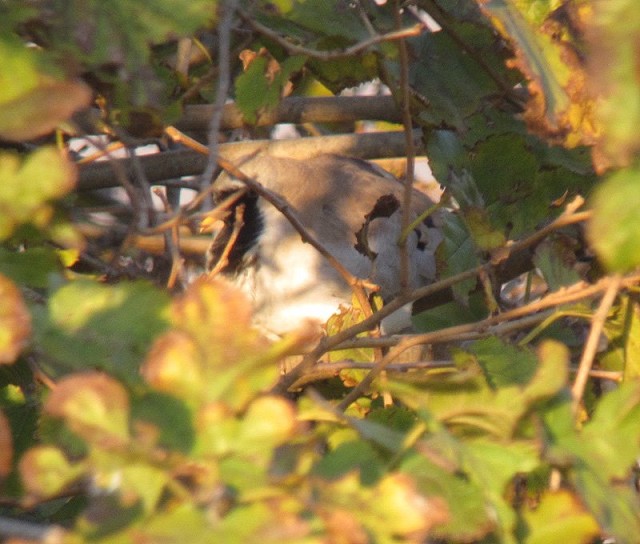 Namaqua Dove (Stephen Menzie).
It wasn't just the birds that made the trip special; we also amassed a rather impressive selection of mammals during our stay at the festival. Wolf and a spate of Jungle Cat sightings were by far the most notable, with Golden Jackal, Egyptian Fruit Bat, Mountain Gazelle, Egyptian Mongoose and Fallow Deer also being spotted over the week.

Wolf (video-grab: Stephen Menzie).

Jungle Cat (video-grab: Stephen Menzie).
Despite the vast number and broad range of species on offer during the week, we managed to find time to squeeze in some non-avian activities; or perhaps I should say "non-field activities". We visited the opening of the Artists for Nature in Israel Drawing Inspiration from the Hula Valley art exhibition, where we enjoyed the artwork, the talks and the live music. We were also lucky enough to be invited by Dr. Yossi Leshem to a twelve-course dinner at the Mizpe Hayamim Hotel; distinguished guests included Jordanian General Mansuor Abu Rashid, who has been instrumental in implementing the Barn Owl and Kestrel nest box biological pest-control scheme along the Jordan River valley — an inspiring example of cross-border cooperation — and Paul Winter, who played a tantalising snippet of his new composition, Flyways. We had to wait another 24 hours before we got to hear the piece played with the entire group of musicians; a stunning performance. The hotel also played host to a weekend of scientific talks focusing on conservation of migratory birds on a local scale, a regional scale, and with the assistance of ecotorism. Although time was limited, we managed to sit in on a few of the talks, all of which were extremely interesting and presented by leading figures in the field from all over the world.

Tim Appleton talks on the subject of running an international bird fair (Stephen Menzie).

Yossi Leshem gives a presentation on the Barn Owl box project (Credit).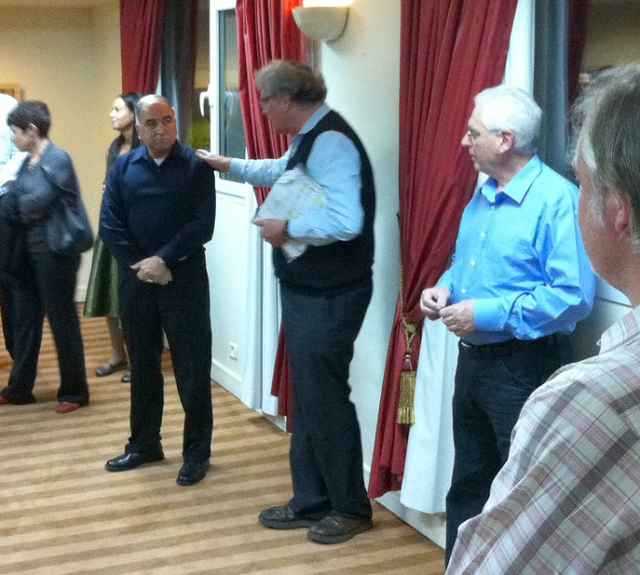 Yossi Leshem (centre) and General Mansuor Abu Rashid (left) (Stephen Menzie).
After Eilat this spring, I had high expectations for the Hula Valley Bird Festival; I'm pleased to say that those expectations were met, and then some. The whole area is simply superb; from the peep-ing Chiffchaffs to the sight of 30,000 cranes, there's something for everyone. It's undeniable that the stars of the festival were the birds, but the cherry on top was the close bond formed between the members of our group and the festival leaders. Thanks really does have to go to Dan Alon, Yoav Perlman, Nadav Israeli and, especially, Jonathan Meyrav — here's hoping next year's festival is as successful and enjoyable as this year's!
Visiting the Hula Valley
I flew from London Heathrow to Tel Aviv with El Al; from there it was a two-hour drive to the Pastoral Hotel at Kfar Blum in the Hula Valley. Details of next year's festival, to be held from 11th to 18th November 2012, can be found on the Hula Valley Bird Festival website.
The paragraphs above detail my experiences whilst in Israel. The political situation and security issues are two questions that seem to be raised a lot when I'm asked about visiting Israel. I hope the following will help to clarify any points. These are my own personal views on the situation.
Despite the Hula Valley's close proximity to both the Lebanese and Syrian borders, at no point during the trip did we ever feel uncomfortable with the security situation. In fact, I can honestly say that I felt safer wandering around Israel's border regions than I do standing at a bus stop in west London — despite the minefields, the border fences and the (admittedly low-level and unobtrusive) army presence, Israel has always struck me as a safe and secure place to be. The festival staff are completely open about the security situation — rattling at the Syrian border fence or attempting to wander across the clearly marked minefields is, they informed us, not a good idea; birding close to the border (we were about half a mile from the Syrian border while looking for Finsch's Wheatear) is perfectly fine. There were occasional army posts in the border regions but there were very few active road checkpoints; in fact, the only time we were stopped during the whole trip was on our way into the airport compound and even then it was for no more than to ask us where we had come from. We had to apply for permission to bird around the high peaks of Mount Hermon (nothing more than asking the officers on duty at the time) but there were no limitations on where we could go once we were up there; never was our birding activity disrupted or delayed.
The Israel Ornithological Centre (IOC) — the organisers of the festival — work amazingly hard to promote the conservation of birds in Israel; an essential part of that work is enthusing local people about the birds around them. As proved by our experiences during the week and by the ongoing nest-box work being carried out in the Jordan valley, the conservation of birds isn't (and can't be) bound by human-drawn borders, and the IOC works hard to engage with all Israeli nationals, be they Jewish, Muslim, Christian, Israeli or Palestinian — as Yossi Leshem points out, "migrating birds know no boundaries".