Female Great Tits build their nests alone, usually in a nest box or in a cavity of a tree. However, in Draycott, Gloucestershire, one bird had different plans, setting up home in a revolving compost maker. She filled this large cavity with clump after clump of moss and wool to make the most palatial pad in the neighbourhood.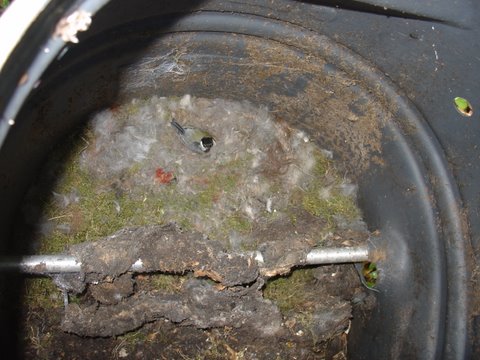 Female Great Tit sat atop her monumental nest. (Photo: BTO)
Across the UK, 150 million birds are currently building nests, incubating eggs or rearing their young. In gardens, householders are keeping a close eye on nesting birds, such as Great Tits, through the BTO's Garden Nesting Survey. Spring started slowly after the unusually cold winter but nests are now brimming with eggs and young, and the first few fledglings are also starting to appear.
Dr Tim Harrison from the Garden BirdWatch Team commented: "Great Tits are resourceful birds that are quick to explore novel feeding and nesting opportunities. Amazingly, after constructing an enormous nest, this female Great Tit went on to lay eight eggs — around three-quarters of her body weight!"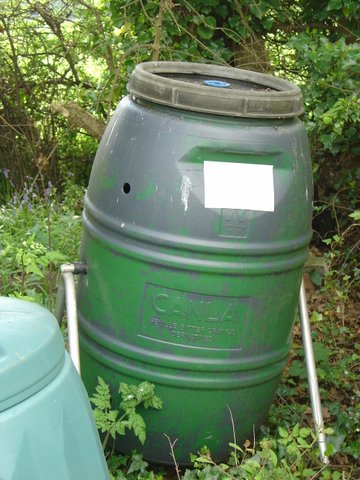 The revolving compost bin that this pair of birds now call home. (Photo: BTO)
He added "If you have a nest in your garden, great or small, we want to hear about it through the Garden Nesting Survey. A free colour wallchart of nests and eggs is available to help people get involved. With human population size and urbanisation ever increasing, the importance of gardens to breeding birds is essential to understand."
For a free wallchart of nests and eggs or for more information about the Garden Nesting Survey please email nestingneighbours@bto.org
The BTO Garden Nesting Survey is sponsored by
Gardenature
and supported by the John Spedan Lewis Foundation. The wallchart was produced with the support of BirdGuides, Richard and Peter Castell and BirdWatching magazine. For more information on the survey see
www.bto.org/gns
.
The BTO monitors the fortunes of nesting birds through a number of different surveys. The Garden Nesting Survey is providing information on the abundance of nesting birds in gardens and when they breed. A more advanced scheme run by the BTO, Nest Box Challenge, is encouraging householders to monitor nests and nestboxes over the breeding season. More information on the BTO's range of nesting surveys can be found at
www.nestingneighbours.net