More birds are using food supplements provided in gardens than ever before. Newly published results from the British Trust for Ornithology's (BTO) Garden Bird Feeding Survey (GBFS) show that the number of species seen during autumn and winter is up by almost 50% since the 1970s.
Gone are the days when feeding garden birds was centred on kitchen scraps, suet–filled coconut shells and monkey nuts threaded on string. Today, garden bird feeding is a multi-million-pound industry with a bewildering array of food and feeders on offer. Newly published results from the GBFS show that during the 1970s an average garden feeding station hosted 16 species during autumn and winter. This figure rose sharply to 21 species last decade before reaching an all-time high of 23 species last winter — up by half (49%) on the winter of 1970–71, when the GBFS began.
While numbers of some species – including House Sparrow, Song Thrush and Starling — have declined, the huge influx of other species has resulted in an overall increase. The main winners have been: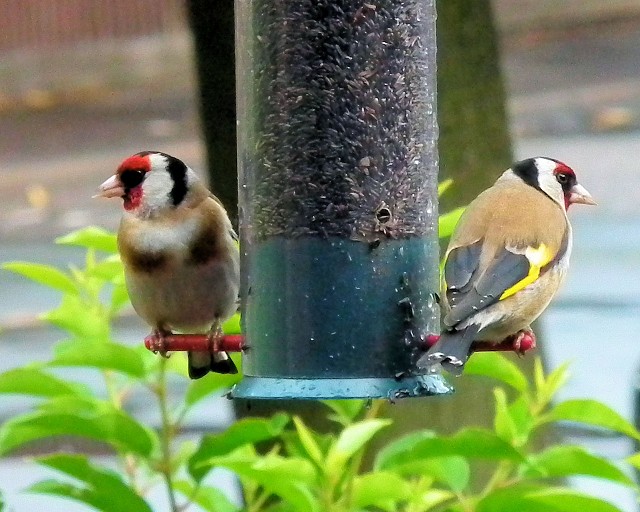 Goldfinch, Basildon, Essex (Photo: Linda Bohea)
Some 40–50% of UK householders are now thought to feed birds in their gardens, with an estimated 50–60 thousand tonnes of bird food provided per annum. With feeding opportunities changing rapidly, the GBFS is playing an essential role in charting effects on birds. GBFS data show that many species — including Great Spotted Woodpecker, Woodpigeon, Great Tit, Coal Tit, Nuthatch, Jay and Chaffinch — use garden feeding stations more when natural foods are in short supply. While the trend for more species using garden feeders is great news for householders, it does raise important questions about the availability of food for birds in the wider countryside.
Content continues after advertisements
Tim Harrison, BTO Garden Ecology Team, commented: "Changes in farming practices and woodland management appear to be pushing individuals of many species out of these habitats, while increased availability of specialist bird foods and feeders is pulling them into gardens."
More information about the BTO's Garden Birdwatch can be found online at www.bto.org/volunteer-surveys/gbw.
Additionally, Saturday 29th October is RSPB Feed the Birds Day; more information can be found on the RSPB website: www.rspb.org.uk/feedthebirds