Well-established wetland reserves such as Titchwell and Minsmere have long been considered to be the RSPB's flagship equities. And rightly so — both have proven invaluable cornerstones in the recovery of previously precarious populations of species such as Avocet, Bittern and Marsh Harrier as well as acting as havens for resident, migrant and breeding birds and other wildlife for decades. Located on the coasts of North Norfolk and Suffolk respectively, each is a tourist attraction in its own right and year after year have drawn large crowds of visiting birders and non-birders alike.
With the above in mind, I was genuinely quite startled when I pulled up at the RSPB's Frampton Marsh reserve to find no more than two other vehicles in the car park at 08:00 on the Monday morning after Birdfair — even more so given that an astonishing 200 Curlew Sandpipers had been reported on the reserve the previous afternoon. Assuming that such a spectacle would be enough to attract even a moderate crowd, I was surprised to learn from warden Toby Collett that such a sparsity of visitors is the norm unless a major rarity turns up — which, incidentally, happens here with increasing regularity. Yes it was a Monday morning, but at the height of the summer holidays one might have anticipated a few more visitors to be on site as the morning wore on — yet all I saw were a handful of the regulars and a couple of small visiting groups by the time I left a short while before noon.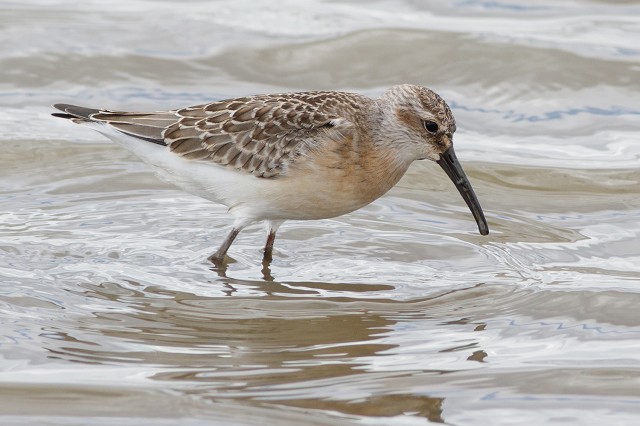 One of over 200 juvenile Curlew Sandpipers at Frampton Marsh on 22 August (Photo: Josh Jones)
A walk around the reserve with Toby only made this seem all the more extraordinary. The decline in abundance of British avifauna makes for depressing reading in the headlines all too often, yet Frampton is a true oasis that almost seems too rich in birdlife to form part of modern-day Britain. There are birds everywhere here — the number and variety is quite amazing, particularly shorebirds. It felt as if I'd been transported to a bustling wetland in Eastern Europe, rather than made a short journey across from Rutland. While the barrenness of the surrounding intensively-farmed fenlands of South Lincolnshire no doubt contributed to that impression, it should take nothing away from what a fantastic job the RSPB have done in transforming this site into the place it is today. I remember my first visit here in late 2005 to see a Buff-bellied Pipit found by Paul French; back then this area was little more than agricultural land. What a remarkable change in a decade!
The excitable 'prrt' of Curlew Sandpipers seemed to be constantly resonating around the reserve; Toby and I had counted over 200 by the end of the morning (and later in the day the total exceeded 250). Ten Little Stints busily picked their way around the wet grassland area while the scrapes were positively infested with Dunlin, their number easily into four figures. Among them, quite amazingly, was a leucistic bird — all white save for a faint tea-coloured wash to the upperparts. Also covering the scrapes in large numbers were Black-tailed Godwits and Knot as well as a lighter scattering of species such as Ruff, Common Sandpiper and Little Ringed Plover.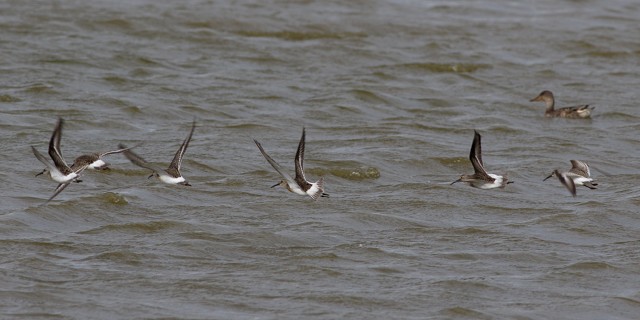 The distinctive white rump of Curlew Sandpiper was often on show as nervous flocks of freshly-arrived juveniles flitted around the reserve (Photo: Josh Jones)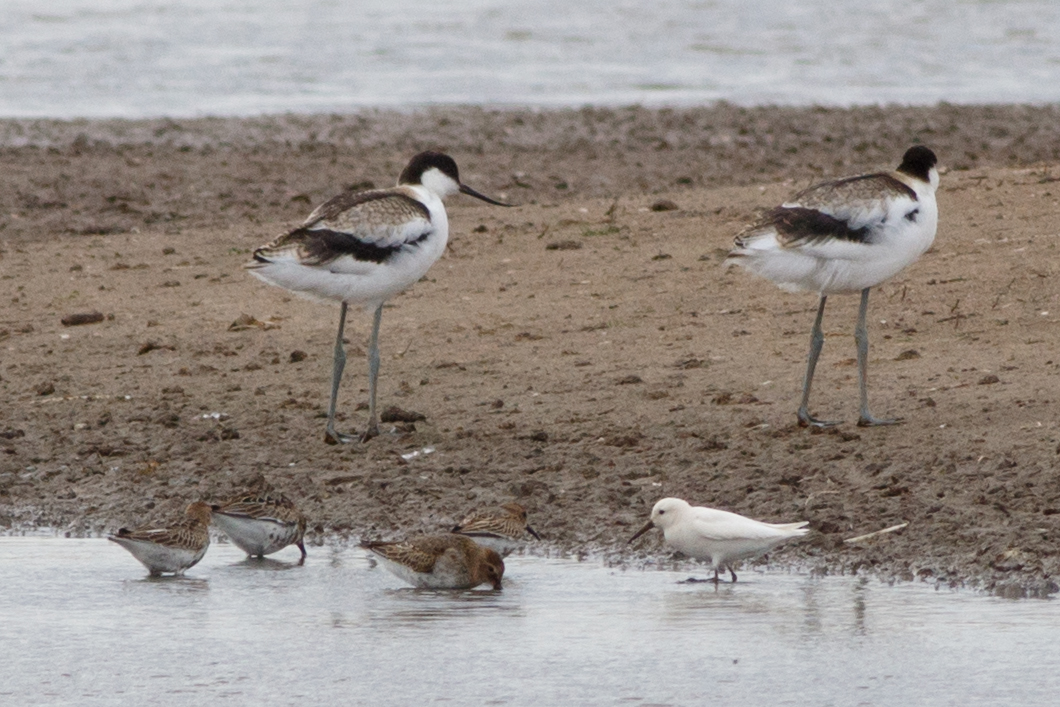 This leucistic Dunlin was a highlight of Josh's morning at Frampton Marsh (Photo: Josh Jones)
My visit had, by great fortune, coincided with one of the highest tides of the year and a scan of the saltmarsh, disappearing under the encroaching water, produced thousands of gulls and numerous raptors including Short-eared Owl, Kestrel and Common Buzzard, all preying on the bounty forced to flee the marsh. Flocks of waders were coming and going and a couple of Northern Wheatears along the sea wall were a reminder that migrant passerines are also regular here — yes, The Wash is huge inlet, but Frampton is coastal nonetheless.
Bird-filled skies and scrapes are a testament to the careful management conducted by the team here at Frampton. The process is much more than simply controlling water levels across the site. As I was to discover, great care is invested in ensuring that the wetland is kept as fresh — and therefore as attractive to birds — as possible.
To achieve this the RSPB has employed a system that is similar to crop rotation used in agriculture. The creation of multiple bunds at strategic points around the reserve has helped to segregate several areas, ensuring that each can be managed individually. In this way water levels can be managed differently around the reserve. Every year, one of three 7ha scrapes is kept dry and is sown with a seed-rich crop in the spring, which is then flooded in the autumn, to provide feeding opportunities for wildfowl at a later date. The other two scrapes are managed as you'd expect for breeding birds in the summer and passage waders in the autumn before re-flooding in winter.
The so-called 'Wet Grassland' area is managed to reflect current weather conditions while still creating variety and niches. During times of heavy rain, the reserve is kept largely wet but a few compartments are managed to be drier and conversely, during dry spells, water resources aren't spread too thin, with a focus on providing optimum wet conditions in smaller areas for longer. In this way, the unpredictable boom and bust of nature can be used in advantageous ways.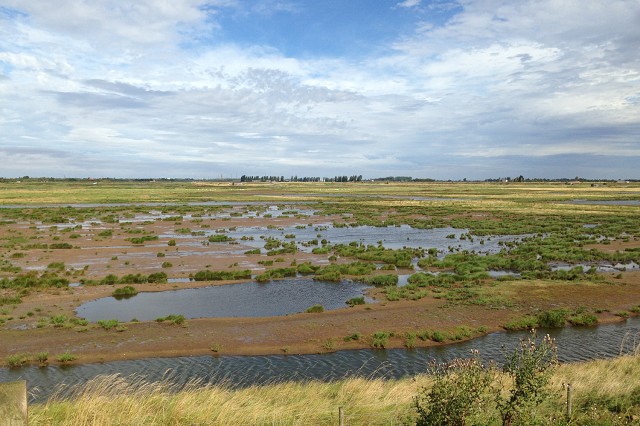 Frampton's 'Wet Grassland' area is teeming with small waders such as Dunlin during spring and autumn migration (Photo: Josh Jones)
This creates a constant and prosperous cycle. The dry, weedy 'cells' attract passerines such as finch flocks and migrants such as Whinchats, which in turn attract roving birds of prey such as Hobby and Merlin. In winter, when the dry areas are re-flooded, the ducks move in to feed on the seeds, in turn laying down huge quantities of faeces. This creates invertebrate-rich soils which, when exposed as water levels drop the following spring and summer, provide wholesome feeding opportunities for waders. The mantra that the team have adopted is to 'always keep the water moving'. In doing so, new feeding areas are constantly being created or exposed, moving both the birds and visitors around the reserve. It means that it's a win-win situation around the reserve at all times, the variety of food-rich habitats ensuring that there's always plenty of birds to look at.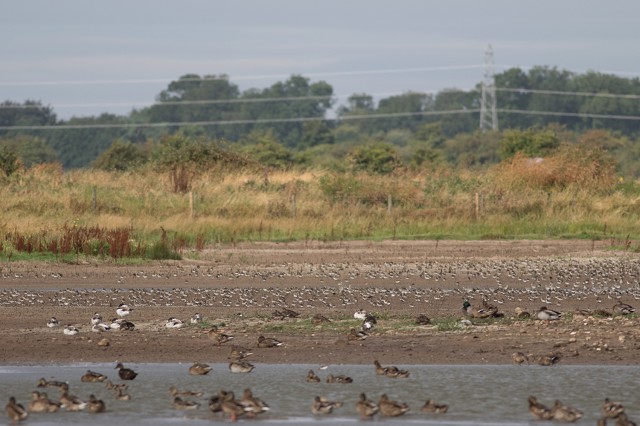 The scrapes at Frampton Marsh are awash with waders and returning wildfowl in August and September (Photo: Josh Jones)
Frampton Marsh is a modern-day conservation success story, proving that nature can be restored and something can be created from nothing. What was once agricultural fields is now one of the premier wetland birding locations in Britain. To date a total of 42 shorebird species have been recorded and the reserve's bird list currently stands at 202, with new species being recorded annually. It's not unusual to see 24 species of wader in a day during peak passage. Rarities in 2016 alone have included White-rumped, Pectoral and two Broad-billed Sandpipers, Black-winged Stilt, two Wrynecks, two European Serins, Red-backed Shrike and a Golden Oriole, not to mention multiple Temminck's Stints.
The persistence, patience and meticulousness of all in involved in the development and maintenance of this fantastic reserve is something to be admired, and many other reserves across Britain and Ireland might learn a thing or two from the methods implemented at Frampton. That there is a very realistic possibility that you may visit and see not a single other person aside one of the wardening team or the local farmer is amazing, particularly after casting an eye across the throng of birds packed on to the scrapes. Why not pay a visit soon?
Visting Frampton
September is often the best month of the year for waders with 29 species recorded during the month in 2015 and 28 in the three consecutive years before that. This coming weekend will see a series of particularly high tides in The Wash, likely meaning that shorebird numbers will be at their peak at Frampton. See a tide table below.
| Date | Day | Time | Height (m) | Time | Height (m) |
| --- | --- | --- | --- | --- | --- |
| 17 | Sat | 06:58 | 7.99 | 19:33 | 7.80 |
| 18 | Sun | 07:39 | 8.27 | 20:13 | 7.92 |
| 19 | Mon | 08:20 | 8.37 | 20:52 | 7.87 |
| 20 | Tue | 09:02 | 8.26 | 21:33 | 7.64 |
| 21 | Wed | 09:45 | 7.91 | 22:13 | 7.25 |
Frampton Marsh is well signposted off the A16 between Kirton and Boston. For more information on the reserve and how to get there, visit: www.rspb.org.uk/discoverandenjoynature/seenature/reserves/guide/f/framptonmarsh