March typically heralds the beginning of spring migration in Britain. It's a month when most birders excitedly await their first sighting of a Northern Wheatear hopping across a grassy field, or a Sand Martin zipping freely above a waterbody. We sit through the cold and grey winter months knowing that these spirit-lifters will eventually return and render patient March birding – and indeed the winter slog – worthwhile. There is, however, a migrant that often reaches our shores a little before the much-vaunted wheatears and hirundines: the humble, but subtly gorgeous, White Wagtail.
As a subspecies, White Wagtail tends to get slightly neglected and forgotten amid the jolly jamboree of spring arrivals. But an encounter with one of these suave-looking members of the Motacillidae family is always of note, enough to raise a smile and well worth appreciating in full. Indeed, White Wagtail may well be the first 'true' spring migrant you clap your eyes on each year and for that reason alone they are worthy of celebration.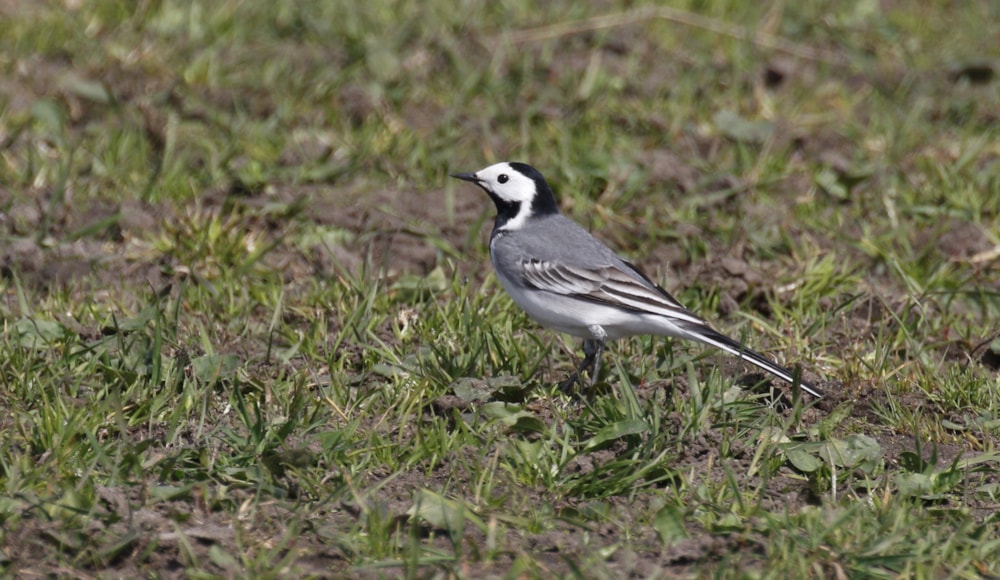 A fine spring male White Wagtail, showing the silvery-grey mantle that contrasts with the head and wings, as well as the clean, 'white' flanks (David Bradshaw).
At present, there are nine recognised subspecies of White Wagtail Motacilla alba. Six of these forms occur or have occurred in the Western Palearctic (alba; leucopsis; ocularis; personata; subpersonata; yarrellii). The latter is the familiar Pied Wagtail, a common British and Irish species with limited migration, and very rare instances of breeding in north-west France and southern Norway. Meanwhile, leucopsis (Amur Wagtail), ocularis (East Siberian Wagtail) and personata (Masked Wagtail) have occurred in Britain as extreme vagrants, with single records of each.
The continental form is Motacilla alba alba – White Wagtail – and it breeds commonly across Europe, from as far west as Iceland (and even Greenland) east to the Ural Mountains and Turkey, reaching as far north as the Arctic Circle. Many are migratory, spending the winter in southern Europe and Africa, and as far south as Kenya and Malawi.
White Wagtail is a passage migrant through Britain from early March to May and from mid-August to early November. Most we receive are from the Faroe Islands, Greenland and Iceland – indeed, it's likely that the entire populations of these birds pass through Britain and Ireland. That's no small figure, either, especially considering the Icelandic population is an estimated 50,000 pairs. Naturally, this means there is a west coast bias to records, especially the first ones of the year (eight together on St Mary's, Scilly, on 22 February this year reflects the regional trend).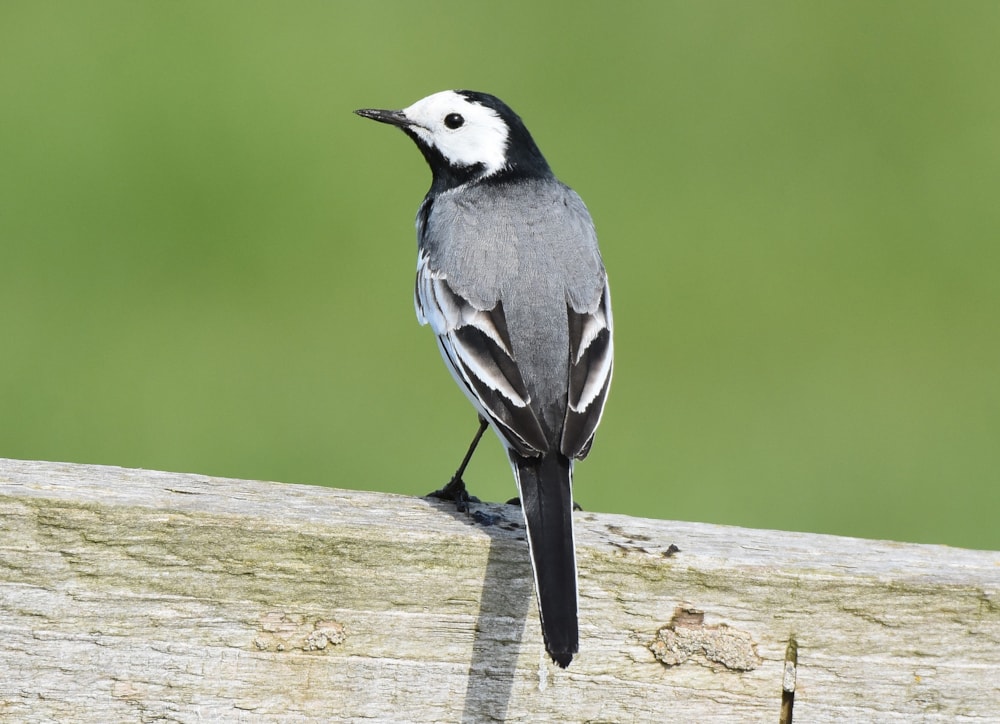 A key feature on all White Wagtails is the rump. It is pale grey, as you can see on this spring male, but gets progessively darker towards the uppertail coverts (W Schulenburg).
Despite being a passage migrant in many parts of Britain a handful of pairs breed each year, usually in northern Scotland and the Northern Isles, but also in western locations. Six pairs bred in Shetland in 2018, for example, and young fledged from a nest in Cornwall in that year as well. Sussex and Scilly held mixed pairs and this blend of low-level breeding records is the case most years in Britain (though it must be said that a small population breeds on the Channel Islands, usually reaching low double-figures).
As mentioned, though, it is migrants that most British birders will encounter. And spring is the best time to see them, not least because the plumage of adult birds makes them readily identifiable from the far more numerous Pied Wagtail. The very first records can occur in late February, as they have done this year, but generally early and mid-March sees the initial wave of passage take place. As a result, White Wagtail is very much one of our first migrants to arrive each year – much like Northern Wheatear – even if they are only passing through.
Numbers build as the season develops. Early to mid-April can produce some of the biggest gatherings, usually along the west coast as birds collect ahead of the sea crossing to their aforementioned breeding grounds. North-West England is a key area, especially Cheshire and in particular The Wirral – some 500 were counted at Hoylake on 9 April 2011, and triple-figure counts are virtually annual on the peninsula (i.e. 300 on 15 April 2018). Lanacashire, unsurprisingly, also cashes in some big numbers, such as 350 at Hightown on 14 April 2014 and 348 at Banks Marsh on 15 April 2015.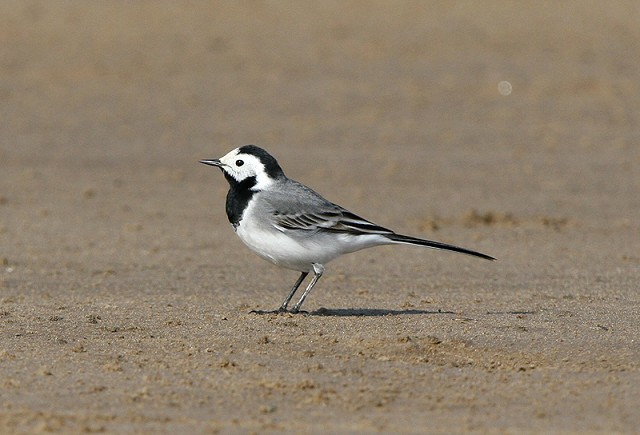 A White Wagtail at Hoylake, the day after the Cheshire site recorded some 500 individuals in April 2011 (Steve Seal).
In late April and early May the big counts retract as birds move further north. Notable flocks still occur, often on the west coast of Scotland, such as 95 at Auchenharvie Golf Course, Ayrshire, on 22 April 2003. A total of 300 at Dornoch on 20 April 2011 shows that east-coast gatherings can form as well, though this is unusual; the Scandinavian population of White Wagtail takes an easterly migration route, so it's less numerous anywhere in eastern Britain.
An adult White Wagtail is a fetching bird, especially males. Perhaps the most striking feature is the mantle – clean and silvery-grey, contrasting markedly with the head and wings. This smart appearance is rather different to the dark, smoky and diffuse tones of Pied Wagtail. The rump is pale grey on White Wagtail – black on Pied – but this isn't always easy to see on enthusiastic spring birds that are pottering about non-stop. Another key pointer is the flanks. Rather narrow pale-grey feathering makes White Wagtail appear clean or 'white' on its sides (though this can vary depending on viewing angle and indeed the light); Pied Wagtail has much more sooty flanks, often extending well below the folded wing, too.
The wings of White Wagtail are slightly duller than Pied, and other features include a narrower white forehead and a clean white belly. Sexing is fairly straightforward and is based on the head pattern. In male White Wagtails, the border between the black nape/cap and silvery-grey mantle is clearly defined and marked, but in females it is much less so and often fades together diffusely. The black nape is even weaker in tone on first-summer females.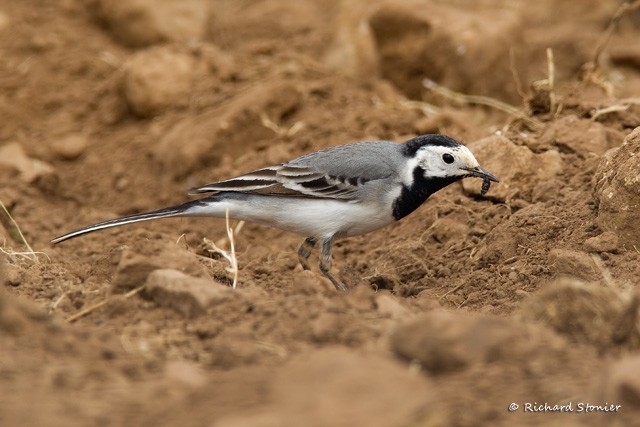 The black cap fading into the grey mantle makes this an adult female (Richard Stonier).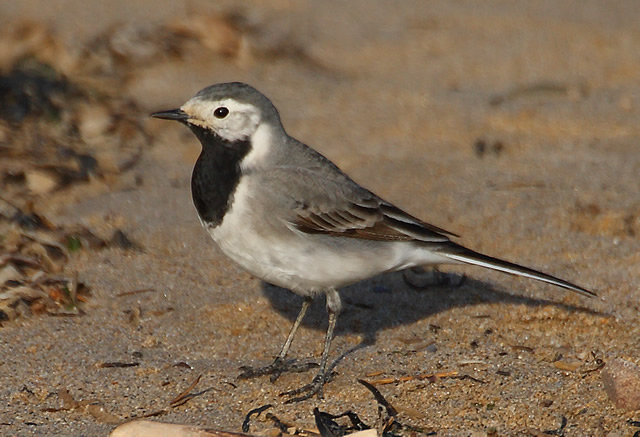 With black entirely lacking on the crown, this bird is likely a first-summer female (Chris Barlow).
So, as we enter March, it's well worth paying extra attention to any Pied Wagtails you bump into, particularly sizeable congregations of them. A little scrutiny may well produce a White Wagtail or two, especially as the month moves on. There are no special places to look – anywhere that Pieds frequent and favour is a good enough location, though of course open fields, farmland and areas where livestock are found is good, along with coastal spots which will hold fresh arrivals. And while it may not constitute a tick for your year list, do stop and appreciate the journey this little bird is on and how it passing through your local area represents the start of spring migration – perhaps the finest part of the birding calendar.
References
Adrians P, Bosman D & Elst J. 2010. White Wagtail and Pied Wagtail: a new look. Dutch Birding 32: 229-250.
Alström P & Mild K. Mild. 2003. Pipits and wagtails. Princeton University Press, Princeton.
Garner M. 2011. 1st-winter White Wagtail identification. Available at: birdingfrontiers.wordpress.com/2011/09/08/1st-winter-white-wagtail-identification/. (Accessed: 25 February 2020).
Mitchell D. 2017. Birds of Europe, North Africa and the Middle East An annotated checklist. Lynx Edicions, Barcelona.
Óskarrson Ö. 2018. White Wagtail. Available at: ornosk.com/tag/white-wagtail/. (Accessed: 25 February 2020).