Taking a holiday in Menorca in early June 2003 I hoped to renew my acquaintance with the local Mediterranean forms of flava wagtail. I naturally expected to see cinereocapilla "Ashy-headed Wagtail", which is apparently the commonest migrant there, or maybe iberiae "Spanish Wagtail".
However, any of the European flava wagtails could be expected through the western Mediterranean on migration and the only three birds that I saw were all thunbergi "Grey-headed Wagtail", of which two were males and one a female. The female was at the same location as the males, but occurred three days later, and stretched my field skills as I kept expecting to see local Mediterranean breeders. I was fortunate to obtain some pictures which provided me at least with useful further learning on flava wagtail identification, especially with regard to females.
Typical of flava wagtails, I heard all three birds before I saw them, which gave me clues as to what to expect. In the case of the two male thunbergi, I heard them call several times before I saw them, a clear, loud ringing flava call which didn't sound any different from the call of migrant birds I am used to hearing in Britain.
I knew that southern European forms such as iberiae and cinereocapilla often give harsher calls, so I half wondered if I was going to get a Blue-headed or even British Yellow Wagtail! In the case of the female the call was quieter and less ringing than the males, but not especially harsher.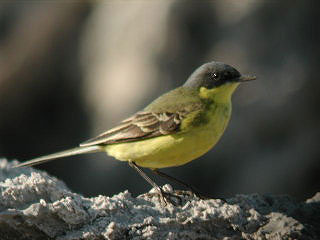 1. Grey-headed Wagtail (Motacilla flava thunbergi): Male, Menorca, Spain 3rd June 2003. (Photo: Martin Garner)
1. The head pattern showed the blue-grey crown and nape with blackish lores and ear coverts; the latter often little less saturated with black but nevertheless giving a wheatear-like mask effect. On the underparts the fully yellow throat separates it from similarly dark-headed Mediterranean forms. The dark streaks on the breast are often a feature of thunbergi, in both spring and autumn.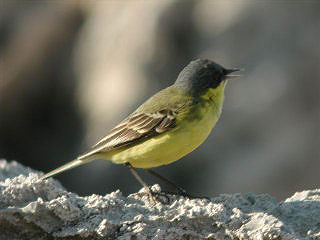 2. Grey-headed Wagtail (Motacilla flava thunbergi): Male, Menorca, Spain 3rd June 2003. (Photo: Martin Garner)
2. This bird is calling, a clear ringing call, not discernibly different from British Yellow and Blue-headed Wagtails. Mediterranean forms such as Ashy-headed and Spanish Wagtail often have slightly harsher calls. According to Alstrom and Mild in Pipits and Wagtails of Europe, Asia and North America...iberiae, cinereocapilla and feldegg give harsher calls with marked 'r sound...but at least some individuals give normal flava-like calls in between harsh calls.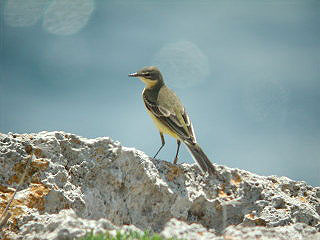 3. Grey-headed Wagtail (Motacilla flava thunbergi): Female, Menorca, Spain 6th June 2003. (Photo: Martin Garner)
3. My first views of this bird were a bit like this, and the well-marked yellow underparts made me wonder if it was a male, but the head pattern was dull grey overall with a weak off-white supercilium mostly only in front of the eye. The dull head pattern (and with better views) slightly duller yellow underparts indicated a female bird. Identifying female flava wagtails to a specific form can be notoriously tricky. Some quite obvious ones typically are a 'ghost' of the male pattern, but variation and the possibility of intergrades means that some will not be identified to form.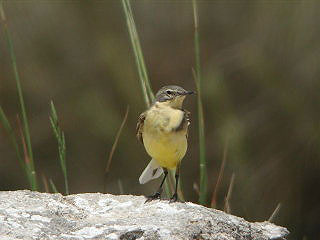 4. Grey-headed Wagtail (Motacilla flava thunbergi): Female, Menorca, Spain 6th June 2003. (Photo: Martin Garner)
4. Here the mostly darker grey head, with weak supercilium, indicates one of the grey-headed forms. With the potential of Ashy-headed and Spanish Wagtails in the area, the head patterns can be similar to Grey-headed females. Fortunately for me, this bird had nearly all yellow throat...pointing to an easier thunbergi (some thunbergi do have whiter throats). Females of the other two forms, like the adult males, apparently have pure white throats.
The underparts can also be seen to be patchier than on males with more saturated yellow plumage in the belly region...paler on the breast. Note also the vague dark breast marks (ignoring the wind-blown feathers) mirroring the more obvious marks in many male thunbergi.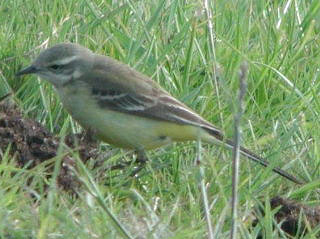 5. Yellow or Blue-headed Wagtail: 1st summer female, Spurn, East Yorkshire, 24th May 2003. (Photo: Martin Garner)
5.Here is a proverbial problem in Britain with identifying some female flavas particularly in regard to Blue-headed Wagtails. This first summer female (note difference between inner and barely visible outer greater coverts) has the greyish head and creamy white supercilium and throat that 'ghosts' the pattern of male Blue-headed Wagtail Motacilla flava flava.
However, it appeared to be paired to a male British Yellow Wagtail Motacilla flava flavissima. Such birds as this could either be genuine Blue-headeds, a variant of female British Yellow or even an indication of gene flow between the two forms. This comment in Wilson and Slack Rare and Scarce Birds in Yorkshire under Blue-headed Wagtail is perhaps telling "Suspected breeding is now reported in most years, although rather curiously, most of these records involve females showing characteristics of flava paired with male flavissima."