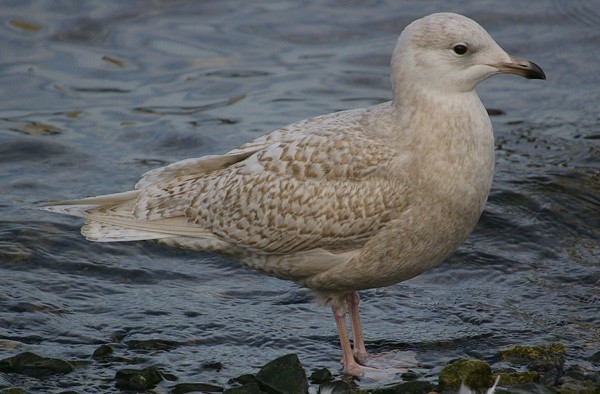 Iceland Gull, Nimmo's Pier, Galway (Photo: Derek Charles)
I'm probably not the only one amazed by all of the excellent photographs that are posted in the gallery these days. For me, the number of pin-sharp, crisp and evidently very close gulls that pose for the photographers are one of the highlights at this time of year. Most birders in England rarely see either species of white-winged gull and, when we do, it will be a stray vagrant looking rather lost or one sitting distantly in amongst a thousand or so other gulls on a rubbish tip or a reservoir. With it being readily apparent that most of these 'up close and personal' photos come from a handful of sites in Ireland, how many of you have seriously considered a visit to these larid-rich shores?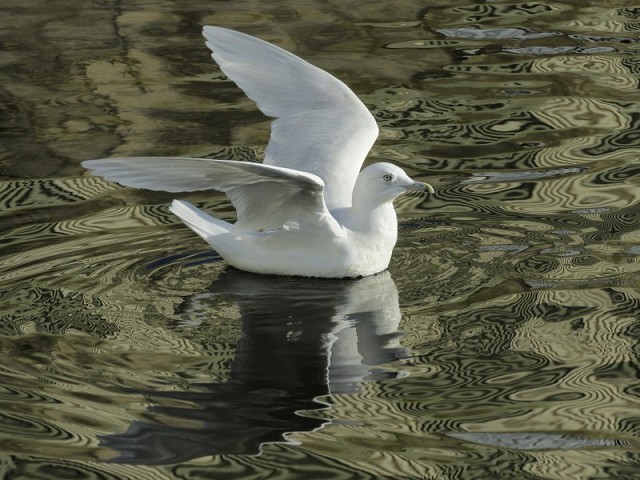 Third-winter Iceland Gull, Galway town. A true white-winged gull! (photo: Tom Cuffe)
Thumbing through my notebooks, I eventually found 'Killybegs 28th February 1998: adult Thayer's Gull, 18 Iceland Gulls, 14 Glaucous Gulls and a probable 1st-winter American Herring Gull'. This was a memorable afternoon for two reasons; I saw the first and only adult Thayer's Gull to have occurred this side of the Atlantic but, more poignantly, it was my first ever Irish winter trip and the start of my love affair with the fish-stinking gull havens of western Ireland. From Killybegs in the north to Castletown Bearhaven in the extreme south, there are numerous sites and endless possibilities for the intrepid birder and keen photographer to visit in winter.
Even if you only have a passing interest in gulls, birdwatching on the west coast of Ireland in winter can be spectacular. Species such as Great Northern Diver and Black Guillemot are plentiful, while little beats watching flocks of Barnacle Geese in Sligo and Mayo. Any month from November until April is likely to be productive, though to see the largest concentrations of Glaucous and Iceland Gulls a visit between early February and late March is recommended. Over the years I have visited all of the sites I am about to mention. You will find white-winged gulls at many sites, but visits following periods of northwesterly and westerly gales are likely to yield the highest numbers. American Herring Gull and Kumlien's Gull are seen each winter while Thayer's, Laughing, Franklin's, Bonaparte's and Ross's Gulls have all been seen on more than one occasion in the last decade.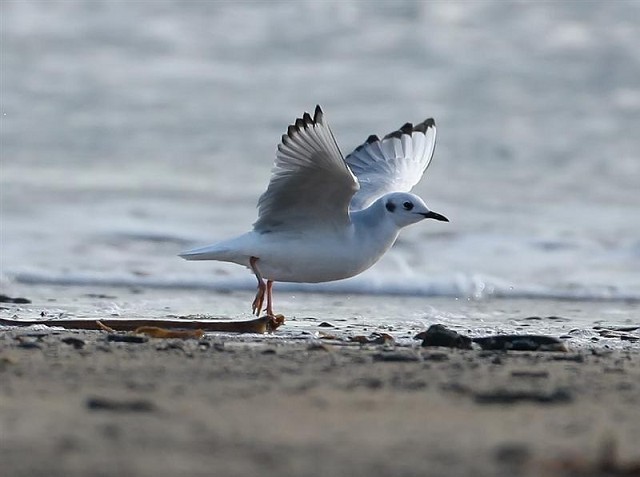 Bonaparte's Gull, Ballybrannigan, Cork (Photo: Sean Cronin)
If you do not live there, then getting to Ireland is relatively straightforward and inexpensive during the winter months. Many of the sites mentioned are situated either in or near major cities so Irish Rail or Ireland's national bus company Bus Eireann would serve you well. Both Stena Line and Irish Ferries offer a number of routes across the Irish Sea including those from Pembroke Dock/Fishguard to Rosslare, Holyhead to Dublin (Dun Laoghaire), Stranraer to Belfast and Cairnryan to Larne. The west coast of Ireland also has a number of airports including those at Cork, Kerry, Knock and Shannon.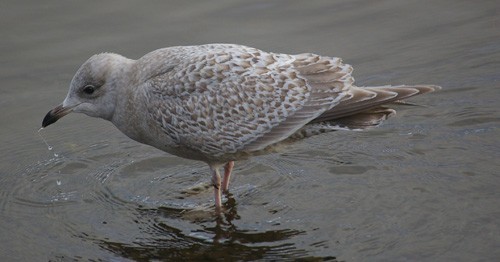 Juvenile Kumlien's Gull, Clifden, Galway. A dark individual, but well within the limits for kumlieni. A check of the patterning of the scapulars and tertials rules out any potential of this bird being a Thayer's Gull (photo: Derek Charles)
From Donegal to Mayo, through Galway to Kerry and Cork in the south there are lots of sites that are worth checking whilst you are surrounded by some truly stunning landscapes. I'll start off in the north in Donegal and then head south giving an overview of what you can expect to see through the counties of Sligo, Mayo, Galway, Clare, Limerick, Kerry and Cork.
Donegal
Given its northerly location, it is no surprise that Donegal has an enviable reputation for gulls. Killybegs is the prime site and, along with being possibly the best site in Ireland, it's also one of the best gull-watching sites in Europe. You will know when you reach Killybegs; gulls are absolutely everywhere in the town and the smell of fish that wafts through the whole area may be a bit of a sensory overload! It is Ireland's largest commercial fishing port, so is rather large and therefore worthy of at least a full day's visit. Thayer's Gull has been recorded on a couple of occasions (an adult in 1998 and a juvenile in 2003) while several American Herring Gulls and annual Kumlien's Gulls have been seen. A visit to Killybegs in February or March is likely to produce at least a dozen white-winged gulls.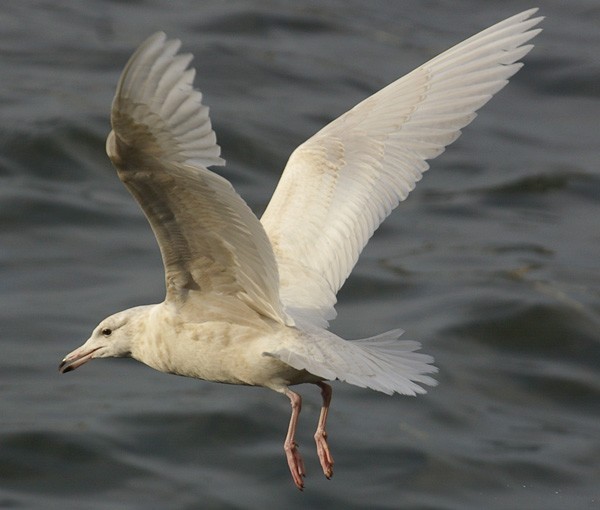 Juvenile Glaucous Gull, Killybegs, Donegal. Pale-looking juveniles such as this are commoner in North America than Europe and it has been suggested that 'leucerectes'-range birds may occur in western Europe. However European birds, which are typically biscuit-coloured and coarsely marked, can be as pale by late winter due to bleaching and plumage wear (photo: Derek Charles)
With increased security in the last few years, the main port area at the southwest point of the town is now gated and you have to view the gulls distantly by the fence just before the security gate. You can still walk along the main pier in the harbour and this allows excellent views of Glaucous and Iceland Gulls. Just to the east of here, the blue roof of Gallagher's Fish Factory provides close up views of gulls roosting and a further fish factory near the petrol station at the eastern edge of town can also provide good views of the gulls. As you head out of Killybegs on the road towards Donegal check the estuary by the small bridge and, by turning right just after here, you can go along a road that looks back on the town and is also good for gulls — it was here where I saw a well-marked adult Kumlien's Gull last winter and an American Herring Gull in 2004.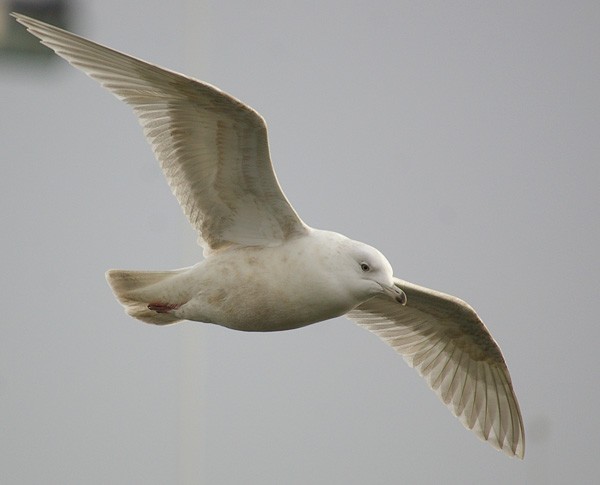 Second-winter Kumlien's Gull, Greencastle, Donegal (photo: Derek Charles)
Other sites that have a good record for attracting white-winged gulls include the quaint harbour at Burtonport and, with increased watching in recent years, Greencastle harbour is also a good bet. A small congregation of gulls can often be present on the river in Donegal town and are worth a scan while travelling south towards Sligo from Killybegs, and the large Common Scoter flocks at Bundoran and Rossnowlagh are worth searching through for the occasional Surf Scoter.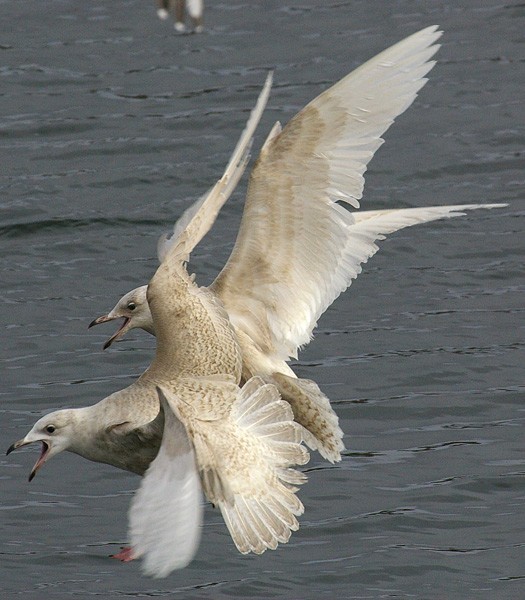 Juvenile Iceland Gulls, Killybegs, Donegal (photo: Derek Charles)
The north of the county around Lough Swilly (Blanket Nook and Inch Island Lake) holds large numbers of wintering wildfowl. Careful scrutiny of the common species has revealed a couple of American Black Ducks, Lesser Scaup and several Ring-necked Ducks in recent times. The rugged peninsula that terminates at Fanad Head has a large Eider flock where borealis-race birds have occasionally been seen.
Content continues after advertisements
Sligo
Nestled between Donegal to the north and Galway to the south, with Mayo jutting out to its west, Sligo has more often than not been neglected by visiting birders. However it is home to Ireland's largest wintering population of Barnacle Geese and in some years, a vagrant Richardson's Canada Goose occurs amongst them. Birdwatch Ireland has a small reserve at Lissadell, to the northwest of Sligo town, and the geese can be found here or nearby in the surrounding fields (at Raghly and Ballintemple) west towards Drumcliff Bay. From the reading of their rings, some of the Irish Barnacle Goose population move over from Islay in midwinter. In fact a Richardson's Canada Goose that I found here in 2003 looked suspiciously similar to a bird that I had seen on Islay just three months previously.

Adult Ring-billed Gull, Sligo (photo: Gavin Thomas)
Though eclipsed by other locations in terms of sheer numbers, you can normally find one or two Glaucous or Iceland Gulls in Sligo town. The area that you need to aim for is the river between Markiewicz Street and Ballast Quay and make sure you are armed with a loaf of bread. An adult Ring-billed Gull has also been a regular sight over the years on the river near the Harp Tavern. Heading west into Sligo Bay, Cartron Marsh is worth checking for gulls while the two King Eiders at Drumcliff Bay and a Lesser Scaup on Lough Arrow this winter prove that Sligo is worth more than just a cursory glance.
Mayo
Battered by the Atlantic and with is endless peat tracts, Mayo has a remote beauty that, as you head west, you cannot help to admire as you genuinely reach the end of the road. Much of Mayo's pulling power is down to its westerly location, and an increase in coverage recently on The Mullet has revealed that it is an excellent spot for winter birding. Barnacle Geese can be found in the fields adjacent to Termoncarragh Lake and Cross Lough, while any waterbody is worth scanning for wildfowl.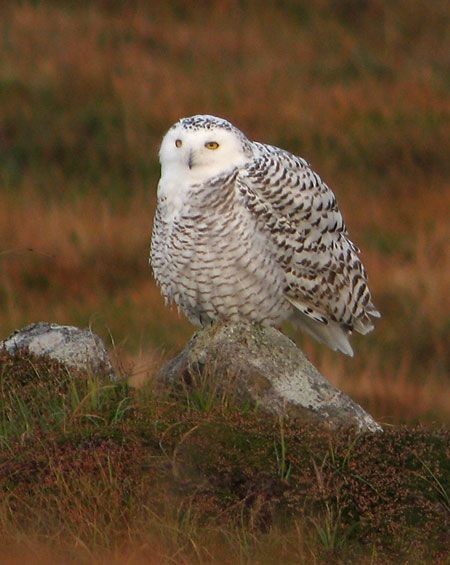 Snowy Owl, Blacksod, Mayo (photo: Steve Blain)
The exposed sandy beaches on the west side of The Mullet are worth scanning for both Iceland and Glaucous Gulls, particularly that at Annagh where American Herring Gull has also been recorded, and earlier this winter a King Eider was present in the bay here. The southern and eastern areas of The Mullet should not be neglected, particularly because a Snowy Owl has been seen on and off in the Blacksod area for several years, while in 2003 I saw a Forster's Tern and an American Black Duck within a few hundred yards of each other at Elly Bay and Leam Lough. The harbour in Belmullet town is a reliable site for Ring-billed Gull, and you should scan the estuary as you head east towards Barnatra especially as a Thayer's Gull was found here in 2005.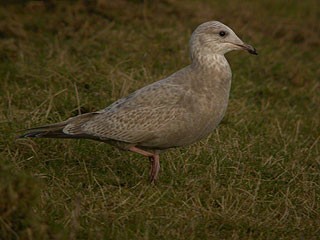 Juvenile Thayer's Gull, Barnatra, Mayo. This individual has now been accepted by the Irish Rare Birds Committee (photo: Mike O'Keefe)
With the number of active birders in the county countable on one hand, Mayo offers any visiting birder a real sense that a surprise could be around the next corner. Last winter, for example, I scanned a small pool near Newport with a group of friends and found that three out of the nine Aythya ducks were Ring-necked Ducks! Lying just south of The Mullet, Achill Island should host a similar array of species and it was home to a long-staying American Black Duck previously. Heading east around Clew Bay, both Mulranny and Westport Quays are worth checking for gulls and waterfowl, while Roonagh Lough near Louisburgh has hosted both Iceland and Glaucous Gulls this winter. Despite attracting both Thayer's Gull and Ivory Gull in the late nineties, Newport Dump no longer exists and is therefore not worth visiting.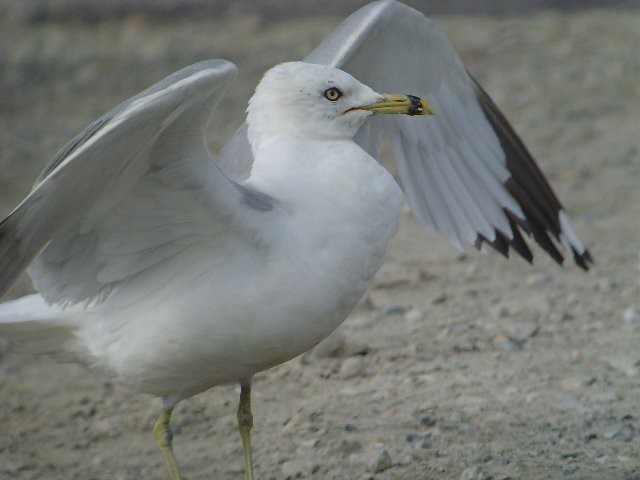 Adult Ring-billed Gull, Belmullet, Mayo (Photo: Richard Bonser)
Galway
If there was one site that you had to name as Ireland's gull capital, then Nimmo's Pier would be it. Situated in the heart of Galway city, where the River Corrib flows into Galway Bay, good numbers of gulls are attracted to the slipway where the swans are continually fed by the locals.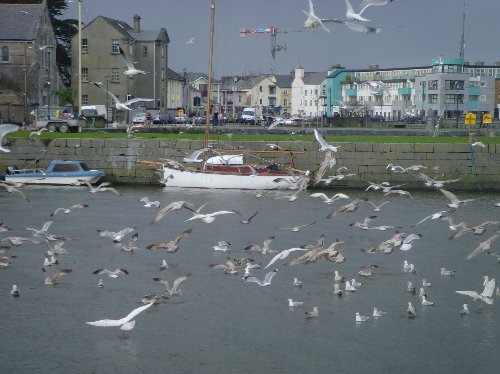 Nimmo's Pier, Galway March 2008. (Photo: Richard Bonser)
If you head to Salthill and cross over the river, Nimmo's Pier is self-evident but if you get lost trying to find it, just ask anyone for 'the place people go to feed the swans'! A disproportionate number of the gulls seem to be of the white-winged variety and you will also get exceptionally good views of at least a couple of Ring-billed Gulls here.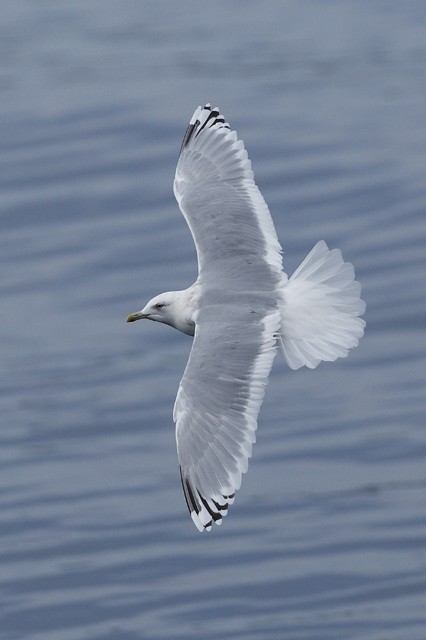 Adult Kumlien's Gull, Nimmo's Pier, Galway. An extremely well-marked individual (photo: Sean Browne)
From year to year, the usual suspects at Nimmo's Pier are joined by something more unusual. An American Herring Gull that first turned up as a juvenile, and now in adult plumage, is present again for its fifth winter while Kumlien's Gulls are near annual. A Forster's Tern has been returning to Galway Bay for several years now and can often be found fishing or on the beach between the end of the pier and the causeway to Mutton Island, while a repeat of either Double-crested Cormorant or Ross's Gull would go down well with today's observers.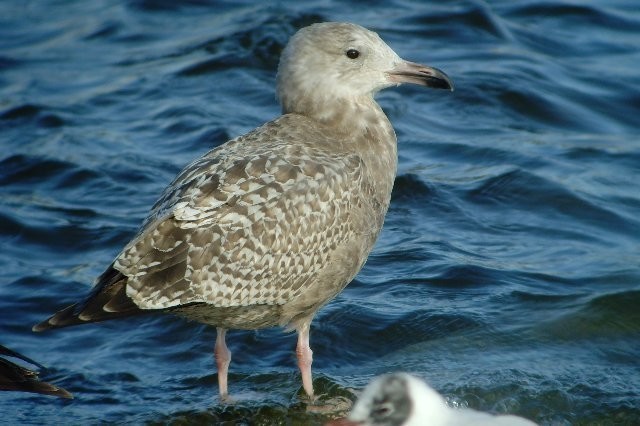 Juvenile American Herring Gull, Nimmo's Pier, Galway (Photo: Richard Bonser)
Many birders focus their efforts solely on Nimmo's Pier, but there is actually a lot more to Galway than just this site. To the west of Galway city, a visit to the small fishing port of Rossaveal is worthwhile. It has hosted both American Herring Gull and Franklin's Gull previously, and you get excellent views of both Glaucous and Iceland Gulls as they scavenge the harbour for scraps of food. And this winter, Clifden Pier on Connemara has seen multiple records of Kumlien's Gull. If you want a break from the gulls, a visit to the vast expanses of Lough Corrib could reveal something interesting in amongst the large numbers of wintering duck.
Clare
As you leave Galway and head south, it is not long before you cross into County Clare. Although most famous for its autumn seawatching at the Bridges of Ross, winter birding in the county can be rewarding too. Clahane and Liscannor Bay attract Glaucous and Iceland Gulls regularly and a couple of Bonaparte's Gulls have been seen here over the years. Slightly further south, one or two Ring-billed Gulls can often be found in the Spanish Point and Quilty area. At the tip of Loop Head, the harbour at Kilbaha is worth a look for white-winged gulls while scanning the surrounding fields may produce a surprise, such as the American Herring Gull found here last March.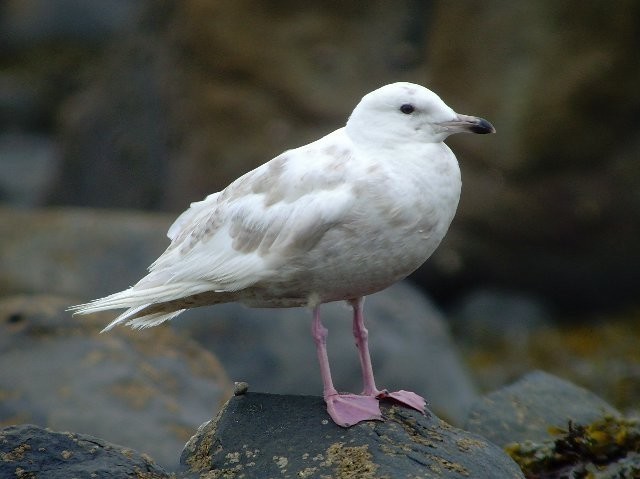 First-summer Iceland Gull, Liscannor, Clare (photo: Richard Bonser)
When not at Nimmo's Pier, the Forster's Tern can sometimes be found on the south side of Galway Bay at Doorus Pier, Kinvarra and a drake Green-winged Teal spends each winter nearby at Bell Harbour. One of Clare's best kept secrets, however, is the large numbers of wildfowl that are present on its inland waterbodies. Centred on the village of Corrofin, Lough Atedaun and Lough Inchiquin are potentially the best to search and records in recent years have included Ireland's second Bufflehead along with more regular scarcities including Ring-necked Duck and Green-winged Teal. Meanwhile, just to the north of Ennis, Ballyallia Lake has a good track record for attracting Ring-necked Ducks, with a drake being present at the time of writing.
Limerick
Travelling down the west coast of Ireland, it is unlikely that you will not pass through the gritty city of Limerick. As you travel across the River Shannon on the N18, on the north side of the river just east of the road bridge you will see an obvious slipway where gulls gather. It is definitely worth at least a quick stop here to chuck out a few slices of bread, as at least one Ring-billed Gull is present here each winter along with the occasional Iceland or Glaucous Gull. If you continue your travels along the road that hugs the River Shannon towards Kerry, do check any flocks of gulls, waders and wildfowl that you encounter in the hope of scarcer species.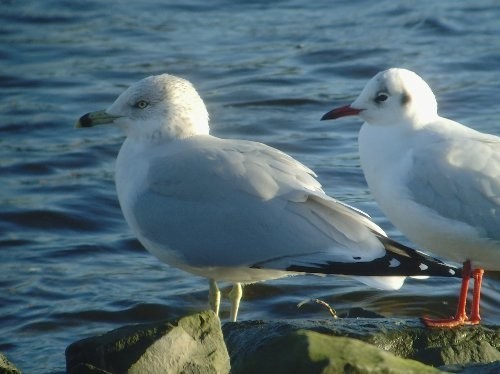 Adult Ring-billed Gull, Limerick (Photo: Richard Bonser)
Kerry
Firmly on the tourist trail with the stunning scenery of the Ring of Kerry and Killarney National Park, Kerry also deserves more attention from birders and there are many sites that are worth careful scrutiny in winter. Probably the best site for gulls in the county is Dingle harbour, where multitudes of white-winged gulls can be found along with records of American Herring, Laughing and Bonaparte's Gulls. The best areas are the main harbour and, at low tide, Milltown Bay just west of the town where many gulls come to bathe. In fact any congregation of gulls on the Dingle peninsula are worth scanning, with other favoured sites being Ferriter's Cove at Ballyferriter, Trabeg, Ventry, and anywhere along the northern coast between Fermoyle and Kilshannig.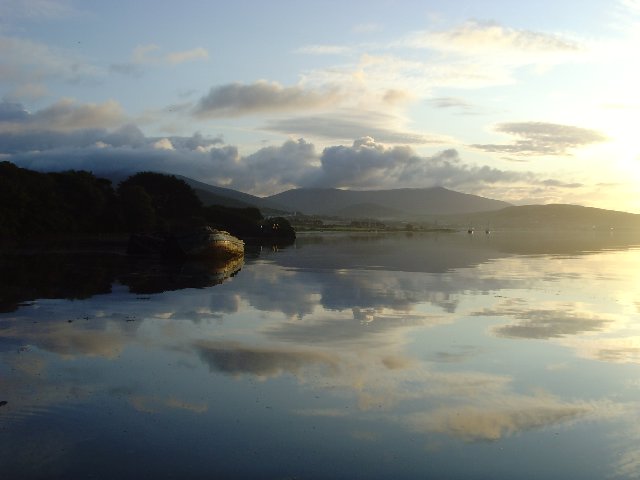 Dingle harbour, Kerry, September 2008. (Photo: Richard Bonser)
As well as its rich scenery, Dingle provides any would-be observer with a rich variety of species to see including good numbers of Great Northern Diver, Common Scoter, Black Guillemot and Chough. Ventry has also been home to a drake American Black Duck for a number of years, normally to be found feeding in the rocks at the west end of the bay near Cuam Pier. Heading back towards Tralee, Lough Gill near Castlegregory is worth scanning for ducks and is most easily accessed from the east end.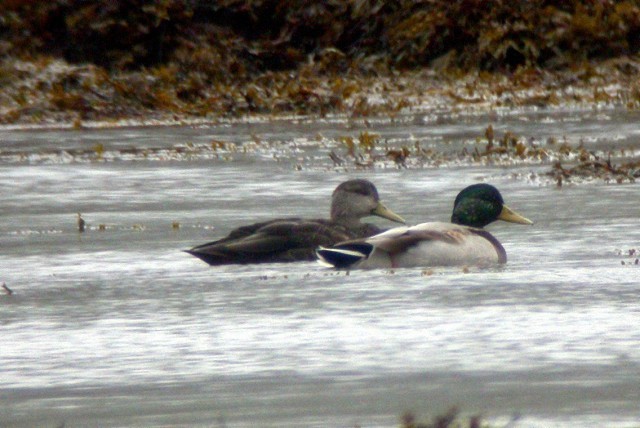 Drake Black Duck, Ventry, Kerry (Photo: Owen Foley)
Just to the west of Tralee, the estuary at Blennerville is the best place for Ring-billed Gulls in the county. In particular the grassy area by the road bridge over the canal and the small boating lake near the new houses are the prime areas to chuck out a bit of bread. Northwest of Tralee, the pier at Fenit has recorded American Herring Gull as well as small numbers of white-winged gulls while concentrations of gulls at Black Rock Strand are worth scanning for Ring-billed and Iceland Gulls. The natural harbour at Barrow is also worth a quick look, as it held a long-staying American Black Duck in the nineties whilst on a single visit here in 2003 I saw Forster's Tern and Common Crane.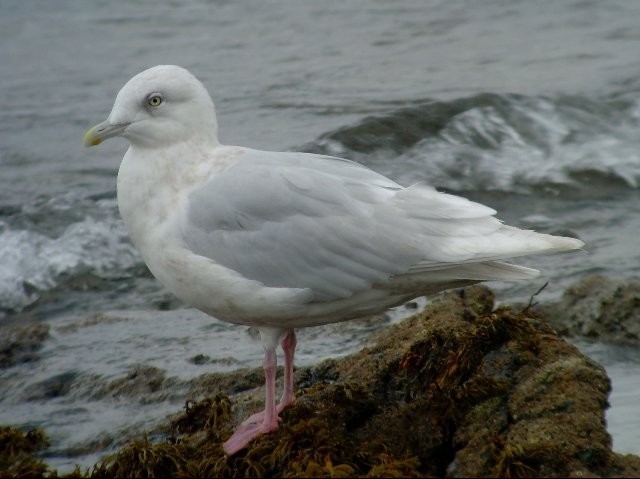 Near-adult Kumlien's Gull, Reenard Point, Kerry (Photo: Richard Bonser)
Heading south along the criminally underwatched Iveragh peninsula, Cromane Point has attracted white-winged gulls in recent years along with a regular Spoonbill. Just west of Cahersiveen, a fish-processing plant at Reenard Point, by the ferry to Valentia Island, could potentially rival Dingle harbour for numbers of Glaucous and Iceland Gulls while Kumlien's Gull has already been recorded here. There are normally a few gulls in the picturesque harbour at Portmagee and, if the sea is calm, search through the vast numbers of Common Scoter at Ballinskelligs Bay to locate the regularly returning drake Surf Scoter.
Cork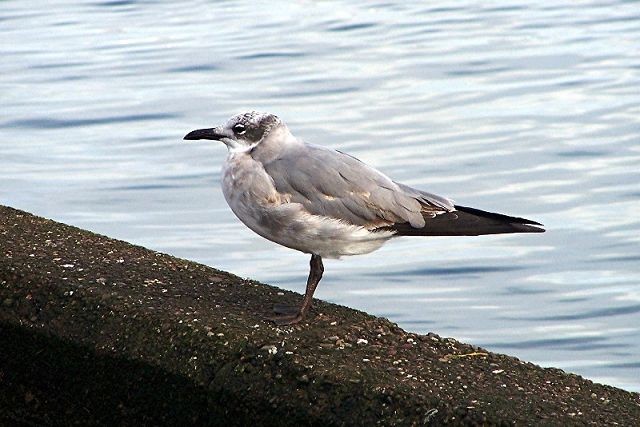 First-winter Laughing Gull, Cork City (Photo: Seán Ronayne)
Cork, famed for its location as a migrant trap in the autumn, is also good for birdwatching in winter. Cork city is close to a number of excellent sites, and within its confines, Cork City Lough offers you the chance of occasional Ring-billed and Iceland Gulls. The area has long been known as a gull mecca with Thayer's, American Herring, Laughing and Bonaparte's Gulls all having been recorded though the closure of Cork City Dump means that numbers of gulls are much reduced these days.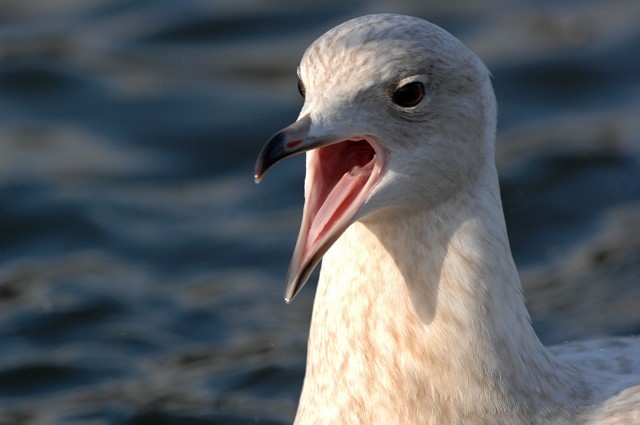 Juvenile Iceland Gull, Cork City (Photo: Richard Mills)
To the southeast of Cork city, checking the gulls around the piers at Cobh should produce Ring-billed Gull as well as regular Glaucous Gulls, and perhaps something more noteworthy given that American Herring, Bonaparte's and Sabine's Gulls have all made appearances here in winter. Nearby Kumlien's Gull, Iceland Gull and Ring-billed have been seen at Cuskinny Marsh already this winter. Further east heading towards Waterford, Youghal Dump has been covered regularly over the last couple of years, and as well as regular white-winged gulls, both American Herring and Caspian Gull (a real rarity in Ireland) have been seen.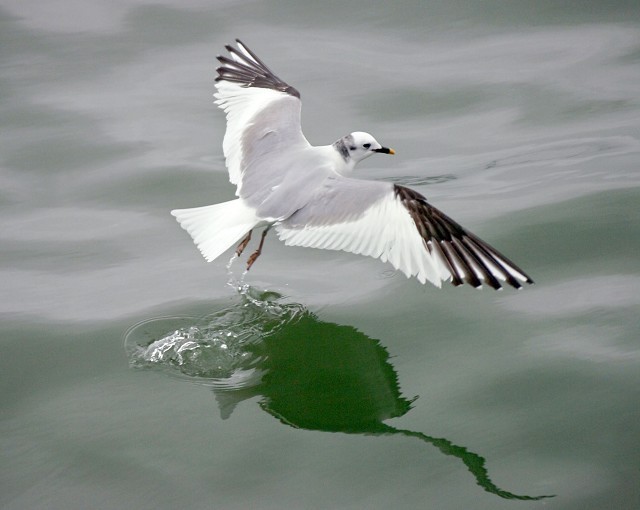 Adult Sabine's Gull, Cobh, Cork. An unseasonable record of this usually pelagic species (photo: Richard Mills)
Cork is blessed with countless estuaries, inlets and harbours that are scattered along its coastline to the southwest of the city. As a general rule, the further south and west you go the more untapped the birding becomes. Kinsale is the first of these harbours and is only a short distance from the city, but Ivory and Franklin's Gulls seen here on consecutive days in January 1999 shows the potential of the place. As you head west from Kinsale, be sure to check the creek at Kilbrittain (where a drake Green-winged Teal has resided this winter) and the estuary by the abbey at Timoleague.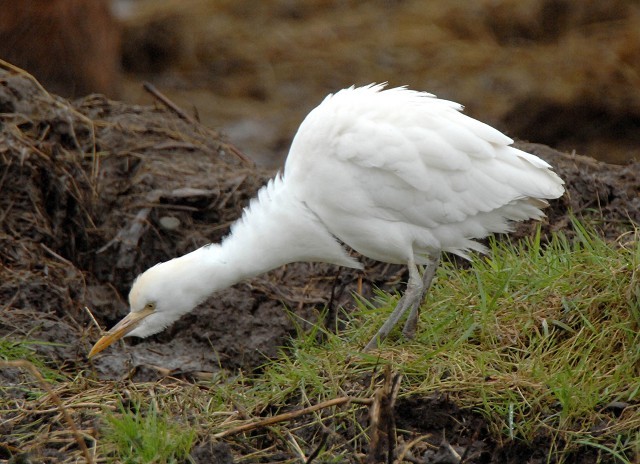 Cattle Egret, Ballincollig, Cork (Photo: Richard Mills)
Along with the southwest of England, Cork has fared well for Cattle Egret sightings over the past two winters. The Clonakilty and Inchydoney Island area seems to be the most reliable spot for them in the county, with at least a handful regularly roosting on Beamish's Pool. The estuary here also attracts regular Ring-billed Gulls, best viewed from the Clonakilty bypass or along the west side of the estuary from the road to Inchydoney. Heading west the estuaries at Rosscarbery, Union Hall and Ballydehob are all worth searching for gulls and waterfowl with a decent chance of locating an Iceland or a Ring-billed Gull. Two Lesser Yellowlegs have wintered at Rosscarbery recently, remarkably different first-winters in consecutive years.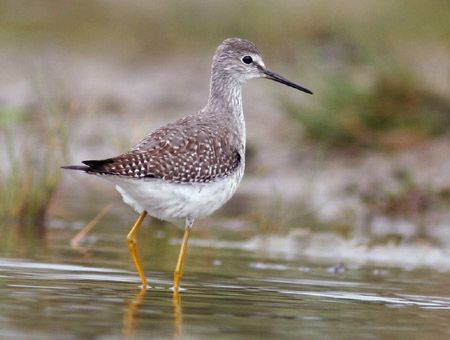 Juvenile Lesser Yellowlegs, Lissagriffin, Cork (Photo: Michael O'Keeffe)
Beyond Ballydehob, you start to see the scenery change from the rolling hills and meadows to a much harsher, rugged landscape. The town of Bantry at the head of Bantry Bay has been put on the birding map this winter with American Herring, Ring-billed, Kumlien's, Iceland and Glaucous Gulls having all been seen in the past couple of months. The small creek in the town, adjacent to the harbour, was the favoured spot for the American Herring Gull while large concentrations of gulls can be found on the estuary looking down from the petrol station north of the town.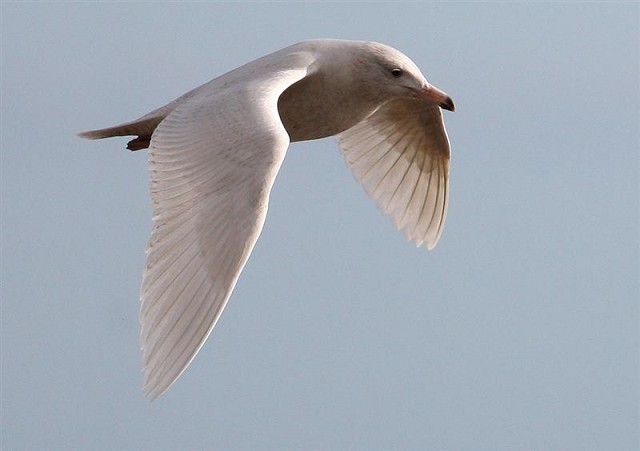 Juvenile Glaucous Gull, Ballybrannigan, Cork (Photo: Sean Cronin)
Bounded between Bantry Bay and the Kenmare River, the Beara peninsula represents remote West Cork. But nestled towards its tip is Ireland's second largest commercial fish port at Castletown Bearhaven. Its remoteness has always meant that it lacks the coverage it deserves, but anyone that ventures here is unlikely to come home disappointed. Amongst the hundreds of gulls, you should hopefully be able to find Glaucous and Iceland Gulls as well as a good chance of a Ring-billed Gull. With a previous record of Laughing Gull and a good candidate for an atlantis Yellow-legged Gull seen this winter, it is likely that future visits to this site will produce some very interesting records.
So for anyone who has an interest in seeing birds well without large crowds or enjoying some genuinely breathtaking scenery along with excellent birding opportunities, I would wholeheartedly recommend a winter visit to Ireland. And please remember if there have been no reports from any site that I have mentioned, it does not mean that there is nothing there. More likely than not, you may be the first birder there for some time so you never know just what you might find.