Introduction and Status
Both species are scarce enough to count as a notable find for the inland birder, and at many coastal locations they also represent a worthy entry in the notebook. The breeding population of Slavonian Grebes numbered just 46 breeding pairs in 2002, with all birds confined to Scotland. A favoured site is the RSPB reserve at Loch Ruthven (NH6127) where 23 pairs were present in 2002. The breeding population of Black-necked Grebes in 2002 was in the range 50–65 pairs, with birds present at 26 localities in 14 counties. During the spring Black-necked Grebes can be opportunistic breeders, quite happily utilising a small pool or temporary floods, though productivity in Britain is low. A traditional site is Woolston Eyes (SJ654888) in Cheshire, where 20 pairs were reported in 2002 (Ogilvie M, 2004).
Few birders would be troubled by the identification of either of these superb species in their resplendent summer garb. A close-up view of either at this time of year is an utter delight, as your retina struggles to assemble the garish feather tracts bobbing about before you. Their identification is a different proposition on a cold winter's day at a large inland reservoir or on a choppy sea.
| | |
| --- | --- |
| | |
| Slavonian Grebe: Highland The reddish neck instantly eliminates the superficially similar Black-necked Grebe (photo: Steve Round). | Slavonian Grebe: Highland Aptly named as Horned Grebe, the golden 'horns' create a distinctive head shape (photo: Dean Eades). |
| | |
| --- | --- |
| | |
| Black-necked Grebe: Prescot Reservoir, Lancs The yellowish fan of head feathers is eye-catching at close quarters (photo: Stephen Tomlinson). | Black-necked Grebe: Pennington Flash, Gtr Manchester The black neck eliminates Slavonian Grebe (photo: Sue Tranter). |
A wintering population of over 725–730 Slavonian Grebes are estimated to be present in British and Irish waters, 55 of them in Ireland. In Scotland both the Firth of Forth and Moray Firth hold internationally important numbers of this species, whilst many stretches of coastline in Britain hold nationally important numbers. The top 10 wintering sites in Britain are the Firth of Forth, the Moray Firth, Scapa Flow/Loch of Harray (Orkney), Pagham Harbour (Sussex), south Cornwall, the Essex coast, Bamburgh (Northumbs), Poole Harbour and Islay (Argyll). These 10 sites account for just over 50% of the British wintering population. In addition Lough Foyle (Londonderry) is an important wintering site (Evans, 2000).
The population of wintering Black-necked Grebes is estimated to be in the region of 120 birds; favoured sites for Black-necked Grebes include: Langstone Harbour SU6903 (Hants) with 20–40 birds; Poole Bay SY9889 (Dorset) with 5–20 birds and; the Fal Estuary SW820330 (Cornwall) with 20–30 birds.
Content continues after advertisements
Identification of non-breeding birds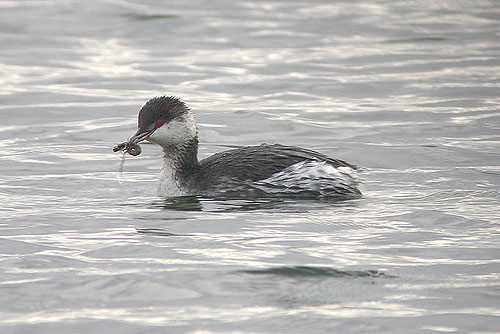 Slavonian Grebe: Baston and Langtoft Pits, Lincs According to BWP, American populations are greyer above, particularly on the crown, which is more pronounced in non-breeding plumage. Naming of subspecies is considered unnecessary as differences are slight and partly clinal, intermediates occur, and single birds are rarely identifiable (photo: Josh Jones).
| | |
| --- | --- |
| | |
| Slavonian Grebe: Toft Newton Reservoir, Lincs Appears black and white, with white cheeks crisply cut-off from the dark cap, which runs horizontally to the bill (photo: Dean Eades). | Slavonian Grebe: Middleton, Lancs Slavonian appears longer, flatter, backed, but sometimes can appear 'fluffed-up' at the rear when loafing, inviting confusion with Black-necked (photo: Sue Tranter). |
| | |
| Slavonian Grebe: Rutland Water Note the straight bill of Slavonian, lacking the upward tilt of Black-necked. This feature is useful at close quarters but is less useful at distance, when shape and structure of the bird are more useful (photo: Andy Brett). | Slavonian Grebe: Belhus Woods CP, Essex The pale tip to the bill can be very obvious at close quarters, a feature not shared by Black-necked (photo: Richard Jeffree). |
| | |
| Black-necked Grebe: Cheddar Reservoir, Somerset The 'fluffed-up' rear recalls Little Grebe, and the sloping forehead and peaked crown create a diagnostic outline, in combination with the 'uptilted' bill (photo: Paul Burrows). | Black-necked Grebe: Clifford Hill GPs, Northants Lacks the pristine appearance of Slavonian, with the black cap scruffily extending below the eye-line (photo: Steve Evans). |
| | |
| Black-necked Grebe: Bull Island, Dublin Even when alert the daintier proportions are clear, as is the distinctive 'outline' (photo: Paul and Andrea Kelly). | Black-necked Grebe: Prescot Reservoir, Lancs Juveniles such as this have a buffier neck and head, with a brownish crown and hindneck. After post-juvenile moult in autumn immatures are indistinguishable from adult non-breeding (photo: Stephen Tomlinson). |
Flight identification
On inland waters this is less likely to be a problem, as any flight is likely to be short. At sea, however, especially under less favourable conditions, the differences between the species can appear less obvious. Both recall auks with their rapid fight action, but given reasonable views separation is relatively straightforward.
Slavonian possesses the contrasting head pattern and slightly different shape though inexperienced seawatchers might struggle to appreciate such subtleties. The white leading edge to the wing can be quite noticeable and on the rear of the wing the white is largely restricted to the secondaries. However, such detail can be difficult to appreciate in a force 8 northerly! In flight Slavonian tends to head-lift for prolonged periods, a useful feature if noted.
Black-necked looks less clear-cut with respect to head pattern. It lacks the white forewing of Slavonian, and on the rear of the wing the white extends onto the inner primaries, thus appearing more extensive.
References
Ogilvie, M. 2004. Rare breeding birds in the United Kingdom in 2002. British Birds: 97:492-536
Evans, R.J. 2000. Wintering Slavonian Grebes in coastal waters of Britain and Ireland. British Birds: 93:218-226