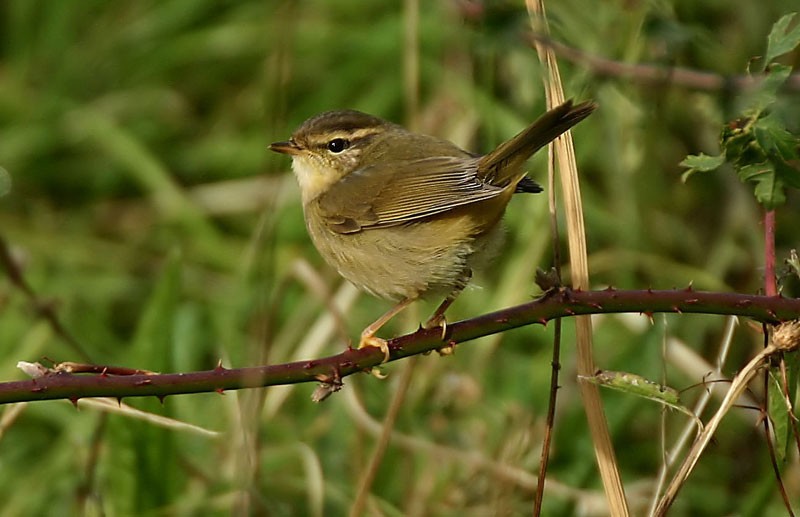 Radde's Warbler: E. Yorks Typically, Radde's has a stout bill, which is short and blunt-tipped. The supercilium is diffuse to the front of the eye and warm-coloured, and whiter to the rear. Tends to look sturdier than Dusky, being slightly larger and with more deliberate movements, and has regular tail flicks, interspersed with swivels of the rear end when nervous. The undertail coverts are apricot-buff and the legs thicker than Dusky and paler coloured. Best separated through a combination of features. If heard, the call differs from the harsh 'teck' of Dusky, being softer (photo: Jon Lowes).
As a species pair Radde's Warbler and Dusky Warbler go together like bread and butter. Separation of both is widely considered to be relatively straightforward, and they are perhaps not considered as tricky an identification conundrum as they once were. However, finders need to be wary of the variability of features, and complacency can be a pitfall for the over-confident. Any bird should be identified using a combination of characteristics.
Dusky Warbler breeds over much of Siberia, as far south as the eastern Himalayas. The wintering grounds extend from Nepal and northern India eastwards to Southeast Asia and southern China. Radde's Warbler has a much smaller breeding range, from central Siberia eastwards to the Pacific. The wintering grounds lie in southeast Asia.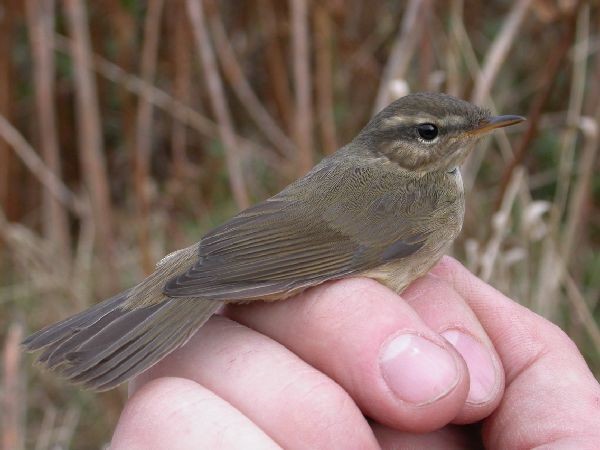 Dusky Warbler: Cleveland Typically, Dusky has a fine and pointed bill. The supercilium is well defined to the front of the eye and buff-brown to the rear. Tends to look similar to Chiffchaff in shape and is more active than Radde's, typically feeding low with regular flicks of the wings. The legs are thinner than Radde's and not as pale, though colour is variable. If heard, the call is a distinctive harsh 'teck', recalling Lesser Whitethroat (photo: Damian Money).
Both had occurred in Britain on just one occasion prior to 1958, but there has been a dramatic increase in sightings since the late 1970s. Despite level-pegging in numbers over the years, in recent times Radde's has, numerically, become the 'rarer' of the two with around 270 British and Irish records, with Dusky seen 320 times. Indeed, both are now so 'frequent' that from 2006 they are no longer considered 'true' rarities and have been downgraded to scarce migrants by the BBRC.
In terms of timing (see graphs below) Dusky generally arrives later, whereas Radde's tend to be earlier, with the majority of records in October, peaking in the middle two weeks of the month and very few records outside of October (for example the latest to be found was at Prawle Point (Devon) on 10th November 1991, one of very few that have occurred in early November). Dusky numbers peak from mid-October onwards and into early November, and birds continue to be found through into late November. Radde's tends to be rarer further north, and has a more 'southerly' occurrence pattern, which perhaps reflects the more southerly breeding distribution of Radde's compared to Dusky.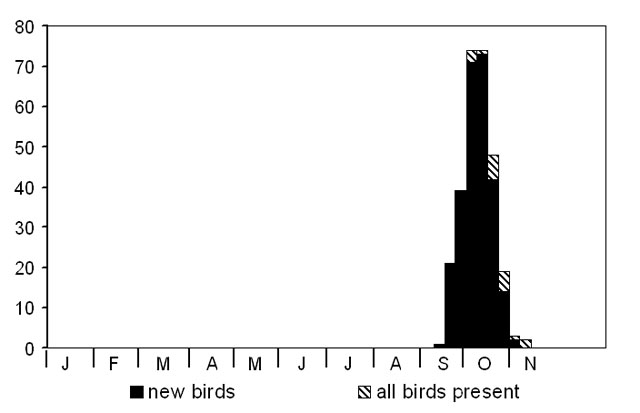 Radde's Warbler: Weekly occurrence pattern — Radde's is not a species that likes to linger for long, and relatively few birds put in prolonged stays. Arrivals are tightly bunched, an overwhelming proportion of which have been in October. Early November records are rare, and apart from one in Hampshire in December 2005 winter records are unknown. Unlike Dusky, there is no inkling (yet) of a return spring passage through Britain.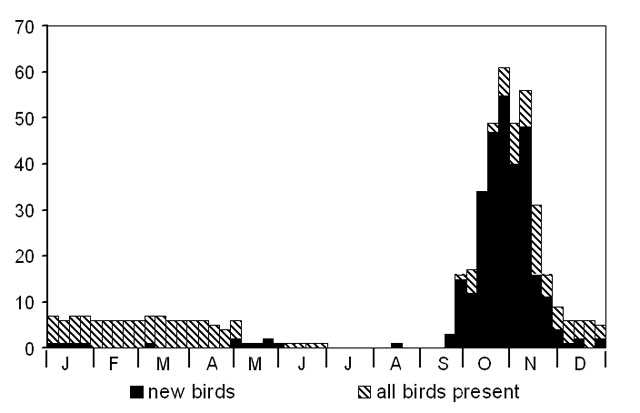 Dusky Warbler: Weekly occurrence pattern — Dusky tends to be less inclined to move on quickly, and stays of several days are not unusual. Although the first birds to arrive correlate well with Radde's, the peak of arrivals occurs later than the confusion species and extends well into November. Wintering birds can be met with at any time, though the date of detection is unlikely to represent the data of arrival. Most presumably filter down to the milder southwest, in common with Chiffchaffs. A small spring passage is evident, perhaps of birds returning from wintering areas to Siberian breeding grounds and it is likely that more are overlooked.
The earliest Dusky Warbler was an exceptional record at Bamburgh (Northumberland) on 18th August 1980, perhaps involving a bird that had oversummered in western Europe as it was found over a month earlier than expected. Otherwise, the earliest records were found in Norfolk on 22nd September 2001 with birds at Kelling and Sea Palling. The earliest Radde's Warbler was found on Fair Isle (Shetland) on 23rd September 2001. Unlike Dusky, there have been some exceptional localized falls of Radde's in recent years with, for example, 7 on the Isle of Scilly on 15th October 1999 and 8 in the Spurn (E. Yorks) area on 1st October 2000 — for such a skulking species presumably more went undetected at the time.
Of the two, Dusky currently presents the most interesting occurrence patterns, with their status changing quite dramatically in the last decade. One trapped on the Isle of Man on 14th May 1970 was then found dying near Limerick (Co. Limerick) on 5th December 1970. Could this bird have been trapped following departure from its wintering grounds in the spring and then amazingly relocated back near its wintering area the following winter? There have now been many wintering records, nearly all from southwestern England and Dusky could now be considered a rare winter visitor, in addition to scarce autumn vagrant and rare spring migrant. Radde's has yet to winter, but one was reported in Hampshire in early December 2005. Perhaps the first attempted wintering record of this species may not be far off in the warmer winter conditions that have facilitated regular wintering by Dusky Warblers in recent years.
The identification of this potentially confusing pair has been covered in detail elsewhere, and we are pleased to be able to present a paper on separating Radde's and Dusky Warblers first published by the journal British Birds and written by Dr Colin Bradshaw of the British Birds Rarities Committee, click here to read a PDF of the article (please note that this file is 4.77MB in size).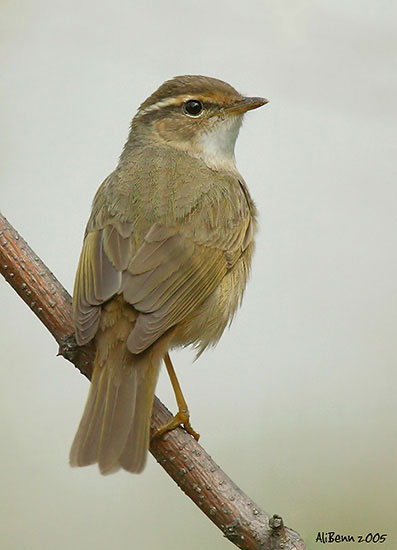 Radde's Warbler: China (photo: Available Light Images).
Support for PDFs is built into many modern web browsers, but if the above link doesn't work for you, you may need to download Adobe Reader (free download) by clicking the following button:

The British Birds Rarities Committee applies uniform adjudication standards to claimed records of rare birds in the United Kingdom, excluding Northern Ireland. The annual report is published in the monthly journal British Birds. To find out more about the BBRC, go to the British Birds Rarities Committee website, and to see the latest press release from the BBRC, click here.
British Birds (BB) is a monthly journal for all keen birdwatchers. Articles are published on a wide variety of topics, including behaviour, conservation, distribution, identification, status and taxonomy. Contributors include both professional and amateur ornithologists, and content is always abreast of current ideas and thinking, yet written in a clear and simple style which is easy to interpret. BB is regarded as THE journal of record in Britain, and includes the annual reports of the Rarities Committee and the Rare Breeding Birds Panel. For more information, see the British Birds website.