With a complete circumpolar distribution, Rough-legged Buzzard breeds across the tundra and taiga of North America and Eurasia, between latitudes of 61° and 76° N. Eurasian birds migrate south to lower latitudes across Europe and Asia to spend the winter, while the North American subspecies sanctijohannis winters in southern Canada and the central United States. The largest subspecies, kamtchatkensis, is found in north-east Siberia and Pacific North America.
Generally speaking, Rough-legged Buzzard is a scarce winter visitor to Britain, although this status varies considerably from year to year. Occasional large influxes occur, more often than not when a good lemming and vole year in Fennoscandia triggers a bumper breeding season, resulting in large numbers (mainly juveniles) dispersing south-west in the autumn. In these years – which occur perhaps on an average of every six to eight years – Britain can sometimes enjoy bountiful showings of the species. Autumn 1974/75 was arguably the greatest, when up to 250 birds were recorded in October alone. More recently, in 2010, there were over 100 reports during October and November, including four flying in off the North Sea at Spurn, East Yorkshire, on 17 October.
At the time of writing, it seems that another Rough-legged influx could be on the cards. Between 28 September and 31 October 2018 there were 34 sightings; compare this with just three confirmed records during the same time frame in 2017. This apparent influx is mirrored in Dutch records, too – 63 have been tallied over Trektellen vis-mig sites this autumn, and they're seemingly still coming – on 31 October, counts of seven and four were made at separate locations in the north of the country.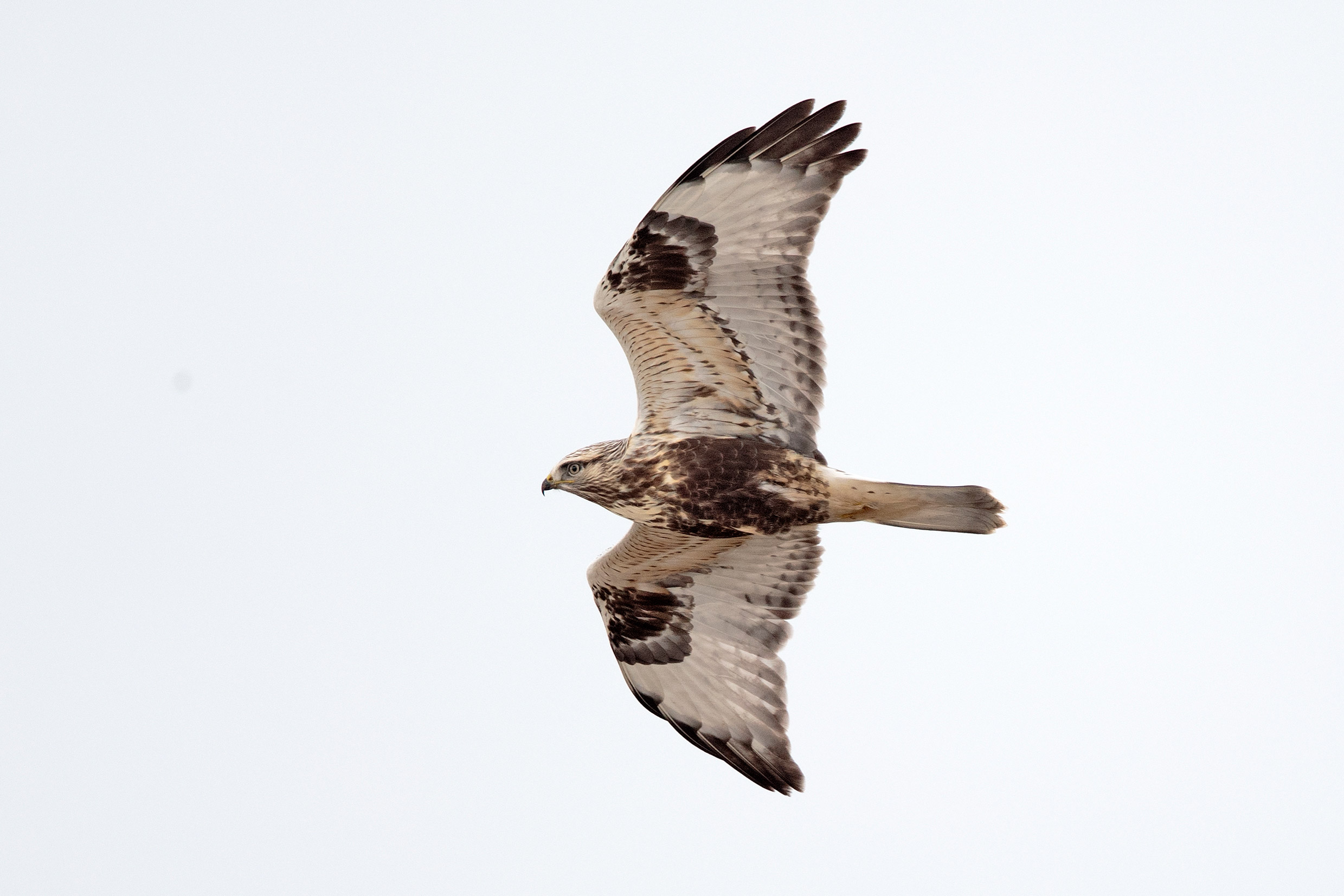 The number of Rough-legged Buzzards seen in Britain varies year on year. While virtually none were seen in winter 2017/18, the early indications are that 2018/19 is set to be much more productive for the species (Graham Catley).
Where to look
Typically for a Scandinavian migrant, the vast majority of British Rough-legged Buzzards occur in the east of Britain, with records few and far between in western areas. In Ireland, Rough-legged Buzzard is a genuine rarity, with just 47 records of 49 birds, the last of which was in Co Wicklow in winter 2011/12. Furthermore, one of these birds has been definitively identified as Nearctic santijohannis, with at least a couple of others suspected to belong to this subspecies (more on Nearctic birds can be read here). Coastal marshes and farmland are a big hit with wintering birds, as well as newly arrived individuals. While the North Kent Marshes and north Norfolk traditionally enjoy a decent track record for hosting the species, there are few sites where they can be deemed truly 'regular'. Indeed, any suitable open habitat on the east coast from Scotland down to Kent is well worth searching.
In bumper years, Rough-legged Buzzards are naturally more widely spread, and can even be found inland or further south and west than normal (for example, there've already been records from Portland Bill, Dorset, and Titchfield Haven, Hants, in October 2018). Consequently, any area of open downland and arable farmland that supports abundant rodent prey could come up trumps. Essentially, any habitat that looks favourable for harriers or Short-eared Owls can be deemed a good place to start looking for Rough-legged Buzzard.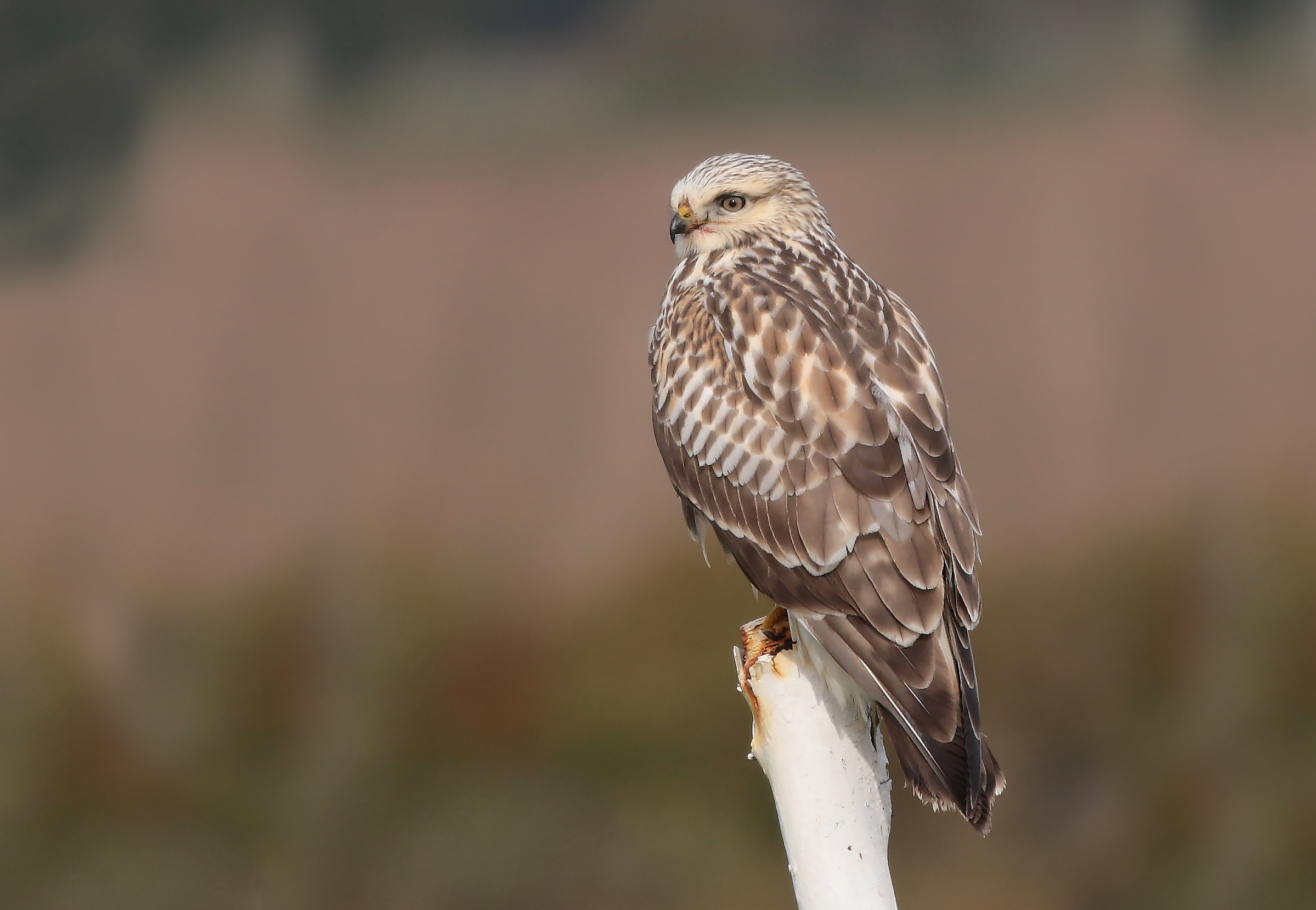 Rough-legged Buzzards tend to favour areas of open or rough ground, where the vole supply is plentiful. They can be located sitting watchfully on favoured perches and, as with other tundra species, are often quite tame – like this juvenile in Essex in October 2015 (Jay Ward).
Identification
The highly variable plumage of Common Buzzard renders safe Rough-legged Buzzard identification a thorough process. Away from the east coast in particular, pale Common Buzzards are far more likely, even in influx years, and pale Common Buzzards can perform incredible Rough-legged look-alike acts. That said, a classic juvenile Rough-legged Buzzard – certainly if seen well – is quite striking, and can be called on an amalgamation of key features.
If scanning a large area, one may initially be drawn to a consistently hovering Buteo with somewhat lethargic wingbeats, or a hanging bird twisting its tail in a way reminiscent of a Red Kite. Rough-legged is somewhat bulkier and longer-winged that Common Buzzard, and shows a distinct bend at the carpal joints that creates a flattened-down appearance of the primaries, quite unlike the classic V-shape often seen in Common.

This photo perfectly illustrates the flight action and appearance of Rough-legged Buzzard: rather more long winged than Common Buzzard, the bird shows the classic 'bend' at the carpal joints and is also twisting its tail, rather reminiscent of Red Kite (Oscar Dewhurst).
In terms of plumage, it's best to focus on juveniles, given the majority of birds we get in Britain are this age. Five important features stand out:
A bright white tail and uppertail coverts contrasting with a black terminal band. When viewing a bird from above, the band is thick and dark, but from below far less obvious, narrower and diffuse. Common Buzzards rarely show a clear-cut black and white tail.
A buff-white head and breast that are strikingly at odds with a very dark, chocolate-brown belly. This can make juveniles appear almost pot bellied at times.
Solid blackish carpal patches on the underwing. These are small, slender patches or marks on pale Common Buzzards.
A pale, whitish panel at the base of the upper primaries, which is very rare in Common Buzzard.
Thick black tips to the underside of the outer primaries, but dusky and narrow tips to the underside of the inner primaries and secondaries.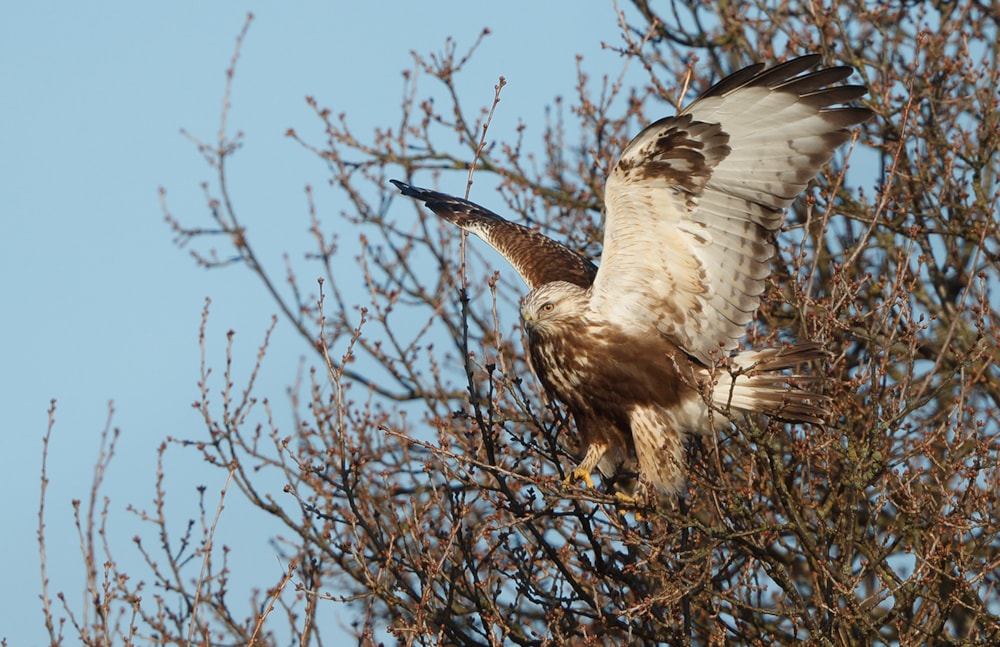 This juvenile Rough-legged Buzzard exhibits several tell-tale plumage features, including the buffy-white head contrasting with chocolate-brown belly, blackish carpal patches contrasting with largely pale underwing and contrasting black-and-white uppertail, as well as the feathered tarsus that give the species its name (Helge Sorensen).
The tail band is a good way of ageing Rough-legged Buzzards, though adults (particularly males) can also be told by their darker heads, and both adult male and female birds lack the white panel on the upper primaries. Adult males and females can have a variable pale crescent between the belly and neck, a feature typical of Common Buzzards, and the brown tones of all Rough-legged Buzzards tend to be colder than Common Buzzard. The underwing coverts on juveniles are generally a lot less marked than in adults, adding to the pale appearance. If a bird is perched, and views are good, the diagnostic feathered lower tarsus may be made out. A combination of the key features, as well as location and behaviour, is crucial in ruling out a pale Common Buzzard.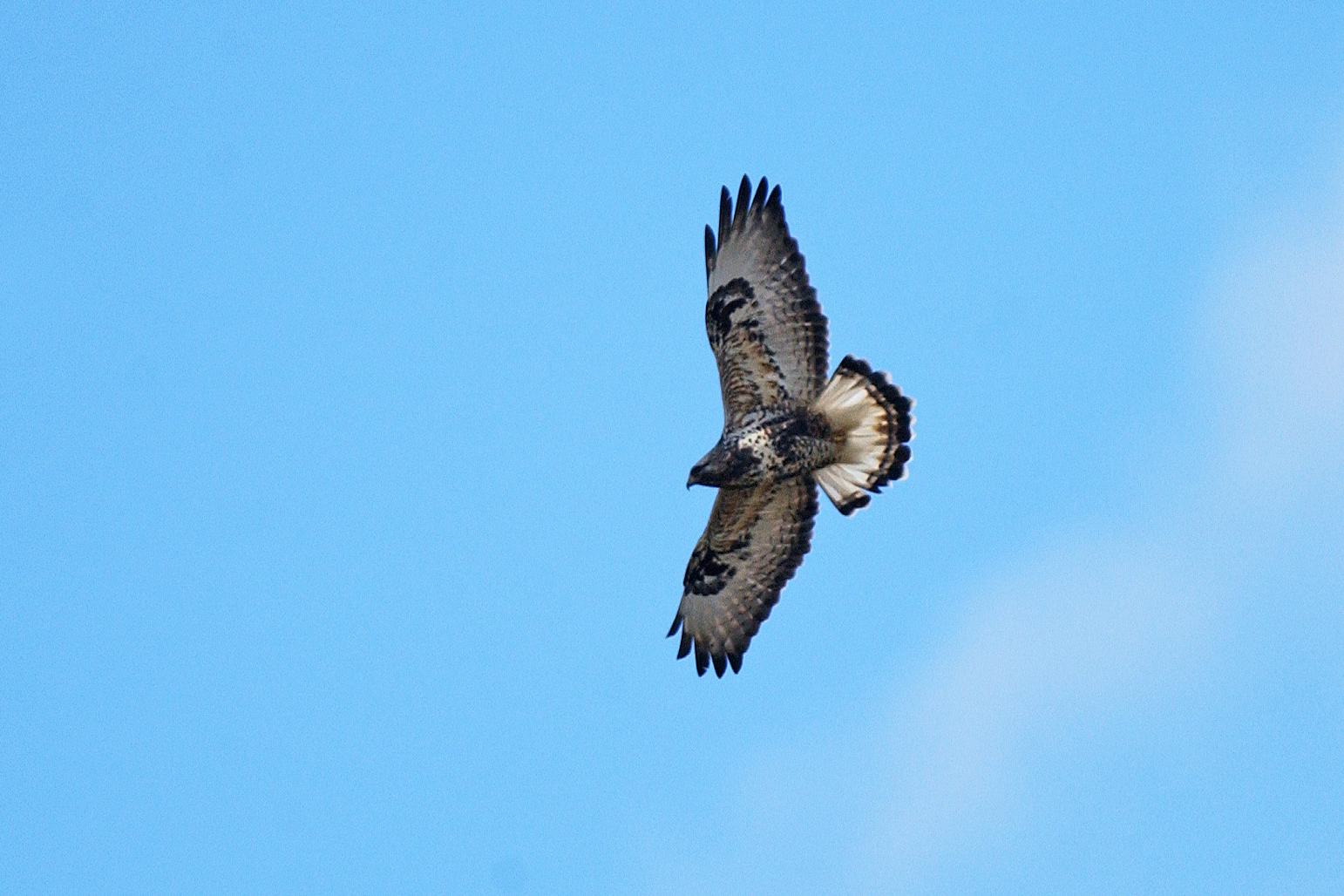 Adult male Rough-legged Buzzards are less distinctive than juveniles when viewed from below. However, note the largely white tail (with clearly demarcated black tip) and dark brown gorget contrasting with paler crown and solid dark colouration to the carpals, as well as structural qualities (Steve Young).