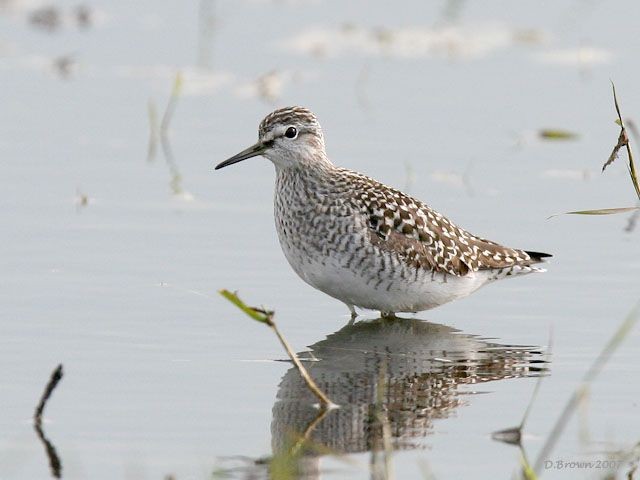 Wood Sandpiper: Northumbs, May. An attractive passage migrant, scarce in spring but more numerous in autumn. Movement to, and from, breeding and wintering areas takes place overland, largely to the east of the UK. The largest numbers occur in east-coast counties, especially East Anglia and the southeast. Spring passage takes place from late April to early June and returning birds can be noted from late July to mid-September (photo: David Brown).
Introduction
The late summer period can be a quiet one for birders awaiting the increased pace of the autumn. Inland watchers who have scoured their local wetlands during the spring find little other than breeding birds to steal their attention. The change in 'season' is quick though and the first sign of movement in these areas is usually the appearance of a 'bobbing' Green Sandpiper or two; their unobtrusive presence at the muddy margins often only betrayed when they take to the air with their clear ringing call, black wings and white rump. It is also during these periods that the much scarcer (in the UK) Wood Sandpiper may put in an appearance, often alongside their commoner relative allowing observers the opportunity to compare these two delightful waders.
European Distribution and Movements
With a European breeding population of between 330,000 and 800,000 pairs, the bulk of Green Sandpipers breed in Russia and Finland. The total European breeding population of Wood Sandpipers is estimated to be in the range 350,000-1,200,000 pairs, mostly in Russia, Finland and Sweden. A handful of pairs of Wood Sandpipers breed in Britain, but it is predominantly a passage migrant in spring and autumn. Green Sandpiper has only bred in Britain on a couple of occasions. The Green Sandpiper is a common passage migrant, particularly so during the autumn, and it also has a UK wintering population of less than 1,000 birds.
Wood Sandpipers winter across Africa, southeast Asia and Australia. Britain attracts a variable number of birds heading to or from their Scandinavian breeding grounds. Numbers vary from year to year and in some years birds can be relatively scarce, whilst in others with a favourable easterly airflow good numbers can be seen.
In 'autumn', the first Green Sandpipers tend to occur during mid-June, after which numbers build up through the rest of the autumn. The first arrivals are adults, presumably females, as the care of the young is the responsibility of the males. These birds are then supplemented by juveniles from late July onwards, with main passage taking place between July and August. In late summer and autumn, birds can be found in a wide variety of habitats from small puddles through to the muddy margins of large reservoirs. During the winter months there is a shift away from gravel pits and lagoons to areas with running water, though there is a strong degree of site fidelity with birds returning winter after winter. As a young birdwatcher growing up near York I used to watch a Green Sandpiper each winter in a small pig run near my home; the habitat was nothing more than sludge with several pigs for company, but this bird returned for at least six winters running.
Identification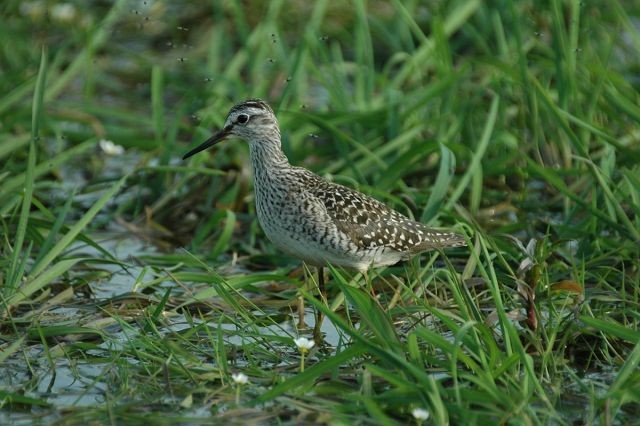 Wood Sandpiper: Poland, May. The boldly marked upperparts and obvious supercilium passing behind the eye are obvious pointers to a spring bird, as are the relatively long yellowish legs and marked breast and flanks (photo: Stuart Greer).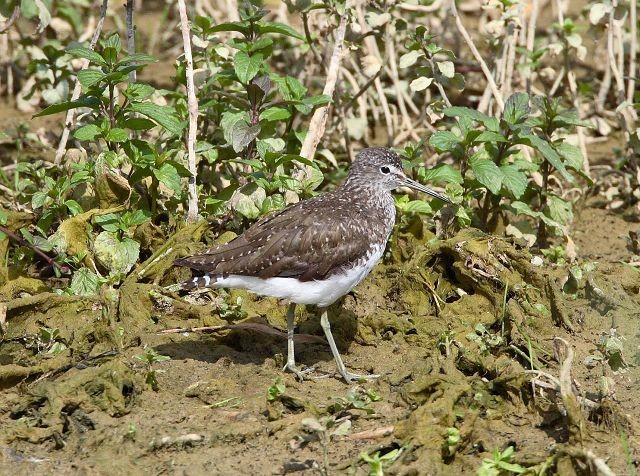 Green Sandpiper: Northants, July. Less striking than Wood Sandpiper, with shorter greyish-green legs. The upperparts are dark with faint mottling and the supercilium shorter, extending to above the eye. The underparts are cleaner than Wood Sandpiper, lacking the bars and stripes on the breast and flanks (photo: Neil Khandke).