August may traditionally be one of the quietest months of the year for some birders; apart from the odd Robin, few passerines are in song and many are still in post-breeding moult and difficult to see in thick late-summer vegetation. However, it's also the month that sees the onset of migration for both Continental and British passerines. While many of these will be common breeders such as Wheatears, Blackcaps, Chiffchaffs and Whitethroats, suitable weather conditions can bring a range of early autumn migrants from the Northern Isles, right down the length of the east coast.
Migrant passerines are often hostages to the weather, with different conditions and wind directions affecting different species, depending on their departure locations and the orientation of their migration routes. It is common knowledge among birders that an easterly component to wind direction in autumn can signal the arrival of scarcer migrants along the east coast – on the other hand, a westerly blow will ensure almost no arrivals occur. As a result, keeping one eye on the weather charts is vital to making the most of opportunities as August progresses.
Anti-cyclonic weather over Scandinavia provides the best departure conditions and, combined with east or south-east winds, can deliver any of the 'classic' scarce August migrants to eastern areas. Barred Warblers are often the first to arrive; invariably inexperienced juveniles, these big Sylvia warblers can be found in coastal brambles, elders and hawthorn. Patience is needed as they are often elusive as they sluggishly clamber about in dense bushes – look out for the heavy chevrons of the undertail coverts, a tell-tale sign that the mystery Sylvia is a juvenile Barred as opposed to the similar Garden.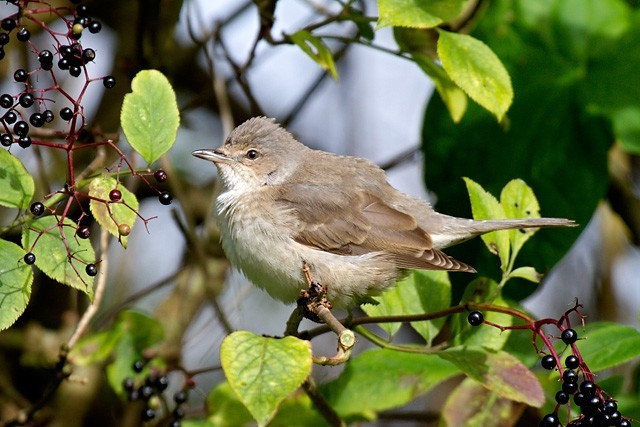 Barred Warbler (Photo: Nick Clayton).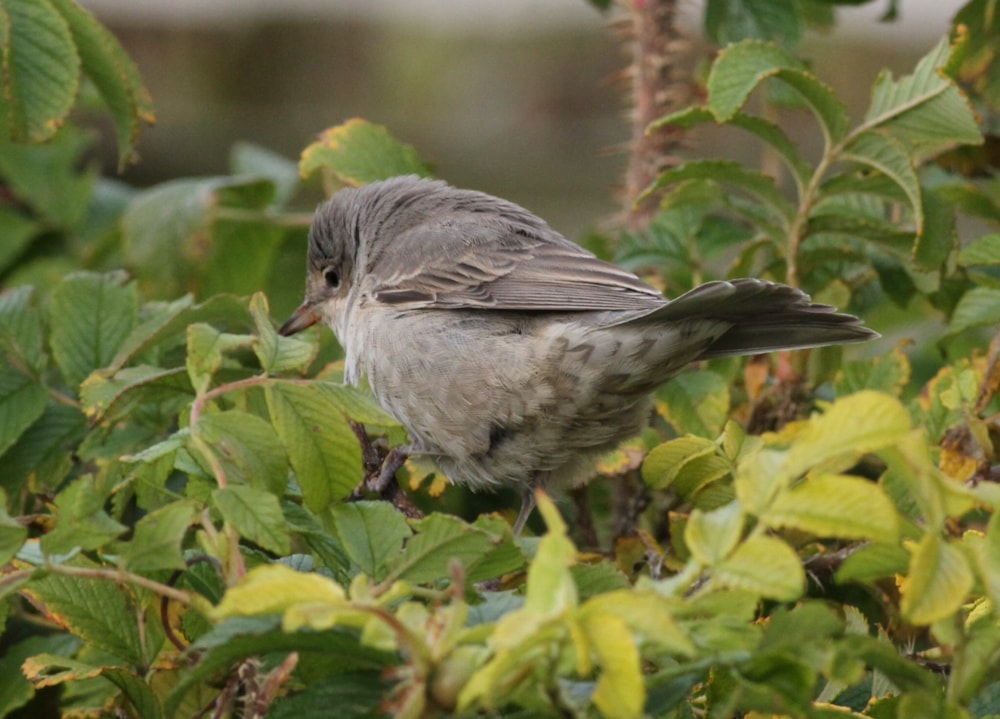 Barred Warbler (Gordon Hodgson).
Away from the Northern Isles, locations that seem to do particularly well for Barred Warbler include Girdle Ness (Aberdeenshire), Barns Ness (Lothian), Holy Island and Newbiggin (Northumberland) and Spurn (E Yorks) and, by the second half of the month, sites further south such as Gibraltar Point (Lincs) and several sites on the Norfolk coast, particularly Blakeney Point and Winterton Dunes. Birds can turn up just about anywhere, though.
Where there's Barred Warblers there are often Red-backed Shrikes, the two species regularly appearing 'together' at the same sites in August and early September. Like Barred Warblers, juveniles dominate but watch out for the odd autumn adult. While early in the month it's the east coast that's the most likely location, as August progresses they can and do filter inland and further south and west.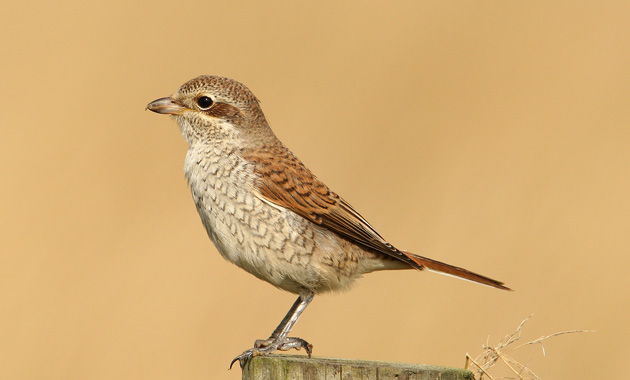 Red-backed Shrike (Photo: Steve Arlow).
Warblers offer a great opportunity to find something special in August. Numbers are vastly swelled by British-bred juveniles as well as arrivals from the continent; individual coastal sites can witness massive changes on a daily basis with a huge number of birds moving. Garden Warblers and Lesser Whitethroats often appear at coastal sites well away from breeding locations. Phylloscopus warblers such as Willow Warblers and Chiffchaffs can be everywhere, but require attention as the late summer weeks are also a prime time for Greenish Warblers to appear. On the Scottish mainland, Aberdeenshire has a great track record for the species, as does the English northeast from Northumberland south to Spurn. The Old Fall area of Flamborough Head, for example, has a strong track record with the species and is as good as anywhere if you're looking to boost your self-found list.
Content continues after advertisements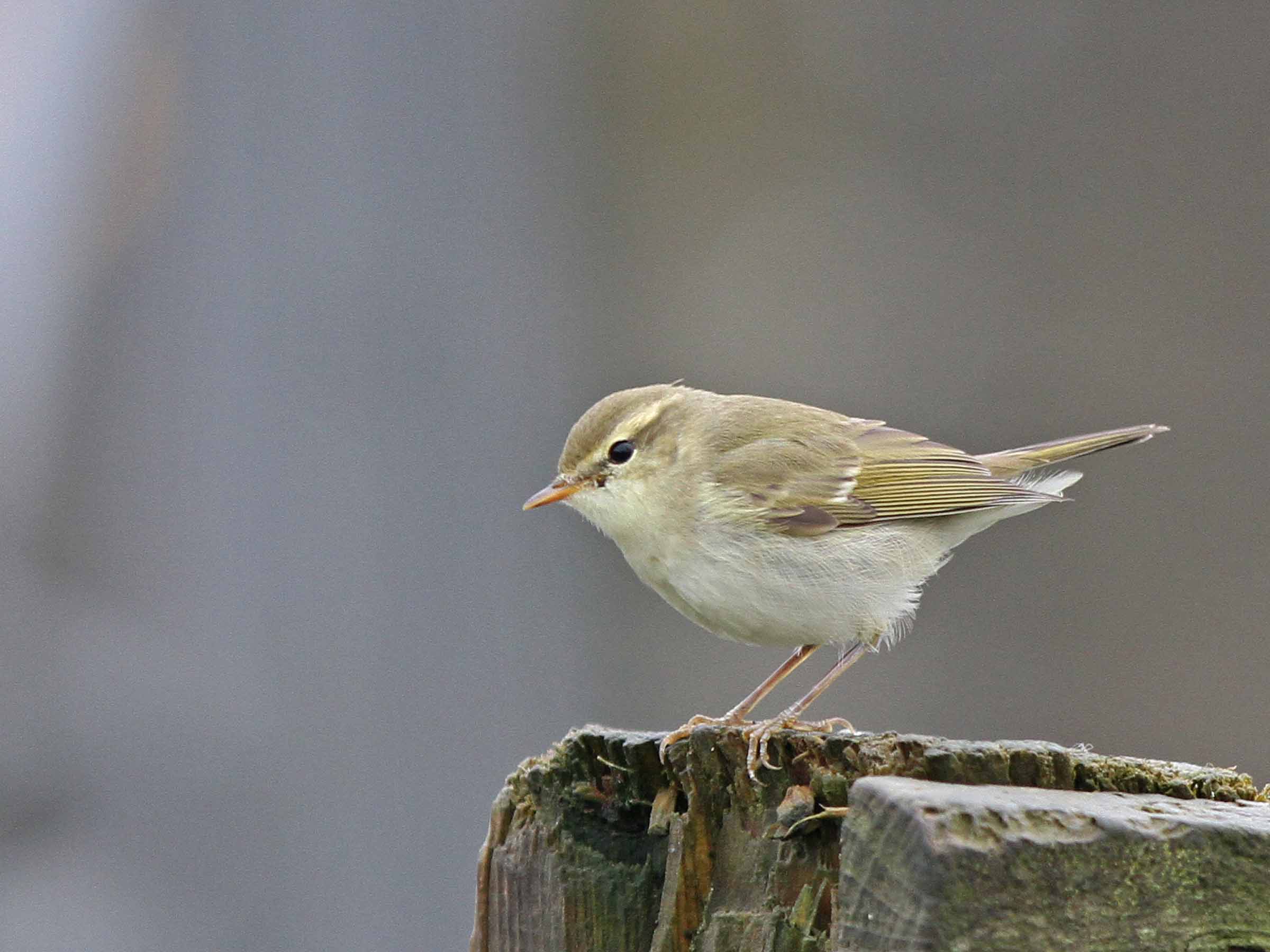 Greenish Warbler (Photo: G Petrie).
Icterine Warbler, too, is a classic early autumn species. In suitable conditions, birds can turn up any time from the second week of August onwards, although later in the month (and the first half of September) represents peak time for this classy Hippolais warbler, which can be surprisingly hard to catch up with. Once again, the east coast is the place to be and sites such as the Farne Islands (Northumbs), Spurn and Blakeney Point are particularly productive.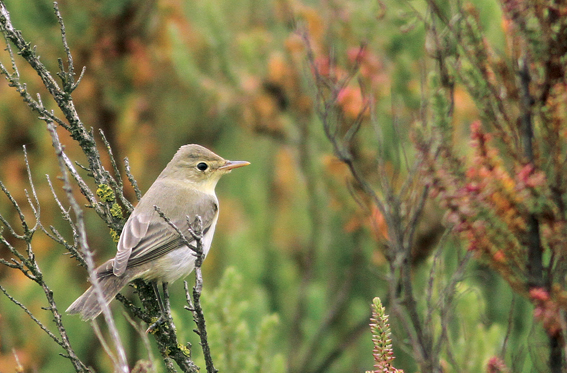 Icterine Warbler (Photo: Penny Clarke).
The final week of the month is prime time for another classic early autumn drift migrant – Wryneck. With a tendency to linger a little longer than in the spring, August and early September offer the best opportunity not only to catch up with this cryptic species, but also to obtain truly gripping views – an experience that is never forgotten. East-coast headlands are again going to offer the best potential: any area with a few bushes and small trees or dune scrub and perhaps a stretch of dry-stone wall is ideal.

Wryneck (Photo: Ivan Ellison).
Moving away from the east coast, August and September are the best months to search for Melodious Warblers in Britain. Though birds can turn up as early as late July, the most prolific time for this south-west European species is the coming month or so. Portland (Dorset) remains the best site for this species in Britain, although anywhere along the south coast can come up trumps – the Isles of Scilly tends to produce multiple records annually, and the valleys of West Cornwall are also hotspots.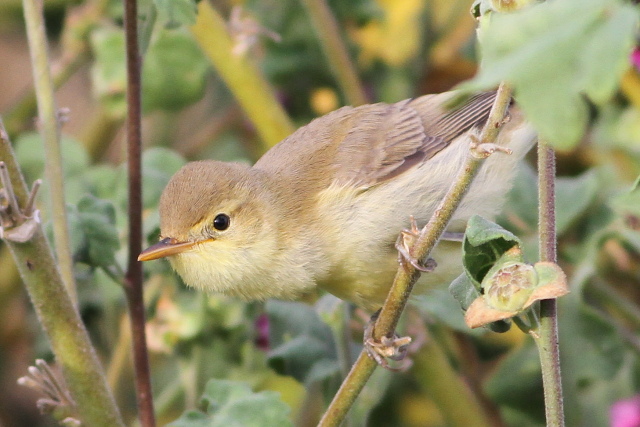 Melodious Warbler (Photo: Peter Moore).
If you're a patch birder, August can offer an excellent opportunity to add 'difficult' species to the patch list; post-breeding dispersal of juveniles can mean lost individuals of unusual species. For example, both the Willow Tit records I've had on my patch at Newbiggin (Northumberland) in the past 25 years have come in August. Whinchats are another species that breed nowhere near my patch, but juveniles often appear for a day or two in August and are well worth checking fence-lines and gorse patches for throughout the month.
Wherever you might be in the coming few weeks, enjoy the early autumn and – fingers crossed – weather conditions conducive to bountiful arrivals of passerines will materialise...