As the festive period gets underway and the birding year winds down to a comparatively hushed close, the pursuit of rarities is seldom pushed further to the back of birders' minds. With turkey to be carved, drinks to be guzzled, crackers to be pulled and relatively few birds moving, it is inevitably a time when hours in the field are traded for the company of friends and family. It is also a perfect opportunity to stay snug indoors, reflect on the year's birding highlights and sort through that annual build-up of field notes and records while steadily depleting the renewed selection of wines. However, history has shown that the slower pace can be deceptive and, regardless of whether or not the timing is convenient, festive gifts for birders do not just turn up under the Christmas tree.
A perusal through the records reveals a bulging sack full of spectacular rarity occurrences around the season of goodwill. Despite not being available to the masses, the exhausted Magnificent Frigatebird picked up on the Isle of Man on 22 December 1998, the first for the British Isles, demonstrates the potential for winter wild cards. Almost as astonishing in the run-up to Christmas was a metal-ringed Royal Tern at Mumbles (Glamorgan) on 21 December 1987 and one of the few Pallas's Sandgrouse since 1950 was encountered at Stodmarsh (Kent) on 28 December 1964. Christmas time boasts a reasonable share of Little Bustard and Nutcracker records, the most recent of the latter being at Denny Wood (Hampshire) on 29 December 1996. It is one of the best times of year for sought-after gulls and there are often surprises in store in the form of wintering passerines, as one lucky birder learned in Great Yarmouth on Christmas Day 1977 when they stumbled upon a male Siberian Thrush, Britain's second.
The Dark-eyed Junco at Hawkhill Inclosure (Hampshire) is arguably among the more memorable latter-day Christmas twitches. The male bird was originally picked up by a non-birder on Christmas Eve 2011, but news only filtered out amid New Year's Eve celebrations and a dip followed the next day. All was well in the end, though, with the bird showing reliably over the last four days of Christmas and for some time beyond. The junco is a case in point that Nearctic passerines have a habit of being found close to or during the festivities; the popular Blackpoll Warbler at Bewl Water (East Sussex) in 1994 made itself available in the days leading up to the celebrations, and particularly gripping was the Ovenbird first seen in a Herefordshire garden on 20 December 2001. Our most recent Rose-breasted Grosbeak, on the Isles of Scilly in 2012, was a treat for the islands' birders in late December and tempted many visitors from the mainland but few actually managed to fly to St Mary's and connect with it. Considering the mild conditions the country has experienced so far this winter, any of these species, an American sparrow, Baltimore Oriole or even Black-and-white Warbler (or something else entirely!) might be surviving out there, waiting to be unearthed.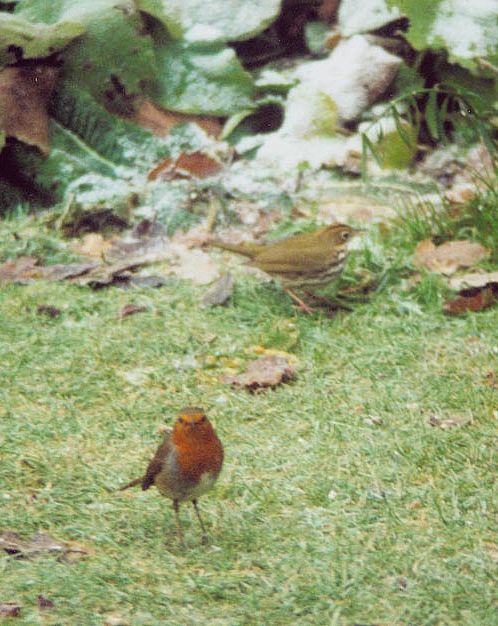 Ovenbird, Dymock, Herefordshire, December 2001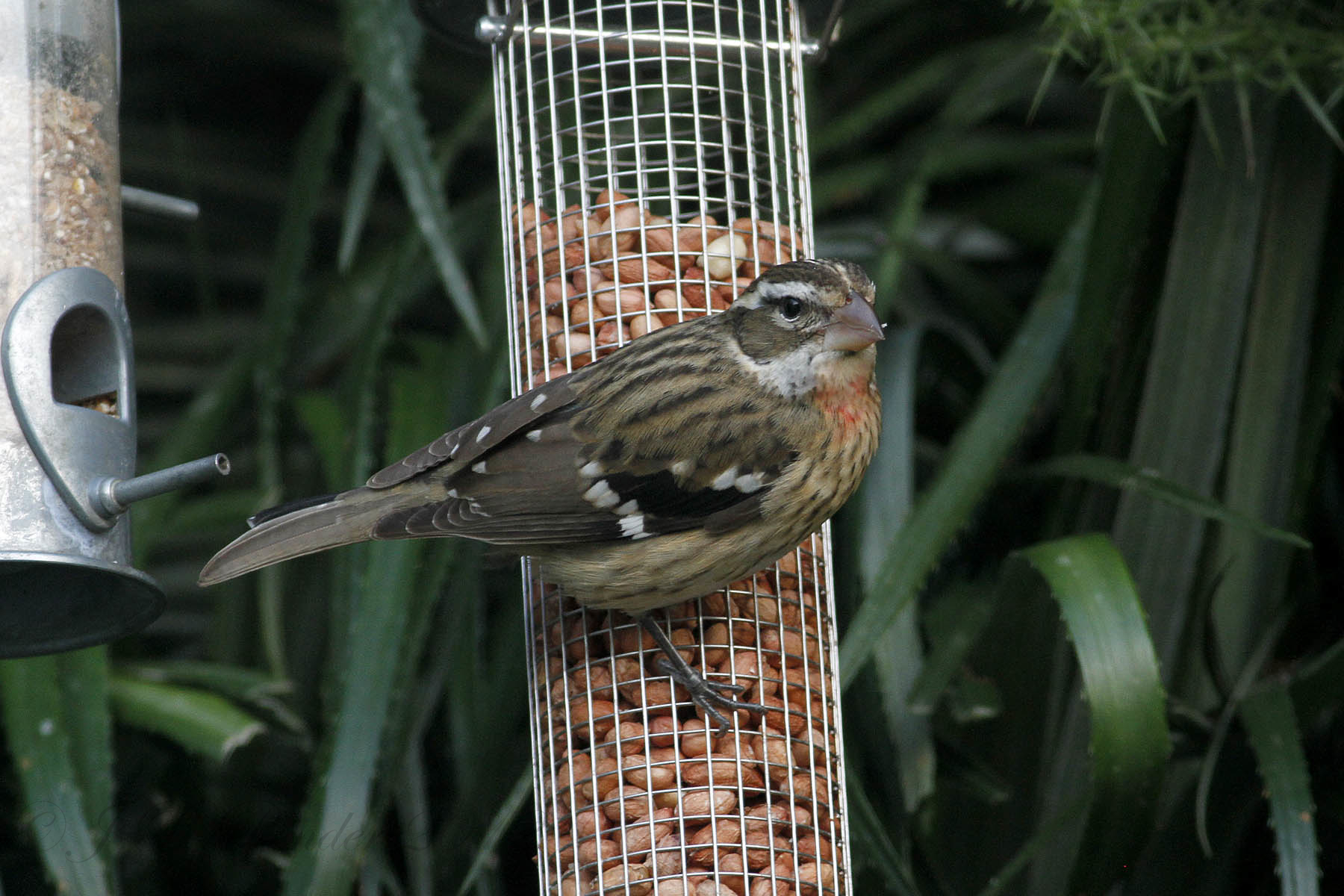 Imagine looking out your bedroom on Christmas morning to see this on your feeders! Rose-breasted Grosbeak, St Mary's, Scilly, December 2012 (Photo: Joe Pender)
Killdeer is one rare wader which has a peculiar habit of turning up in the weeks either side of New Year and, although somewhat regular in its appearances, this charismatic double-banded plover always kicks birders into animation when found. More than a quarter of British and Irish Killdeer records involve birds discovered in December or January and the species has twice featured as a Christmas Day find in recent years, sparking a twitch on Boxing Day: on North Uist (Outer Hebrides) in 2004 and at Greystones (Wicklow) in 2009. Another wader worth wishing for this Christmas is Sociable Lapwing. This Critically Endangered visitor from the east has often been found lurking in the midst of winter gatherings of Northern Lapwing in the south and east, but more than six years have now passed since the last record, the largest gap since a bird in Dorset in 1961 broke a ten-year void. Less renowned for winter occurrences is Upland Sandpiper, but this quirky wader has turned up within days of Christmas on two occasions.
Rare gulls can usually be relied upon to keep us entertained over the winter months and newly arrived birds over Christmas and New Year serve well as stocking-fillers. Last year's Ivory Gull at Patrington Haven (East Yorkshire) stuck around just long enough to qualify as a festive rarity but was nowhere to be found on Boxing Day. A further 16 Ivory Gulls since 1960 have been available over the Twelve Days of Christmas and who would refuse the incomparable pleasure of watching another mainland bird pick away at a whale carcass this winter?
Content continues after advertisements
The festive period is also a fruitful time for finding Ross's Gull, Franklin's Gull and Laughing Gull, the latter species having proven a challenge to connect with on the British mainland since a generous spread of dozens across the country during the 2005/2006 influx. A first-winter at Walcott and Paston (Norfolk) in 1991 is fondly remembered by those who twitched it on Boxing Day as an archetypal Christmas twitch; a knock on a local lady's door to ask permission to view the bird on land behind her garden was rewarded with intimate views of the bird gorging itself on a discarded and otherwise unprepossessing turkey carcass.
Christmastime can reap even more serious rewards for the dedicated larid enthusiast as, alongside the relatively predictable species already mentioned, it is a prime time to discover far rarer species devouring the offerings of a landfill site. Britain's latest and most twitchable Glaucous-winged Gull was first noticed on New Year's Eve 2008 and largely performed well until it last reared its head on 10 January 2009. With some time now gone since this bird, and the species much more familiar, a thorough grilling of the nation's large gull flocks might yield another, and it is worth keeping American Herring Gull and Thayer's Gull in mind while doing so.

This adult Glaucous-winged Gull was well-twitched in early January 2009 following its discovery on New Year's Eve (Photo: Tristan Reid)
With Forster's Tern records in very short supply away from Ireland these days, an accessible bird in Britain would be hugely appreciated and most certainly overdue, the last remotely twitchable bird being in Argyll in 2003. Suburbia often throws up the unexpected at this time of year: perhaps a wintering American Robin to steal the show, a Black-throated Thrush or maybe even a Naumann's? There are bound to be good birds as well as good cheer this Christmas so it is well worth getting out in the field and wishing for something special, as well as keeping a keen eye on the bird news!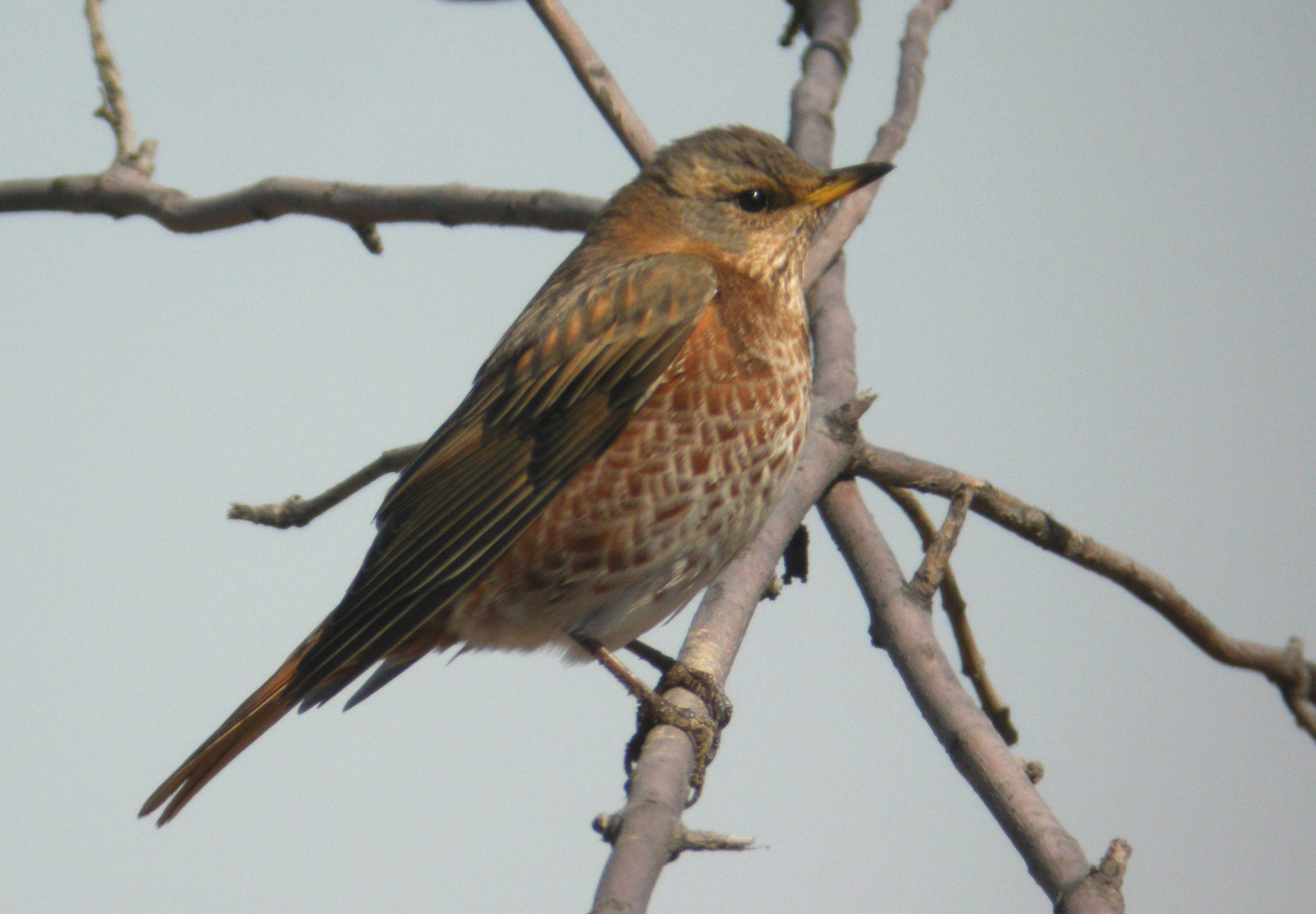 Naumann's Thrush: one for Christmas 2014? (Photo: Mike Parker)