It's that time of year yet again, when British birding comes into its own and it feels as though just about anything can happen. The late summer months have done a fine job of warming things up with an array of scarce waders and seabirds, but we have now reached the business end of autumn and there is an undeniable magic in the air, heightened by every breath of an easterly wind. Along with Nearctic passerines, 'Sibes' are the greatest prize for rarity hunters. This term encompasses vagrant eastern passerines hailing from the taiga, bogs and wet grassland of Siberia, most of which winter in South-East Asia; naturally, the range of some of the species covered here reaches into other parts of Asia or west into European Russia and even Scandinavia.
One of the primary causes of this vagrancy is drift, when crosswinds cause migrating birds to deviate from their original trajectory, and potentially deposit them a long way off-course. Other theories include mirror image and reverse migration, where birds (often in their first year of life) follow a consistent erroneous bearing; it is thought that these behaviours in particular are likely to play a part in the arrival of Siberian vagrants, as the distances covered should mean that birds affected by crosswinds have opportunities to stop and correct their course. The best shot at finding your own Sibes lies on islands, especially Orkney and Shetland which are in prime position and have little cover, as well as Norfolk, Yorkshire and other parts of the east coast. The funnelling effect of the British Isles' geography results in the South-West (particularly Cornwall and Scilly) being another hot-spot, but one should never write off the potential for finding eastern vagrants along other stretches of coast — or even inland.
Pallas's and Yellow-browed warblers are together the definitive autumnal sprites, the latter heralding that time of year when a cool easterly airflow suddenly carries with it electrifying promise. Yellow-broweds feature prominently among tallies of migrants on the Northern Isles and the east coast from mid-September and into November, with some filtering through to and concentrating in south-west England. They are impossible to tire of and represent a prized find elsewhere, especially inland. Bursting with energy and, in many birders' estimation, the absolute best Phylloscopus, a Pallas's Warbler flashing its pale yellow rump as it hovers in a sycamore is enough to turn anyone starry-eyed. Despite no longer being the t rarity it was in days of yore, thanks to the curious phenomenon of an apparent 180-degrees reverse migration undertaken by a portion of the species' population, Pallas's are easily scarce enough to cause a stir wherever someone has been lucky enough to find one. The best chance comes in late October or November.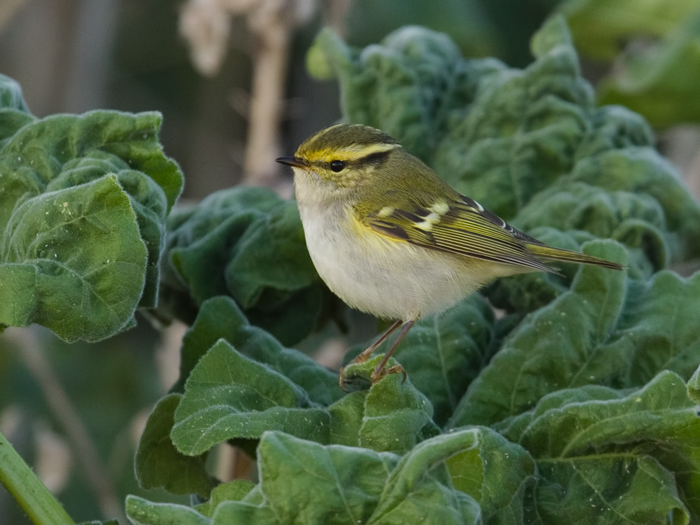 Pallas's Warbler, Kent, October 2012 (Photo: Mark Tomlins)
Although it cannot quite be described as a jewel in the same way as the leaf warblers, the 'shreep' of a Richard's Pipit is signature sound of autumn birding in Britain, perhaps given as one is flushed from the rough of a coastal golf course or announces itself over a headland while observers search for other passerines. Despite breeding no closer to us than southern Siberia and central Asia, we receive a substantial annual helping from the latter half of September, a fraction of which ends up spending the winter in Britain, typically in the south-west. Into October, Olive-backed Pipit appearances are increasingly on the cards and the species has now become so frequent that it is standard late autumn fare from Shetland to Norfolk, the BBRC having ceased assessing records in 2013.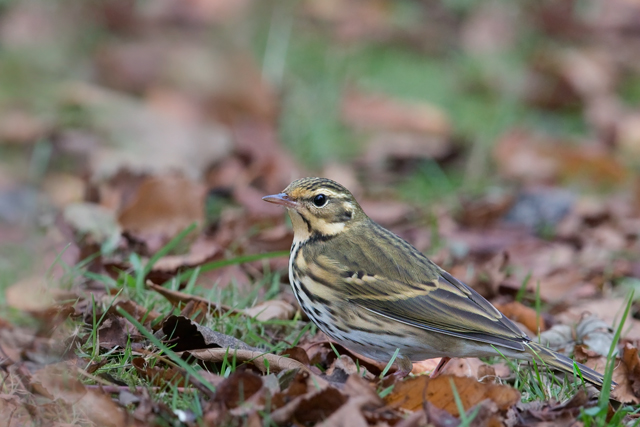 Olive-backed Pipit, Durham, October 2014 (Photo: Colin Bradshaw)
Breeding from Northern Europe, across northern Asia and even into Alaska, Red-throated Pipit is another regular vagrant to Britain and has the potential to occur pretty much anywhere, more often than not as a fly-over, so it pays to be familiar with its explosive flight call. Its range overlaps with Pechora Pipit, although this species' distribution does not extend as far west and, correspondingly, it is rarer here. However, Pechora Pipit is still annual in late September and the first half of October, when birders in Orkney and Shetland are in with a decent shout, but sadly it remains something of a fantasy anywhere else in the British Isles. Mainland birds, such as the Pembrokeshire bird in 2007, understandably cause quite a stir.

Pechora Pipit, Shetland, September 2014 (Photo: Mike Pennington)
Buntings are a birders' staple in autumn, Little and Rustic being two species we are lucky enough to be able to expect on an annual basis, although Rustic Bunting has become sufficiently infrequent to have qualified for reinstatement as an official rarity this year. Both species originate from the forests of north-east Europe and the north of Russia, typically making landfall here after being deflected westward by crosswinds. Sightings of Little Bunting on the east coast can be brief as they often seem eager to re-orient.
Not only has Rustic become thin on the ground but two formerly regular rare buntings, Pine and Yellow-breasted, have grown so rare as to warrant reinstatement as megas in the 21st Century. The most recent truly gettable Pine Bunting was in Worcestershire in 2005 while a Yellow-breasted Bunting hasn't fully given itself up for even longer, although there have been a few tantalising recent records. September is the peak month for this species which has undergone a population decline of 90 per cent over the last 35 years as a result of illegal trapping. Pine Bunting, on the other hand, is more of an October/November speciality, as well as being a possible winter discovery. Shetland and Orkney boast a shared total of 24 of the 50 British records. It is less clear why records of this species have dropped off since a peak in the late '80s to mid-'90s period.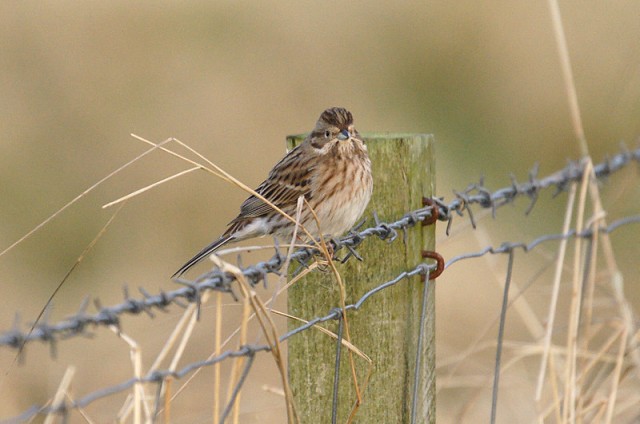 Female Pine Bunting, Shetland, November 2011 (Photo: Mike Pennington)
Content continues after advertisements
Dusky and Radde's warblers are another popular Siberian species pair and, while they were official rarities, were for a long time pretty much neck-and-neck in terms of the number of accepted records. Most Dusky Warblers arrive from mid-October to early November, a little later than its bright-vented congener. Always a challenge to see as they creep methodically through low vegetation, clear views of either species are hard-won but greatly satisfactory as a subtle suite of field characters is gradually revealed. Arguably more sought-after is Arctic Warbler, a species with a fairly extensive summer range in the north of the Palearctic, including north-east Europe and much of Russia. It is liable to turn up in September and October, given suitable conditions.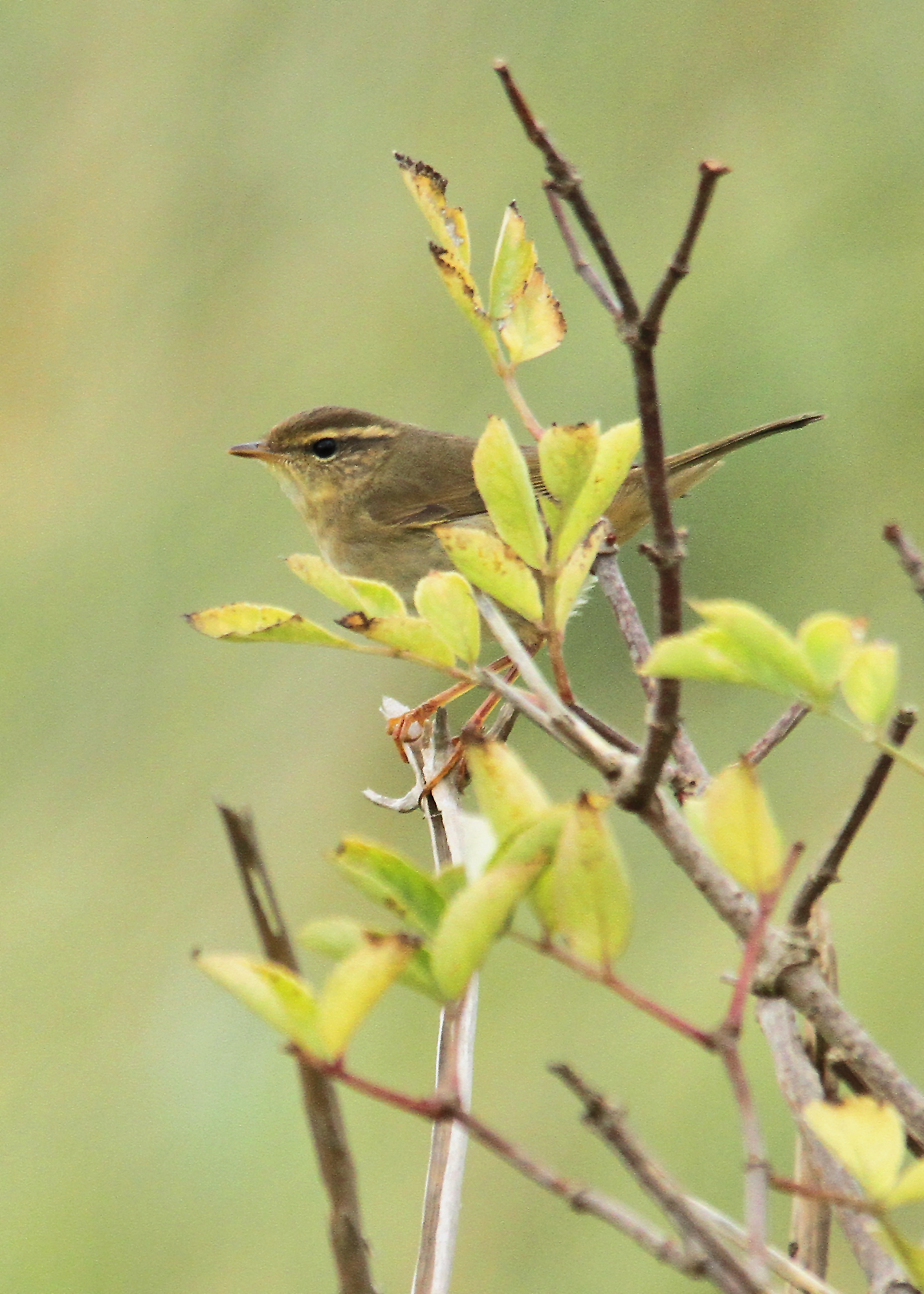 Radde's Warbler, Lincolnshire, October 2014 (Photo: Jaz)
Locustella warblers can be a bit of a nightmare. Both Pallas's Grasshopper and Lanceolated warblers seem to be at least annual now but mostly refuse to accommodate birders away from the Northern Isles. This appears particularly true of the latter (Shetland scoring 118 of 144 records by the end of 2013, and six of the remainder being on Orkney) but there have been records at less likely locations; this was demonstrated well in the 90s, when one was trapped at Landguard, Suffolk, and Bardsey Island, Gwynedd, notched up a hat-trick. The mouse-like behaviour of Locustella warblers will always mean that unearthing birds away from the easily-workable shallow ditches and stone walls of Shetland or a fortuitously-placed mist net is a tall order, but the birds and the potential to find them are surely elsewhere, too, particularly on the coasts of Norfolk and the North-East.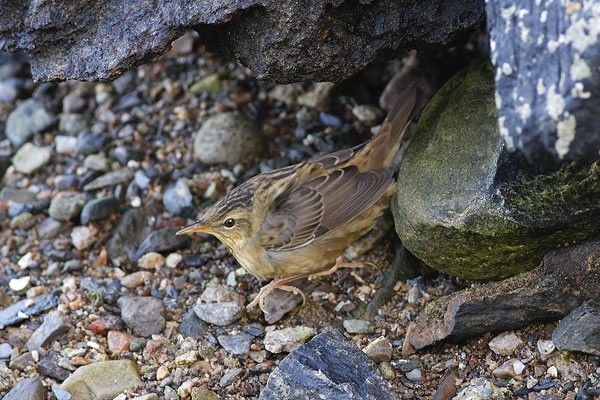 Pallas's Grasshopper Warbler, Shetland, October 2010 (Photo: Chris Turner)
Come October and November, it is the time to be on the lookout for eastern thrushes. Strong easterly winds make White's Thrush and Black-throated Thrush strong contenders; Siberian, Eyebrowed and Dusky are outside bets but Naumann's and Red-throated are the most overdue with no British records of either since 1997 and 1994 respectively. Shetland and the Isles of Scilly are traditional hot-spots for rare thrushes but there is probably a little potential for finding these Siberian beauties among flocks of freshly arrived winter thrushes on the coast and inland, as well as in urban areas.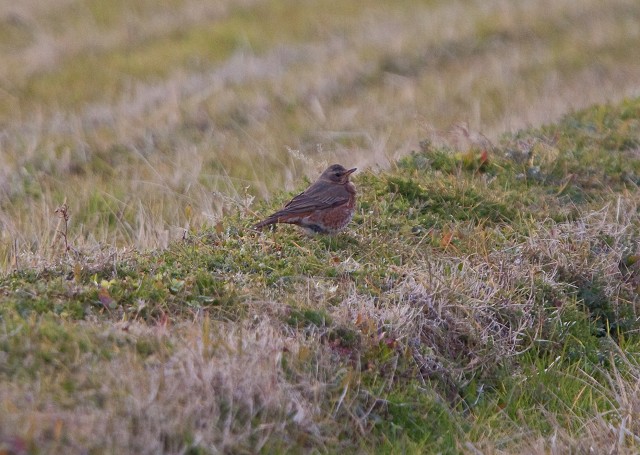 Naumann's Thrush, Japan (Photo: Mark Curley)
While the tale of a once-fabled rarity becoming increasingly frequent is hardly unfamiliar, this process has never been quite so sudden and dramatic as in the case of Red-flanked Bluetail. By the early 1970s, Red-flanked Bluetail had begun extending its range westwards from Siberia and European Russia into Finland, where it is now established, albeit on a fairly low level but the extended range is evidently enough to supply us with extra vagrant individuals each year. A bluetail remains a thrilling find, and its increase can only be a good thing, as it means the chances of having one jump out in front of you are ever greater. Individuals in convenient locations continue to attract the crowds, as in the case of the wintering individual on the Gloucestershire/Wiltshire border early last year, a bird celebrated in a way reminiscent of the mass jubilation afforded by the Winspit bird in 1993.
All but one of Britain's 11 Siberian Rubythroat sightings have taken place since 1997. One of the 'ultimate' Sibes, its allure is partly due to the fact that nine of those records have been claimed by inaccessible Shetland. With the Sunderland bird in 2006 being untwitchable and the one in Dorset in 1997 providing most twitchers with bitter memories of a dip, a lingering mainland rubythroat would definitely go down a treat and it is surely just a matter of time before it happens.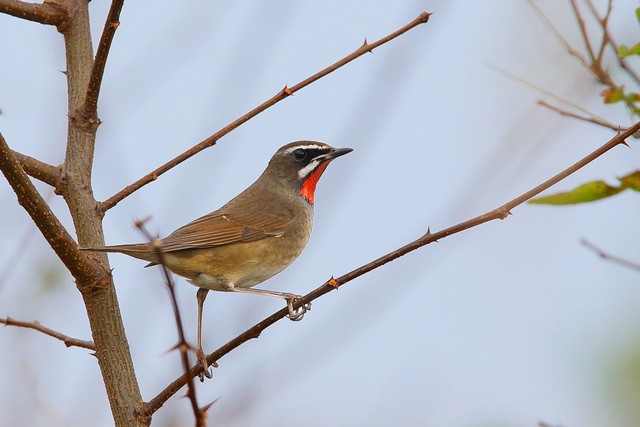 Siberian Rubythroat, China (Photo: Colin Bradshaw)
An even bigger stir would likely be caused by a staying mainland Rufous-tailed Robin, although this might be a difficult twitch, as indicated by the frustrating viewing of the brief Norfolk bird in 2011. Others that have been keeping the listers waiting include Siberian Blue Robin, Yellow-browed and Pallas's Reed buntings, Two-barred Greenish Warbler and Taiga Flycatcher. These will all likely come around again and perhaps this will be the autumn for one or two of them to be unblocked. Some of the newcomers to the game are also left wondering when the next Brown Flycatcher might turn up, after a generous run of three from 2007 to 2010.
How about Sibes yet to make their way onto the British List? Gray's Grasshopper Warbler and Siberian Accentor are frequently touted and will probably make an appearance at some point sooner or later. Just for the sake of throwing one out there, despite the difficulties in ruling out an escaped cagebird experienced in the past, perhaps a wild Pallas's Rosefinch could make its way here and prove its provenance through stable isotope testing? There are a number of other possibilities, and an open mind is essential when out birding at this time of year.