Introduction
The Ribble estuary may not seem the most obvious place to look for a montane species with winter habitat preferences including lake shores, freshwater marshes, sewage treatment plants and cress beds. And that's even before the location in northwest England is considered. However, the saltmarsh at Warton Bank is one of the most reliable places in the country for this intriguing and often sought-after species. Now they have returned for the 2002/3 winter this article indicates when and where to look at the site, with some indication of other birds that may be seen in the area.
Content continues after advertisements
Background - status in Lancashire
Water Pipits were, until recently, regarded as a rare winter visitor and very scarce passage migrant in Lancashire. Recent numbers on the Ribble Estuary mean that even though many birds would still be overlooked, the species is now uncommon, but regular, at favoured sites in the county. The situation is rather more complicated than this simple summary: inland records (both wintering and on passage) have dropped off sharply and coastal ones have increased - the reasons for this are not fully understood.
Warton Bank - how to get there and where to watch
From Preston take the A583 Blackpool Road. Leave the A583 to join the A584 signed for Lytham St Annes. Pass Freckleton on the bypass and enter Warton village. Beyond the aerospace factory take the left turn into Bank Lane in front of Ribblefort Galleries. Follow Bank Lane all the way to the end at the estuary SD402274.
Local residents are sensitive about parking and it is important not to cause an obstruction. It is possible to park a couple of cars about 50 metres from the end of the road. Alternatively a track runs left at the end of the lane with parking possible 100 metres southeast near the stile. Cars should not be parked unattended at the end of Bank Lane.
From the end of Bank Lane a good panoramic view of a large amount of the saltmarsh can be enjoyed. On Water Pipit watches on anything other than the biggest tides, the line of fenceposts running out onto the marsh in front of you are the key, attracting birds to perch in open view at reasonable distance. On a very big tide the birds will come to within a few feet of the end of Bank Lane before dispersing (see spring guide below). Always allow for one hour either side of high tide, both to allow for variations in appearance, and because on spring tides the birds may return closer to the observer after many birders have left.
Winter
If you are travelling any distance the best advice when planning a winter visit is to wait until spring! Sightings are rather erratic and it's a matter of having a fairly high tide and a large slice of luck. On the other hand, if you get lucky the process is rather more educational, with more typical views of birds in less distinctive plumage.
To show what it can be like in winter, the events of the last week may be instructive. Very large tides on the 5th and 6th November flooded the river and covered some of the marsh (e.g. night hunting Short-eared Owls were flushed from their roosts). Two Water Pipits were seen on the 5th, but on the 6th the only two birds seen were too distant to ID with certainty. Despite dropping tides one was seen well on the 7th and no fewer than four on the fenceposts on the 9th, but on the 10th there wasn't a pipit to be seen.

Water Pipit, Warton Bank
(photo: Paul Ellis)

Water Pipit tail, Warton Bank
(photo: Paul Ellis)
Spring
If making a special visit in spring for the pipits, the only option is to visit on one of the huge spring tides in March. These tides are big enough to flood the saltmarsh in front of the vantage point, which is usually not flooded. It is best to identify a likely date from tide tables, as going the day after a good showing will sometimes work but may lead to severe disappointment. The paragraphs below describe a typical watch on a high spring tide.
As the marsh starts to flood, the show usually starts with groups of perhaps half a dozen pipits being picked up distantly in flight. They can fly right past without landing and disappear for a while. This is repeated several times and eventually some birds fly close enough to be heard calling, then they start landing on the fenceposts a few at a time. They are volatile and frequently fly off again in a group after a short stay.
On a good day, the airborne flock can increase to 25+ Water/Rock Pipits flying around too distantly to identify. It is always the case that a lot more pipits are seen than identified. After more visits to the fence, birds begin to drop onto the ground and feed. This is when the good views start. They still frequently all fly off, but as the tide rises they become more faithful to the fence and ground below it and spend more and more time in view.
Typically they then start to move slowly down river feeding on the shrinking grassy islands up to 100 yards downstream of Bank Lane. It's at this time when the views can be at their best. As the tide drops they can return to the fence area and linger for a couple of hours after high tide, but usually they disappear after the peak.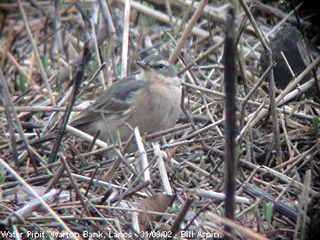 Water Pipit, Warton Bank (photo: Bill Aspin)
Rock and Scandinavian Rock Pipits at Warton
Rock Pipits, including Scandinavian birds, do occur at Warton in small numbers. However, they are generally outnumbered by Water Pipits both in winter and in spring. Generally speaking the Rock Pipits are much less likely to perch on the fenceposts, but this cannot be relied on completely although it is surprising how often it holds true.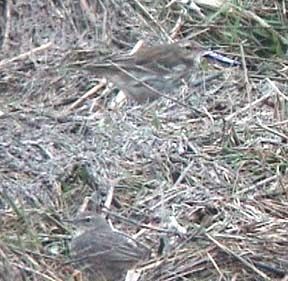 Water Pipit and Scandinavian Rock Pipit, Warton Bank (photo: Bill Aspin)
Other birds
At the times when Water Pipits are present (November to late March) other birds to be seen at Warton include Short eared Owls (formerly in decline but regular of late), Hen Harriers (declining), Water Rails (also breed here), as well as regular Peregrines and Merlins. Outside chances include Little Egret and wild swans.
Other sites
On the north banks of the Ribble estuary, Freckleton Naze and Fairhaven are worth a look. The latter has an RSPB centre and is famed for both returning Ferruginous Duck and this year's Ivory Gull. It's also the best Shorelark site in Lancashire. Anybody wanting to find their own Water Pipits could try Hambleton Marsh on the nearby Wyre estuary, which has a decent track record for the species and has been under-watched of late.
The Fylde Bird Club website:
http://www.fyldebirdclub.freeuk.com/
includes recent reports from Warton Bank, and more photographs of past Water Pipits at the site.
If you do visit the site to look for Water Pipits please let us know how you get on. There is a record submission option on the FBC website which gets them to the club for inclusion on the website and BirdGuides, otherwise you are welcome to email them to Stephen Dunstan at
stephen@greenfinch.fslife.co.uk
.