It's a fact; you can always rely on the BBC. Whether you're a long-term resident of New York or just a casual tourist who enjoys poking around in parks, the Brooklyn Bird Club will make sure your experience a is memorable one.
The club, which was founded in 1909, encourages birding and organises cheap tours across New York State but it is in Prospect Park that it is most active. This is a 526-acre green space (compare Hyde Park's 350 acres) situated in the heart of Brooklyn. The park abuts the Brooklyn Botanic Garden (free on Tuesdays) and the Greenwood Cemetery (free every day). Together, these three areas constitute 1,300 acres of native woodland, lakes and ponds in the middle of what is known as the Atlantic Flyway. This is the migration route between the north-eastern United States and Central and South America. As New York City and its surroundings in general are very built up, migrating birds are drawn to the Prospect Park area like iron filings to a magnet. While the BBC tours out of town are cheap, the ones in Prospect Park are free. Known as 'Field Trips', they take place every Saturday, Tuesday and Thursday when a party of birders, led by a knowledgeable club member, leaves from one of the park gates just after 7.00 am. All you have to do is turn up. This has got to be one of the best and least-known tourist options in all of New York.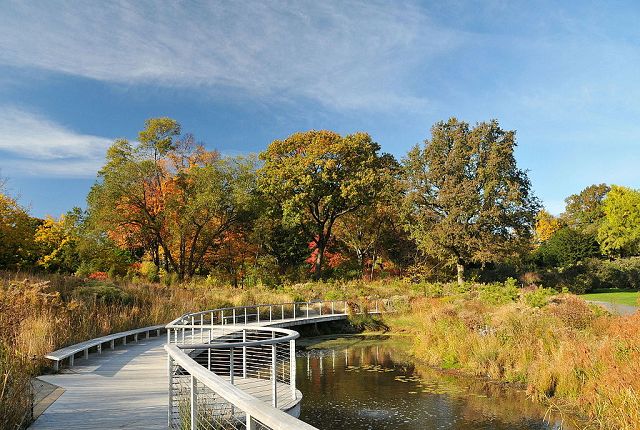 Autumn in Brooklyn Botanic Garden's Native Flora Garden (Photo: HorsePunchKid/wiki commons)
I was lucky enough to be in Brooklyn in mid-May last year, the very height of the migration season, and while I managed to miss the start of a Field Trip from the Grand Army Plaza, I caught up quickly, was welcomed like a long-lost friend by the other birders — complete strangers — and was soon being shown a host of migrants I would otherwise have missed. I was in a party of about ten people which, surprisingly to me as an English birdwatcher, was half men and half women — of course we have female birdwatchers in Britain but such demographics are unheard of here. Everyone else in the party was a New Yorker and they were a pretty voluble bunch, keeping up a loud banter and repartee as we strolled through the sunlit woods craning our heads looking for movement in the tree-tops.
Suddenly, our guide Rob stopped and proclaimed, "Well what have we here? It's a Scarlet Tanager." He dragged out the last syllable as though announcing a music-hall act. We all peered through our binoculars as the feeding Tanager hopped busily through the foliage of a large oak tree. We were treated to intermittent glimpses, which simply didn't do for the New Yorkers. There were shouts of "Come on baby, show yourself!" and "Just stay put on that twig will ya?!"
Content continues after advertisements

Scarlet Tanager (Photo: Peter Beesley)
English birdwatchers have a distressing tendency to leave their sense of humour at home when out and about so, while the Brooklyn Birders were alarming at first, they quickly became endearing. The birds in Prospect Park seemed unaware of any human presence and the extrovert culture of New York appeared to bother them not a bit. When Rob, in a spirit of having rather than being, shouted "Catbird on the trail ahead. Anybody need a Catbird?", a few of us ambled forward to stare and tick but without turning down the volume at all and the Catbird stayed put obligingly. We were making enough noise to completely empty out any British woodland I've ever been in.
We saw three species of woodpecker, a host of colourful warblers (which, by the way, are not warblers as we understand them), two species of oriole (ditto), vireos, herons, and a Red-tailed Hawk.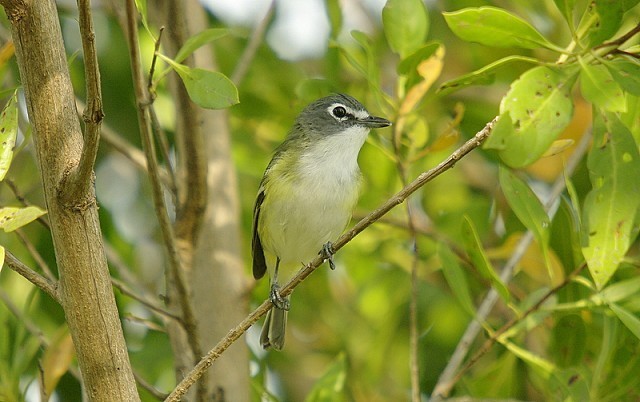 Blue-headed Vireo (Photo: Charlie Fleming)
What is really fascinating for the British birder is the sheer volume of birds that are there for the seeing. I counted 46 new species on the two-hour tour. These were identified with the help of Rob, the other birders and my copy of the excellent Sibley Field Guide to Birds of Eastern North America bought second-hand from eBay.
I went back to Prospect Park on my own a couple of further times and wandered about by the lakes and through the woods. Not once did I feel myself in any danger in this greatly crime-reduced New York and on three occasions found myself chatting to solitary middle-aged women who were similarly unworried about their safety. One actually put her finger to her lips and motioned to a nearby tree; "Shssh! Blackburnian Warbler". Shssh? She obviously hadn't done the tour.