Back on New Year's Day 2014, I crawled out of bed somewhat reluctantly to meet up with Tommy and Henry of the Auld Haa for our annual 1 January 'bird race'. I brushed off the mud, with vague memories of pushing a car out of a muck heap a few hours ago, and squinted out the window, to be surprised by a Chaffinch, a new arrival no less and hopefully a good sign for the day.
It did indeed turn out to be a good day, with 45 species recorded — mostly the usual stuff that would be picked up over the course of the winter but, crucially, a Velvet Scoter that was briefly in Furse before flying off round the back of Buness never to be seen again. Not only was it a Fair Isle tick for me (I'd found a freshly dead one the previous autumn, but that didn't count) but it was a species we'd not recorded the previous year — with 212 species recorded in 2013, there weren't many obvious ones we'd missed.
January rarely produces many surprises but while we were off on a family holiday, south-easterly winds brought Little Gull and a group of Tundra Bean Geese — another two species not recorded in 2013 — along with Waxwing, Pochard and Coot (the latter two of which are not guaranteed annually on Fair Isle). So January came to a close, the year list stood at 63 and the FIBO blog tentatively questioned whether the year list record could be on the cards...

Little Gull (Photo: David Parnaby)
Although February saw unusually early records of Long-eared Owl and Shelduck, there was nothing among the species recorded that we wouldn't expect later in the year, so we entered March on 72 species.
March can be very hitty-missy on Fair Isle; as we're so far north, most migrants don't make it until late in the month and unsuitable winds can mean our first 'proper' summer visitors don't make it at all until April. However, 2014 saw some spells of easterly winds that helped bring early records of Stonechat, Yellowhammer, Lapland Bunting, and the first (Shetland) rarity of the year, a Green-winged Teal on Da Water on 18th. The Assistant Wardens arrived late in the month and hit the ground running, with a Robin fall bringing a host of other migrants, mostly those that we'd expect at some point during the spring, but topped by a fine Red-flanked Bluetail at Klinger's Geo (Ciaran making a great start to his Fair Isle career, having started work just five days before finding the island's first spring record of this little stunner!). A Hawfinch that evening became the seventh addition to the year list that day. Three more the following day brought up exactly 100 species by the end of the month.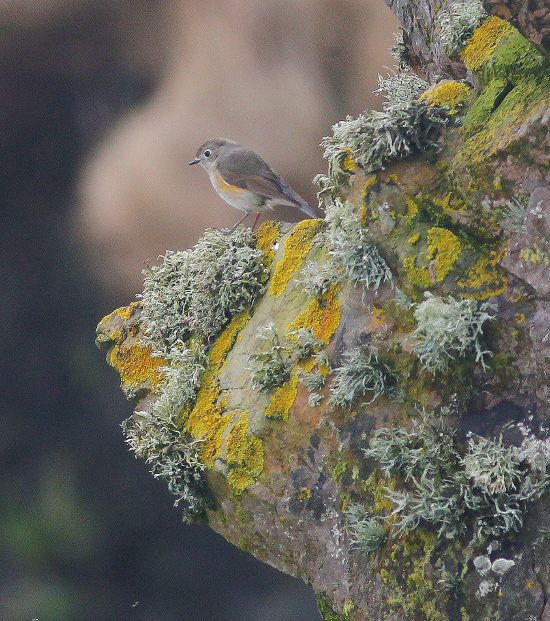 Red-flanked Bluetail (Photo: Mark Rayment)
April may well be the cruellest month, but not for Fair Isle in 2014. A trickle of new species for the year early in the month was made up of typical spring migrants, with Great Grey Shrike the pick of the bunch (a Red-flanked Bluetail at this time may also have been a new individual given the turnover of birds at the time). A Stock Dove on 17th was a handy one to get under the belt then a Redstart on 20th heralded a more concerted arrival of birds, with the Wryneck (22nd) always nice to see, but eclipsed by the Crane seen later that day. My deal to extend my Lenten alcohol abstinence until my first Fair Isle tick or BB rare saw me especially glad when a pair of Garganey on 25th lingered long enough for me to see them, while a Western Subalpine Warbler trapped in the Obs garden near dusk was the seventh addition to the year list that day. The following day saw a Gadwall (another good one to get if you're chasing the year list record, although this proved to be the first of six during the year) that I twitched in my dressing gown — another Fair Isle tick for me!
27 April will linger long in the memory, beginning with a Short-toed Lark in the Havens, and our earliest-ever Red-breasted Flycatcher another highlight. The quality was upped a notch after lunch though, with a cracking male Cretzschmar's Bunting at Burkle, and the resultant attempt to track it down turning up a Caspian Stonechat! The Log that evening included Western Subalpine Warbler, 3 Short-toed Lark, 7 Wryneck, Great Grey Shrike, Blue-headed Wagtail, 33 Willow Warbler, 32 Chiffchaff, 25 Blackcap, 3 Lesser Whitethroat, 10 Redstart, 3 Black Redstart, Whinchat, 5 Pied Flycatcher, 27 Tree Pipit, 13 Ring Ouzel, 167 Fieldfare, 22 White Wagtail, 51 Brambling, 8 Common Redpoll, Crossbill, 12 Reed Bunting, 13 Snow Bunting, 41 Swallow, Sparrowhawk, Kestrel, 3 Green Sandpiper, 2 Jack Snipe, 7 Whimbrel, Kumlien's Gull, Iceland Gull and 174 Wheatear among others — quite a day!

Cretzschmar's Bunting (Photo: Deryk Shaw)

Caspian Stonechat (Photo: David Parnaby)
Paul Harvey (FIBO Warden in the record-breaking year of 1992) found a brief male Mandarin on 29th while in to twitch the Cretzschmar's, technically a better bird on Fair Isle as it was only the second record (the bunting was our third), but nobody among the staff minded too much that it disappeared before we got there! We came down from our rarity-induced high enough to add a rare spring Little Bunting, Goosander (not annual on Fair Isle) and the earliest-ever Red-spotted Bluethroat by the end of the month, our 145th species of the year.
Early May opened with a continued trickle of new species, most of which were to be expected at some point in the year, but a Hermit Thrush on 13th certainly wasn't on the radar. A Glossy Ibis found three days later by the same person was a first for the island (a female 'Subalpine Warbler' trapped the same day was somewhat overlooked in the excitement, but it would have its time in the headlines later)!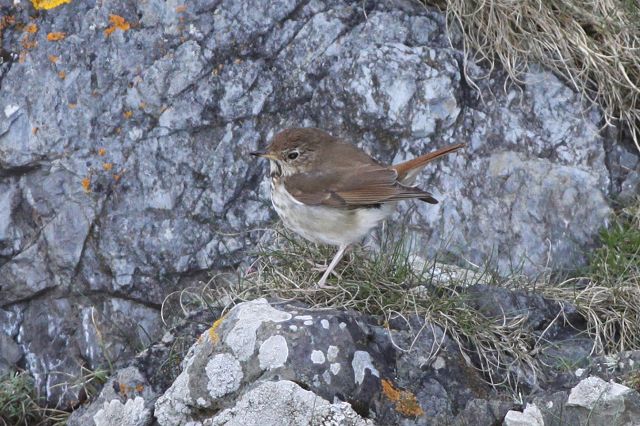 Hermit Thrush (Photo: David Parnaby)
The addition of Osprey, Red-backed Shrike and Common Rosefinch to the year list shortly after that was appreciated by our visitors; the Canada Goose on 21st was more one for the Fair Isle aficionados, but the Calandra Lark the following day was enjoyed by everyone.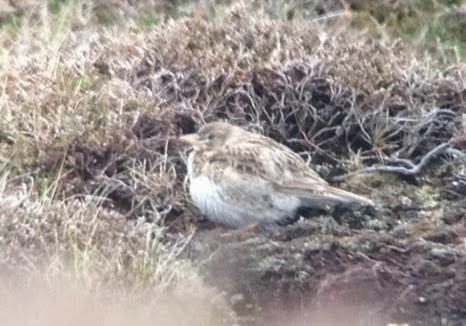 Calandra Lark (Photo: Ciaran Hatsell)
More 'regular fare' (although it seems a bit unfair to lump the likes of Icterine Warbler and Quail in that category) followed, before another good five-day spell saw Nightjar, Temminck's Stint, Blyth's Reed Warbler (the first of three in the spring), Collared Flycatcher (the third in four years) and Honey Buzzard all make their 2014 debuts, bringing us up to 175 species by the end of the month.

Collared Flycatcher (Photo: David Parnaby)
June saw just eight additions but quantity was more than made up for by the quality, with only Marsh Warbler (5th) an expected species. Greenish Warbler (6th), Great Spotted Woodpecker and Hobby (both 9th) arrived before my personal 'bird of the year', the fantastic Bridled Tern that graced the island from 16th. Amazingly, tern-twitchers from Shetland found an adult Laughing Gull in the same place on 19th, with two Roseate Terns at the same site just five days later and, finally for the month, a Sandwich Tern called into the Havens briefly on 26th.

Bridled Tern (Photo: David Parnaby)

Laughing Gull (Photo: David Parnaby)
Far more important than the year list were the welcome signs at this time that the seabird season was shaping up to be one of the best for many years, but that lies outside the scope of this article. By the end of June the year list, at 183 species, was 10 ahead of at the same stage last year and it was widely acknowledged that it had been the best spring for top-drawer rarities (six BirdGuides !!! megas no less!) in Fair Isle's history. Tempered against that was the lack of Turtle Dove, Thrush Nightingale, Rustic Bunting and Ortolan, all of which might have been expected — could we get an autumn reprieve for any of them perhaps? In the end none of them put in an appearance which, in the case of the Turtle Dove, was the first time in FIBO's history that we'd drawn a blank for the species — a sad reflection of the species' status.
July brought the expected Ruff, Leach's Storm-petrel, Manx and Sooty Shearwater as well as the bonus of the reappearing Swinhoe's Storm-petrel from 2013, but none of the 'extras' like Two-barred Crossbill that the previous year had seen.
An early Barred Warbler on 5 August was followed by a Red-necked Phalarope the following day, with an Arctic Warbler on 22nd and Little Stint on 29th also new for the year. Just four additions (and only the phalarope really unexpected) meant we were now running just six species ahead of 2013, exactly the number we'd need to beat the record — this was going to be close! We did get some good conditions and some good birding in August but, while we managed our two earliest-ever autumn Blyth's Reed Warblers, another Greenish Warbler, regular scarcities and some decent falls including plenty of common passage waders early in the month, we missed Citrine Wagtail (which failed to appear at all — only the fourth blank year since 1985) or any other real unexpected species; had August cost us our shot at the record?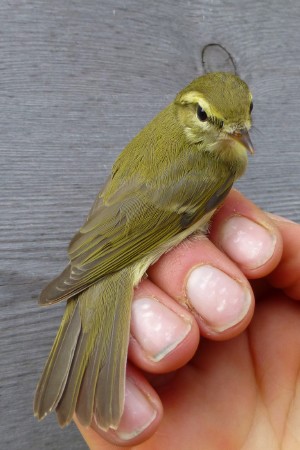 Greenish Warbler (Photo: David Parnaby)
The month did end with the surprising news that a female 'Subalp' in the spring had been identified on DNA as Moltoni's Warbler; surely that was one 'in the bank' for the future (while the 'eastern' bird the previous week was found to be of the subspecies that breeds in southern and central Italy that has not previously been confirmed in Britain).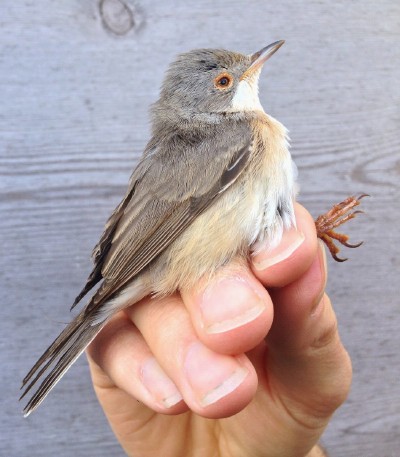 Moltoni's Warbler (Photo: Ciaran Hatsell)
September opened brightly with Pectoral Sandpiper (found by torchlight!) on 3rd before continuing in a steady vein, with Paddyfield Warbler on 5th (the same day as a fly-by Pintail, which proved to be the only one of the year), a peachy juvenile Pallid Harrier (8th), Buff-breasted Sandpiper (10th) and Pomarine Skua (13th).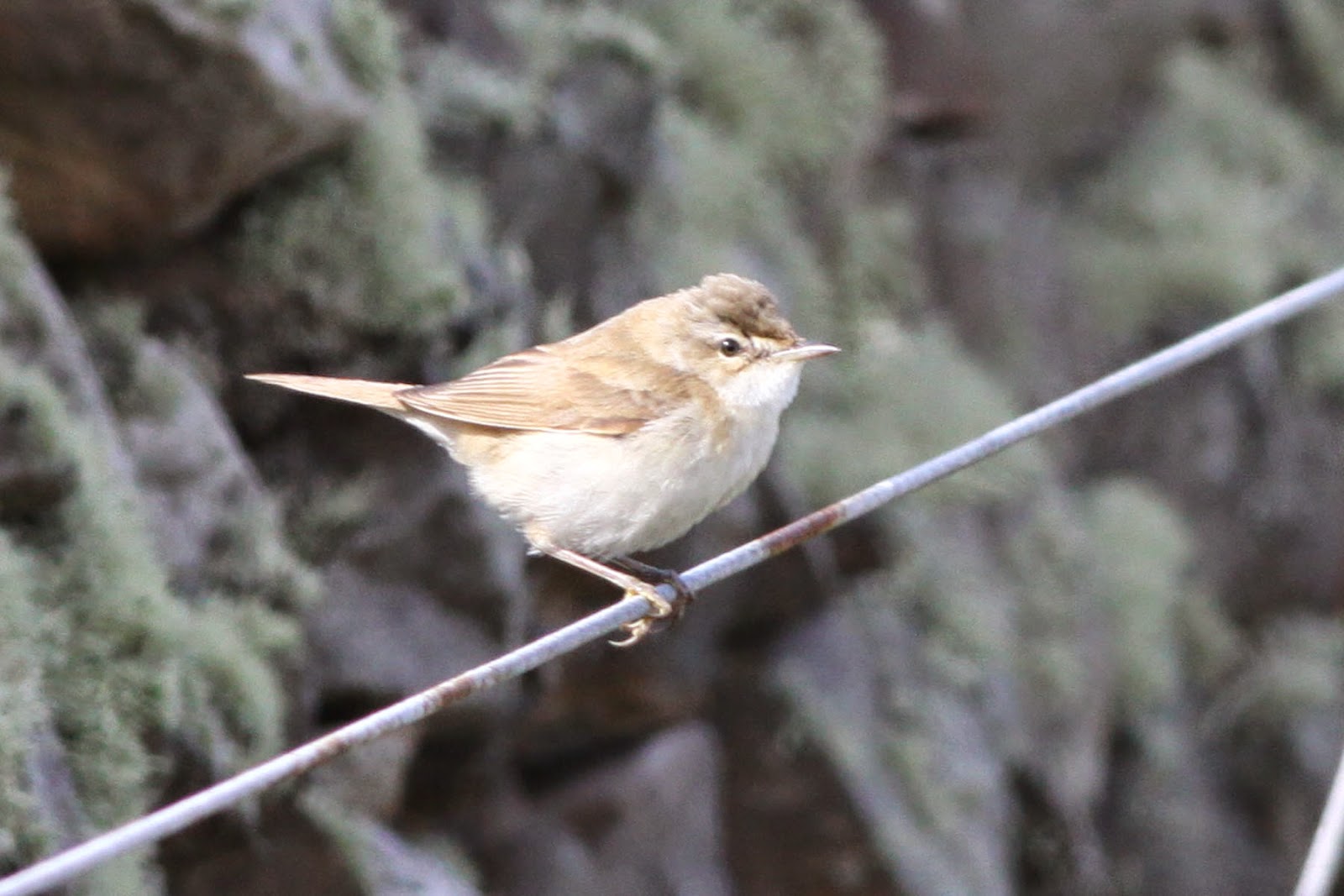 Paddyfield Warbler (Photo: David Parnaby)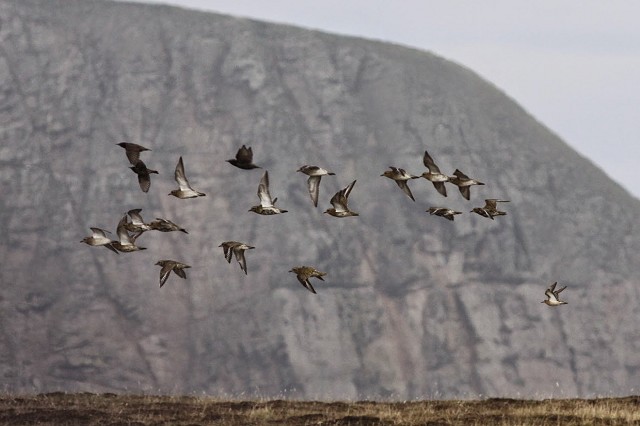 Buff-breasted Sandpiper (bottom right) wth Golden Plovers (Photo: David Parnaby)
The next ten days brought the expected arrivals of Yellow-browed Warbler, Olive-backed Pipit (the first of an impressive seven during the autumn), Lanceolated Warbler (and we are aware of the irony that we're the only place in Britain that can call this species 'expected', while we still get excited about Coot and Canada Goose!) and Grey Plover. Bonus birds were Red-throated Pipit (the first of three, two of which were smart adults) and Rose-coloured Starling.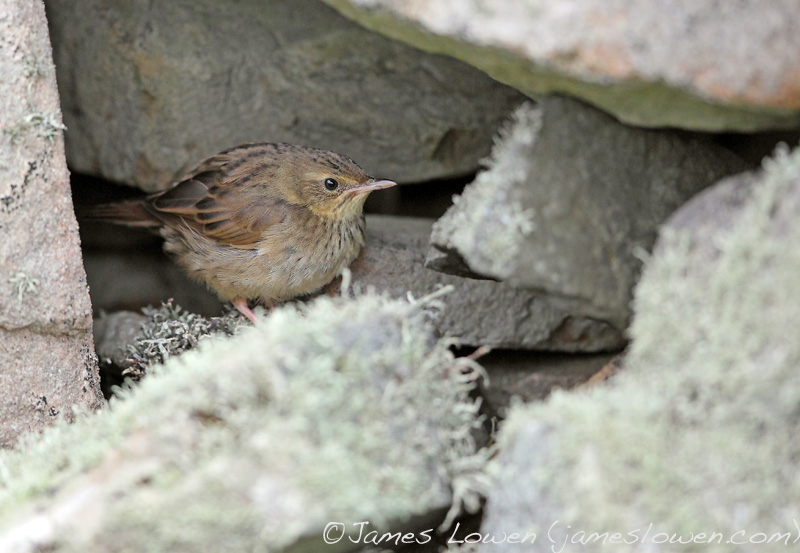 Lanceolated Warbler (Photo: James Lowen)
With westerly winds kicking in at the end of the month there were no new species added after 22nd and things weren't helped by some good birds to the immediate north and south of us at the same time (Yellow-rumped Warbler and White's Thrush turning up in south Mainland Shetland on my birthday being especially cruel!). The month ended with the year list on 204, just four ahead of 2013, and things were now looking tough (we missed out on the Curlew Sandpiper arrival during the month and ex-FIBO warden and current Fair Isle resident Deryk Shaw found a Citrine Wagtail at Grutness while on the Good Shepherd crew — surely we had some sort of territorial claim on that one!).
October arrived with Grey Phalarope and our second White's Thrush in two years, and the expected additions of Slavonian Grebe and Scaup at least kept things moving, but it still didn't seem enough. With the days getting shorter there was more spare time in the bar in the evenings to work out all sorts of stats about which birds we still needed, how we were comparing with 2013 or 1992 (or any other year) and things got serious with the introduction of a free drink for every year tick found.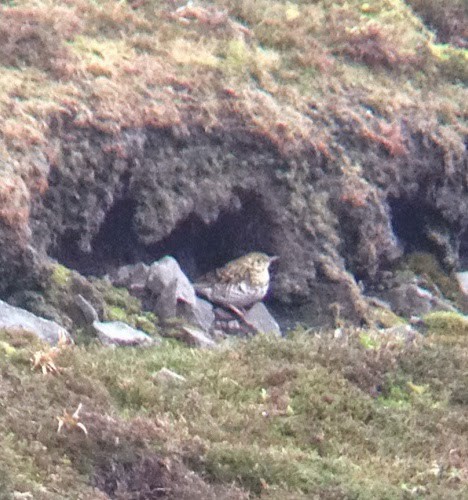 White's Thrush (Photo: Ciaran Hatsell)
We were never going to be disappointed with the year we'd had, but we were steeling ourselves for just missing out on the year list record (it had stood for over 20 years for good reason after all). Things changed around remarkably quickly though, when a talk by a visitor on Barn Owls on 5th was followed two days later by an easterly gale and our first Barn Owl since 1958, with Buzzard and our tenth record of Blue Tit the following day and our ninth Treecreeper the day after that. None of these species (except perhaps Buzzard) were anywhere near our thoughts for the year and we were suddenly up to 212 species. A tougher spell followed, but a Firecrest on 15th was a real stunner and two days later a Rough-legged Buzzard managed to elude everyone except one observer. More westerlies then kicked in, but they did bring in a few White-fronted Geese (the last of the 'expected' species for the year) and an influx of Icelandic Redwings, of which we ringed over 400 (a new record for Fair Isle).
The magical 23 October (a date with impressive form on Fair Isle) brought howling westerlies and seemingly delivered rarities from across the Atlantic to all corners of the British Isles except us! The next day started much better, both in terms of the weather and the birds, with our third Grey-cheeked Thrush in eight years showing well at the Obs, our 216th species and leaving us just one short of the year list record at the end of October.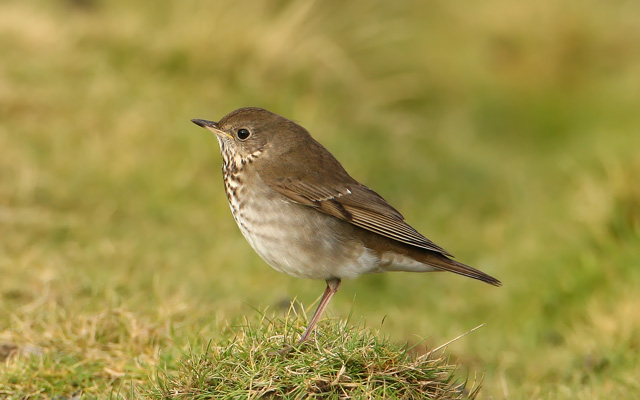 Gray-cheeked Thrush (Photo: Steve Arlow)
October had ended with some fresh south-east winds and further falls of birds, including counts on the last day of the month of 9,400 Fieldfare, 5,800 Redwing, 300 Blackbird and 96 Woodcock. A Siberian Stonechat appeared to be a Stejneger's Stonechat, but frustrated on two counts: one was that it couldn't be caught to confirm the subspecific ID, the other was that thanks to the Caspian Stonechat, it didn't count as a new species for the year list! There were also new scarcities and a lot of promise, but the year list didn't rise.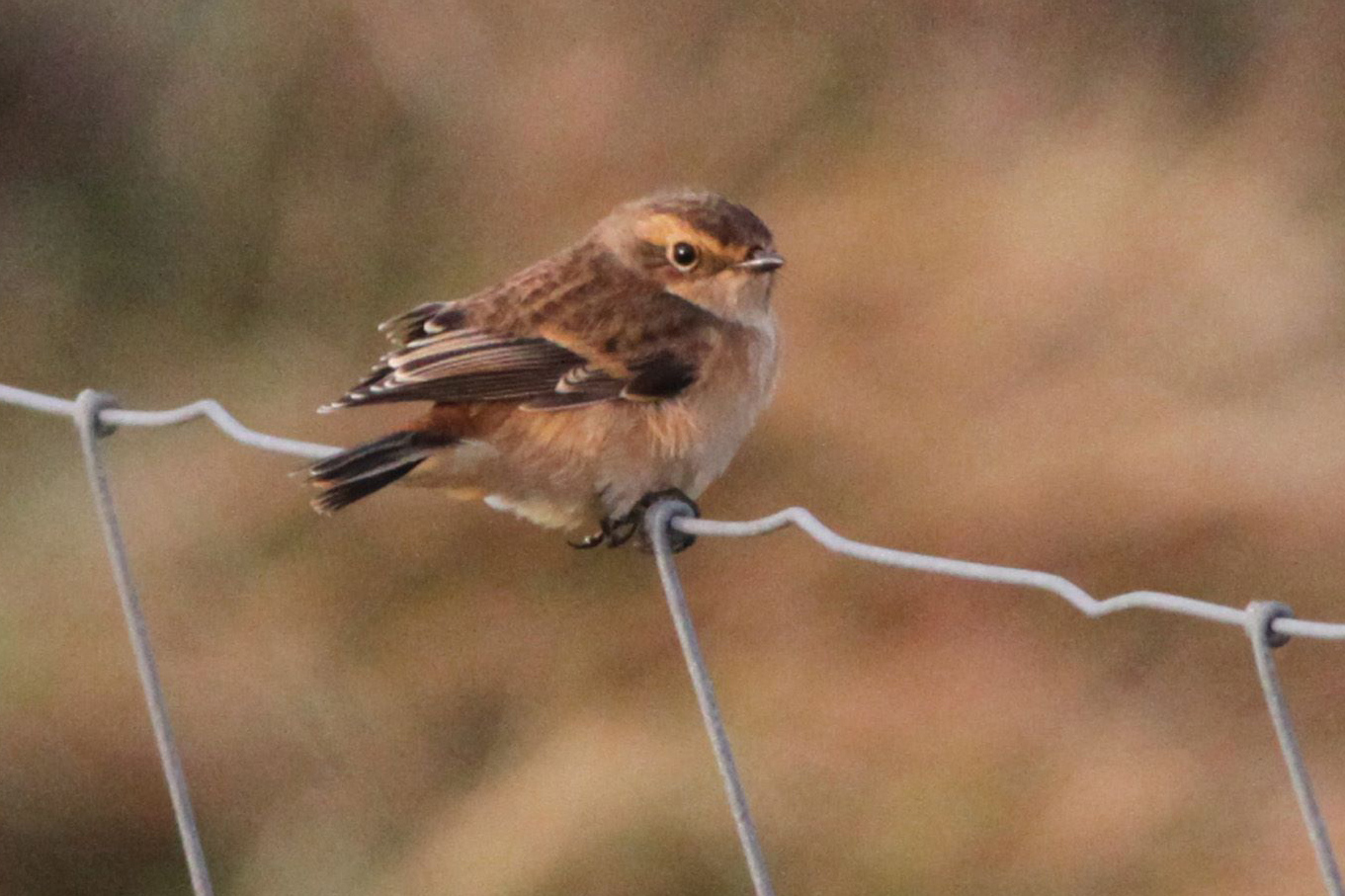 Presumed Stejneger's Stonechat (Photo: David Parnaby)
Early November still felt promising and new migrants were still coming in, but with the rest of the wardening team departing, Fair Isle suddenly felt very big again as the wind switched back to the east at the end of the first week of the month and I had to decide which way to head: there's no way to cover the whole island in the limited daylight at this time of year.
On the 10th we were greeted by a south-easterly breeze, a new Long-eared Owl and several Blackcaps trapped as well as a clear increase in birds. I decided to head north and Susannah abandoned the end-of-year accounts to attempt birding some of the crofts (with our two-year-old daughter Freyja for 'help'). I was enjoying the birding, but things got even better when Susannah texted to say 'SHORELARK, Upper Leogh' — that was the record equalled and what a way for Susannah to make her first addition to the year list!
As the days ticked by, the options for new species seemed to be lessening, but with continued very strong south-east winds, plenty of new Woodcock and Blackbirds appearing in the traps and a small influx of Bean and White-fronted Geese, there was still hope. The 17th saw the wind ease and conditions were much more suitable for birding. I plumped for north census again and signs were promising: plenty of thrushes, Ring Ouzel, Black Redstart and then, as I headed up the Wirvie Burn a white rump ahead of me attracted my attention; right ahead of me was the beautiful, pink, black and grey of a male Northern Bullfinch. I jumped up, shouted and immediately started texting the wardening team to let them know we'd done it — species 218, and a new record!
The rest of the year passed without any new species found, but news that Moltoni's Warbler was an official split meant we had an extra species (though thankfully we managed to get to the record without relying on an armchair tick!).
Phew, what a year! Chasing a year list record doesn't really matter much in the grand scheme of things of course, but it adds an extra element of enjoyment to birding (and I should add that our breaking of the record is, of course, subject to all species being accepted by the relevant committees). There was plenty more to the year: a great seabird breeding season, the highest ringing total since 1998, a fantastic year for Storm-petrel ringing, some amazing cetacean sightings (including 'twitchable' Humpback and Killer Whales), record visitor numbers to the Obs and thankfully, all of the big birds were twitchable for our guests — mobile phones may have seen the famous 'red flag' almost lapse into retirement but they do mean that very few of the good birds are missed by anyone on the island. Of course the daily census, ringing and seabird studies that make up the bread and butter of Obs life were also hugely enjoyable. We also saw the start of an exciting project analysing the Log data (which has been computerised recently thanks to a grant from the SOC) showing that Bird Observatories are as relevant today to the studies of migration as they have always been.
An amazing year with too many highlights to list (and there are so many memories of the year that I haven't managed to squeeze in here) and I'd like to say a special thanks to the Obs team and the guests who came and added to the year list. And we never did see another Velvet Scoter!