Fair Isle is a tiny and remote Scottish island, best known for its knitwear, its place in the shipping forecast and...its birds. Politically part of Shetland but geographically lying almost exactly halfway between the southern tip of mainland Shetland and North Ronaldsay in Orkney, it is perhaps the most exciting place to go birdwatching in Europe. Its track record of attracting rare and unusual migrants has no equal in Britain while its seabird colonies are internationally important.
Ornithological explorer and pioneer William Eagle Clarke first visited Fair Isle in the autumn of 1905 and discovered a prime site for the study of bird migration. His observations on Fair Isle formed a major part of his two-volume work Studies in Bird Migration, published in 1912. He encouraged other eminent ornithologists, notably John Stenhouse and the Duchess of Bedford, to visit the island in the early part of the twentieth century and he also trained several keen islanders to keep records.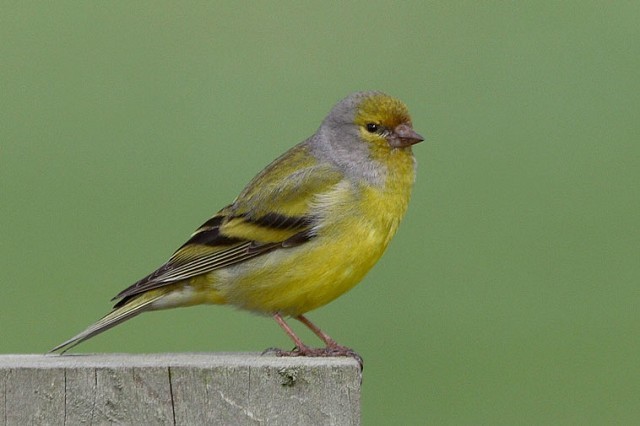 Citril Finch, Fair Isle, Shetland (Photo: Mark Breaks)
George Waterston's association with Fair Isle began in 1935 but it was while incarcerated in a prisoner-of-war camp between 1941 and 1943 that, together with his friend Ian Pitman, he hatched plans for a bird observatory on Fair Isle. After the war George eventually purchased the island and realised his dream when the Bird Observatory was opened on 28th August 1948. For the past 60 years, visitors and staff have maintained almost continual records of migrating bird numbers and species, resulting in some pioneering studies of migration and an island list of over 370 species! The island's ability to attract rare migrants is legendary. If you want to see Lanceolated Warbler, Pallas's Grasshopper Warbler, Pechora Pipit and Yellow-breasted Bunting in western Europe, there is really only one place to go. Three firsts for Britain in the past five years (Citril Finch, Rufous-tailed Robin and Chestnut-eared Bunting), together with a swathe of other top rarities in that time (two Siberian Rubythroats, for example), has cemented Fair Isle's position as number one in the British rarity league.
Content continues after advertisements

Arctic Skua vigorously defending a nest-site. Photo: Roger Riddington.
Fair Isle has 18 species of breeding seabird, ten of them in nationally or internationally important numbers, and these have also been studied extensively. In fact, Fair Isle is one of four 'key sites' in Britain where intensive monitoring is carried out under contract to the JNCC's Seabird Monitoring Programme and, given the current uncertainty surrounding the oceanic ecosystem and significant population declines in the North Atlantic, this work has never been more important.
However, Fair Isle Bird Observatory is about more than just birds and research. It is also about people and the island community. Catering for 30 guests in the comfortable and well-equipped guesthouse, it is a vital part of the island's economy and social scene. People come to relax in comfort amid beautiful scenery, enjoy home cooking, meet staff and islanders and maybe get involved with the work of the observatory or the island crofts. Almost without exception, visitors leave after a wonderful holiday and with a little extra knowledge of bird identification, bird ringing, seabird ecology and island life.

Roger Riddington, Bill Oddie and Tim Loseby.
The current Observatory buildings are almost 40 years old and, while comfortable during the summer season, they creak, groan and leak during the harsh northern winter. After a long consultation period, weighing up all the options, the Observatory's Trustees decided unanimously that the only way to secure FIBOT's and Fair Isle's future deep into the twenty-first century was to replace the ailing 60s buildings with a modern, eco-friendly and durable alternative. A new observatory will cost an estimated £4 million (building on remote islands is not cheap!); much of this will come from public funds but FIBOT—a tiny, independent charity—needs to raise £1.5 million itself. Long-time Fair Isle enthusiast Bill Oddie launched the observatory's appeal at the recent Bird Fair and waxed lyrical about the good times he spent there in his youth, and the good birds seen. If you would like to contribute, learn more about the work of the observatory and how to visit, see our website www.fairislebirdobs.co.uk.