Hot hot hot. I always have a chuckle when I see the UK news headlining the sweltering temperatures, people sizzling in 25° heat, and we are here in an unseasonably high 38°. The heat has a profound effect on the bird and animal life too, midday being fairly lifeless as everything escapes the heat by hiding in the shade. There are still amazing sights to be seen if you are prepared to get up early, have a siesta, and then go out again until dark. Places with permanent water are getting to be the premium spots for watching the comings and goings of the birds, as they come to slake their thirst. My local watering place has to be topped up every day as the spring has dried, and it will evaporate quickly in the sun, but the rewards for trekking up to it are great. The trough is a haven for many birds, with Hawfinch, Cirl Bunting, Nightingale, Corn Bunting, Serin and Woodchat Shrike all coming to drink and bathe regularly.

Golden Oriole, Spain (Photo: Steve Fletcher)
Two small Mulberry trees are adjacent and have been stripped bare by the Golden Orioles and Azure-winged Magpies pulling off the large buds and greedily swallowing them whole. After much frenetic activity by the Orioles early in the month, flying from tree to tree chasing females and calling constantly, they have quietened down as they get down to the task of hatching eggs and rearing young. They seem to be trying to avoid attracting attention from the two nearby nesting pairs of Short-toed Eagles and the opportunist Black Kites, who will take any advantage presented for an easy meal. Sometimes it can be quite surreal as Bee-eaters fly overhead, sounding like trimphones ringing, then the Orioles answering "Doctor Feelgood".

Slender-billed Gull, Spain (Photo: Steve Fletcher)
The first week of the month was a trip to the Ebro delta and the Pyrenees, with good friends Andy and Sean from 'Uddersfield in Yooorkshire. Four days in the Ebro was a first for us all with some great lifers. Slender-billed Gulls were present in good numbers, and were showing some interesting behaviour, the female waiting for the male to return, then strutting round calling until the male disgorged some fish which she greedily ate, not waiting for him to fully regurgitate it, but poking her bill down his throat to gain it more quickly. We had most of our target birds except for Moustached Warbler and Penduline Tit: the swaying reeds due to the strong breeze were difficult conditions for spotting these two elusive species. A Cream-coloured Courser and two Red-knobbed Coots, one without a neckband, were worthy replacement ticks.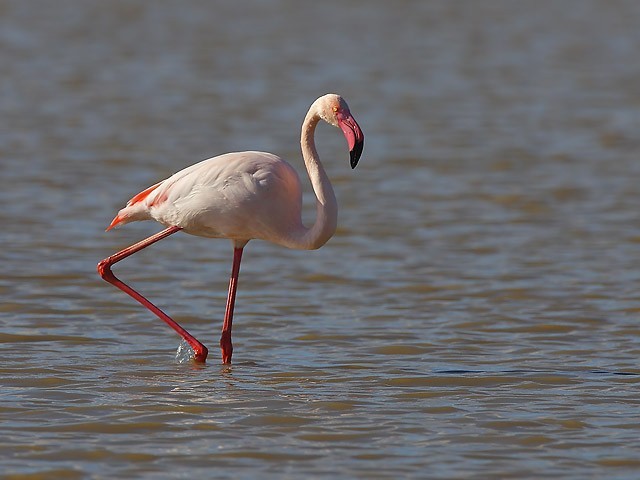 Greater Flamingo, Spain (Photo: Steve Fletcher)
Near the salt pans one day we were watching a close-in trawler on the sea, scanning behind for possible shearwaters, when eagle-eyed Sean spotted a dark bird flying towards us. No-one else could pick it up, but he followed it all the way in until it landed on the beach near to some sunbathing beauties. Watching with binoculars and a scope was deemed to be a bit risky in this situation, so we walked slowly towards it, until we could pick it up with just eyes, and it turned out to be a European Nightjar, fresh off the sea, an obvious daytime migrant, landing at 2pm in 30+°. A couple of Caspian Terns made it seven tern species in the few days, to go along with many wader species. Flamingos were in the thousands, but the skies were empty of raptors, something we are not used to here in Extremadura.
Content continues after advertisements
We moved on to the Pyrenees via a fruitless search for Dupont's Lark near Zaragoza. Again, eagle-eyed Sean came up trumps at our first stop in the mountains, finding two cliff-perched Lammergeiers within seconds of stopping the car, along with Alpine Chough. We dipped on Citril Finch although we could hear them calling in the woods. A trek to a cliff for Wallcreeper resulted in the four of us splitting up the huge expanse into segments to look for these diminutive creatures, and yes, you guessed it, he did it again! Within five seconds of stopping, it was Sean again who had two Wallcreepers feeding on the massive wall. Anyone wanting to purchase a scope should offer Sean double price for his, as it seems to have a fantastic rarity magnet built in to it. Just point it anywhere and you are guaranteed to see what you are looking for. Just about my only contribution during the week was a pair of Rufous-tailed Rock Thrushes, the male doing his display flight trying to impress the female. She was so impressed she flew off! Another stop produced Black Woodpecker flying round the clearing in the woods, landing on the trees, but not stopping for good photos, except of course for Andy. I had lent him a spare camera and lens, and when one landed he was on it straight away, firing off a long burst. It heard the shutter and flew off before I could manoeuvre myself around the branch that was blocking my view, grr! Great views of Alpine Marmots and Chamois finished a brilliant week, totalling 176 species, some great birds, and fantastic company (thanks guys). The long drive home was uneventful, not seeing a single raptor until we passed the sign saying we were back in Extremadura, then there were Black Kites everywhere, interspersed with Booted and Short-toed Eagles.

Short-toed Eagle, Spain (Photo: Steve Fletcher)
The two pairs of local Short-toed Eagles have both fledged a single youngster, and all six can be seen floating over the hill in the evening, looking for supper. The youngster can be easily separated from the adults by the paleness of the undersides and head. We saw one with a huge Montpelier Snake, a lovely shade of green and probably a metre long. They never seem to come close enough to photograph when they have prey — their main priority is to get somewhere to eat it quickly I suppose. Rufous Bush Robin is the latest addition here. They arrive very late, along with the White-rumped Swifts now in Monfragüe. These are very difficult to find as they mingle with the thousands of House Martins, Swifts, Pallid Swifts, Swallows, Red-rumped Swallows, Crag Martins and Alpine Swifts in one big feeding frenzy over the rivers there, overseen by the now fledged Eagle Owl chicks.

Black-eared Wheatear, Spain (Photo: Steve Fletcher)
There seem to be a lot of Black Storks in Monfragüe this year, certainly more than last year, and they appear to be doing well. One nest held three young, until an adult threw one out into the river! Perhaps it was ill, or they couldn't cope with more than two. Who knows? There are lots of Honey Buzzards on the Gredos now, and we even had a pair float across the village last week, a rare sight away from the high mountains here. Ortolan Buntings, Bluethroats and Rufous-tailed Rock Thrush are now on their high territories, giving good views for the patient watchers. We found a pair of Black-eared Wheatear, with both adults perching very close but seemingly agitated. Then we noticed four tiny tailless young jumping through the grass (they must have just left the nest) so we made a hasty retreat. I hope they will be OK, as they were very close to a road.
On our daily travels round the Sierra behind the village we found a Nuthatch nest, unlike anything we have seen before. We are used to seeing holes in trees blocked with mud as nests for Nuthatches, and watching busy adults constantly coming and going feeding hungry chicks. This one, however, is in a gatepost made from breeze blocks. The adults have chiselled a Nuthatch-sized hole through the breeze block into the cavity, forming a perfect nest site. Or perhaps a woodpecker got there first and it has been taken over. How did whatever made it know the brick was hollow though? The more time I spend watching birds, the more I realise how little I actually know about their behaviour.