February temperatures have reached 25°C and, with no sign of even a small cloud since November, the area is now very dry with none of the flowers Extremadura is famous for in spring. We badly need some rain to restore the countryside to its usual splendour. The Cranes have been leaving in their high V-formations, noisily calling and spiralling to gain height and take advantage of the high-level winds to ease their journey north. There are still a few small pockets left, but the area is now eerily quiet after three months of their calls: a sound synonymous with winter here in Extremadura. It has been replaced with the loud bill-clapping of the White Storks echoing from the church tower as a greeting when one returns from feeding, often bringing branches back for nest renovation in preparation for the laying of the precious egg.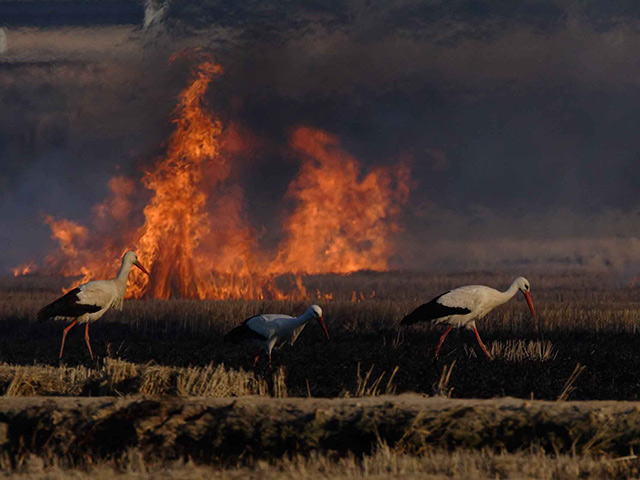 White Stork, Spain (Photo: Steve Fletcher)
Vegas Altas, an area known for high concentrations of winter waders, has been relatively quiet this winter because so many rice fields have been flooded from the supply canals: the problem has been too much choice for the waders. The area around Santa Amalia has been far more successful: the uneven ground is no good for flat rice fields, so the few wet fields are a Mecca for thousands of waders of many species stopping to fatten up before continuing their arduous journey north. Not all migrants waders follow the coast — a lot obviously migrate through central Spain. These include thousands of Black-tailed Godwits, many gaining their splendid orange breeding plumage; Dunlin, most being the long-billed alpina; Little and Temminck's Stints; Ruff, with a lot of very white ones; Wood Sandpiper; Snipe; Ringed and Little Ringed Plovers; large concentrations of Kentish Plovers; Golden Plovers; even a rare Turnstone; and I was lucky enough to find a group of 10 Sanderling, a very rare bird here. The waders form huge circling flocks when one of the many Marsh Harriers, Hen Harriers or wintering Merlin drift over, seemingly just teasing and not seriously hunting, as if testing the reactions for a more serious attempt later.
Arrocampo reservoir was built to supply cooling water to the nuclear power station, so maintains constant levels throughout the year. It is always a great place to spend a day, with its many hidden coves and reed-beds providing cover and food for the wintering birds. Bearded Tits have often been seen this winter, being very confiding, as if they want a closer view of who is watching them. Bitterns overwinter here too; they're rarely seen, but one flew right past me as I was watching a Little Bittern sneaking through the reeds, then an Otter slowly swam past as if without a care in the world. Four Squacco Herons have also been there, along with a few Bluethroats, many Cetti's Warblers, and the noisy Purple Gallinules, and some crakes. A Spotted Crake was positively identified, but I couldn't identify a further five as they flew quickly across open channels, disappearing immediately into the thick base of the reeds. While I sat quietly waiting for the crakes to reappear, nine Glossy Ibis flew over heading north, another unusual sight here, but they are rapidly increasing and will no doubt be breeding here soon, as with the first confirmed breeding record for Great White Egret here last year. Ospreys have been seen here in the last few days: it's a regular stop-off point because of the large number of fish present.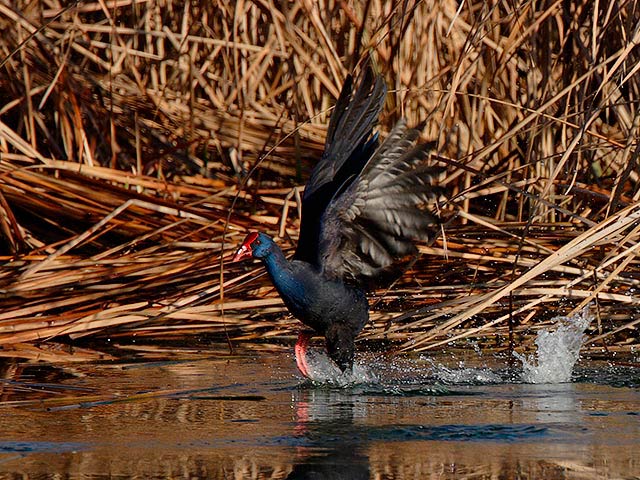 Purple Gallinule, Spain (Photo: Steve Fletcher)
Short-eared Owls are a rare winter visitor to Extremadura — usually one or two are reported — so a roost of 22 birds was quite a find. Unlike the day-flying UK birds, they sit in their preferred places until long after the sun has set, yellow eyes staring through the undergrowth, and do not begin to hunt until well after sunset. On the way to visit the roost, I spotted a male Hen Harrier drifting past, but a quick double-take proved it to be a male Pallid Harrier, possibly the same bird that has been overwintering in nearby Portugal. A Buzzard was seen hopping along the ground with a large branch for nest building, before eventually struggling into the air with it; it didn't get more than a few feet high, but it made it over the hill, so I hope it was successful after all that effort.
In the village, the Swallows and House Martins have returned with a few Sand Martins, while a group of seven Spoonbills on the local pond was a nice surprise. The first Woodchat Shrike of the year flew across in front of me, making a welcome diversion from the myriad Southern Grey Shrikes here throughout the year. Plenty of Great Spotted Cuckoos are around now, noisily competing for territory, along with quite a few Lesser Kestrels.
Content continues after advertisements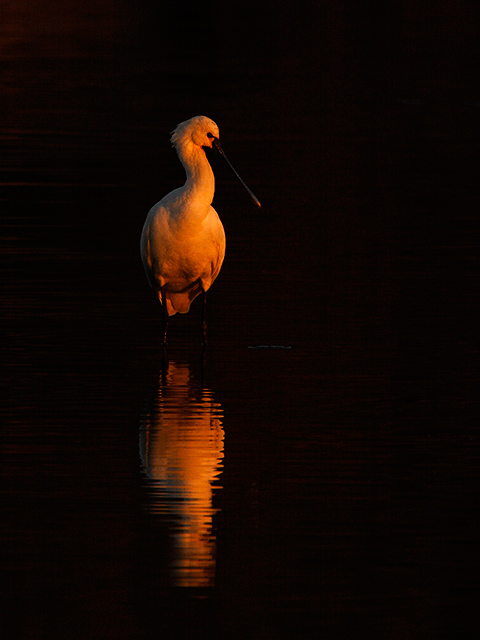 Spoonbill, Spain (Photo: Steve Fletcher)
February seems to be a month of conflict among the birds, with lots of fighting going on over females and establishing territories. As usual it is the smallest birds making the most noise: the Little Ringed Plovers fluff themselves up to twice their size and run after females, making the most awful din. The Lapwings are very intolerant of everything, chasing off whatever comes close, acting as if they are about to breed here.
Monfragüe is starting to liven up a bit with the arrival of the Black Storks, though the females are playing hard to get. The male does his display flight, then lands and calls loudly, head down, but if he lands close to the female, she is off to a different spot before he can even land, leaving him looking bemused as if he is wondering whether all the effort is worth it. Several Egyptian Vultures have arrived. They usually soar high as if looking for quiet nesting sites, unlike the vocal Spanish Imperial Eagle male: he carries branches, and does his display flight above the nest site, climbing high, calling constantly before tucking his wings into a fast stoop, diving to impress the female, not even noticing the Golden Eagle slowly drifting across.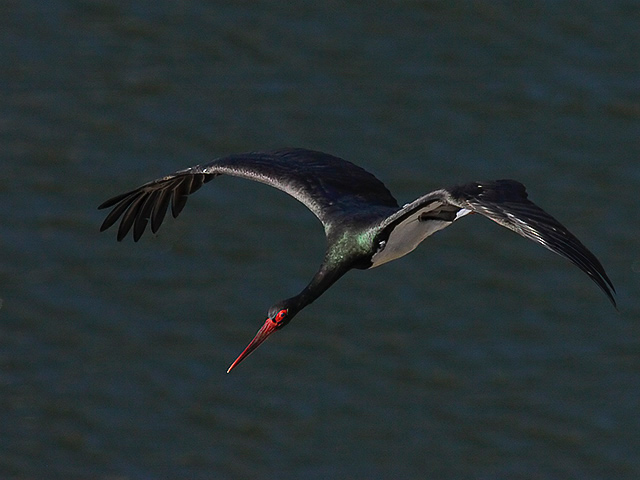 Black Stork, Spain (Photo: Steve Fletcher)
A day guiding university ecology students from Segovia proved a tough day, though extremely enjoyable. I had to deal with some highly technical and involved questions, but everyone seemed very happy with the day out with plenty of species being seen. I'm looking forward to seeing them all again when I take them to see the Iberian Lynx in the mountains — though I'll have to brush up on my lynx history and habits before meeting up again, as no doubt there will be even more difficult questions to answer!