Well, what a difference a day makes. March finished very dry and sunny but, on April 1st, things changed totally. The entirety of April has been cold, averaging around 17°C. Each day has witnessed total cloud cover: many black clouds that threatened rain, but failed to produce any except for a few minutes at a time — it didn't even wet the roads! Eventually, the last few days of the month did actually produce some decent rain; hopefully it should make a big difference to the appearance of the countryside. However, the biggest problem was not the cloud but the wind. Brisk and cold northwesterlies ensured small birds kept their heads down, thus making sightings very difficult. Even the raptors were reluctant to be out flying!
Migration seems very slow-going this year, most migratory species being weeks behind their normal breeding schedules. Many birds are still displaying and nest-building when, normally, they would be feeding young by now. The resident species do not seem to be so affected, and have been continuing with their normal cycles. I spent a pleasant hour watching seven Long-tailed Tit young sitting on a branch, tightly huddled together and attended by the parents feverishly gathering food to appease the noisy throng. Plenty of Sardinian Warblers are also feeding young. They tend to lose their shyness when concentrating on collecting food, stopping only occasionally to call and keep in contact with their partners.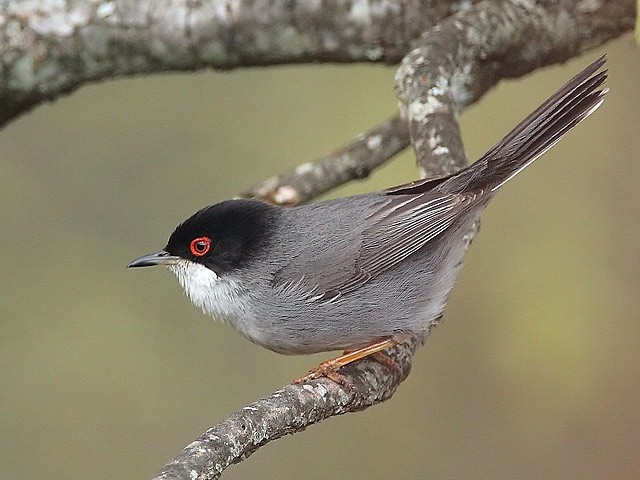 Sardinian Warbler, Spain (Photo: Steve Fletcher)
I still have not seen or heard any Golden Orioles, which are usually very active by now. Furthermore, Roller numbers are still remarkably low, with sightings few and far between. However, Nightingale numbers at least are almost at the norm, and their beautiful song can be heard almost everywhere with trees and scrub — it drowns out anything else that dares to try and compete! My drinking pool was producing many species until the heavy rain appeared: Nightingale, Hawfinch, Serin, Blackcap, Cirl Bunting and Red-rumped Swallow have all been regular visitors. Now that there are small pools of water everywhere, mine will be much quieter until they dry out, the exception being the Nuthatch, which is still gathering mud to seal its nest.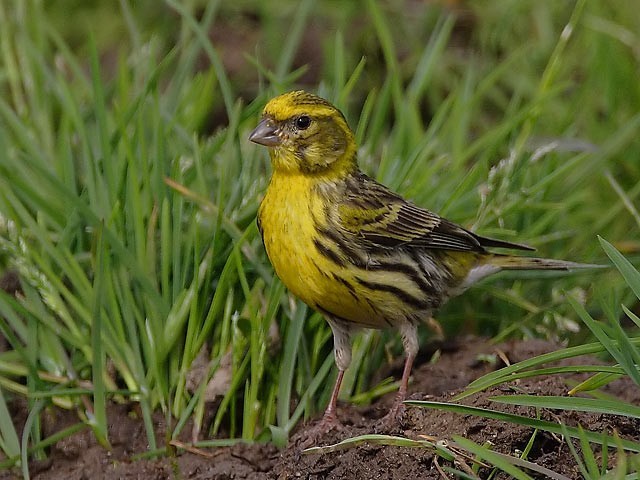 Serin, Spain (Photo: Steve Fletcher)
Content continues after advertisements
Plenty of Spotted Flycatchers are coming through at present: I've seen as many as six in a small area of suitable habitat. The recent rains mean there are lots of midges for them to feed on from their favoured perches. In the last couple of days, I have also found a new local site for Spectacled Warbler: the male sings loudly atop some scrub proclaiming his new territory, although I am not sure how the nesting Cetti's Warblers will receive his encroachment!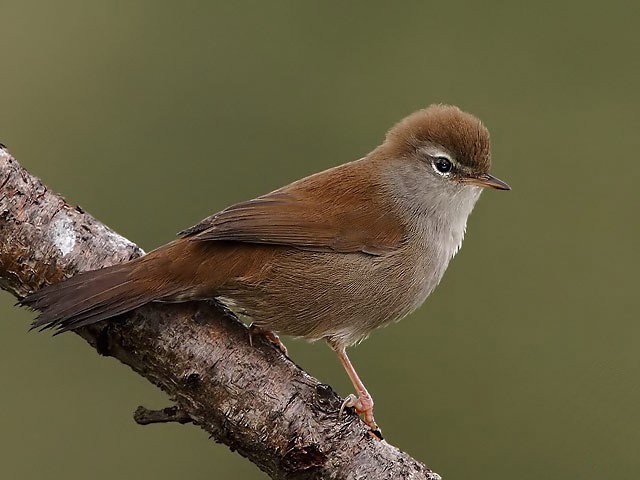 Cetti's Warbler, Spain (Photo: Steve Fletcher)
A local lake still has five Spoonbills (two pairs of adults and a juvenile); initially there were a further five juveniles with them, but they moved on to pastures new around mid-month. The adults are resplendent in their breeding plumage — yellow chest, intricately patterned bills and long head plumes — though they show no sign of breeding behaviour whatsoever, and instead spend most of the day asleep with their long bills tucked under a wing. Also at the lake there are still plenty of summer-plumaged Spotted Redshanks and Greenshanks, competing with the usual Black-winged Stilts, Little Ringed Plovers, and Common and Green Sandpipers — strange considering they breed in the high Arctic and still have to get there! A small flock of black-bellied Dunlin was a late surprise, although they didn't hang around long. A dozen Collared Pratincoles have set up their summer home here too. Ring Ouzel and Hobby have also been regular passage migrants.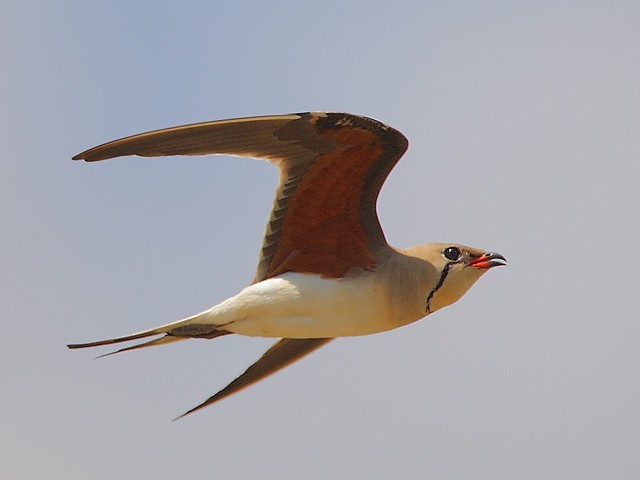 Collared Pratincole, Spain (Photo: Steve Fletcher)
A few Rufous-tailed Rock Thrushes have also been noted on passage, but they too will be dashing for higher ground. Having said that, I am not sure how they will fare as the Sierra de Gredos currently has a vast covering of snow — no doubt falling during the recent heavy rains — far in excess of that present during winter! Out on the steppe, the Great Bustards are still displaying. Some appear to have been successful — large males can be seen strutting around, followed by harems of females. In contrast, some are still trying their luck, producing the foam-bath display when any females come into view. Male Little Bustards are also still displaying at their lekking sites, running after the smaller, drabber females before jumping in the air blowing raspberries — obviously an irresistible attraction! The Sandgrouse are always hard to find, their cryptic plumage being superb at hiding them when feeding, but they are easily seen when flying over the plains.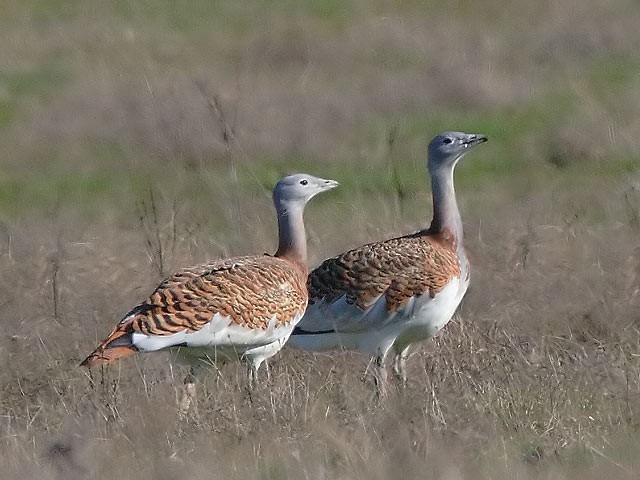 Great Bustard, Spain (Photo: Steve Fletcher)