The most spectacular spring seawatching event that Britain and Ireland can offer is without doubt the Arctic-bound passage of everyone's favourite kleptoparasites, the elegant Long-tailed Skua and its far burlier relative, Pomarine Skua. Either one of these species is often enough to headline a seawatch, even when sightings involve comparatively frumpish juveniles in the autumn, but spring adults are among the most beguiling ocean-goers and are capable of putting on a performance nothing short of staggering as they pass our shores.
In both species, it is the peculiar central tail feathers which make them so characterful and sought after, those of Long-taileds being delicate and wavy, adding sometimes upwards of 20cm to the bird's length, while Poms' are spoon-shaped and twisted in an otherwise unfamiliar fashion. The birds we see in the spring are making headway for their breeding grounds on the Arctic tundra where they will feed on anything from smaller birds to insects and berries after spending the winter in the South Atlantic.
It is well worth travelling to witness spring movement of skuas but planning for such a trip is something of a hit-and-miss affair. Most passage takes place in May, with mid-month usually seeing the peak numbers. However, the weather is the key component and the deciding factor in whether a significant quantity of birds pass close enough to be seen from land and if it is best to scan from points along the south coast or in north-west Scotland, although English Channel counts never match up to the red-letter days experienced in the north and Long-tailed Skuas are always scarce in the south. Squalls can really help to boost counts but wind is the most important element, with anything between a southerly and north-easterly blow being best down south, whereas wind directions from south-westerly to north-westerly often deliver the goods in the Outer Hebrides. For obvious reasons, stronger winds from the right quarter generally increase totals. It is also worth bearing in mind that movement sometimes peaks in the early morning, mid-morning and again in the evening.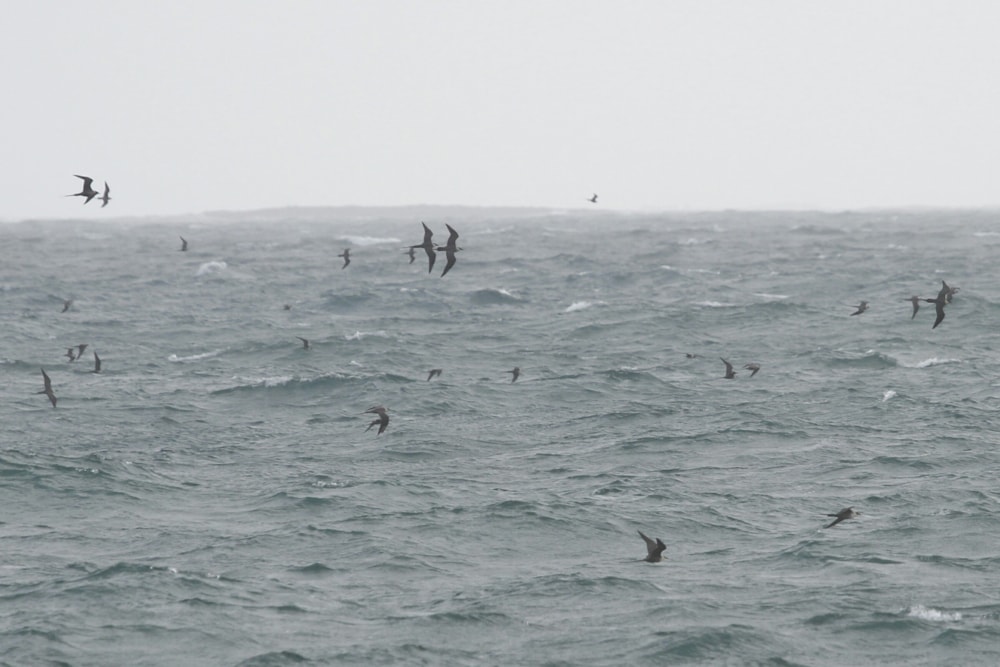 A large flock of Long-tailed Skuas passes Aird an Runair on 15 May 2015 (Dave Bywater).
In 2013, strong westerly and north-westerly winds produced an unforeseen number of skuas moving through the Outer Hebrides and record counts were made for both Long-tailed and Pomarine. What was utterly unprecedented was that just two years later, in spring 2015, the record books would have to be rewritten again as literally thousands of these birds flooded through. The headland of Aird an Runair at Balranald on North Uist, very close to where the well-twitched Harlequin Duck resided in 2013, is the skua-watching Mecca, offering an unrivalled spectacle in terms of volume of birds when all of the ingredients come together. This May, the site logged more Long-tailed Skuas than were recorded across the entire Outer Hebrides in the previously record-breaking spring of 2013, and numbers of both exceeded 100 on eight days (compared to three days in 2013).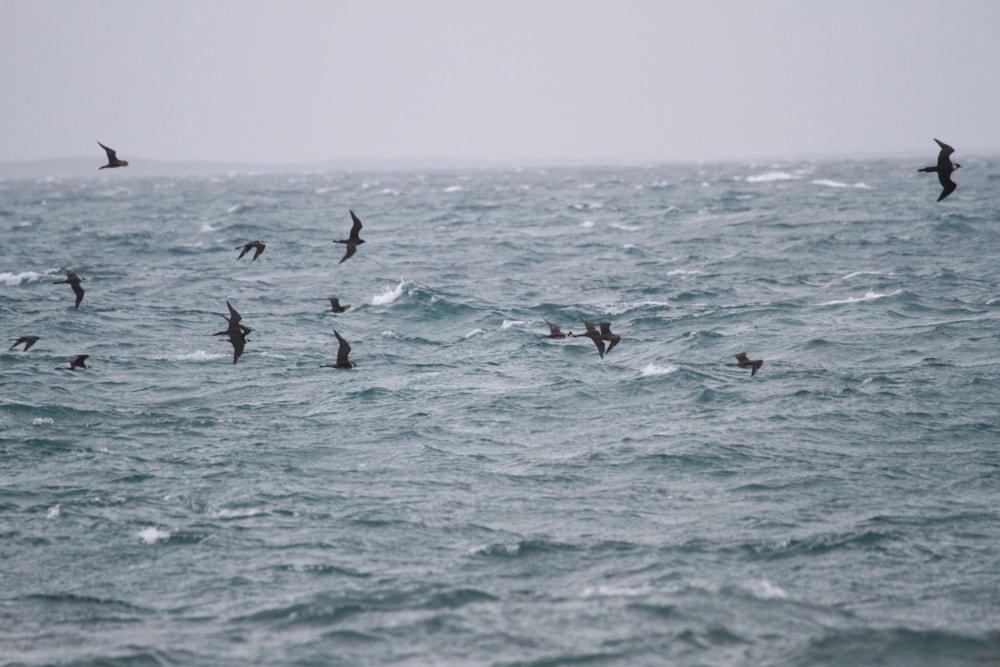 Even at distance, the imposing bulk of Pomarine Skua is easily discernible from the more elegant Long-tailed. This flock was photographed on 15 May 2015 (Dave Bywater).
To give an impression of the intensity of the movement, the first Pomarine Skuas and Long-tailed Skuas appeared on 4 and 7 May respectively and the passage neatly settled to a close on 31st. On three days of the month, counts of Poms were made which exceeded 300 birds. The afternoon of 11th, which saw a force 6–7 SSW wind, brought much of the day's movement and the 762 Long-tailed and 105 Pomarine Skuas made for the year's first big push at the site. The next day, 1,310 Long-tailed Skuas were counted along with 423 Poms, brought about by a SSW wind which switched to north-westerly with showers. The wind direction started off as S/SSE on 15th before it swung around to the west and remained F4–5, seeing 174 Poms and 440 Long-tailed Skuas through; the following day was better still, with a persistent westerly blow bringing totals of 850 Long-taileds and 911 Poms. 17th was the last big day for a little while, with 235 Long-tailed Skuas and 194 Poms moving through as a westerly shifted to southerly at F5–6.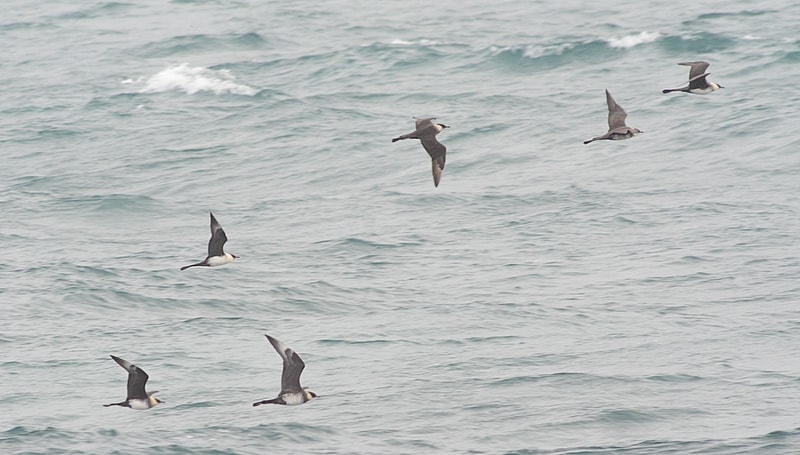 A close group of Pomarine Skuas pass Aird an Runair on 20 May 2015 (Joe Graham).
Major Long-tailed Skua passage resumed on 24th with 320 birds in a fairly strong and showery W/WSW blow, similar conditions producing 325 on 28th and a stronger wind, changing from SSW to W on 31st and giving 203 birds (and the latest-ever three-figure count). Pomarine Skua migration had largely fizzled out by the last few days of May but the spring's highest count, 429 birds, was made on 24th. Over the month of May this year, which saw virtually the entirety of the spring's skua passage, Aird an Runair boasted a phenomenal haul of 4,640 Long-tailed Skuas and 3,004 Pomarine Skuas which was savoured not only by local birders but visitors and groups coming from across the country to marvel at this unique migration event, with the skuas often affording sensational close-range views and single flocks sometimes numbering in excess of 100. Some may find it surprising that Arctic and Great Skuas were in meagre supply by comparison, with final totals of 121 and 122 respectively. The quantity of Long-tailed Skuas is ever more remarkable when it is kept in mind that the species was rare enough to be considered an official rarity until 1979.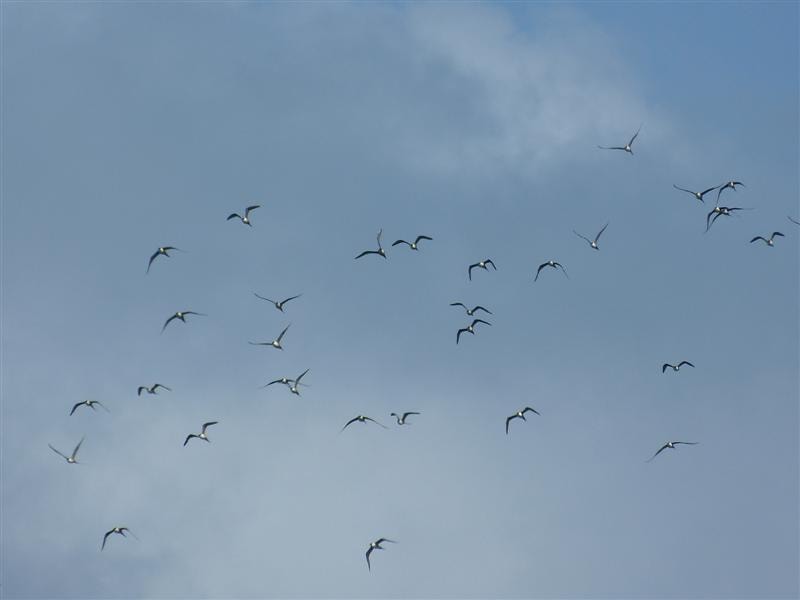 This flock of Long-tailed Skuas was part of 1,125+ that passed Aird an Runair on 22 May 2013 (Gavin Thomas).
Summary of key dates for Long-tailed Skua and Pomarine Skua passage at Aird an Runair, North Uist in spring 2015
| Date | Long-tailed Skua | Pomarine Skua | Conditions |
| --- | --- | --- | --- |
| 7th May | 2 | 71 | NW F5–6 to WNW F3–4 |
| 11th May | 762 | 105 | SSW F6–7 |
| 12th May | 1,310 | 423 | SSW to NW with showers |
| 15th May | 440 | 174 | S to SE then W, F4–5 |
| 16th May | 850 | 911 | W showers F5–6 with showers |
| 17th May | 235 | 194 | W to S F5–6 |
| 19th May | - | 83 | NW F4–5 |
| 20th May | 51 | 104 | NW to SW F3–4 |
| 21st May | 77 | 90 | SW F4–5 with light rain/drizzle |
| 22nd May | 43 | 30 | WNW F3–4 |
| 24th May | 320 | 429 | W to WSW F4–6 with showers |
| 28th May | 325 | 17 | W F4–6 with showers |
| 31st May | 203 | 37 | SSW to W F7+ |
Aird an Runair was the primary site for skua passage by a long way, this being partly due to observer coverage as well as topography. Further south, Rubha Ardvule on South Uist picked up a few skuas this spring but figures were not a touch on Balranald, with the best day counts being of 80 Long-taileds on 15th and 136 Pomarines on 16th. Watches also took place at Mangurstadh (in south-western Lewis) on 7th, 12th and 16th May; Long-tailed Skuas were only recorded there on the last date, with a flock of 30 moving north in the morning during a WSW wind at F6–8, when 62 Poms were also seen. 7th saw 85 Pomarines there and 198 passed on 12th (when Aird an Runair experienced its second-highest total of the month), the earlier date having squalls and heavy showers in a F6 northwesterly and 12th seeing a F8 westerly with some rain.
It might be natural to assume that skuas passing Aird an Runair on their spring migration would continue to track along the west side of the Outer Hebrides and be picked up in similar numbers at sites such as Mangurstadh but this is obviously not the case, one of the reasons being that a significant proportion of both Long-tailed and Pomarine Skuas cut over land at Balranald and into The Minch (a northerly element to the blow, giving a headwind, is best for deflecting birds over land and away from the 'default' route between the Hebrides and Faroes), and sites further north only pick up those which did not make the short-cut.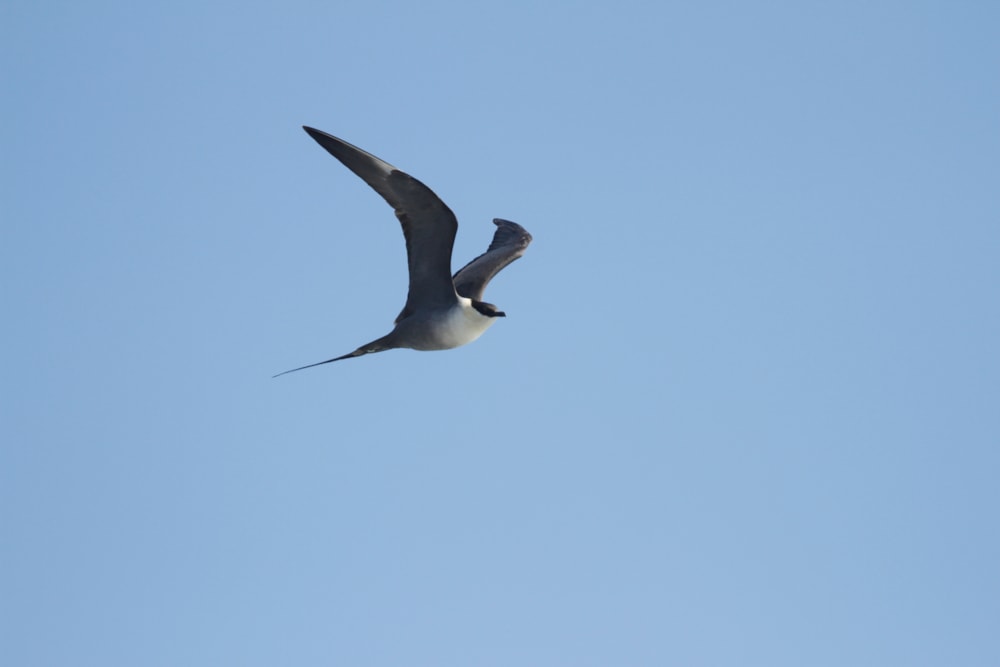 A large proportion of both Long-tailed and Pomarine Skuas cut over land at Balranald, often affording brilliant views (Dave Bywater).
Away from the Outer Hebrides, several watches took place at Saltcoats, Ayrshire, and Bowness-on-Solway, Cumbria, where skuas also tend to divert inland, the birds in Cumbria being thought to track up the Solway Firth and overland through to Northumberland, and those at Saltcoats taking the Firth of Clyde to the Firth of Forth. This May, skuas were logged through these sites at a broadly comparable rate to 2013, with highest day counts of Long-tailed and Pomarine Skuas being 29 and 86 respectively at Saltcoats (55 and 15 in 2013) and 25 and 55 respectively at Bowness-on-Solway (nine and 86 in 2013).
With the volume of skuas recorded on spring migration seemingly on a long-term increase, our growing understanding of the routes that they follow and the influence of weather conditions, upcoming springs are set to be both thrilling and fascinating on the Outer Hebrides. Co-ordinated counts from different watchpoints could shed more light on the true number of birds involved and the flyways used. It is hard to imagine this spring's totals being broken, but those of 2013 were thought to be monumental, so who knows what is yet to come.
Migrating skua footage
The NatureGuides team has done a phenomenal job of filming both Long-tailed and Pomarine Skuas migrating past North Uist this spring, the footage really giving a feel for the struggle that these birds endure through periods of inclement weather. Watch three sample videos below, with more available to view here.
Resources & acknowledgements
Wynn, R B; Brown, D; Thomas, G; Holt, C A; Hanssen, S A; Moe, B; Gilg, O. 2014. Spring migration routes of Long-tailed Skuas around and across the UK - results of observational and tracking data. British Birds, 107 (4). 220-228.

Many thanks to Brian Rabbitts and Tony Marr for their invaluable help and information in the preparation of this article.