Summer lulls are fated even for such revered birding areas as Dungeness, and so it was that this June came and went with an air of lassitude and admittedly skant rarity interest. However, that is not to say that my logbook was completely void of interesting sightings, in fact some were really rather curious.
A peaceful evening seawatch on 21st was interrupted by a European Storm-petrel fluttering quite nonchalantly west at a nice close range, a locally notable bird, but I didn't realise that the species can go whole years without being recorded in Kent. Another evening, on 13th, produced an unscheduled rendition from a Nightingale, another scarce visitor to Dungeness and on a date justifying a fleeting hope that it would churn out the resonant notes of a Thrush Nightingale. It was nonetheless an obs tick for me and, more importantly, a performance to which my ears are seldom treated. Much wackier was a Fieldfare which turned up in the Trapping Area on 5th and blundered into a mist net the next morning. What exactly it had been doing during the five or six weeks elapsed since a typical spring departure date is anyone's guess! Otherwise, seawatching boosted my month's total a little, with Manx Shearwater, Little Tern and Great Skua among the birds passing by but generally it was an undeniably quiet month spent savouring the dwindling dawn chorus and noting first fledglings. The RSPB reserve attracted a Cattle Egret, which I got round to seeing on 21st, and it was a treat to enjoy the regular Bitterns, Bearded Tits and Hobbies there.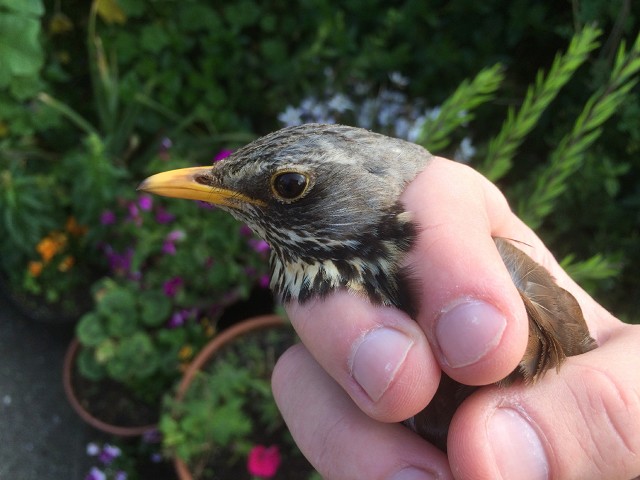 This Fieldfare was a bit of a shock in early June (Photo: David Campbell)
For birders so inclined, a banner under which I partially include myself, autumn starts in July if you're into gulls. And so, with my first juvenile Yellow-legged Gull of the year on 11th, autumn wearily lurched itself over the horizon. When the going was slow, the day could be saved by picking out contrasty tails and unnotched tertials among the throngs, the challenge enhanced after a couple of weeks' grace was up and many of the local Herring Gulls had fledged their young. Notwithstanding the paucity of terns making use of The Patch, I was resolute in my aim to find a decent one and this hope had lent much of the motivation to continue checking the boil so I was made up when an adult Roseate Tern struttted its stuff for just under an hour on 12th.
Seawatching gave generally modest returns in July, although seeing regular Manx Shearwaters was fantastic, including 27 on 1st. Passerine movement was kicked off mid-month with Yellow Wagtails and Northern Wheatears beginning to trickle through, along with the odd Sedge Warbler. However, I particularly enjoyed the overhead passage of waders, which enlivened several mornings towards the end of the month, with Whimbrel, Curlew, Redshank, Ringed Plover, Dunlin, Golden Plover, Common Sandpiper and Green Sandpiper proclaiming their invisible flights overhead, but the best was a Wood Sandpiper on 31st.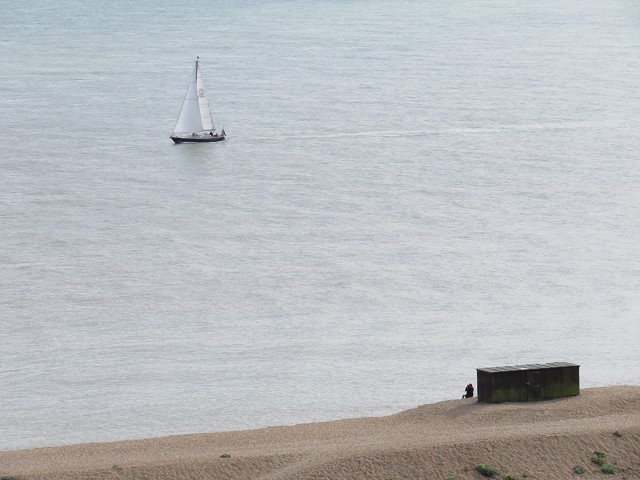 Seawatching at Dungeness, viewed from Old Light (Photo: David Campbell)
August brought with it continued glorious spells of fine weather, making ambling over the shingle a delight, not least during the many serene daybreaks (which are of a special class at Dungeness). By the start of the month, almost all birdsong had been extinguised upon the conclusion of many local birds' breeding cycles. Most of the musical accompaniment came courtesy of the young Willow Warblers merrily whistling their descending notes as they worked through the bushes, practising for defending a territory next spring. A somewhat burlier yellow and green warbler, a Melodious Warbler, provided early scarcity promise on 6th, though it clearly had better business to attend to than performing for onlookers and I only snatched a couple of glimpses.
Content continues after advertisements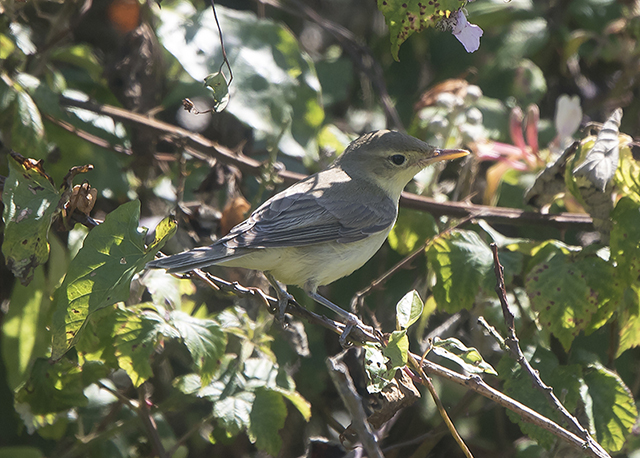 The Melodious Warbler on 6 August was extremely elusive, rarely posing for photos (Photo: Martin Casemore)
On 13th, I caught up with a Nightjar which had been stumbled upon during a search for crickets the previous night. A handy addition to my obs list! A fine suit of bread and butter passerine migrants kept us busy, with Yellow Wagtails, Swallows and Sand Martins on tap at times, as well as a number of Whinchats and Northern Wheatears with the odd Tree Pipit, Common Redstart, Pied and Spotted Flycatcher thrown in. Over the waves I finally bagged a Balearic Shearwater on 19th and had three more on 22nd, while other memorable sessions provided 11 Manx Shearwaters on 2nd and a deluge of Black Terns on 19th, when 159 were tallied.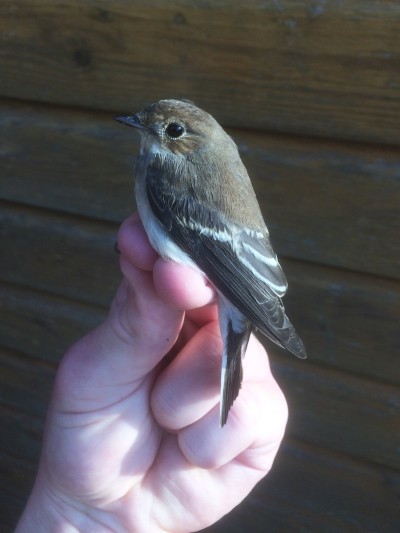 This Pied Flycatcher was among the returning migrants trapped at the Observatory (Photo: David Campbell)
Frequent checking of the Larid gold pot at The Patch continued in earnest, when finding the first juvenile Caspian Gull of the season became my self-appointed challenge over the early days of August. Fortunately, before my eyes burst after looking too long at the storm of flailing tail bands and primary windows, a spanking juvenile Caspian Gull joined the party on 8th. Birders eyeing the smaller gatherings by the fishing boats identified another a few days later, which was much better in front of a camera. While always outshone by a 'Casp', Yellow-legged Gulls provided steady interest as they moulted into first-winter plumage.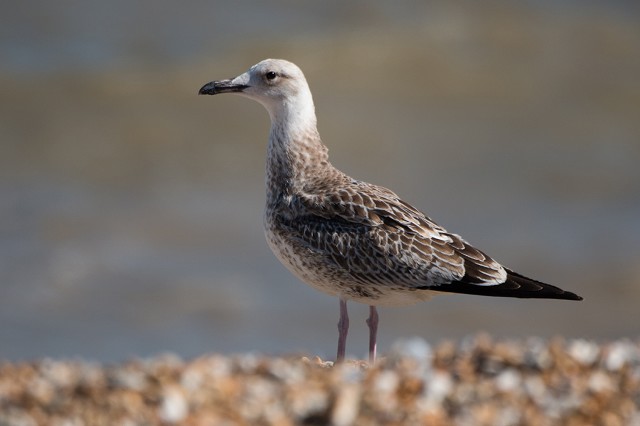 This sumptuously elegant juvenile Caspian Gull, seen on 15 August, was the first of the 'autumn' at Dungeness (Photo: David Campbell)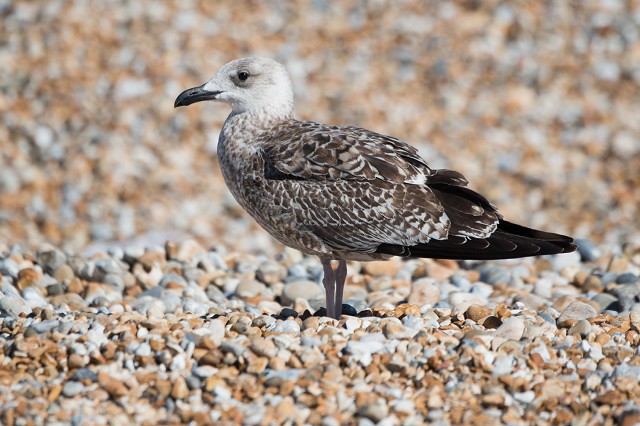 Noticeably bulkier, August afforded opportunities to watch juvenile Yellow-legged Gulls as they commenced moult into first-winter plumage (Photo: David Campbell)
When I found the time to sneak over there, the RSPB reserve was a fantastic place to spend a couple of hours now that the water levels had given way just enough to reveal many a sumptuous-looking island. These attracted a panoply of waders and other birds including Little Stint, Ruff, Greenshank, Golden Plover, Black-tailed Godwit (including a Continental nominate limosa on 29th), Garganey and Great White Egret but it was the dry hayfields which drew in the Stone-curlew on 18th. This is a major rarity in the Dungeness area, and not the most straightforward bird to connect with in Kent anyway, so was a very welcome visitor and well worth abandoning my lunch for.
Staying at the bird observatory over the autumn offers top opportunities for seawatching and searching for passerine migrants and an excellent focal point for visiting other brilliant sites in the area such as Dungeness RSPB and Rye Harbour NR. We have nine beds in cosy dormitory-style accommodation and a fully-equipped kitchen; you can find out more at www.dungenessbirdobs.org.uk.