May arrived with a sense of refreshed and heightened anticipation. It is rumoured that the entire month is an exclusion zone in the calendars of some Dungeness birders, on account of both the annual Pomarine Skua fest and the knack it has for the scarce and rare. 'May the fourth be with you' has become an important mantra to shingle-crunching birders as well as Star Wars fans, the date being a popular one with birders visiting the observatory in a bid to add a find of their own to the glut of previous mid-spring discoveries.
Winds of an easterly inclination in the first two-thirds of the month usually ignited a productive seawatch, the theme now being skua migration. I needn't have worried about not being at the seawatching hide when the first handful of Pomarine Skuas went through as an engrossing seawatch on 6th penned 98 into my personal logbook over the morning session, and the loose day-long procession of these languid, spooned beasts finished on a colossal 121 birds. This made for the third highest day record of the species at the observatory, though relatively few Arctic and Great Skuas were logged that day; these fellow kleptoparasites otherwise featured fairly strongly over much of the month, as did Black, Little and Arctic Terns, and waders such as Bar-tailed Godwit and Whimbrel, as well as a few increasingly unpunctual skeins of Dark-bellied Brents playing catch-up. A drake Garganey, also on 6th, was another seawatching highlight for me, as were appearances from Velvet Scoter, Black-throated Diver and Little Gull.

Pomarine Skua (Photo: David Campbell)
Friday 13th was actually a favoured day for me this month. The morning opened on a high when I stumbled upon a European Serin feeding discreetly with Linnets by the road to the observatory, fulfilling my aspiration of finding my own this year in a far better fashion than the expected momentary trill of a fly-over. Later on, a ring-tail Hen Harrier and two Red Kites, notable observatory birds, padded out the notebook. Earlier in the month, the dropping-coin song of a Wood Warbler enlivened a pit stop at the RSPB's ARC Pit on 2nd, while noteworthy passerines in the observatory recording area included a Ring Ouzel on 4th, Tree Pipit on 12th and tardy lone Firecrests on 15th and 16th, as well as the occasional Spotted Flycatcher sallying forth from the bushes. The simple proclamations of what was probably the same Common Cuckoo most mornings were a sound to be savoured, the males of this imperilled harbinger of spring no doubt due to depart again in coming weeks once their reproductive obligations have been met. However, an encounter with a freshly arrived Turtle Dove on 11th was at once far more exciting and an even greater indictment of the state of our avifauna, being the first I had seen in Britain for a few years. Finding a Hobby was no such problem, this elegant falcon often being seen over the recording area while small groups could be seen slicing through the sky, and the dragonflies within it, above the RSPB reserve.

European Serin, 13 May 2016 (Photo: David Campbell)
Content continues after advertisements

Turtle Dove, 11 May 2016 (Photo: David Campbell)
May might have kept us waiting but it did not fail to come good eventually. An adult Gull-billed Tern gracefully ranging up and down Burrowes Pit on the RSPB reserve on 22nd was just the sort of thing we had been waiting for, and settled one old score of mine. The last Dungeness occurrence was a one-day job on the reserve in 2006, but I distinctly recall turning down a lift from my dad for one there the previous year, on the basis that there was no news on it by mid-morning on what resolved to be its last day, all of which it spent on the ARC Pit. Until now, the species had since stayed clear of my British list.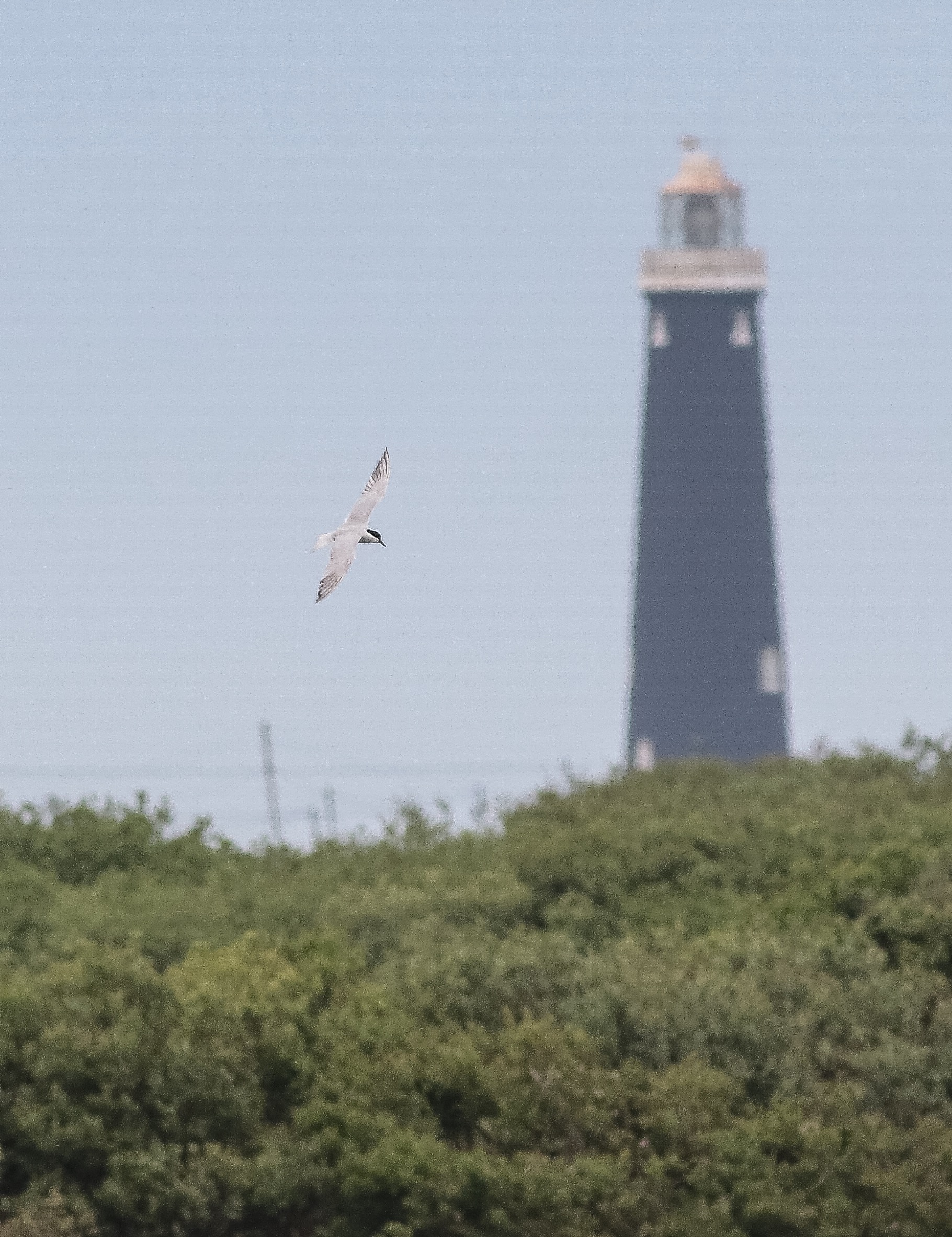 An iconic shot of the Gull-billed Tern and the Old Lighthouse on 22 May (Photo: Jason Ward)
As we opened the mist nets in the Trapping Area on 26th, Observatory Warden, David Walker, and I mused at the chances of the adult Laughing Gull, seen just a few miles west along the coast on the Hastings seafront the previous evening, having found its way to the warm boil of The Patch's outflow. We had barely done the first net round when Martin Casemore phoned and fulfilled the prophecy. Once another local ringer had seen the gull, he kindly took over the rounds while we dashed over and enjoyed brilliant views of this rather chic gull. It even became quite friendly, gladly accepting handouts from visiting birders. Although I saw the first-winter in Cheshire last year, this laid another ghost of mine to rest after dipping the second-winter here during the 2005 influx. The next morning, it was supplanted by a far less glamorous and much more bewildering larid, identified after some deliberation as a Glaucous Gull, seemingly a second-calendar-year bird. However, something about it was a little unsettling from the off — despite being a fairly bulky bird and having a bill structure and pattern fitting quite well with Glaucous, other features such as head shape and wing length were more suggestive of Iceland. Consensus swayed between the two species and also flirted with the hybrid option. If only we could be certain of the identification it might qualify as one of those so-called 'educational' birds. As the month drew to a close, a new ghost arose when a bright male Common Rosefinch sang in the Trapping Area for one day only on 28th, naturally a day when I was away from the peninsula!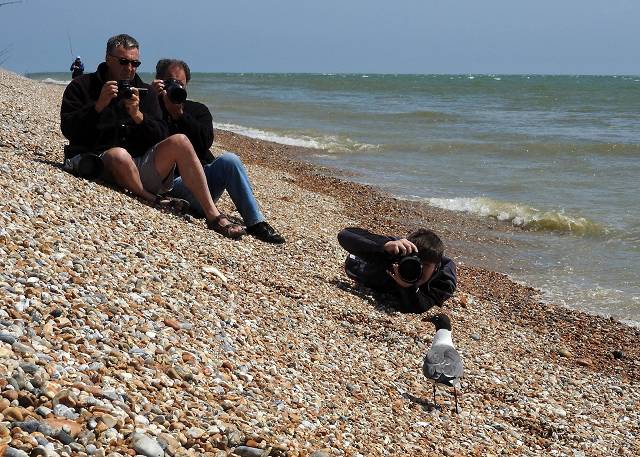 The Laughing Gull showed rather well on 26 May (Photo: Keith Gabriel)
Dungeness Bird Observatory offers comfortable dormitory-style accommodation for up to nine people and provides a focal point for birding the fabled shingle peninsula. For more details, see www.dungenessbirdobs.org.uk.