Growing up in Dublin meant that searching through flocks of wintering Brent Geese has always been a birding habit of mine. They are a familiar sight along the coast and on amenity grasslands around the county from September through to April. The quest to find rare or scarce subspecies of brent is no doubt an endeavour familiar to many coastal birders across Ireland and Britain. What constitutes as your 'default' Brent in these flocks depends on where you live so a quick run-through of the different types is warranted before I go any further.
Three widely recognised subspecies occur within Brent Goose:
Nominate Dark-bellied Brent Goose Branta bernicla bernicla, which breeds in the central Russian Arctic and winters in Britain and western continental Europe;
The wide-ranging Light-bellied Brent Goose B b hrota (also referred to as 'Pale-bellied Brent Goose'), with breeding populations in Arctic Canada, northern Greenland, Spitsbergen, and Franz Josef Land. Wintering populations in north-west Europe include Ireland, Scotland, Denmark, France and increasingly in northern Iberia. The population that winters along the eastern seaboard of North America is referred to as Atlantic Brant there;
The striking Black Brant B b nigricans, breeding largely in Alaska but also into Arctic Canada and the far north-east of Russia, with wintering populations chiefly along the Pacific west coast of North America and into Baja Califonia. Other wintering populations occur in Japan, South Korea and north-eastern China.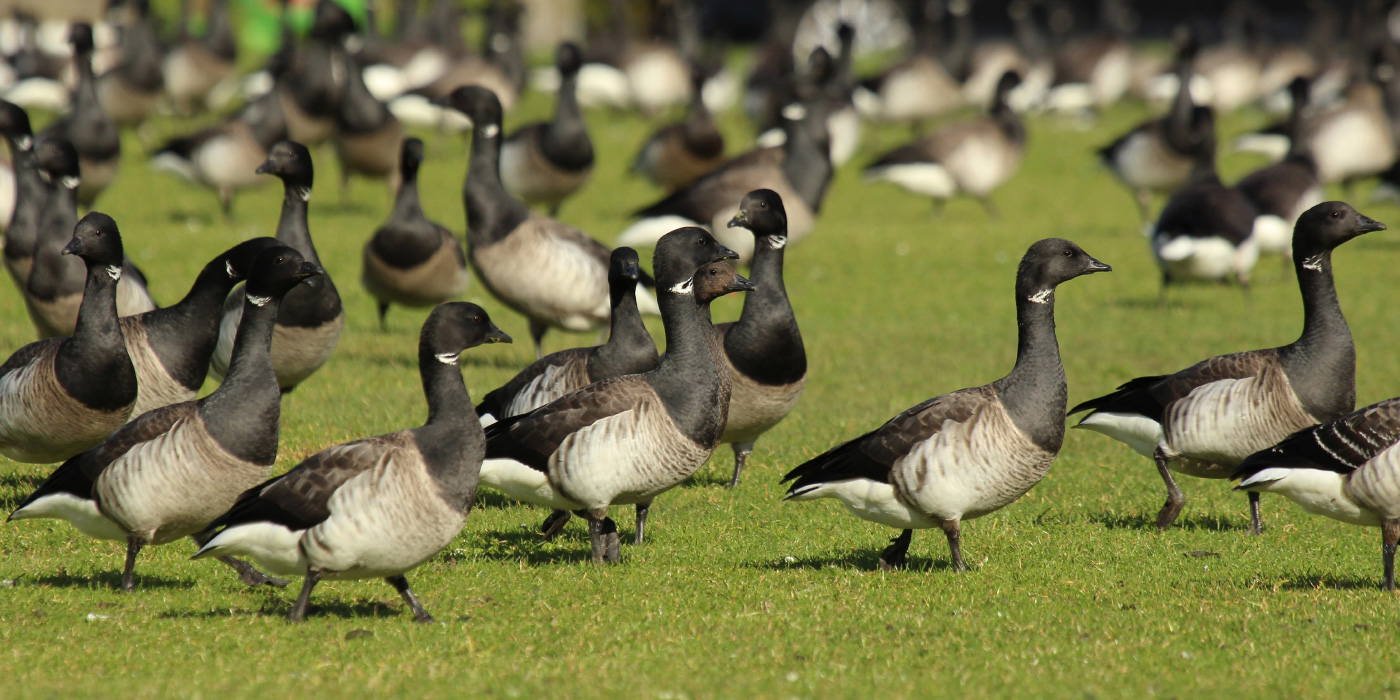 There are three recognised subspecies of Brent Goose. These are Light-bellied Brent Geese, which are common in Ireland in winter (Jan Rod).
A fourth goose, the enigma that is Grey-bellied Brant, has yet to be formally accepted by most taxonomic authorities but one which has a distinct breeding and wintering range and is often identified in the field in a vagrant context (although separating these from the various potential Brent intergrades and hybrids needs to be given serious consideration). Also known as Western High Arctic Brant, it breeds on the Parry Islands (Melville, Prince Patrick, and Borden) and winters around Puget Sound near Seattle. It has been suggested that if recognised, Grey-bellied Brant would be assigned as B b nigricans and Black Brant be changed to B b orientalis on account of the type specimen of nigricans actually being that of a Grey-bellied Brant rather than a Black Brant.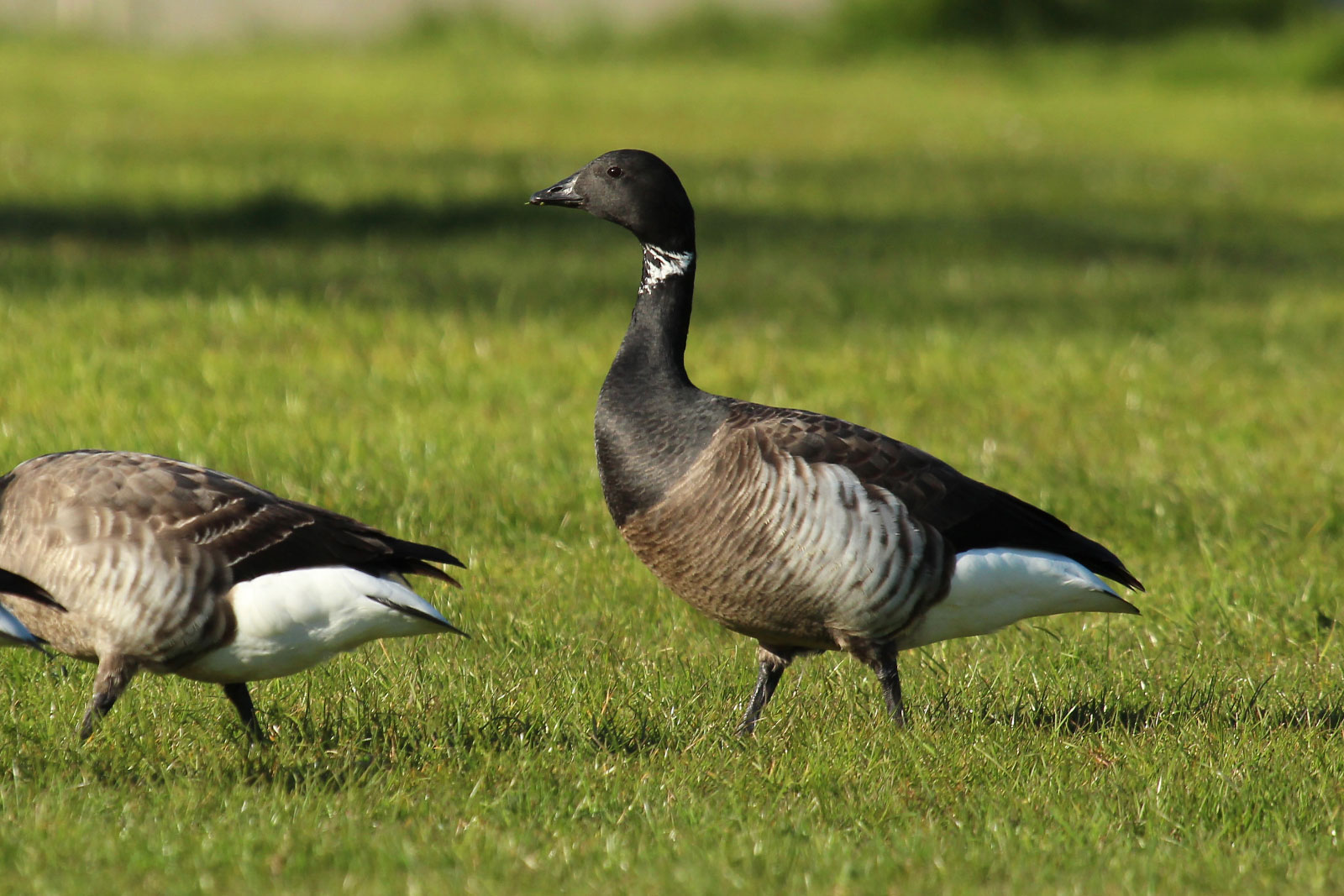 The as yet undescribed 'Grey-bellied Brant' has been recorded in Ireland on a number of occasions, including in Dublin (Jan Rod).
Ireland hosts a significant proportion of the 'Eastern High Arctic' Light-bellied Brent Goose wintering population. Numbers here have increased dramatically from c 10,000 during the 1960s to more than 48,000 in the winter of 2011/2012, but with some declines after that owing to fluctuating levels of breeding productivity. The largest numbers can be found in Strangford Lough in Northern Ireland during autumn, where birds stage before filtering down to wintering sites across the rest of the island. Of these wintering areas, Dublin Bay hosts the largest numbers, with a record count of more than 7,300 individuals noted by a BirdWatch Ireland survey team during February of this year.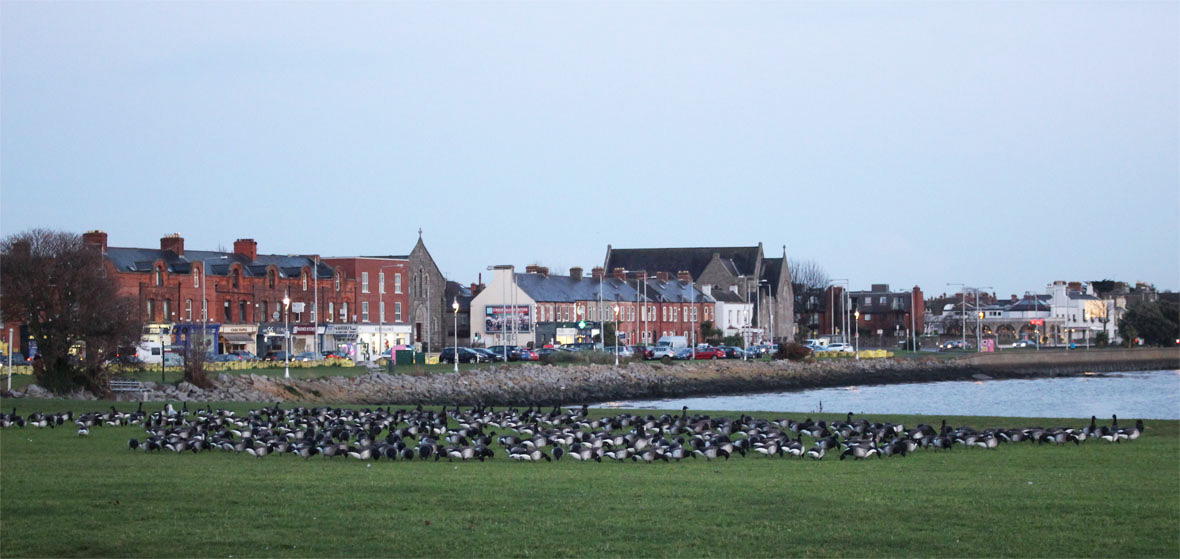 Dublin Bay supports thousands of wintering Light-bellied Brent Geese each winter (Christer Persson).
Along with this dramatic increase in numbers has come a fascinating shift in their foraging habits. Light-bellied Brent arriving in Dublin will typically forage on saltmarsh vegetation and Zostera eel-grass on estuaries for the first few weeks and months but come mid-winter the majority of the birds switch to feeding primarily on grass at amenity areas. Well in excess of 100 inland or terrestrial grassland feeding sites have been identified around Dublin and range from school sports pitches to greens in the middle of housing estates and even on the grounds of the Cadbury's chocolate factory!
This brings them into close contact with people and habituation was inevitable, the result being that Dublin offers what must be some of the best views of wintering Light-bellied Brent Geese anywhere in the world – and often in large numbers, too. It is commonplace to see flocks of hundreds of Brent foraging on urban grasslands while joggers, bikes and vehicles whizz by often just a matter of metres away. They are by no means immune to disturbance and will flush when approached too closely or erratically, but their decision to tolerate some level of abuse in order to access such a readily available food resource is quite impressive. It's amazing to think that these birds have spent the summer looking at Arctic Wolves and Polar Bears on Ellesmere Island and flown more than 5,000 km to the mean streets of Dublin, where they graze on roadside verges and run the gauntlet of joggers, dogs off the lead and kids kicking footballs at them!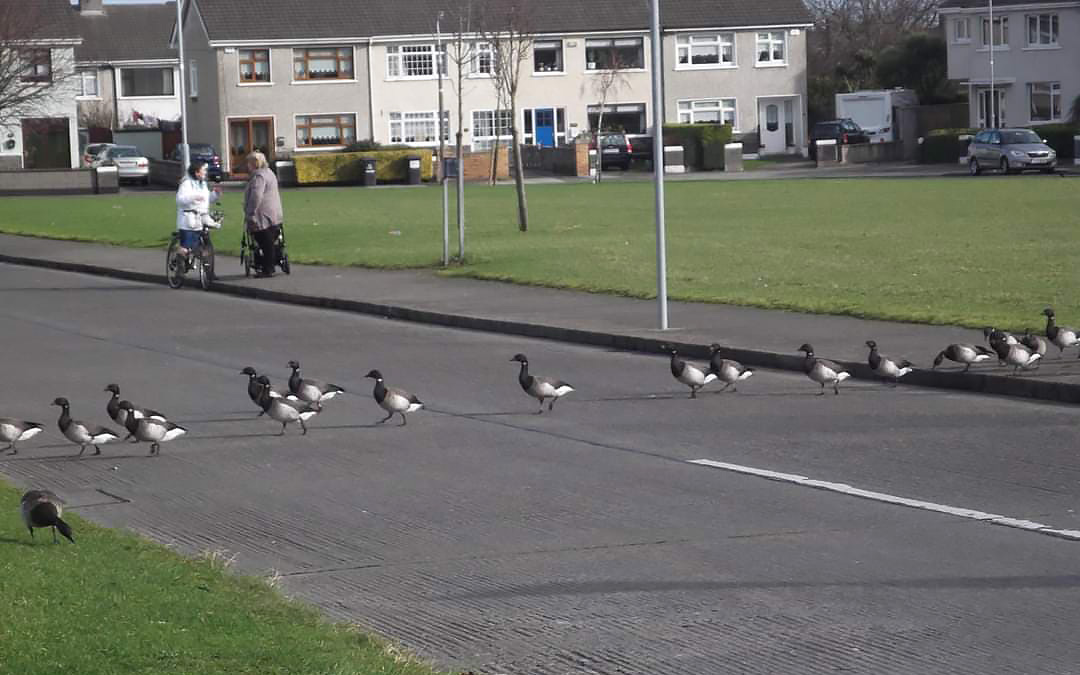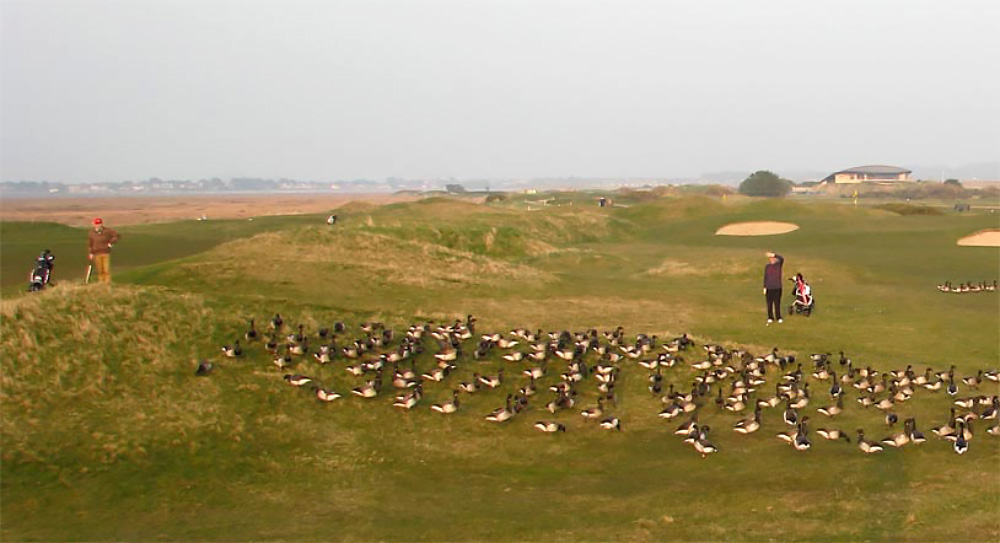 These scenes might seem a little surreal, but it's not uncommon for flocks of Light-bellied Brent Geese to interrupt traffic, games of golf or the general comings and goings of Dubliners in the winter months, with the birds showing a high tolerance of their human co-habitants (Matthew Silk, top; Christer Persson, bottom).
While this might paint a negative picture of their treatment while here, truth be told the sight of Light-bellied Brent Geese is one familiar to and welcomed by many a Dubliner. A flock of about 350 birds visited the park close to my home in south county Dublin over the Christmas period and the sight of birders with scopes viewing large numbers of geese on the quiet football pitches (vacant due to Covid restrictions) led to a lot of chats with locals who were only too glad to find the birds using the site. It was enlightening to see some of the regulars adopting a vigilante-style approach to goose protection and they could often be heard scolding any dog walkers or cyclists who ventured to close!
It was during one of these visits just after Christmas that Noel Keogh and myself found a stunning adult Black Brant with the flock, followed swiftly by a family party of birds which looked very good for Grey-bellied Brant (the adult male particularly so). At this point that the potential to score the 'grand slam' of all the world's Brent in one flock became a distinct possibility! We were just missing a Dark-bellied, a scarce but regular visitor to Ireland with one or two birds around Dublin Bay most winters.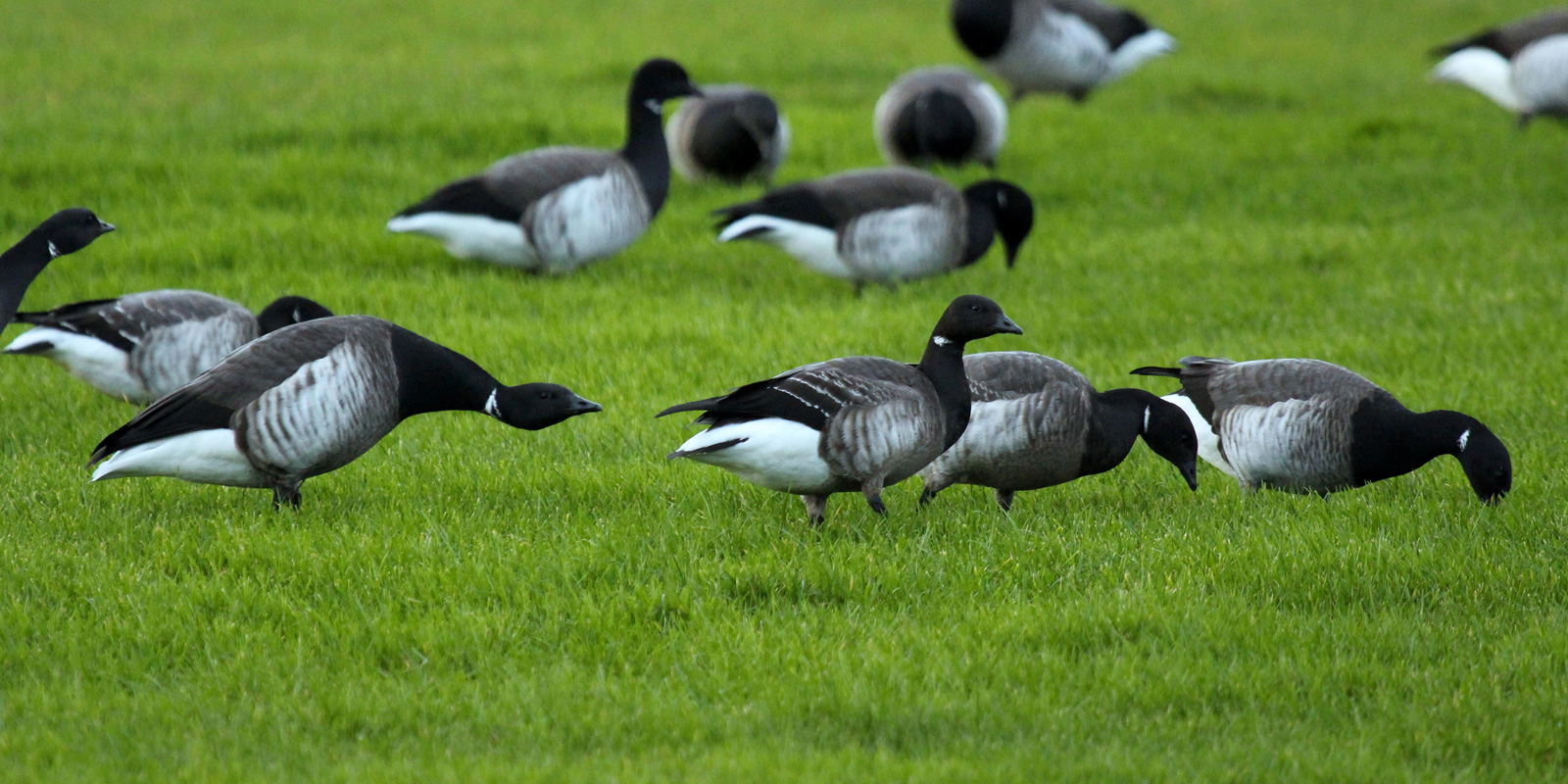 An apparent family part of 'Grey-bellied Brant' found by Niall and Noel Keogh at Kilbogget Park, Co Dublin, 28 December 2020 (Jan Rod).
The mobile nature of the Dublin Brent flocks meant that a number of parks and pitches might be visited by the same birds over the course of any given day, so a group of local birders began keeping in touch and reporting on the daily presence of the Black Brant or the apparent Grey-bellied family party. Not long after a Dark-bellied Brent came into the mix but try as we may, we could never get all four in the same location, usually being left short of one kind.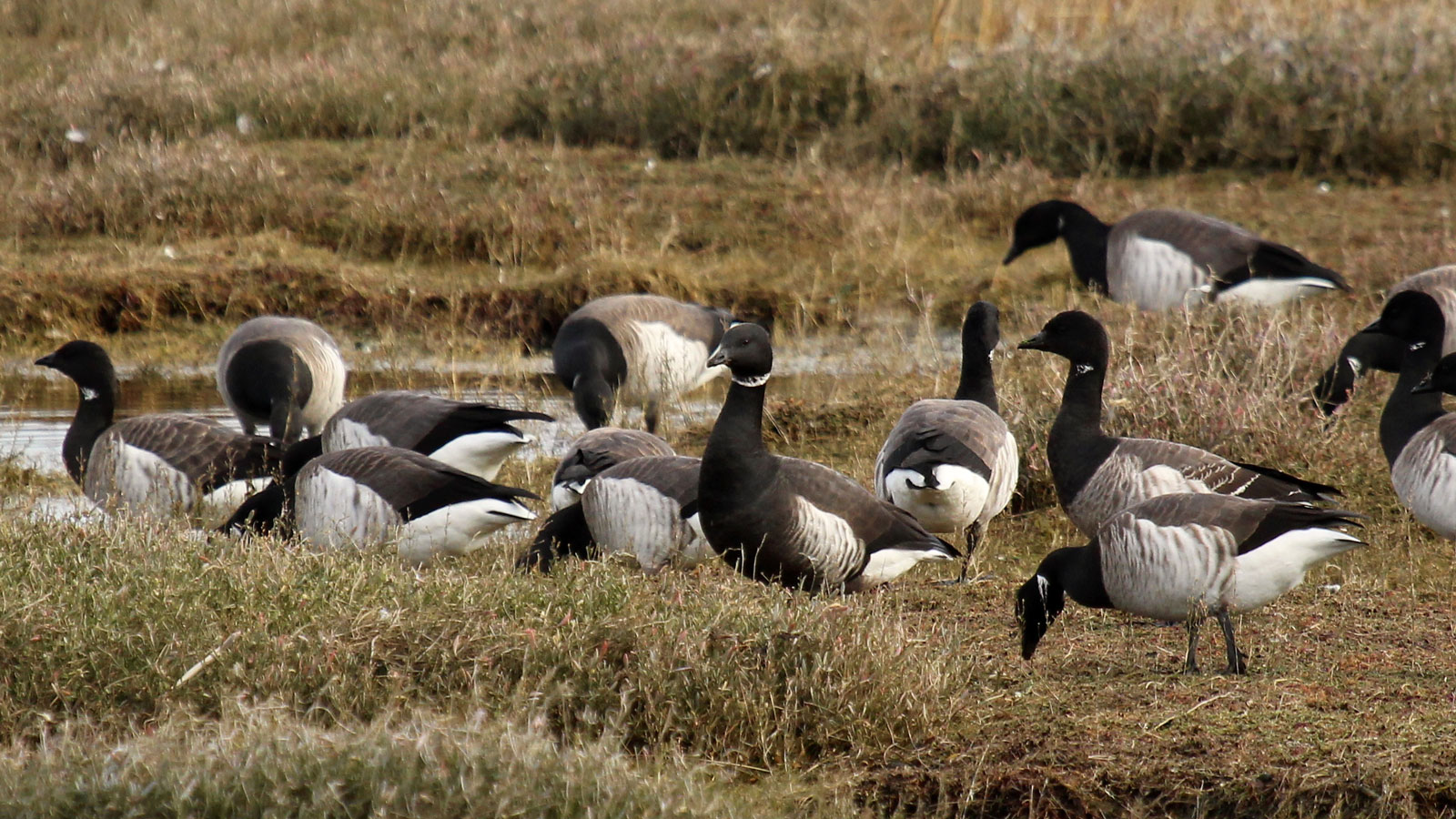 Found by Niall and his father Noel just after Christmas 2020, this fine adult Black Brant was still around in April 2021 and was seen at more than 10 sites around the Irish capital during its stay (Jan Rod).
As the winter progressed and the flocks became more erratic in their daily movements, the idea of nailing the Brent bonanza slipped by. It was at this stage that the dedicated Brent Goose colour ring readers came into their own. As part of ongoing studies on these geese, the Irish Brent Goose Research Group has colour ringed more than 5,000 Light-bellieds since 2001 and a dedicated group of volunteer ring readers and birders have been busy keeping tabs on who is where.
One of these self-confessed Brent nuts is Jan Rod, whose ring reading efforts and photo documentation of various shades of goose built up an incredible picture of what was out there among the 7,000 or so Light-bellieds in Dublin. The Black Brant was well tracked and reported from at least 10 different sites, at least two groups of apparent Grey-bellied Brant plus a single male were tracked here and there, half a dozen Dark-bellied Brent were on the go and, to throw the cat among the pigeons, there was even a ringed bird which was recorded as a Dark-bellied × Light-bellied hybrid and then a family party of birds consisting of a male Dark-bellied paired to a female Light-bellied with three hybrid young in tow.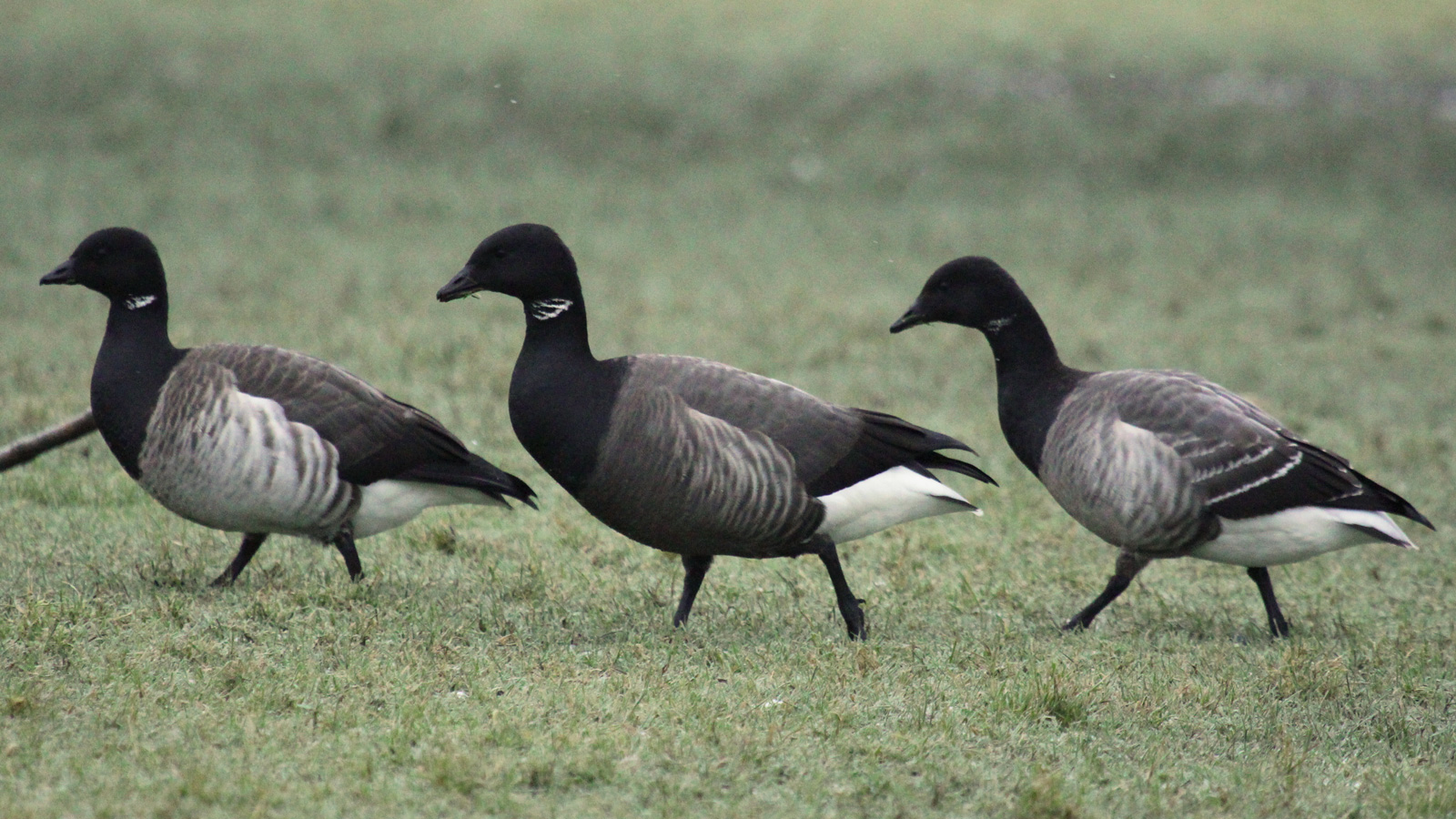 Dark-bellied Brent Goose is a scarce but annual visitor to Dublin. This male (centre bird), paired with an adult female Light-bellied Brent (left) and pictured with one of their hybrid youngsters (right), wintered in 2020-21 (Jan Rod).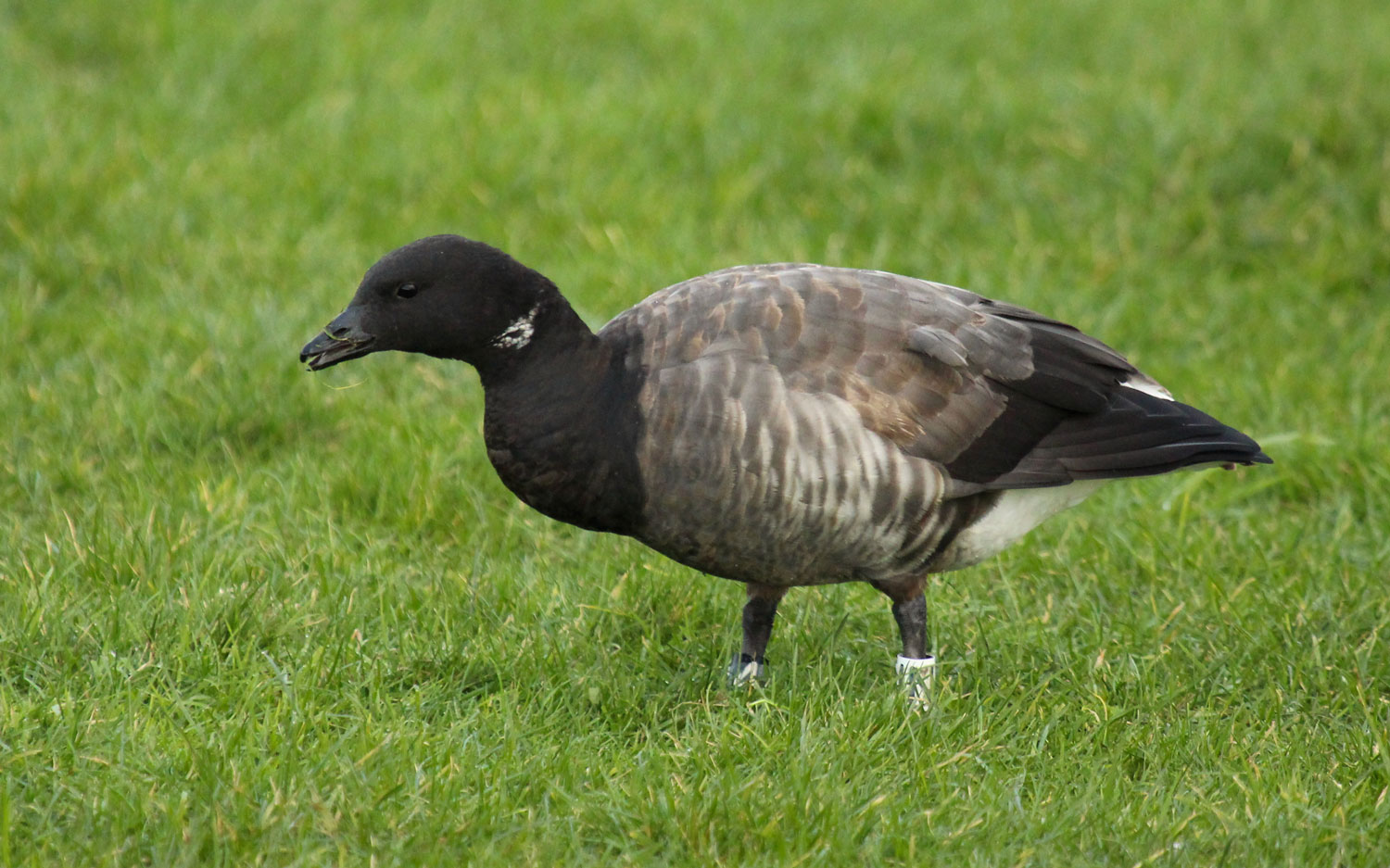 This ringed Brent shows intermediate characters and was recorded as a likely Dark-bellied × Light-bellied cross by the ringers. It was still touring Dublin in winter 2020-21 (Jan Rod).
On 30 March, while out on his permitted Brent fieldwork, Jan managed to see and document the Black Brant, a Dark-bellied Brent and a family party of Grey-bellied Brant among 2,000 Light-bellied Brent all around the North Bull Island area in the space of two hours. Not quite all in one flock but no more than a 10-minute walk away from each other – so we'll take that as a win on the hoped for Brent grand slam for now!
While it has been an exceptionally good winter for Brent Geese around Dublin, I would challenge any other large city to vie for the title of 'Brent Capital of the World'. Ridiculous views of hundreds of birds at close range and the chance to catch up with other subspecies at the same time is hard to beat and a must see for any birders visiting in the (hopefully) not too distant future.
In the meantime, whet your appetite by checking out two great videos online from Dublin Bay Biosphere (here) and the University of Exeter (here), detailing research on Brent Geese in the Dublin Bay area and on their breeding grounds. Anyone looking to contribute to the Light-bellied Brent Goose ring reading effort or should check out the Irish Brent Goose Research Group website.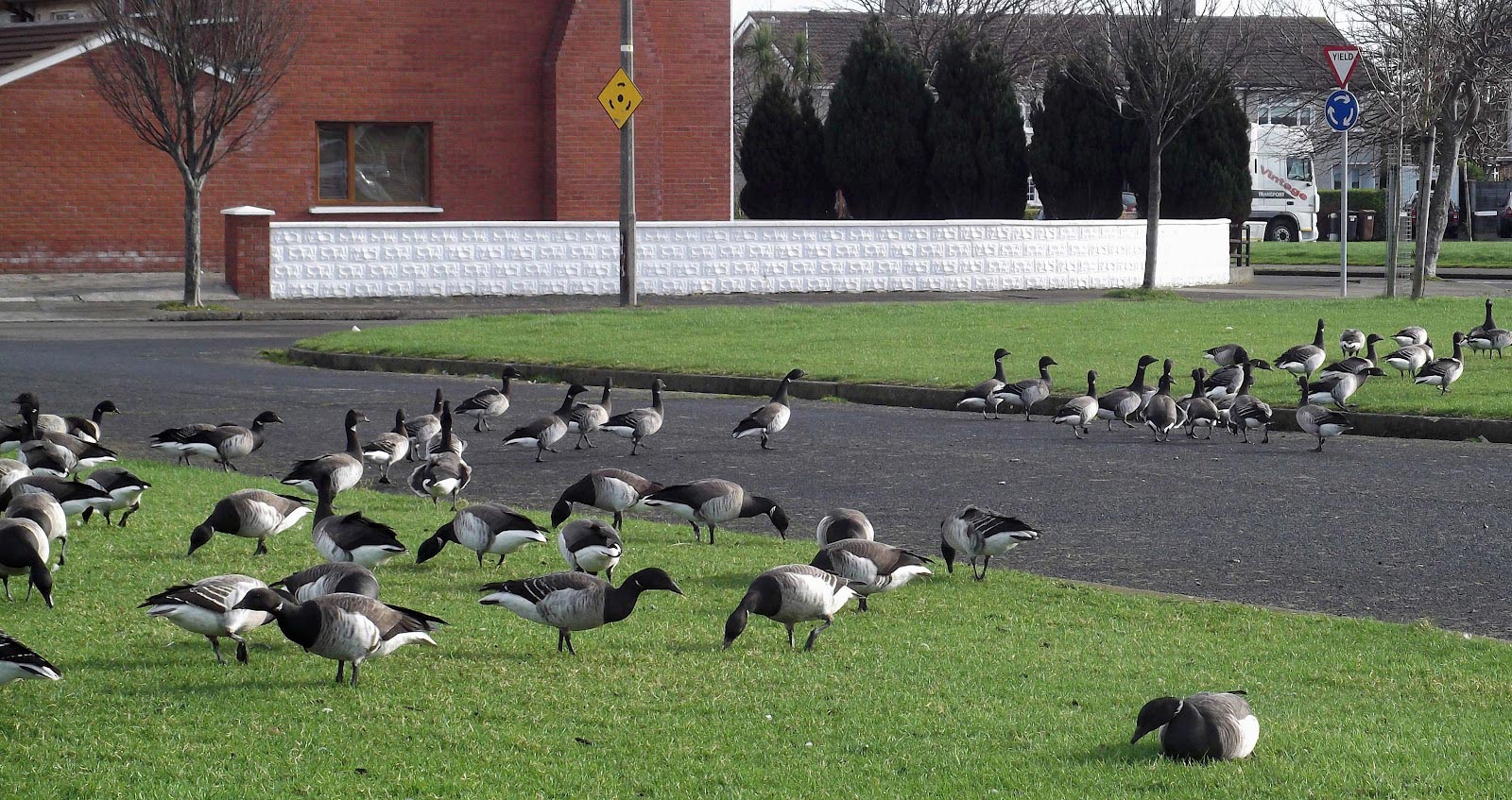 Where else can you enjoy such ridiculous views of Brent Geese in their hundreds, and potentially also see all the world's subspecies? (Matthew Silk).