Barely had 2021 got underway than another national lockdown came into force. Those first few days of January, spent visiting favoured birding spots around north and east London, felt all the more precious once restrictions curtailed travel and cancelled plans for more ambitious trips farther afield. It's not a good time to be a year-lister.
For those lucky enough to have some outside space, the garden has once again become the main birding focus. Unlike the initial national lockdown back in March last year, when the pandemic first swept across the country, there is no spring song and no overflying migrants to pique interest. Instead, with a widespread winter chill and reduced daylight hours, it's easy to think that garden birding potential is limited.
But is it? It all depends on your definition of potential. In many ways winter is the most rewarding time to be focusing on what's going on outside the window. And for me, it's what I've always done at this time of year.
Our plot in a corner of an inner London borough is small and overlooked, but designed and maintained to satisfy both gardening and birding needs. Overgrown with bindweed and brambles when we first moved here, it has over the course of two decades been transformed into a sanctuary for nature.
A Silver Birch, bought under the pretence of being a dwarf variety, now approaches next door's mature beech tree in stature. At almost 9 m high it towers way above the mountain ash and Cotoneaster we also planted, together with many other shrubs. These natural food sources are augmented by a winter feeding programme which completely changes the avian dynamic in the garden, and even the local area.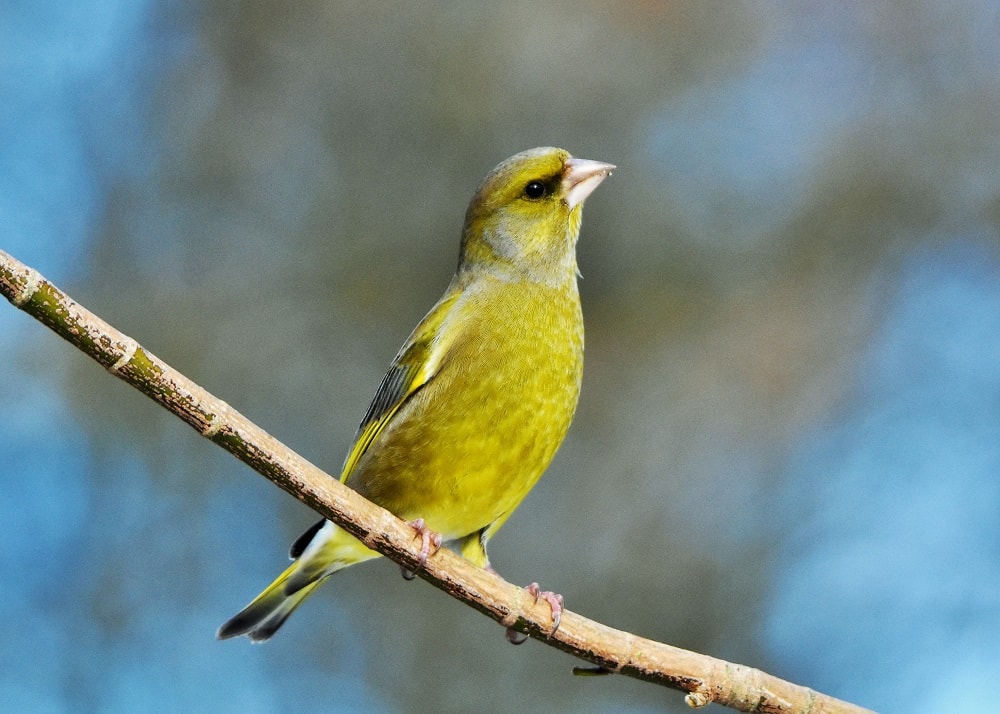 Greenfinch is one of three finches to feed regularly in Dominic's garden in numbers, emphasising the importance of sustained feeding during the winter months (Irene Harrison).
Content continues after advertisements
Success on a plate
It's no surprise that food is the key to a productive, 'birdy' garden, but experience shows it's not quite as simple as just putting up a feeder. There's a perceptible balance at work between the right kind of food and habitat, and the local environment more generally, which makes a difference – hence the emphasis on certain native plantings and a mix of vegetated and more open areas.
At the core of my feeding efforts are sunflower hearts which, through experimentation, have proved more successful than any other food in attracting both diversity and numbers of birds. Finches are particularly partial to them, and it's a genuine thrill to look out of the window and see Chaffinches and other species carpeting the lawn every morning. My record winter Chaffinch count is 22 feeding together – contrast that with my local patch at nearby Alexandra Park, where a 3-km winter circuit often produces a zero count of this species (probably indicating the origin of 'my' birds).
Goldfinches feed in numbers, too, and recent days have seen up to 12 at a time, along with a handful of Greenfinches. It's not been a vintage berry crop locally, but there are enough left to attract passing Redwings. If we get a proper freeze-up I can almost guarantee that Mistle Thrush and Fieldfare will be feeding in the garden too, and wintering Eurasian Blackcaps are most likely to pop up in such conditions. Maybe I'll even get another chance to hand-feed one of the local European Robins, the ultimate reward for winning the trust of garden birds.
In other times, on a longer day out and in a more 'birdy' setting, none of these species would get as much attention. Neither do they generate the adrenaline rush of last spring's Firecrest or fly-over European Turtle Dove. Instead they sustain daily interest, help me get to know them intimately – their plumage, behaviour and feeding patterns – and also give enduring satisfaction that this tiny block of habitat we created, specifically with nature in mind, has actually worked.