The Scilly Sapsucker
The late David Hunt took his six-strong 'Birding Scilly' special interest group onto Tresco for the day on 26 September 1975 to search for interesting migrants. Late September had been relatively quiet on the islands so far that autumn, with two Arctic Warblers on St Agnes the best on offer. The month had seen a series of deep depressions crossing the Atlantic, and mainland Britain's best find had been a Greater Yellowlegs at Breydon Water, Norfolk. There had been strong westerly winds and heavy rain across Scilly for the previous two days but this day was calmer and David felt Tresco, with its pools and extensive tree cover, would be as good a place as any to find something exciting. David had worked as a gardener on the island in the 60s, so knew every nook and cranny!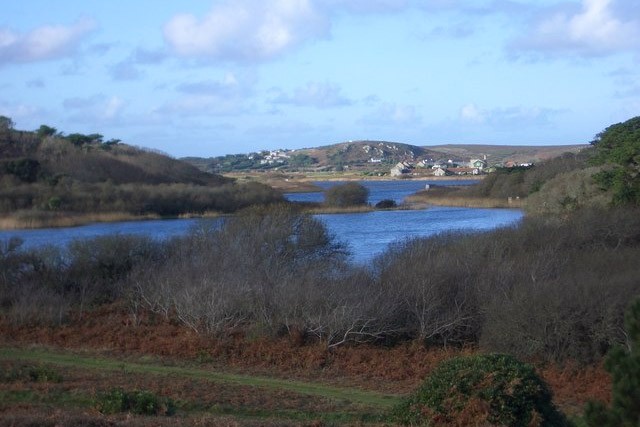 Looking west along Great Pool, Tresco (Andrew Abbot/Creative Commons).
Somebody had mentioned that a Wryneck had been reported at the southern end of the Great Pool. Around midday, the group found a small woodpecker in sallows at the southeast end of the pool, though it was clearly not a Wryneck and was proving rather elusive. It took the group a while to see it well enough for a piece-by-piece description to be assembled, combining the whole collective viewing effort. David suspected it was North American in origin and, after referring to various field guides, it was identified as Great Britain's first (and so far only) Yellow-bellied Sapsucker! The next day the bird was soon located in a nearby line of elms and it was here that it spent much of its time and could be heard tapping and pecking on the bark. David managed to take several laudable photographs over the next week.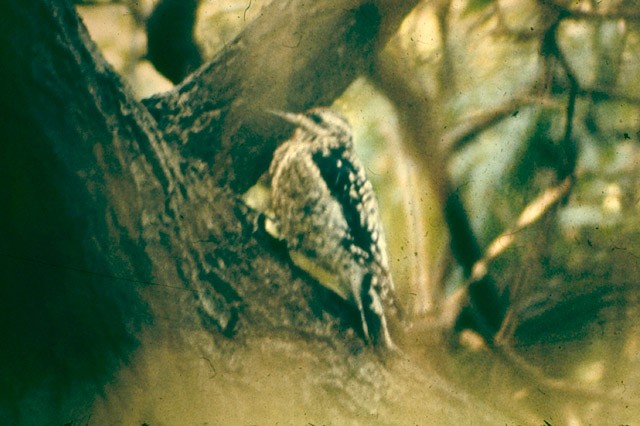 First-winter male Yellow-bellied Sapsucker, Tresco, Scilly, September 1975 (David Hunt).
The Sapsucker remained on the island until 6 October. It mostly stayed faithful to its favoured line of elms, where over the days it drilled a series of concentric holes, appearing like tidy rings, on most of the trees to aid its natural feeding behaviour. Small insects can get trapped in the tiny sap runs and the bird was observed taking at least one small prey item off the tree in this manner. It must have also been feeding elsewhere as it was not always on view in the elms, but those looking for it were normally rewarded after a 20 to 30-minute wait. It has been reported that over 400 people saw this bird during its eleven-day stay, and it was perhaps the star bird of the autumn.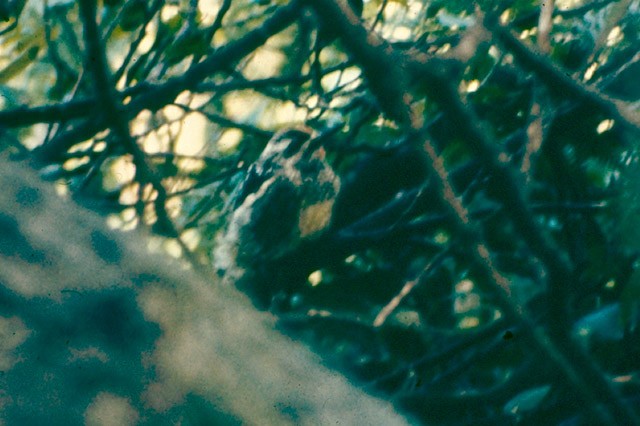 First-winter male Yellow-bellied Sapsucker, Tresco, Scilly, September 1975 (David Hunt).
Just over 800 miles away on Fair Isle, Shetland, September had been mainly wet and windy, with most of the birding action reflecting the almost constant westerly gales that had battered the shores and croftland on and off for three weeks. I was ready to leave, and on the evening of the 26th booked the last remaining Loganair seat back to Sumburgh the next day. A phone call to mainland Britain gave some incredible news – Yellow-bellied Sapsucker on Scilly! Continuing my gap year, I was due to head south-west the next week anyway – good timing, I hoped. The St Clair boat journey seemed endless and the hitch-hike from Aberdeen back to my home town of Worcester was helped with a single lift from south of Edinburgh all the way back. Sunday night's grapevine bird news was not for the faint-hearted, as the sapsucker was still present and now Black-and-White Warbler and Scarlet Tanager were also on Scilly! Iconic waders across England presented awkward hurdles for me to overcome as thumbing lifts to Eyebrook Reservoir, Leics, for a Killdeer and to Moonfleet, Dorset, for a Sociable Lapwing took two more days to complete. Missing the helicopter by 10 minutes on the Wednesday evening at Penzance was truly painful and was made worse when I learned that the Black-and-white had disappeared on St Mary's. Next morning, Dave Willis and Barry Walker greeted me on the quay for the Scillonian crossing and two Great Shearwaters staying alongside the boat took our minds off the final goals for a while. The connecting boat across to New Grimsby on Tresco was met by a birder with some sobering news that the sapsucker had not shown for over an hour! It was straight to the pine belt beyond Castle Down where, after just a few minutes, the first-winter male Scarlet Tanager gave great views just a few metres above our heads.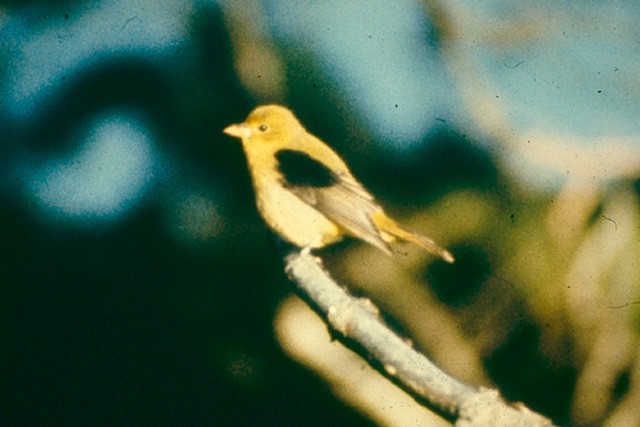 First-winter male Scarlet Tanager, Tresco, Scilly, September 1975 (David Hunt).
Time was ticking away, so a brisk walk along the pool road ensued and soon the stripy-backed and patterned-headed form of the sapsucker appeared slowly then somewhat jerkily, zigzagging its way up one of the elm trunks. I had no 'scope in those days, so just had to stay on the bird and take in as much as one could! Pressure off at last, I had a chance to get the notebook out and fill in the detail from the mammoth six-day journey. Later, back on St Mary's, we had time to celebrate in the Mermaid pub. We chilled out and wondered what if one of us had owned a car ... but then this was student life in the mid-70s! Two out of three of the American landbird trio was not bad, especially considering our starting point had been on Fair Isle!
Content continues after advertisements
Sadly, David Hunt was tragically killed in India when he was leading a bird tour there in February 1985. The Yellow-bellied Sapsucker will be fondly remembered as one of his greatest moments, and I would like to dedicate this account to him. Thanks to Marianne Hunt and Will Wagstaff for giving permission to reproduce some of David's rare bird images. These and others were donated to the Isles of Scilly Bird Group. This independent group now publishes the Isles of Scilly Wildlife Review. Membership is open to all birders interested in the birds of the Isles of Scilly, and all monies raised go towards bird-related projects on the islands. These vary from maintaining the areas around the pools on the nature trails on St Mary's to assisting with funding the rat eradication project that is due to start on St Agnes and Gugh this autumn under the auspices of the Isles of Scilly Seabird Recovery project.
Other Western Palearctic records
Including the Scilly bird, there have been a total of five Western Palearctic records of Yellow-bellied Sapsucker. The first was of a long-dead specimen collected in southeast Iceland on 5 June 1961 – in fact, Iceland is the only country able to boast more than a sole record, following the occurrence of a young male at Selfloss, in the south of the country, from 7-13 October 2007.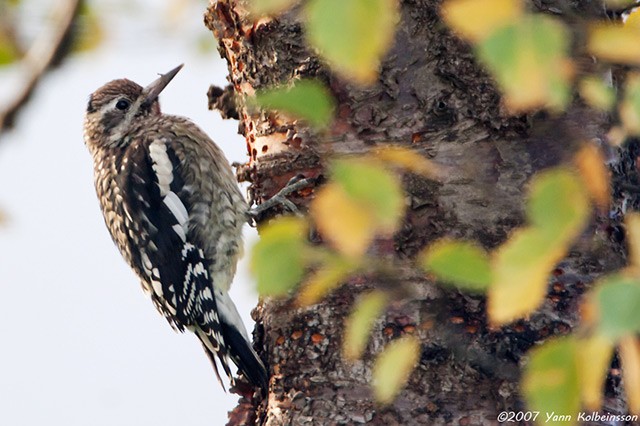 Yellow-bellied Sapsucker, Selfloss (Iceland), October 2007.
Many thanks to Yann Kolbeinsson and the Birding Iceland website for use of this photo.
The third for the Western Palearctic was an Irish record stemming from Cape Clear (Cork) from 16-19 October 1988. It's now almost 25 years since this famous individual, and many birders – both British and Irish – would welcome a repeat performance this autumn.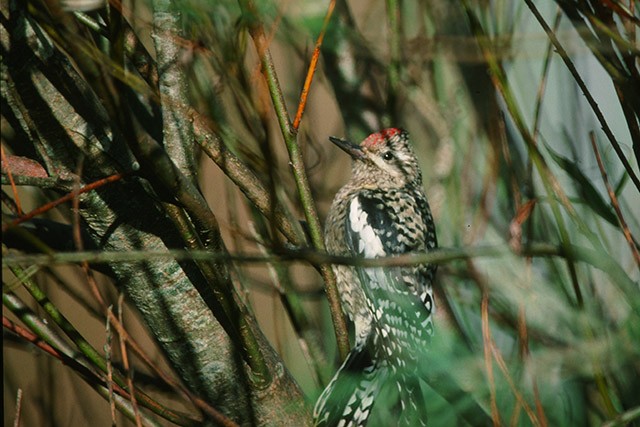 Yellow-bellied Sapsucker, Cape Clear, Co Cork, October 1988 (Kevin Du Rose).
The final (and most recent) record was a long-staying first-winter male on Corvo, Azores, found on 11 October 2008. Often highly elusive and invariably mobile, it spent much of its time in the large wood of Fojo, on the eastern side of the island. Lingering into early November, the bird was still present when the final birders left the island that autumn. Whether it went on to spend the winter on the island is unclear.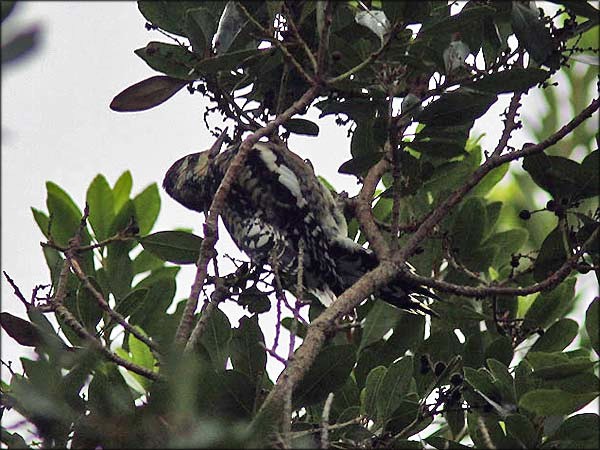 First-winter male Yellow-bellied Sapsucker, Corvo, Azores, 12 October 2008 (Richard Ek).
Acknowledgements
Special thanks to Will Wagstaff and Marianne Hunt for their help in preparation of the Scilly sapsucker tale.
Thanks to Yann Kolbeinsson for use of the Icelandic sapsucker photographs, and thanks to Kevin Du Rose and Richard Ek for use of the Co. Cork and Corvo sapsucker photographs.