Our weekend trip to East Anglia started off on a high note on the 18th - within half an hour of arriving in Great Yarmouth (a former place of residence for us) we were watching the Rose-coloured Starling that had been present for several days. We watched it flitting around the rooftops on the main shopping thoroughfare - hardly the most exotic of locations for a lifer, but exciting all the same. Enthused by our success we carried on down to the seafront in the hope of finding some of the local Mediterranean Gulls, a species which had eluded us for some time. Along with a helpful fellow-birder, we found quite a few birds scattered among the Black-headed Gulls, plus several Common Gulls. This was indeed a promising start to what turned out to be an amazing weekend.

Rose-coloured Starling (photo: R P Lambe)
The following day was spent at Minsmere, where we saw our third lifer - a Ferruginous Duck showing very well in front of the hide. A bonus while we were looking at this bird was a great view of a Bittern flying over. Normally skulking in the extreme, a bird in flight often allows for a brief but excellent view of this wonderful heron. As usual, Minsmere yielded many good birds and is always a satisfying day's birding for us. As an added incentive, as if one were needed, they also have delicious buns in the café! There was a good selection of the usual wildfowl, including Gadwall, Wigeon, Teal, Pintail, Pochard and Goldeneye, but relatively few waders. Three Marsh Harriers were soaring around in good view from one of the hides. With the short winter day dimming, we visited the Canopy Hide. We normally never see anything from this platform in the trees, but this time proved different. Great Spotted Woodpecker and Lesser Spotted Woodpeckers gave excellent views on the feeders along with Coal Tits, Long-tailed Tits and the usual Great Tits and Blue Tits. We eventually had to tear ourselves away as the light faded into darkness.
The next day (Sunday 20th) was spent mainly around the Southwold area, walking from the water tower towards the harbour and then back into the town along the dunes. Not much of note was seen on this walk, except a huge flock of mixed gulls near the car park at the harbour mouth. Despite a thorough search through the flock for over half an hour, nothing scarce materialised, though gulls are not our strong point! Over the Town Marshes there were hundreds of Lapwings mixed with even more gulls that appeared to be all Black-headeds. Something had spooked them and they took off as one and flew over us, providing a fantastic avian spectacle. As this walk hadn't taken up very much of the day, we decided to move on elsewhere. On the way we stopped and had a quick look over the Blythburgh estuary and could just about make out that there were some Avocets feeding in the distance. It was too windy to make anything else out, but there appeared to be many waders there. We continued on to Benacre Broad, just a little way north of Southwold, and walked along the fast-eroding coastline to the Broad. No sooner had we arrived than we were viewing our fourth lifer of the trip - a Long-tailed Duck. Most of the birds on this bleak (on that day) body of water were in the distance but we also identified a handful of Scaup and a dozen or so Goldeneye. Feeling more than a little cold, we headed back to the hotel for a warm bath.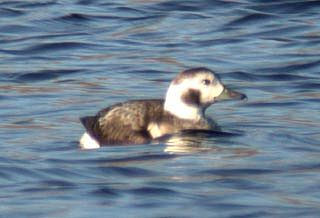 Long-tailed Duck (photo: Margaret Breaks)
Monday 21st was time to pack our bags and drive up to Titchwell for what we thought was to be our last day. What an excellent day this was. We thought Minsmere was good, but Titchwell was even better. Waders were present in incredible numbers, including a huge flock of Snipe that kept taking off, flying around for a while and then landing in the water again. We saw a good number of wildfowl, but missed the Black Brant that was supposedly among the 100s of Brent Geese. Still, there was always our fifth lifer, the Common Scoter out at sea, to console ourselves with. We were just making our way back to the car to set off home when we had a conversation with someone who told us they'd had an incredible birding day at Holkham on the previous day. We decided there and then to stay around an extra night, and we set off in the direction of Holkham to find some B&B. We ended up, as it was getting a bit late by this time, in the most expensive hotel we've ever stayed in! Very nice it was, too - but then it ought to be. We thought we'd treat ourselves this once.
The next morning we left the hotel to find that we were across the road from where we wanted to be, Lady Anne's Drive, so we turned the car round, drove back about 50 yards and parked the car again. Our first sighting was of hundreds of White-fronted Geese in the fields alongside the car park. On the way down to the beach, through the wooded area, there were Long-tailed Tits and Goldcrest flitting around. As we neared the dunes we saw Sanderling and Skylark and yet another lifer - a flock of a dozen or so Shore Larks. That makes six lifers so far. There was also a flock of about 40 Snow Buntings. We moved onto the seaward side of the dunes in the hope that we would spot what we had really come to see. Our seventh lifer of the trip - the King Eider was way in the distance with a raft of Common Eider. We just about made him out, although there was a gale blowing (this is Norfolk) and the tripod was wavering quite a bit. Sand was blowing everywhere. There was quite a crowd gathered and some helpful birders were shouting out its position now and again for those that couldn't see it. A couple of Red-breasted Mergansers were also coming in and out of view as the waves rose and fell. After we started crunching the sand in our teeth, we decided to call it a day!
So, a record weekend for us with seven lifers. The trip was meticulously planned using a Ticklist sheet printed off from the BirdGuides CD-ROM Guide to British Birds and recent rarity sightings information for Norfolk and Suffolk from the Bird News Extra service, plus some helpful information from passing birders.