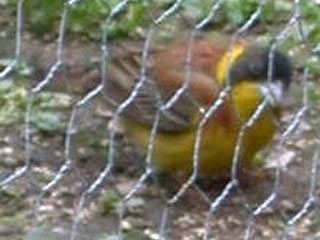 Black-headed Bunting: East Allington, Devon (photo: Paul Boulden).
On 25th May 2005 I undertook a sponsored birdwatch around South Devon in order to raise funds for "Wildlife Homes Devon", a voluntary organisation I have set up in order to supply free nest boxes, bird tables, etc., to schools and nature reserves in Devon. It was a successful day with 101 species seen and a fair amount of money raised. The highlights including Short-eared Owl, Woodlark and Dartford Warbler as well as local specialities such as Cirl Bunting and Cetti's Warbler. Surprisingly I didn't see a Kestrel all day and Collared Dove was the 95th species to be seen! After watching a breeding pair of Barn Owls near Plymouth late in the evening I called it a day and spent the night at my parents' house.
The following day I didn't get home until mid-afternoon. I came in through the back door, dropped off my telescope and binoculars and went to the front window. The curtains are always kept closed as my bird table is close to the window and I have had a couple of birds fly into the glass in the past. I eased back the curtain to check on my pair of Hawaiian Geese that live in a large pen in the front garden and there, feeding on the ground at the foot of my bird table, was an adult male Black-headed Bunting!
At this point I did something which you see in films. I lowered the curtain, took a breath, then raised the curtain again to check I wasn't imagining it! Fortunately the bunting was still there feeding happily on the seed put down (partly) for the geese. I watched it carefully for a while to check it wasn't an escape or hybrid, or even an extreme colour variation of something common. I then decided that I ought to get a photograph but my camera was still in my car, I risked it and went as fast as I could (as I am disabled that isn't very fast!) to get the camera. When I got back I took a deep breath and raised the curtain, the bird was still there, but as soon as I took the first picture through the glass the bunting, together with a few Greenfinches and House Sparrows, took flight. I went outside but couldn't see where they had gone or what had spooked them.
The photograph was awful but at least it confirmed what I had seen. I then rang a friend of mine to check on the status of Black-headed Bunting with the BBRC. I knew that most Red-headed Buntings were rejected as escapes (even though the species is now almost unknown in captivity, at least in the UK) but he confirmed that there weren't the same problems with Black-headed Buntings. I also phoned another birding friend who lived nearby but I had forgotten that he was on holiday on the Scillies; he tried to sound pleased for me but I know he would have liked to see it himself. I then called on my neighbours to ask if they had seen anything unusual but no-one else had seen it.
Content continues after advertisements
At this point I had a problem: should I put the news on my sightings website which would soon be picked up by the pager services, BirdGuides etc.? I am strongly opposed to suppression, except where the welfare of birds (or their eggs) is at risk, and in this case there was no threat to the bird, but the logistics would have been difficult as I live in a very small village on a main road. I reckoned that we could have fitted an extra two cars but there is no on-street parking which would have made life difficult. It would also have been very difficult for people to get a view of my garden. I didn't particularly want people in my house, besides which only one person could look out of the window overlooking the bird table (and that was my position!). The garden is surrounded on two sides by high hedges and the top end has a six-foot-high fence; however, I wedged open the gate in the fence and erected a barrier inside it to prevent entry to the garden (which would have upset the geese and flushed anything at the bird table). I then put the news on my website and started making phone calls.
The information I gave out was that the bird had been present but had flown off. If it returned I would inform people and update the website immediately but that it would be better if people stayed away unless it returned as there was no parking space available. As a result the website was the busiest it has ever been for the next week. I then took up my post in front of the window with the curtain pulled back just enough to give me a good view. After about an hour I was on the phone to a local birder who was keen to know if it had returned; I told him it hadn't been back and was discussing the number of previous county records when I swore loudly and dropped the phone. It had returned, as large as life, feeding on the ground by the bird table. I promised to ring back, grabbed my camera and headed for the front door. I had already propped open the outer door of the porch so I carefully opened the inner door and poked my camera through the gap. This is where the digital camera came into its own as I was able to look at the screen and locate the bunting without scaring it off. It only stayed for a few seconds before flying off again but at least this time I had managed a slightly better photo.
It is unfortunate that the bird was close to the chicken wire surround of the goose pen which makes the photo rather out of focus (and looks a bit as if it may have been taken at the zoo!) but at least it was obvious what it was. I spent the next couple of days staring out of the window but saw nothing more interesting than Greenfinches.
The Black-headed Bunting now has pride of place on my garden list (oddly, the previous best bird had been a Cirl Bunting, a singing male one July evening). It seems it was one of only two in England in 2005 and was the 9th for Devon; see accepted records.
I will be doing another Sponsored Birdwatch this May (all support greatly appreciated) but I doubt I will be rewarded in quite such spectacular fashion.
Do you have a day that always comes to mind when asked what was your best day's birding? It may be a really good day 'on the patch', a chance encounter with a rarity, or simply a fantastic day for some other reason. If you have, and you'd like your recollection to be considered for one of our 'Days to Remember' features, please email
BirdGuides
with a brief outline.