An adult Dalmatian Pelican has been present in West Cornwall since at least Saturday 7 May, when it was first seen flying over Gwithian. Initially reported as a Great White Pelican, the true identification only came to light late on Sunday evening following the emergence of photographs online.
Photographed on the sea off St Ives harbour at 17:00 on Saturday, it was still present there an hour later. Yesterday [8 May] it was recorded around the seaward end of Cape Cornwall golf course for 30 minutes from 12:15 and was later photographed off Land's End, where it was observed from 13:45–14:00. Photos from both Saturday and Sunday were posted on the CBWPS website on Sunday evening.
The bird has been seen on several occasions in the Land's End, Sennen and Polgigga area again today, often landing for brief periods of time on small pools and even in fields. Photos depict the flight feathers to be in good condition, with no evidence of pinioning or other damage often associated with escaped birds. The bird is unringed.
@cornishchoughs @RSPBSouthWest Penn an Wlas hedhyw — py par a ydhyn yw???#LandsEnd @VisitLandsEnd @Trewithian pic.twitter.com/mL5TAq2Mnf

— SGainey (@plemanpasty) May 8, 2016
Interestingly, the pelican shows strong similarities in moult and wear to an adult recorded near Gorzów Wielkopolski, Poland, from 6–11 April 2016; this bird being one of two seen in Poland in recent months. For example, p7 on the bird's right wing illustrates recognisable damage at the tip and mid-way down the basal side of the feather.
It now transpires that this same, wandering individual has been on several occasions in the past month, including at least three sightings in Germany: on 16 April it was seen at Streng, Brandenburg (photos here); on 22–23 it was in Thüringen and then was noted at Worms, Rheinland-Pfalz, on 1 May (photos here). On 3 May it was then seen in eastern France, 30km from the German border, before its appearance in Cornwall on 7th.
A run of records of the species in north-east Europe over the past couple of years hints that vagrancy to north-west Europe (including Britain) is far from out of the question, though of course the significant possibility of escaped birds from collections still remains. For example, an immature that escaped in Germany in late 2014 is apparently responsible for recent sightings of an immature in Poland (Martin Gottschling pers. comm.). Weather conditions over the past five days have been conducive to arrivals from the Continent, this evidenced by the large numbers of migrants such as Black Terns and Wood Sandpipers recorded, as well as a good scattering of scarcities, and it appears that the pelican has followed suit.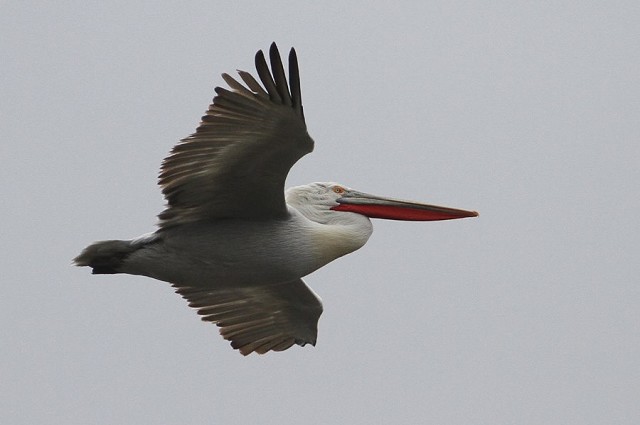 Dalmatian Pelican, Warta Mouth National Park, Poland, 11 April 2016 (Photo: Zbigniew Kajzer/www.clanga.com)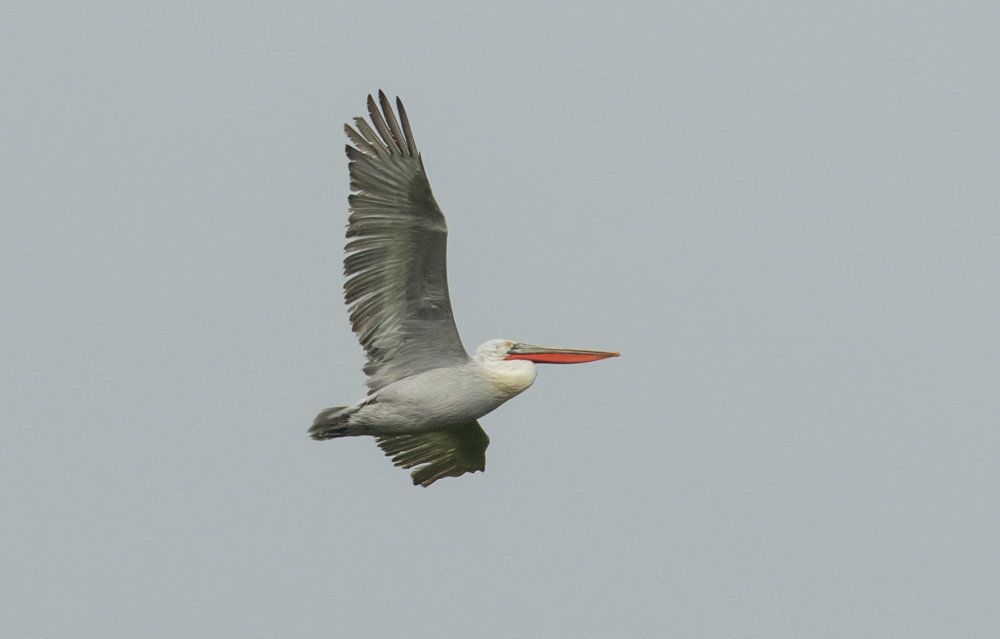 Dalmatian Pelican, Brew Pool, Cornwall, 9 May 2016. Note the similarity in wear of the flight feathers to the photo taken in Poland above, particularly the shape of p7 on the bird's right wing (Photo: Ben Porter)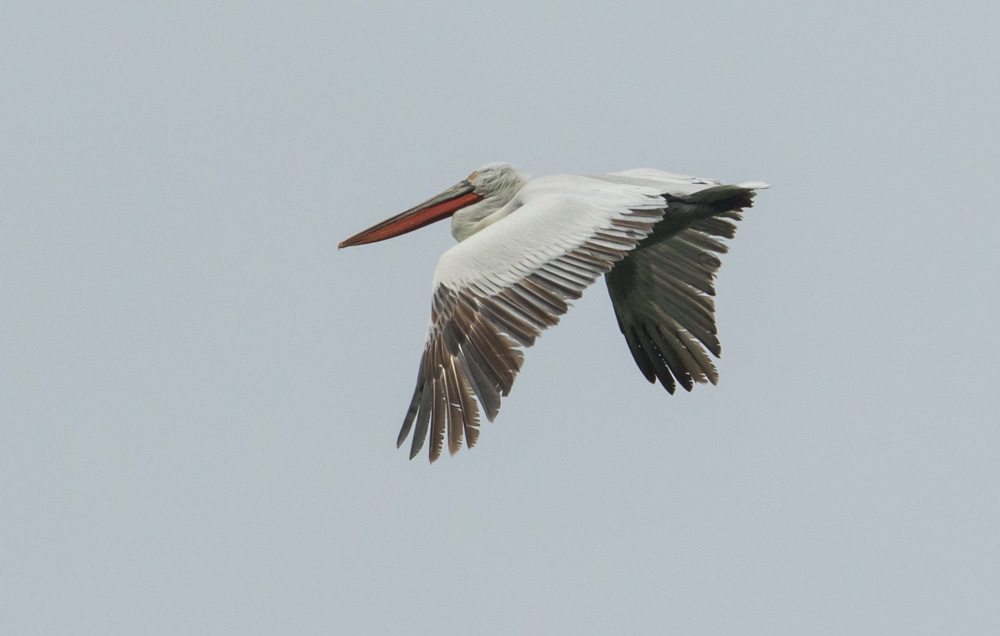 Dalmatian Pelican, Brew Pool, Cornwall, 9 May 2016 (Photo: Ben Porter)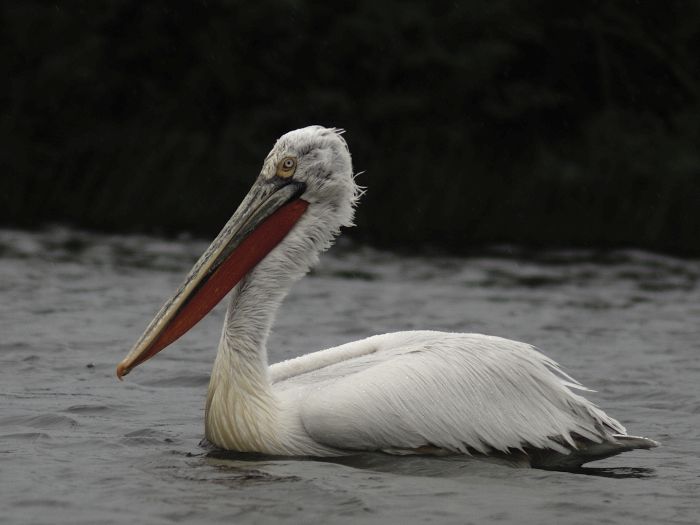 Dalmatian Pelican, Trevorian Pool, Cornwall, 9 May 2016 (Photo: Penwith Nature)
Dalmatian Pelican breeds patchily from Greece east to Mongolia and China. It has declined considerably over much of its range over the past 200 years, although populations have now largely stabilised. Significantly, colonies in Greece, Romania, Bulgaria and Turkey have recently shown increases, which in turn may explain the increasing trend in vagrancy elsewhere in continental Europe.
Ultimately the decision on whether to accept this as a wild bird will lie with the BOURC, but it is widely viewed as wild in Poland and will represent the eighth national record if accepted.